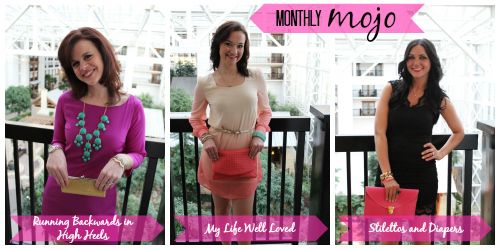 It's that time again… Time for Monthly Mojo again with two of my favorite ladies… Heather and Molly!!
I've found a new love of compression socks… they have really been helping with recovery. I want them all!!

Group texting… More importantly.. group texting with Molly and Rebecca. Doesn't everyone send selfies and discuss outfits with their friends?!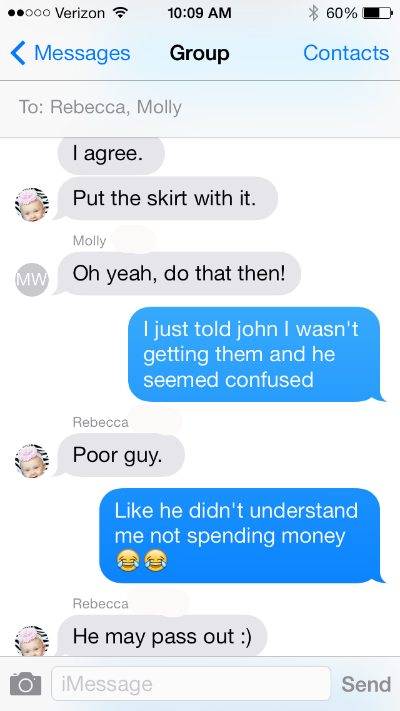 I love my Breville blender… It was sort of a Valentine's present. I've been making smoothies almost every day! (I see you eyeing my Hello Kitty toaster.. back off. It's mine!)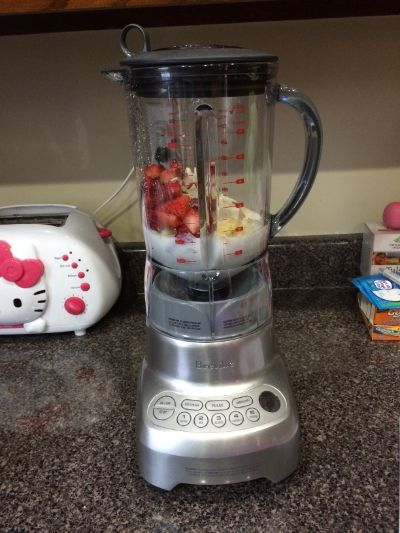 Since it's starting to warm up, Nuun is becoming super important for staying hydrated. P.S. They have a new kind out with caffeine!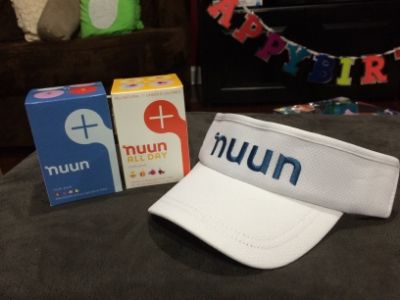 I can't stop watching Gossip Girl again… I'm once again obsessed with my favorite Upper East Siders.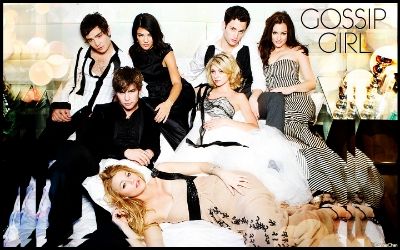 What are some of your favorite things right now??

After I picked myself up after Mercedes, I decided I was going to make Tuscaloosa a good race. It should be flat, it looks like weather is going to be pretty dang good, and most of all– a ton of friends are running it and it should be a blast.
I'm really hoping to finally break that 2 barrier, and think I can do it on this course, but I am not going to stress. I'm still not that far from Mercedes, and it may prove difficult to race so soon. I guess, I still regret not taking that sub 2 in Tuscaloosa last year.. but I held back to talk a newly made on the course friend to the finish.. Sometimes, it's good to be a friendly face on the course to someone.
I did my last long run solo this weekend… I think that was a wise choice since the mental battle has been such a struggle for me. I needed to be able to talk myself into keeping pace and I pretty much nailed it.
It was just me and the Colonel Johann G. Cullmann on Sunday morning!

I feel confident I can do this, but will not stress about it. I can't let myself overthink and stress about paces and what not.. I will just run my race to the best of my ability.
I've found a new love in compression socks over the past few weeks. I've been wearing them during long runs and and afterwards and it's helped the soreness in my ankle so much. I actually ran my long run without my brace!
They get their love of brightly colored clothes honest, y'all.
I'm pretty much in love with this video that aired on Fallon last night.. I'm adding Let It Go to my race playlist immediately!
Anyway.. who is racing this weekend??

I have been killing it lately in the cooking department. I finally got tired of eating the same things over and over and decided to man up and take over the grocery shopping responsibilities again. Enter.. eMeals. I love eMeals. It's meal planning at it's finest. Since we got an Aldi here, I wanted to try out the Aldi plan. Y'all… I got a TON of food to cook and snacks for the girls for $70. Fresh fruits and veggies, meat, some delicious hummus. I'm impressed with Aldi.
I made this little deliciousness the other night.. Warm Sausage Pasta Salad. So super easy.
I've also made potato corn chowder– one of my favorites.
I made Tilapia the other night… of course I ate half of it before I remembered to take a picture. Sorry. I fed my family of 4 this meal for under $12!! I was so proud of that. And everyone ate it!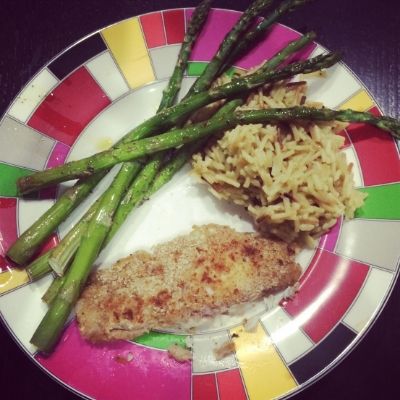 This little chicka is loving to help me cook too. She may be finicky about what she will eat, but she likes to help and have dance parties. Especially if we listen to the Frozen soundtrack.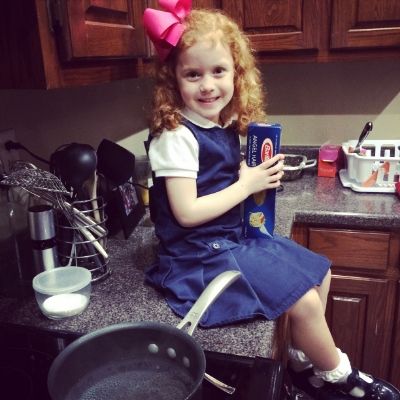 Have you ever tried eMeals? What's your take on it?

Saturday night was my normal pre race shuffle of laying out my outfit (had to decide what to wear first!), gathering all of my stuff to take, making my race playlist, etc.
When I got off the interstate, so much adrenaline coursed through me that I thought I was going to vomit. And they had roads closed that they don't normally have closed, and so parking was super fun.
Meredith was going to ride down with me, but she woke up late and didn't want to make me late for meeting my fellow Resolute Runners… We look cold. 
I found my C-town buddies staying warm inside Boutwell Auditorium.
We walked to the start line about 10 minutes before the race started and I lined up with the 4 hour marathon pacer. My plan was to stay with her, but keep an eye on my watch and stay as close to 9:05 as I could.

The gun went off and I had a brain fart and started my watch early… so much for it being time reliable at that point. After about 3-4 miles, I realized what a bad decision I made with wearing long sleeves.. should have done a tank for sure. I was feeling good though, staying with the pacer. She was a little fast, clocking those miles in the 8:50′s and between miles 5-6 and I decided to do what my coach told me, and back off. I still had a long way to go. I hit the 10K split in 54 minutes, which is a PR for that. I made through 5 points, no problem, but when I hit the Highlands, my brace came untied and I had to stop and tie it, and I basically lost all momentum at that point. I couldn't rally. Miles 7 and 8 were my slowest. I switched my watch view to pace instead of time/distance so I could keep an eye on my pace. I tried to make up lost time on a hill (so smart! Not.) and told myself "do not let your pace get above a 9:30″ and I just watched it creep up and there wasn't anything I could do about it. I knew at that point, that the sub 2 was gone from my grasp.
I tried to hold on to the fact that I could still PR and I've never cursed anything more than I did running at mile 12. That last mile will get you. I crossed the finish line to cheers from some RR teammates and that made me smile. I PR'd with a 2:02:30.
I can't say enough of the online support that I receive via Instagram and Twitter. You people rock!!!
I was so proud of Katelyn, who ran her first half yesterday and killed it.
Jo Ann, Katelyn, and myself post race… Jo Ann is a rock star runner.

It's safe to say that post race, Katelyn and I had fun. This is basically all that we did. I told her we were lucky that her mom doesn't know how to Vine or else there would be so interesting videos out there of our dancing.

I'm trying to be okay with not breaking my 2 hour time goal. I keep playing a lot of "what if" scenarios in my head, which makes it hard. I'm going to run Tuscaloosa in 3 weeks, so we are hoping it happens there. By the time I got home yesterday, Coach Ann had already sent me my training, so we've got some work over the next 3 weeks to prepare. I refuse to turn 30 without hitting sub 2.
I felt like I had been hit with a baseball bat after I got home yesterday. I took two naps. You know that achy-can't-get-comfortable-feeling like you get with the flu? That's how I felt. My lower back is sore from my phone in my spi-belt– I should stop running with my phone, honestly. My feet are ridiculously tender and I have blood blisters… thank the lord it isn't flip flop weather! I also chaffed pretty bad in a area that no woman wants to be chaffed. I guess I will be spending some quality time with my foam roller this week since my hamstrings are like rocks.
I'm going to be honest. When I got home, and after I had taken my first nap and showered (in that order. Hubs called me gross.), I uploaded my splits and started looking and analyzing (what? C'mon. You know you do it too.) and I just started crying. I was so disappointed that I let it slip through my fingers.
Ever had a race like that? That just took a complete nose dive halfway through?? How did you recover?

We woke up Thursday morning to a Winter Wonderland. Except, I like Summer and am over this extremely cold weather. This was, of course, after already being trapped in the house for 2 days… err… I mean, being at home with my sweet redheaded children who love to fight in a fort and bake in the Easy Bake Oven.
Proof I went a tad insane. Lululemon, fuzzy house slippers, and a Key West coffee mug.
As I sat watching the snowfall Wednesday evening, it was so peaceful, and all I could think was "I HAVE to run in this!". Someone should have had me committed at that moment, because that's the exact opposite of me 2 years ago. Heck, even 2 months ago. I don't do the extreme cold. But I was itching to get out in it.
I decided to run out my front door. Something I very rarely (okay. Never.) do. Simply because it's not very safe. People drive crazy on country roads and I don't want to be road kill.
It's one of the best decisions I've ever made in my life… it was gorgeous.
I learned that you run on the powdered stuff and don't try to attempt to run in someone's tire tracks, because it's frozen and the powder is soft. I stopped and took pictures when I wanted (which was a lot!). I even had some animals look at me like I was crazy.
It tried to eat my shoes, but I wouldn't let it!
It was so fun running like this. Having to be careful where I stepped, but just running for fun with no time goals or stress and some beautiful surroundings. It was wonderful to help relieve some of the stress of my upcoming race and really just have fun running in the snow.

Not bad.

Here's to a sub 2 at Mercedes!

Heather, Molly, and I decided to start a monthly feature of Our Monthly Mojo… Basically it's our 5 favorite things at that moment. It's going to be on the first Friday of every month. I'm super excited about it!
First things first… I'm loving my Frye boot. Mom got them for me for Christmas, and I will be sad to see boot season leave me and my BFF Melissa (that's the boot's name).
Melissa can be found Here or Here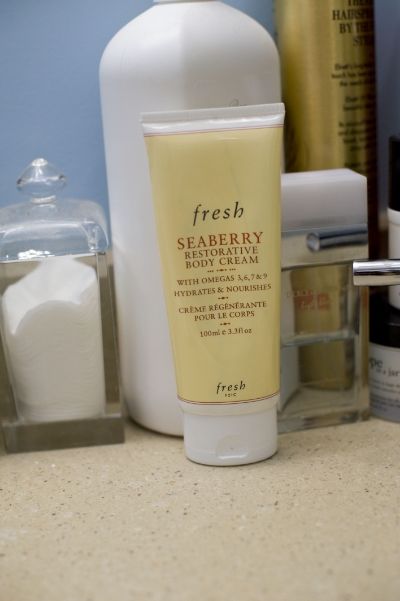 I am also loving this Fresh Seaberry Lotion… it smells fantastic and helps my dry skin. It can be found Here.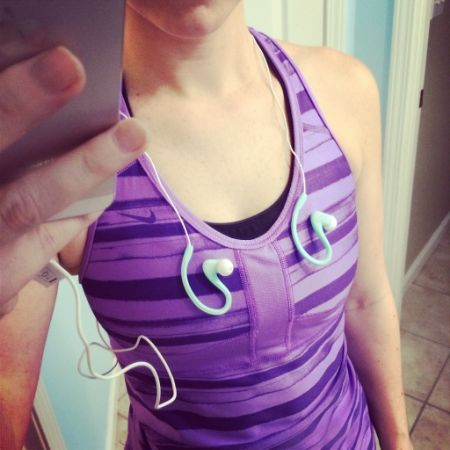 I've been running a lot with my Koss headphones.. I love them. The music sounds fantastic and they fit my ears perfectly!
I've gotten on a craft beer kick lately, since wine wasn't so friendly over Thanksgiving. First it was Good People. Now it's Back Forty's Truck Stop Honey. Yummy. It's made in Gadsden. I haven't tried any of the other kinds, but I've heard this is the best one.
Lastly, My disgusting runner's feet love this stuff. It's thick and will leave foot prints all over my hardwood floors, but it's heaven for my animal hyde runners feet. I like to lather it on and put on some thick socks before bed.