Weight Loss Challenge- Week 1
First things first- I have decided to run a 5K trail run this weekend.. so let's all say a prayer that I don't trip on a tree root and bust my face open. Because I am pretty sure that Robbie and Kelsie would laugh at me more than be helpful.
Second, I am closing anonymous comments. So for all of you that like to comment but don't know how (*cough Cousin Sarah *cough)- you just create an account with your e-mail address and make a password and, Voila! You can comment again, I think. Or you can just send me e-mails with what you want to say about things!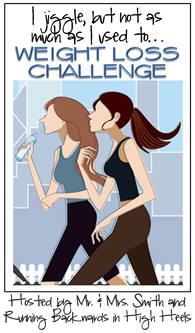 It's week 1, ladies! Let's get to know each other and tell about our goals and how we are achieving them. You can put the button code (found on the right column) in the top of your post and it links back to my blog.. the one on
Lindsey's
blog, links to her blog. Make sense? No.
Anyway, I am Rachel- decided to lose the weight from my second child by running a 5K- Claire is now 2 and I have 2 half marathons and a couple of handfuls of 5K's under my belt. I got serious in the Fall of 2010 about losing the rest of the weight and joined Weight Watchers. I lost about 13 lbs until Christmas rolled around and I halted WW and my weight loss.
Me in September or 2010- Penn State vs Alabama football game
November 2010- Iron Bowl
After the first of the year I concentrated on losing the weight through running and more specifically, training my Disney Princess Half Marathon. You can read about that
HERE
. Between training, a bout of the Noro Virus, and My Fitness Pal for my phone and calorie counting, I am currently 1 lb away from my original goal weight of 130. That's a 20 lb weight loss. I have since decided to attempt to get 5 more lbs off and get down to 125.
Me at Disney in February 2011- about 17 lbs lost.
*Side Note- I haven't actually seen the weight loss since it's me and it's been so subtle, but going through these pictures.. WOW. I can't really tell!
This is where y'all come in! Let's band together and encourage one another through our weight loss journey.
If you aren't comfortable posting your weight, we can go by your percentage of weight lost.
Currently, I am running and doing Jillian Michael's 30 Day Shred 4-5 times a week.
Now, Tell us about YOU!!

19 Responses to Weight Loss Challenge- Week 1