Wednesday was my day people. It should go down in history.
I was Super Woman.
Yes.
I woke up at 4:45 to work out, showered, drank coffee, did 7 loads of laundry(towels,sheets,etc), edited, processed orders, did business taxes, blogged on the photography blog, cleaned bathrooms, ran errands, and OH YEAH. Took care of both girls. I was going to get my SuperWoman badge, but Philly's fam wanted Carlton's. So, I didn't get to add "home cooked meal" to my day. Boo.
Anyway, I felt awesome until about 4:00 and I got super duper tired.
Moving on.. Random Hollywood drama I found out today…
These two might be dating?? YES, PLEASE. Angels would sing from the heavens if these two got married and had babies. I would become the ultimate stalker if it happened.
Catherine Zeta Jones is major Cray-Cray… Who would've thunk?
Tori Spelling is preggers with her 3rd child. Please don't let this one have a mullet.
And these two are a couple? Scarlett Johansson and Sean Penn? He could be your dad. And.. does Scarlett have a food baby? What is that thing?
Moving on to the Weight Loss Challenge!!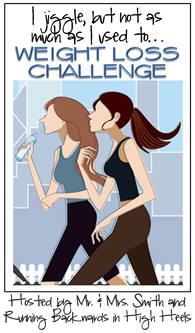 SERIOUSLY?? 48 people linked up?? We were hoping for 5-7, we thought 10 at the max. 48 people?!?! Just incredible everyone!! I can't wait to see everyone's progress!
Let's look at my picture from this mornings scales….
Do you SEE that?!!?! I hit my original weight goal of 130. I have officially lost 20 lbs. People. That is huge. I wasn't sure I could actually do it and I did!!