I jiggle- Week 3
Thank you all so much for the birthday wishes! While I am not digging getting older, I still do love my birthday.
I ended up with the cutest travel coffee mug from my friend Ashley- I love travel coffee mugs! The girls got me lots of dollars on iTunes to buy some books and music and I got two bottles of wine from the wine tasting the other night and a new running outfit- it's Alabama style people. Can I just say how much I love my new WHITE running skirt! After seeing
Racing with Babes
Boston inspired outfit, I knew I had to have a Bama one. Philly heard my cries and somehow got a
Running Skirt
here after pronouncing on Monday that he couldn't find it on the website.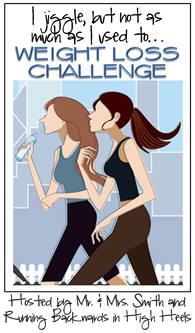 So, onto week 3! I am loving everyone coming together and giving motivation to each other for this challenge.
While, I didn't get on the scales this morning after my birthday dinner, I can attest that I have been staying strong at 130. I can't tell you how awesome it makes me feel to have everyone tell me how skinny I look. I promise that never gets old!
I have decided that I will most likely try to stay around 130 and just tone up my body. My friend Jana has started her second week of Jillian's Ripped in 30 Days- she says it's tough but she is already seeing results. So much that her husband has commented on it. I will be ordering that and doing it in conjunction with running/elliptical. I really want to concentrate on getting my pace under 10 minutes, so I will be working on my speed for a 5K. I am around 10:20 a mile for my 5K pace and I want to get that down to 9:00.
I can't wait to hear about how everyone is doing this week!

10 Responses to I jiggle- Week 3