I jiggle Challenge!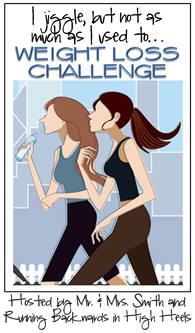 Hey all! Sorry I missed last week, but as I was living like a pioneer, maybe you will forgive me.
I am happy to report that most of the city has power again and they are working SUPER hard to remove all the trees from the roads- it actually felt weird to go through town yesterday and not have to stop at every red light like a 4-way stop.
I knew I would probably gain some weight living with my mom and since we could only eat things that didn't need to be cooked, it was a lot of chips and junk for a few days.
Since we also had to completely start over in our fridge and freezer, there isn't any junk in there either. I just bought salad stuff to help get the few lbs I gained from moms.
Jillian's Ripped in 30 Days also came while we were pioneering it, and I started it yesterday. My friend Jana sent me pics of her arms and abs, and she has only been doing it for 3 weeks- 2 of which have been at level 2- guys, she is looking ripped and with the Vegas trip coming up, it was just the motivator I needed. I started it yesterday and level 1 isn't bad- it's a combo of level 1 and level 2 from The Shred, but I have seen clips of week 2 and I am scared. But don't worry, Jillian suggested that I take before pictures and I did.. I just hope I will get to show you some awesome results!
I am happy/baffled to report that this morning I weighed 128.5 on the scales. Not sure how it happened, but I will take it!
I am looking forward to seeing everyone's progress, as I missed completely from last week!

2 Responses to I jiggle Challenge!