I jiggle Challenge-Week 6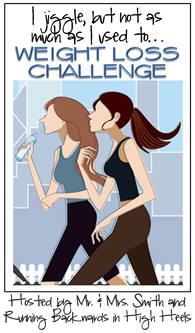 Happy Thursday, peeps!! Do we really only have TWO weeks left in the jiggle challenge?!? Wowza.. you peeps better get into high gear!
We started this challenge as a way to encourage and motivate other women to change their sedentary lifestyle. We want every woman to feel amazing in their own skin and be healthy. We REALLY want to stress the importance of healthy eating and exercising. Which means, NO. FAD. DIETS. I actually hate the word diet. I am not on a diet. I am on a lifestyle change. With that said, since this IS a competition, and we will be sending the winner a prize, if you are doing something that is a fad diet, you cannot "win" this competition. I apologize for stepping on peoples toes or if I make anyone mad, but I don't this it's fair to everyone else that is exercising and eating right, if someone wins who's "diet" doesn't encourage you to eat right or exercise.
I am officially in my second week of Jillian's Ripped in 30, and I am going to say, if she doesn't rip me, I am going to be mad. My bootay is in a constant state of soreness. I can tell that the under-boob-pooch is gone. I don't have delusions of grandeur about my post children abs, but I do want them to be the best they can be. I feel stronger, but really can't see a difference in my arms yet.
We leave for Vegas at the end of the month, and I really want to look toned. I feel like I will spend most of my time in a bathing suit, and looking back over last years Jamaica pictures, I don't think I looked that good. Of course, I was also 15 lbs heavier.
How did YOU do this week?

2 Responses to I jiggle Challenge-Week 6