The Jiggle Challenge- Week 7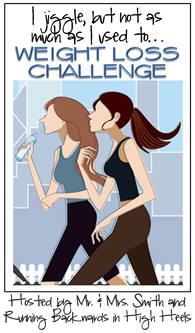 Hello all! I am staying strong this week at 130, and I am honestly pretty happy with it. I haven't upgraded to level 3 of Ripped in 30 Days, because, honestly? Potty training is really taking it out of me! Claire is catching on wonderfully, and only have 2 accidents all day yesterday, one of which was my fault. Anywho, the plan is to do level 3 until Vegas.
I ordered basically an entirely new wardrobe yesterday, so fingers crossed it gets here before we leave.
If everyone will be linked up by Friday, we will announce the winner on Monday! Please post your total percentage lost so we can determine a winner. Good Luck!

4 Responses to The Jiggle Challenge- Week 7