I Jiggle Challenge-Week 8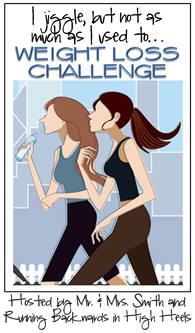 Hey everyone! Today is the last day of the Jiggle Challenge! Congrats to those who are still here with us because it's not easy getting out there, week after week and putting your weight on the internets! Make sure you let us know your total body fat percentage lost, that way we can accurately determine the winner.
Speaking of winners…
the winner will receive a $25 iTunes gift card from us!
I hope everyone has gotten the encouragement they needed out this. I know life has gotten SUPER busy for me, and at times it was really hard for me to be able to get around to comment on everyone's blogs. But anyone who decides to change their eating and exercising habits is an inspiration to me. It's not easy to do. My philosophy on it is,
"You have to want to be a butterfly so bad, that you are willing to stop being a caterpillar."
So, my hat is off the everyone this week. You should give yourself a pat on the back, because you definitely deserve it.
Please be sure to link up, no later than Friday evening, and we will announce the winner on Monday!

One Response to I Jiggle Challenge-Week 8