I decided to get up before the chickens and drive to Birmingham Saturday morning to run with the Birmingham Track Club. They have an awesome group that meets on Saturdays and has multiple distances and multiple paces. With it being so flipping cold, The Trak Shak opened and let us hang inside while they went over the routes.. of course, I never listen to turns… Probably a terrible idea. But I did run with my phone, in case I got lost. Because that's been known to happen before.
The gigantic group starts together but they end up breaking off into smaller groups based on pace. I am becoming more comfortable walking into these settings of not knowing anyone and just start talking to people. Sometimes people are more receptive and others aren't, but I've found that this Saturday group is super friendly and will make you feel comfortable.
I met pacers for my upcoming half marathon and past Ms. Alabama's, so it was a good run, I'd say. Of course, the route was a little on the tough side, with some killer hills… one of which was an incline for about 2.5 miles… Super fun with the ankle. But the view atop Red Mountain… was sort of worth it. The group said the sunrise was amazing, but we were a little bit early for sunrise and it was still dark… It looks lighter because of all the lights coming from the buildings downtown.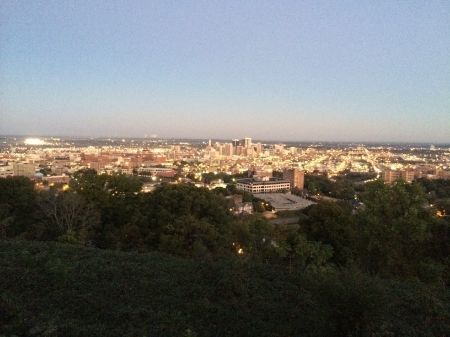 My race season starts on Saturday with my 3rd 10K ever and the first time that I've ever run the Vulcan 10K. I'm hoping it'll be a good run that I finish in under 1:00, but we shall see what the 'ol running coach says. I'd love to see sub-55, but I am not sure that is even possible or smart with a half marathon at the end of November.
The ankle seems to be holding up in the brace. It's a little more sore after those 9 miles, but nothing unmanageable. I should probably avoid big hills though.