This post is sponsored by FitFluential LLC on behalf of Koss.
I was so stoked to get this earbuds to try out.. because well.. mine are about to bite the dust. No seriously. I can hear the parts rattling in the casing when I run. The Koss Fit Series was designed by women for women.. so they know what I like!
I was thinking I would love the FitBuds.. the ones that just sit inside your ears. They have the different size cushions to change out. I had a semi-dance party around the house the night I got them while trying them out.
I found that the FitClips were actually more comfortable and fit better in my ears once I got them situated. Plus… they are that shade of mint that I just LOVE. I must say that I was a little disappointed at first, because they don't have controls on the cord and my iPod can only be controlled through that. Luckily, I have a pair of capris that are iPhone friendly, so I was able to use them with that. I also had to take my case off so the plug would fit.
I thought the sound was AMAZING in these things! The base sounds incredible and I was honestly a little shocked that they could sound this good. I'm a little bit of a music snob and being married to an A/V nerd, I have been drug to MANY a home theatre stores and these are some of the best sounding earbuds that I have ever heard. The sound is so clear and they FitClips do not move and are ridiculously comfortable! They are also sweat resistant… which is nice, since I've been known to get shocked by ear buds in the past.
I did do a little research and Koss makes some earbuds that do have the controls on the cord, so that was good to know.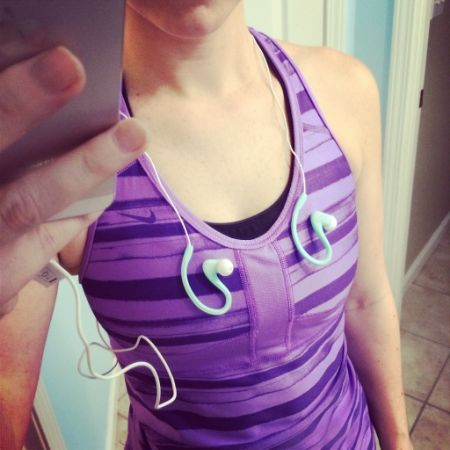 The Koss Fit Series comes in some pretty colors and they would make an amazing gift for any active chicka. You can find them on the Koss website HERE and they retail for $29.99.  They are also available at Wal-Mart, Best Buy, Walgreens, Kmart, and Sears. These retailers have them for $19.99 during the holiday season! What a deal!
Y'all know I love a company that is active on social media and they are one of them! Follow them on Twitter @KossHeadphones, Instagram @Koss, Facebook– www.facebook.com/Koss, and Pinterest– www.pinterest.com/KossHeadphones.