Saturday morning found me at my first 5K in almost 2 years… I just stopped running them to concentrate on distance. My PR for a 5K was 29:25 and it was set on this same course, so I was looking forward to seeing what I could do.
My friend Sunny was racing. As many times as we have raced at places, we have never gotten a picture… since Hubs came out to watch me, he was able to snap some pictures.
With it being a local race, it's not that big and knowing the course was both a blessing and a curse. The first mile mark is around a loop, so you can see both the leaders and the cabooses. It was weird to see that I was in the top runners. I love the first mile and a half of this course and then it takes a boring straightaway and hits some pretty intense hills for the last part. I wanted to stay under 8:30's and I clocked the first mile is 7:59 and the second in 8:38.. quite a difference in time there. I'm not sure what the last mile was, but it was brutal. The heat was getting to me and the uphills had me rethinking the whole thing, but I just kept telling myself "Less than a mile, less than 10 minutes.. you can do anything for that". I knew I was going to PR, I really wanted to come in around 26:25, because that would be a full 3 minute PR… I just tried to maintain for the last half a mile… as I closed in on the finish line, I could see the clock and it was ticking closer to 27 minutes and not breaking 27 was NOT an option for me, so I found once last spurt and came across the finish and almost immediately felt like I was going to vomit. I tried to walk it off towards some bushes, but I was able to push that feeling back.
We hung around for the awards ceremony. John wasn't sure who all came in front of me or who was in my new age group of 30-34. Turns out the girl that passed me when I was maintaining with half a mile to go was in my age group and she came in first, with me finishing seconds behind her.. I was a little ticked at myself at that, but not completely sure I could have passed her and been able to maintain it. At least I got a shiny new medal!

Sunny ended up placing her age group, as well as her husband Jason.

What's a Strawberry Festival run without your picture with a giant Strawberry? I loved seeing my friend Shannon! I don't get to see her that much anymore.. she's gotten way to fast. I guess I'll just continue to chase her.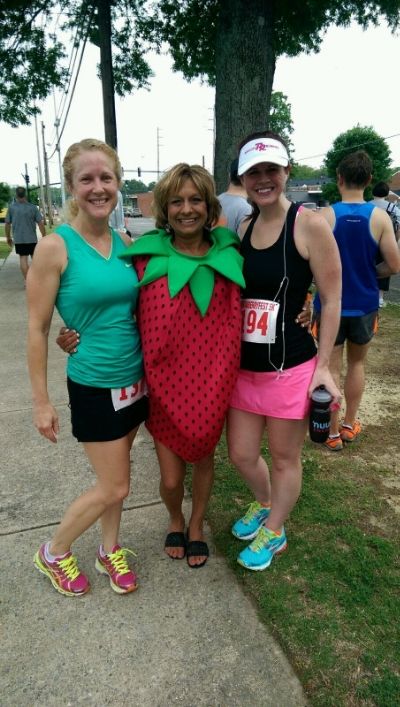 What a cute little medal!

It's safe to say, I'm pretty proud of what I've done running wise. Sure, I've had a lot of days lately where I don't feel like running, but to set new PR's in every distance that I've run this race season, is pretty dang impressive! I just can't say enough for Coach Ann and Coach Alex at Resolute Running. If you are looking for more structure to your runs or just need some guidance, I would definitely send one of them an e-mail.