This weekend, the girls and I were over to Atlanta to visit the Hubs since he has been spending a LOT of time over there for work. Turns out, Molly and her family were coming down to go to the Aquarium, so we decided we HAD to meet up.. we were entirely too close not to get together!
We met them for a late dinner at PF Changs, which was funny, since that was the very first place we ever met! This was the first time that all 8 of us  have gotten together. Addy and Coop were with us on that first meeting, but Claire was a baby and Callan wasn't even thought of, yet! How crazy!
I cannot say enough about this girl… she is an amazing friend. Just as sweet in person as she is on the Internet.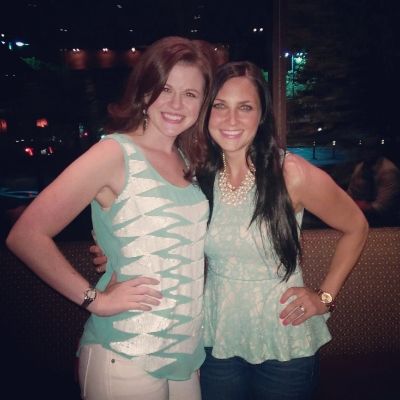 Us with all of our kiddos.

We woke up Saturday morning and headed to the American Girl store.. we surprised the girls with this, and they were so excited!

This was C's first trip and we HAD to do something with Caroline's hair… talk about some high maintenance locks. As I was chatting with the hair stylist, she says "You look really familiar". I looked at her and recognized her immediately.. she was training when we came for A's birthday. How crazy is that?!

I love this picture….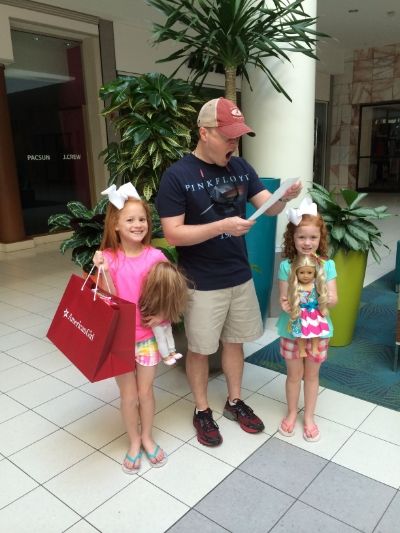 After that, we took them to see Maleficent. They've been waiting for this movie to come out and it didn't disappoint. I was worried about it being a little too scary, but the girls were fine in it. It's not what I was a expecting.. you get Maleficent's backstory and how she became so "evil".. very Wicked-esque and I loved it.

As always, we had to check out some new cars with Hubs.. he likes to be in the know. I equate this to me going into every Lululemon store I meet.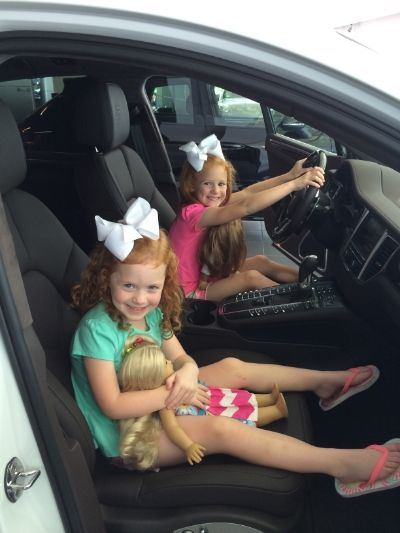 We met Molly and crew for a late lunch and it was so fun to watch the kids play and run around.. I could have watched it for hours! I make fun of Hubs for having an "ipad" for a phone, but HTC fit all 8 of us in a selfie, so I can't complain, right?!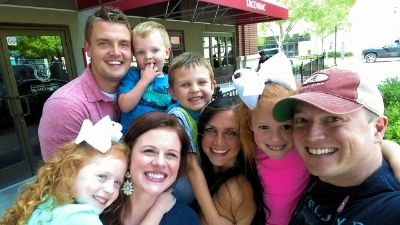 Here's 4 kids who know how to smile for a camera!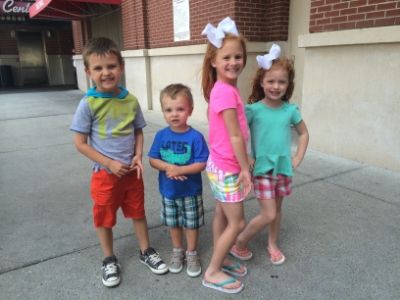 Saturday night, we went back to the mall and I saw this lovely car tag… so of course, I had to take a selfie with it… yes people watched me do it and I felt really awkward.

Sunday, we hit up Big Pie in the Sky before leaving.. this place was on Man vs Food and has some of the biggest pizza ever… this "slice" of pizza and salad and a drink were only $7. Score!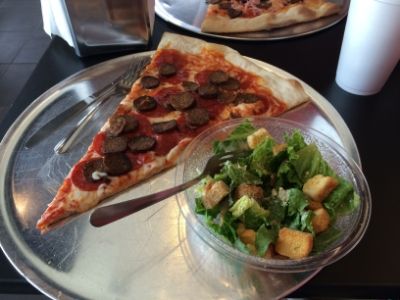 I had such a great weekend trip with the family.. it's nice to get away sometimes, even when you don't have anything major planned.