Have you ever stepped back for a second, and looked at what you are doing and thought, "Who IS this person?". That's what I think when I tackle something new in running. Whether it be a time goal, races, early morning running times, etc. For whatever reason, I've decided to drink a new Kool-Aid and this one is trail running. I KNOW. I run in skirts, people. Why am I out playing in the dirt? I'll tell you why… because it's fun!!!
The Internet has brought me a lot of things over the years, and now I can thank it for bringing me my Northern counter part and fellow Resolute Running team mate, Tanya. She talked me into running trails with her, and my only condition was to force feed her Strawberry Pretzel Salad because she said it sounded gross.
I met her and Greg at Ruffner Mountain this weekend, so they could show me how the BUTS do it. (That's the Birmingham Ultra Trail Society, y'all.) Tanya wanted to show me the rock quarry, which I have to admit, was pretty awesome. But I had to climb up this steep incline, literally grabbing tree roots along the way. Who knew trails were a full body work out? And then she forced me to climb through this:
I'm pretty short and I hit my head. It was totally worth it. No picture can do it justice, but it's 365 degrees of rocks. Greg gave me a history lesson in Ruffner Mountain. It was mined for the iron that helped build Birmingham.. most Sloss Furnace. I thought that was so neat! Apparently, there are mine trails everywhere around there.
I'm really just way too jazzed about this.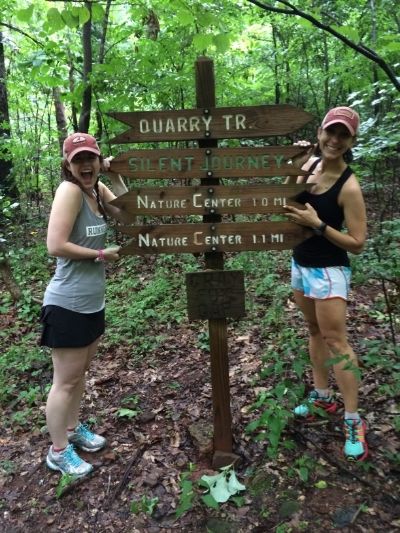 One of their friends, Jenny, met us a little bit later. I love meeting new runners!

There was a stage at the bottom of one of the quarrys, so, of course we had to get on it! Side note: I really should hang out with people who aren't so tan. I'm basically glowing in this picture and I'm the tannest I've been in a long time.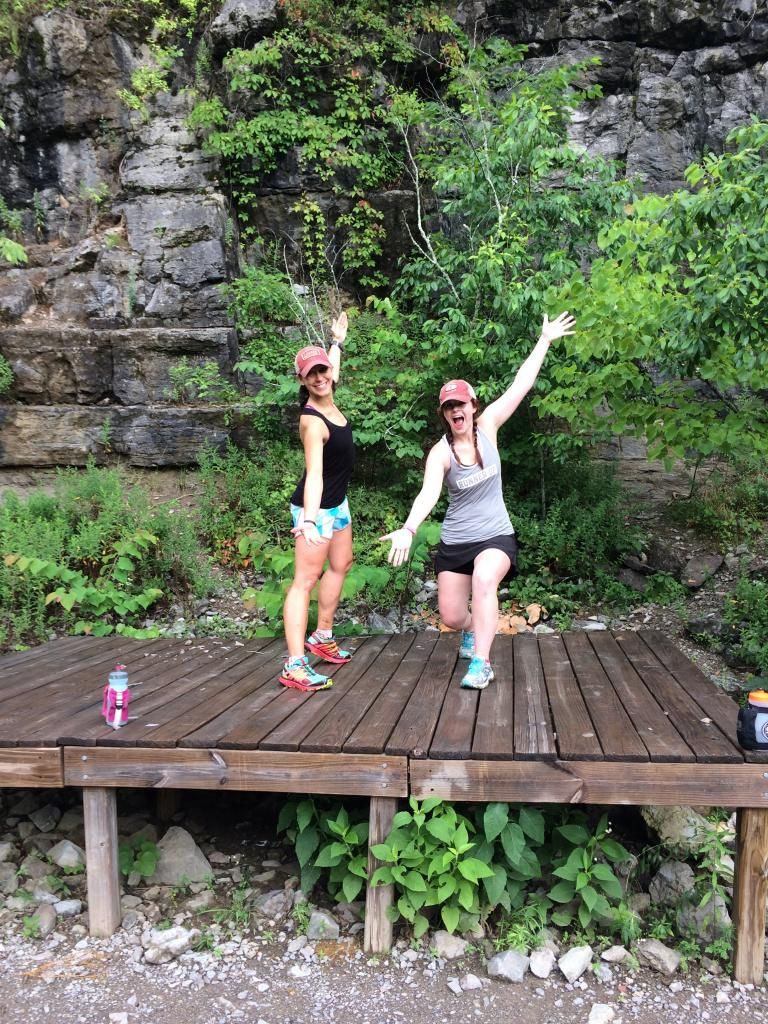 Greg and Tanya did me a solid and made sure I got to run some of the toughest trails Birmingham has to offer… and I am definitely feeling some sore muscles. After the run, I force fed everyone Strawberry Pretzel Salad… They all agreed it was not the disgusting concoction they had in their minds.

I wanted to see Tanya's new loft, which is nothing short of amazing and made me super jealous that I don't live in a downtown loft, and he headed up to the rooftop deck for some mimosas and more strawberry pretzel salad.

I cannot wait to continue my journey this summer with the trails. It's such a unique experience, both humbling and rewarding– you get to see how strong you are as a runner but also how much stronger you can be. I definitely recommend getting off the pavement and giving it a try!