I happened to be with my mom when I found my Easter dress this year and I was in love with it… she also bought one too, but that's okay..
I don't wear too much green, but I am starting to add it to my closet.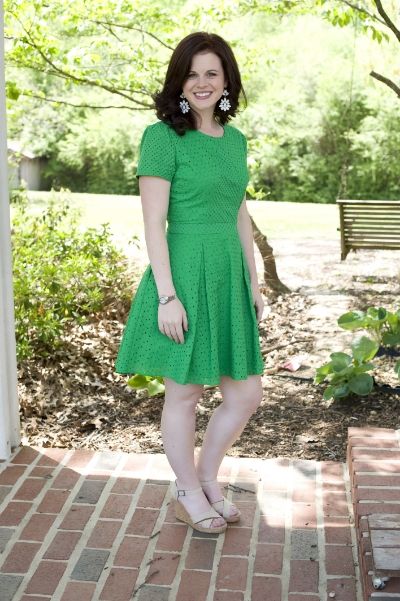 I didn't figure out until later that it had pockets!
A little redhead wanted in the picture

I love a good family picture.. but I hate you noon sun! You make terrible shadows!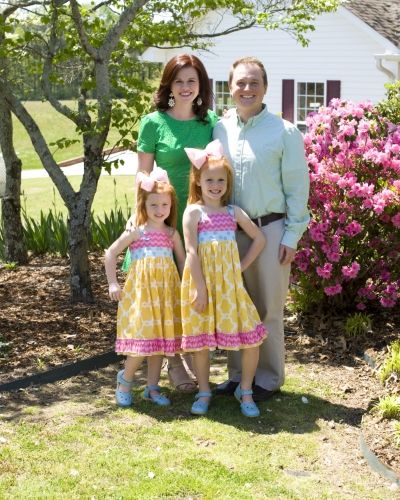 Me, my mom, and my sister… See how Mom and I are color coordinated? That's what happens when I pick out her Easter dress.

I love this one with Mom and all the grandchildren.. mainly because of Claire. That kid has come out of her shell as far as pictures are concerned!

Time for the egg hunt!

Now if someone, besides myself, would come eat all this Easter candy!
How was your Easter?

Birthdays are really big deal to me. I was raised that way. You get to celebrate the entire week, if you want! Since this was a big one, my friends started in on Monday, reminding me every day that it was my last Monday of being 29.
Friday, the UPS man dropped off something special… Sherrie's Berries from Molly. I have some of the best friends!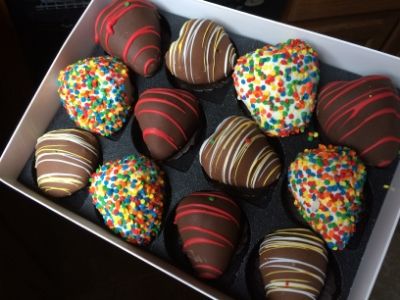 Friday night, J wanted to take me to Flemings for dinner and when I walked in, my closest friends were all at the table.. even with Molly on FaceTime! It was such a surprise and a truly amazing dinner. All of these girls are so special to me. I wouldn't be who I am without these ladies.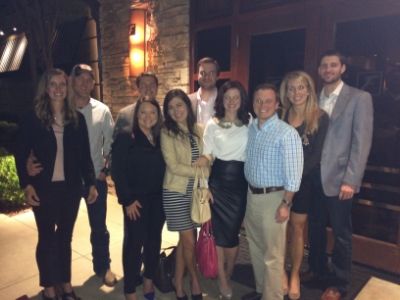 Saturday morning, I intended to volunteer at Statue to Statue in Birmingham.. it's a point to point race from Vulcan to Liberty Park.. but I met with the BUTS (Birmingham Ultra Trail Society) who were doing the S2S2S.. where they were running from the finish before the race, to the start line, and then running the race back. Well, Tanya and I weren't up for all that, but I did join them for the first half of it. She is a fellow blogger, turned stalker, turned Resolute Running teammate. It was her longest run since her injury and my last run in my 20′s..and we did it right. Showing Coach Alex up on our abilities to take selfies while running…

Looking good, BUTS! See the guy in the orange shorts? He is married to my oldest friend (we've been friends since Kindergarten) and I had no clue I was running with him until a picture showed up on Facebook and we were both tagged in it… and he is standing right next to me in it. Way to pay attention to your surroundings, Rachel!

Tanya and I had a TON of fun running.. and I must say, I like running with the BUTS, because they walk the hills.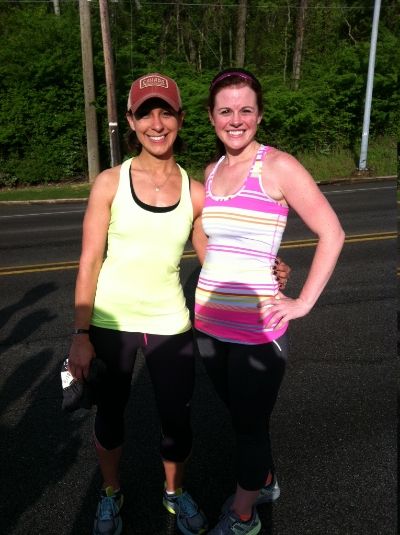 We made it to Vulcan!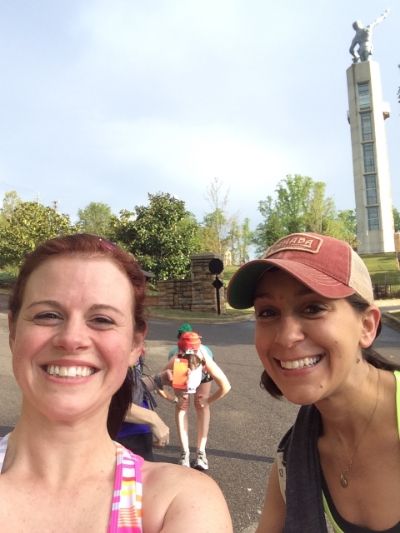 One of the things for running selfies, is finding someone with long arms to help you out for the group shots..
We ended up at the first water stop.. and were going to hand out water.. but DOUGHNUTS!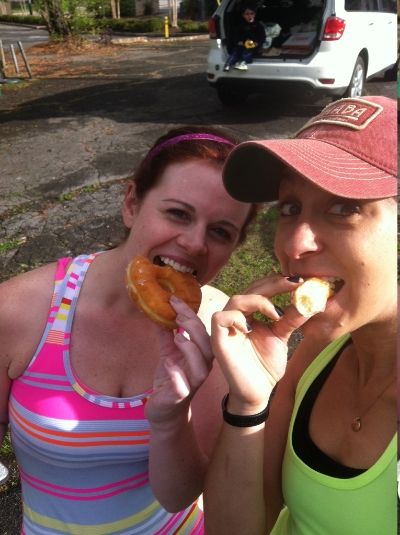 See? Another prime example of finding someone with long arms for the group selfies.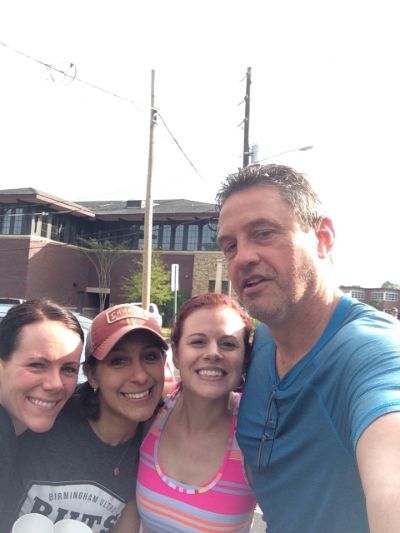 Not quite a selfie, but who can pass up Vulcan?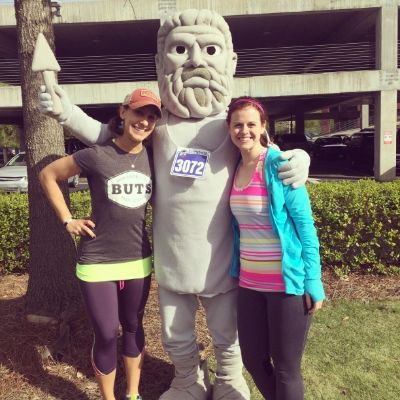 Ahh.. Liberty Park!
Saturday night was dinner with Dad and Karen..yummy Sushi!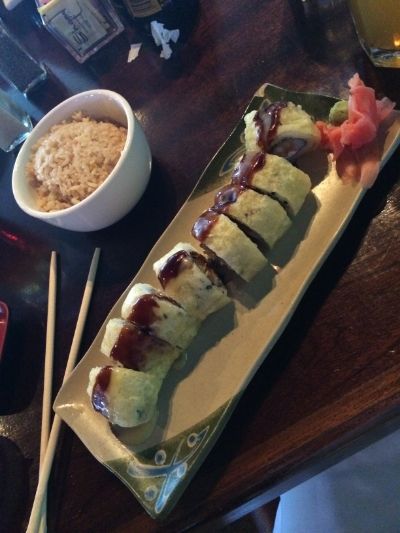 Sunday was Easter, and really deserves it's own Easter post…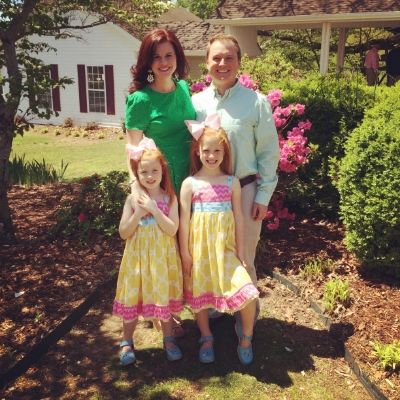 I hope this isn't a sign of things to come.. the 3 breaking on the 3-0 on the cookie cake.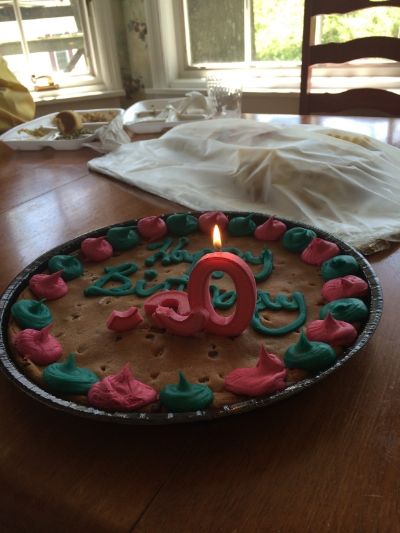 This weekend was amazing and filled with my amazing support system of friends and family. I had a blast each and everyday. The tweets, Instagram messages, texts, emails, and Facebook messages were awesome and really helped to make the day special.
Bring on the 30′s, baby!!

If you hang out with my family for long, you will realize how much we like to eat.
All vacations are planned around eating schedules.
So, of course we were super excited when the fabulous people at Carnival gifted us dinner at Fahrenheit 555.
The girls went with us, since Camp Carnival was closed. The waiters were so amazing with them. Bringing them things to color with, and just raving over their drawings. The Reds ate up every bite of their attention too!
My meal was so delicious… I had the crab cake appetizer, a filet, a pickled oyster, and some caramelized apple dessert. It was delicious.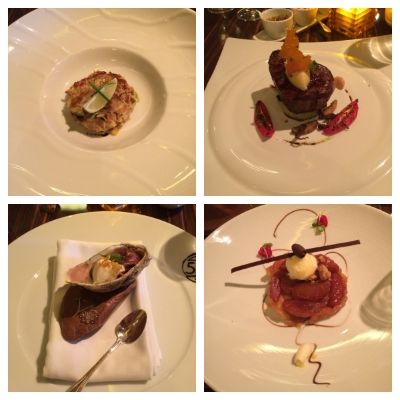 They even packed up a giant piece of cheesecake for the girls to enjoy back in the room!
J and A are always dinner buddies.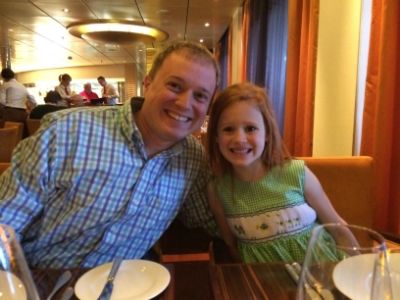 C is always my dinner buddy.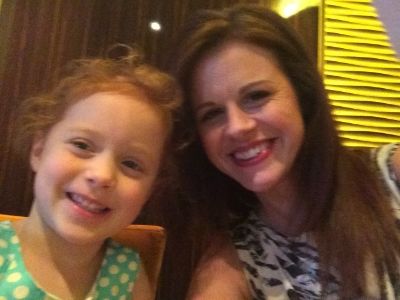 We were also given a complimentary bottle of wine and this was delicious! Typically, I am not a red wine drinker, but this will definitely go on the list to look out for!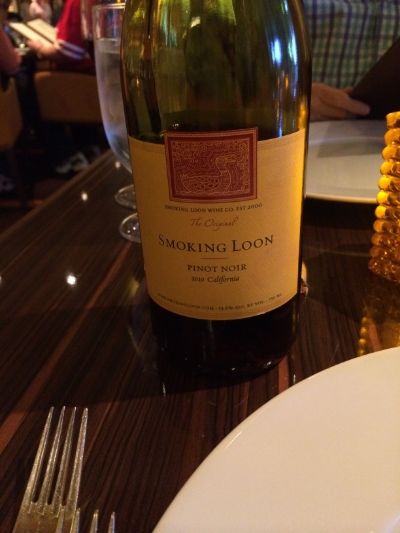 Now I've made myself hungry for a steak!
We decided to eat one night at Ji Ji's Asian Grill. It's $12 per adult to eat there and $5 for kids. It was worth every penny and then some!
This was their menu… the items were categorized by numbers and they coincided with a map that would tell you what part of Asia that dish was from. I thought that was so neat! They could customize everything for you, as well. I ordered the Kung Pao Chicken, which is generally extremely spicy and they made a milder version for me.

Claire opted to eat pizza… I'm pretty sure she ate about 21 pieces of pizza on this trip. No, I'm not exaggerating, I kept an actual count.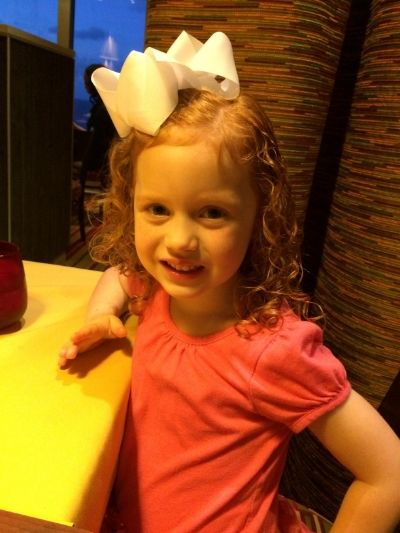 I also had a lemon/ginger martini that is one of the best mixed drinks I've ever had. It was a less sweet version of a lemon drop and was phenomenal.

If you've never tried the special restaurants on these boats, you are really missing out! The food is fabulous and the wait staff just caters to your every need. We had actually planned to go back to Ji Ji's the last night on the ship, but Hubs wasn't feeling so hot, so we didn't go.
Have you ever cruised? If so, have you tried the special restaurants?
*My family and I were gifted this cruise by the lovely people at Carnival in exchange for my opinions on it. The opinions expressed are my own.*

As I geared up for yesterday's half marathon, I felt ready. As ready as I did going into Mercedes last year when I knew I could pull a sub 2:15 out of my hat. And I did. I changed my race outfit from the norm… not running in a skirt, but shorts. Not running in a sparkle headband, but my Nuun visor.. and most importantly, no music.
I was picked up at early 30 with some fellow Resolute Runner's and Birmingham Track Club members that were making the trek up there.
Isn't she just the cutest? She is pregnant and a ridiculously strong runner and one of the sweetest people you will ever meet!

The car buddies… we over shared and enjoyed the summer-like conditions for a race!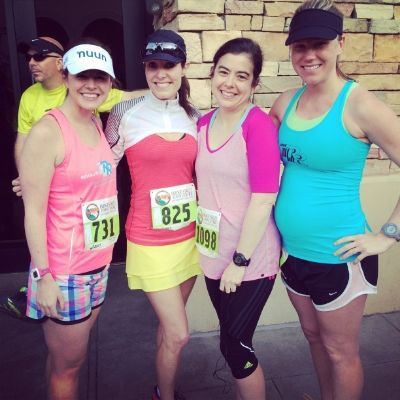 The race started, and while we had these massive chips on the bib, it was a clock time race. We started off feeling good. Halfway into the race, Coach Alex took my phone from me and started taking pictures.. and the man took a LOT of pictures.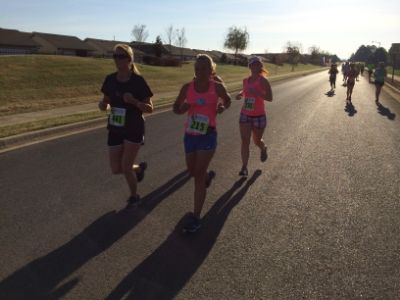 He kept giving us tips for racing.. and wanted us to stay in a tight form. As per usual, Rachel didn't listen and was a little further back than he wanted me to.

He attempted a selfie… and completely cut himself out of the picture… Coach Alex, you teach me how to race and I will teach you how to take selfies!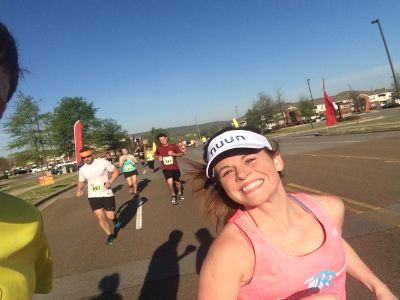 Coach Alex especially loved how we were all color coordinated and in our Resolute Running gear… we looked like a real team out there and I know that made him proud!

We sort of started getting separated as the heat got to everyone, and for a while and it was just me and Alex… I'm not sure if he enjoyed it or not. I got really whiny. And then I started huffing and making weird noises and grunting. Yep. I became THAT person on the race course and I don't even care. Then I became really mean and fiesty. Then back to whiny. And all the while, Coach Alex kept trying to talk to me. When I said "I can't. Please let me walk" He would say "What would you say to your daughters if they said that?" Then he asked me what my PR was and I couldn't even form thoughts. Then he asked me what I ran in Tuscaloosa and I responded with "something." and he laughed.
The picture after this one is honestly my favorite, but I am flipping him the bird, so it's not appropriate.. and neither is the cowbell lady story, but Alex is having a good time telling that one already!

I have a feeling he will tell me to get my eyes off the ground when he sees this one!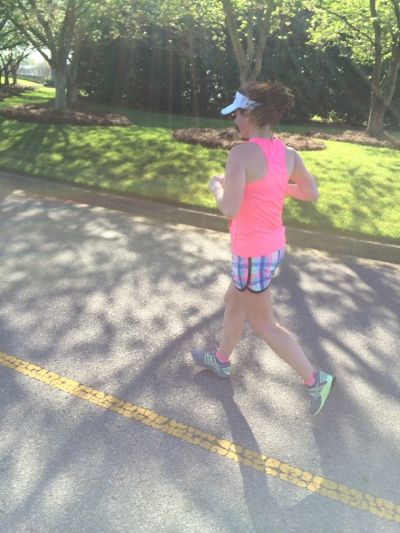 While this race was not a PR and I didn't beat my 2 hour goal, Coach Alex helped me to dig deep and not give up when I REALLY wanted to and was begging for him to let me walk. He literally had a hand on my back at times during the last two miles. This race was incredibly hot and I saw a LOT of people in need of medical attention on the course and after. When we came back into the mall area (that's where the finish line was and a terrible idea, in my opinion), Alex was telling me to kick it up, and then I saw a girl I graduated high school with, who was at the mile 13 marker calling out times and she said "C'mon Rachel! You got this!! Kick it up, girl!" and since she ran me in for my very first 5K, that thought crossed my mind. Where I thought I was going to die out on the course of a 5K, and here I am, trying to reach a goal that was never on my radar. When I started running this distance, I thought a 2:15 half marathon was the very best that I would ever be able to achieve. Over the last two years, my dedication and pride in this sport, and who it has molded me into as a person, that all came back full circle for me. I will break 2. The weather conditions weren't in it for this one and that is something that is completely out of my control. There are a lot of things you can control in a race, but weather isn't one of them.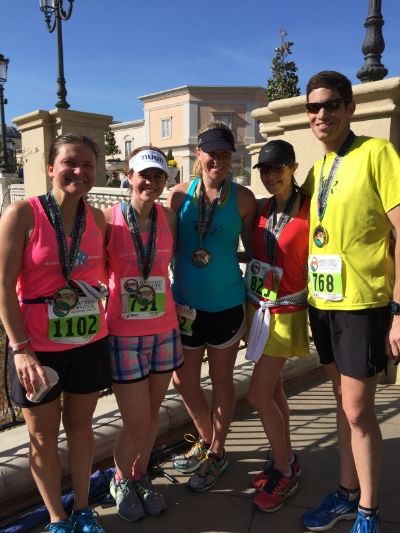 So, I will wear my 2:03:51 (official race time) with pride. I was 13th out of 79 in my age group and 288 out of almost 1,000 runners yesterday. That is not anything to shake a stick at. Looking at it like that, puts everything into a different perspective. So, for now, I'm putting the sub 2 on the back burner. It's just getting too hot right now and I need to acclimate to the heat. It's only going to get hotter in the South. I think it was mid 60′s at the race start and well into the 70′s but the time we crossed the finish line.

It was so hot and I was getting so dehydrated out there.. my fingers wouldn't bend and they were sausages. My watch my tight on my wrist and when I crossed the finish line (The finish chute wasn't near long enough, in my opinion), my arms went numb. I couldn't get them to work to get water. That was weird and scary.
Notice anything? I'm not wearing my brace. That's right.. first race without the ankle brace and it felt good, y'all. I'm officially back in complete working order! My dad and step mom were there for the start.. Dad really hates to miss me racing, which is nice, even though I'm a grown up now. J and The Red's were there at the finish line.. I didn't know they were coming and so that was a nice surprise.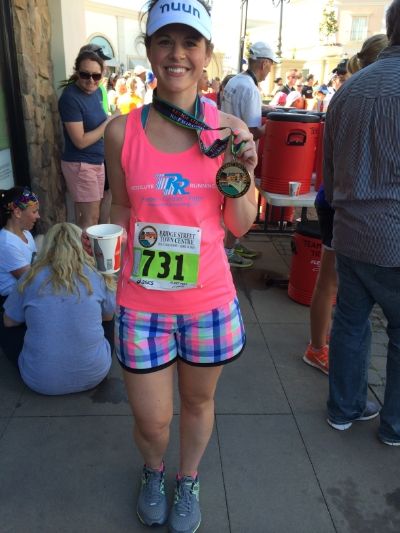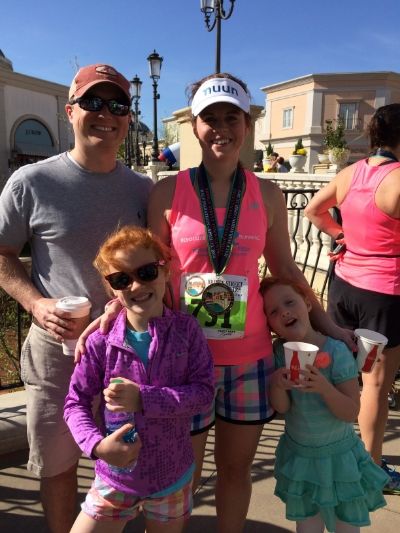 We went to brunch post race with the RR team and you know I'm all about a post race mimosa!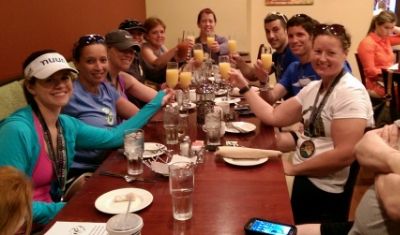 Shrimp and grits, get in my belly.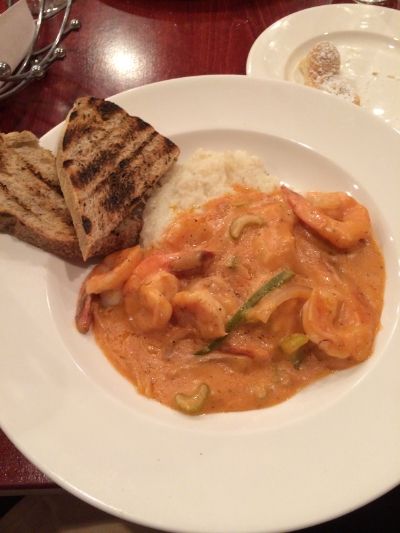 Sorry if this picture grosses you out, but I knew my toes were hurting in the race, which I thought was weird. When I got home and went to shower, this is what I found inside my shoe.

Blood. And lots of it. I think it's safe to say that the Nike in the wide isn't working for me, with all the problems I've had this training cycle with blisters. I'm on the hunt for some new shoes now.
This certainly isn't the worst race picture of me.. it's actually probably the best. Want to hear something funny? After all the stress of this being my last 25-29 Age Group race.. they broke their groups down to 25-30. So I would have been in the same age group anyway!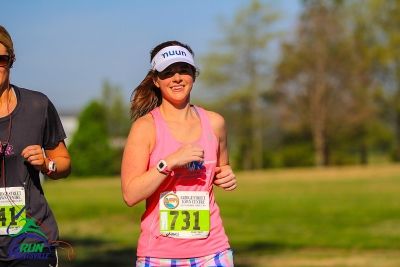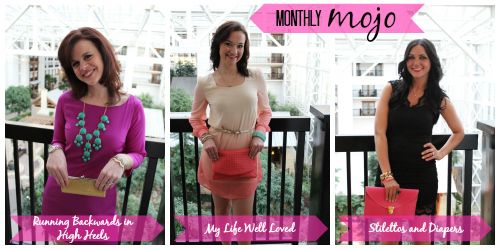 It's that time again.. for Monthly Mojo.. truth be told, we are all a tad late. April snuck up on us!
Now.. onto my favorite things!
First up… THIS GUY. Cause it's his birthday and all. Happy Birthday, boo boo!

This view wasn't terrible from Margaritaville in Montego Bay… I wish I was there now!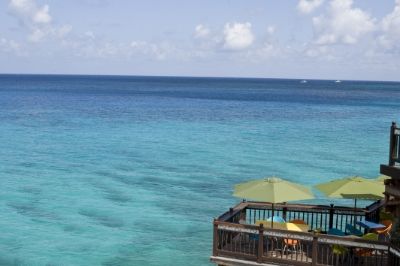 I'm having a not-so-secret love affair with eyelit lace.. I want it on everything!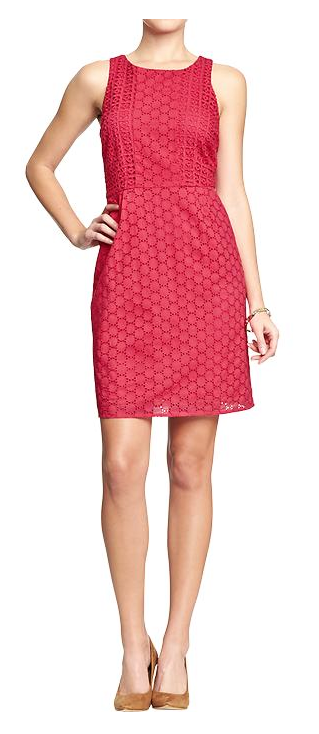 I've finally found the best shorts.. the Lululemon Groovy Run shorts.. great pockets and I like the length on them. They cover my cellulite nicely.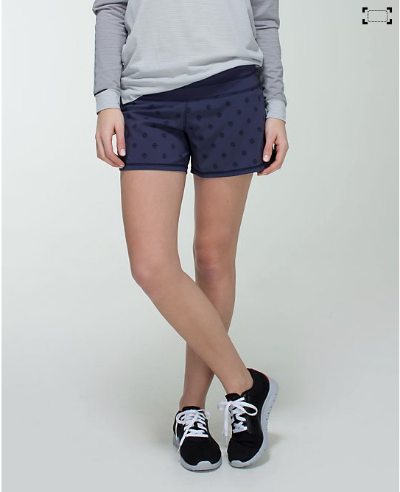 And last but not least… my Old Navy flips. I have a million pair, but at $2.50, you can't go wrong with a closet full!

Don't forget to stop by Molly and Heather and give them some love! I'm glad that it seems that SPRING has arrived!

I keep forgetting I'm racing this weekend. This week has been so busy and just coming off of vacation.. I just haven't had the proper time to freak out about it. Which, is probably a good thing. We all know I'm a neurotic head case that can be a tad obsessive (don't agree with me). I'm also sort of over the half marathon distance.. at least right now. It's been a thorn in my side for the past year and I am ready to break 2 and move on from it… I reserve the right to change my mind on Monday.
Coach Alex is pacing me and a few others to the sub 2 goal on Sunday. I chatted with him last night about being sick recently and missing runs and the fact that I just don't care about this race.. don't get me wrong, I CARE, but I'm not obsessing… I mean, I keep forgetting about it!
My plan for Bridgestreet is this… to run through the water stations, which is not something I generally do since I'm scared to spill water on myself. That's a weird fear, I know.. forget I said anything about it. I want to make sure I concentrate in the beginning half on keeping my shoulders back and my upper body straight because that's where it gets me at the end.. My shoulders start killing me because I have been hunched over for 8 miles. And most importantly, I'm going to let Coach Alex do all the work… I'm just going to follow him and tie a rope to him if I have to. I'm going to treat it like a long run and keep up with the pack. I'm not planning on wearing music.. I never listen during training runs anymore, so why mess myself up during a race with it? All I do is end up getting mad at the words and start skipping songs.
This is it… the last half marathon before I turn 30… and I refuse to turn 30 without a sub 2 half. You'd think I would be a little more fired up about it, but I'm tired of psyching myself out about these things. It's just running and I know how to do that. Why wear myself out mentally before I've even toed the line?

There are a ton of pictures here, and not so many words!
Our first stop on the Carnival Sunshine was Montego Bay. I'm generally not a fan of Jamaica, so I just wanted to chill and hang out at Margaritaville.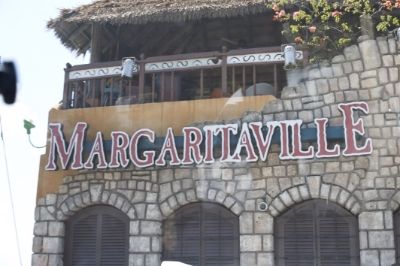 The girls colored for a while and just enjoyed the views..
I ordered this thing… It hit the spot, let me tell ya!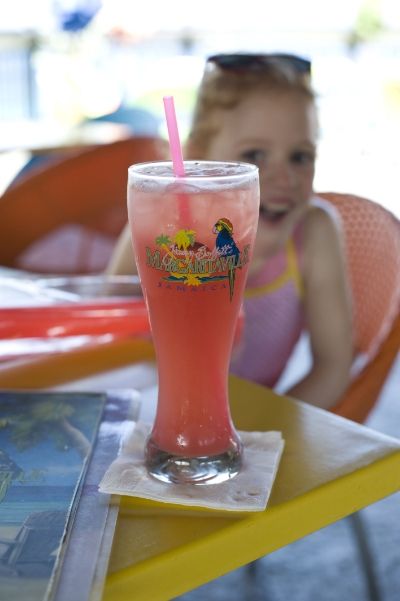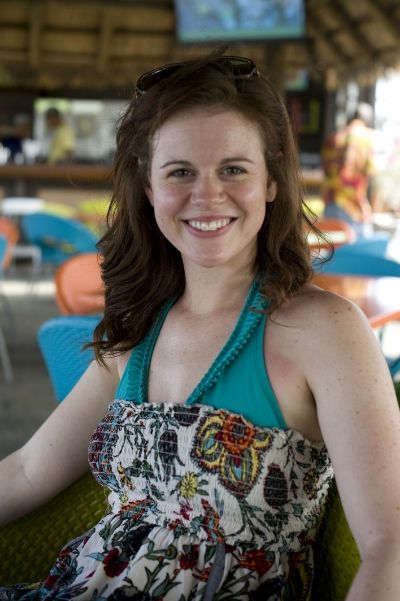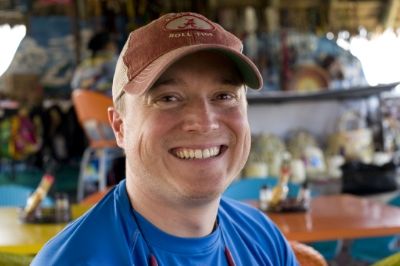 I caught this sweet moment on film…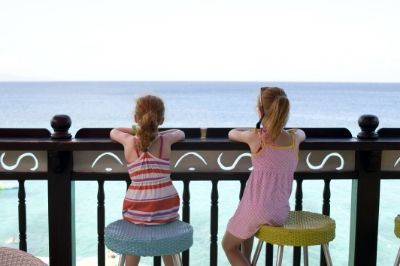 and then I was spotted and this is what I got.. C being mad about something.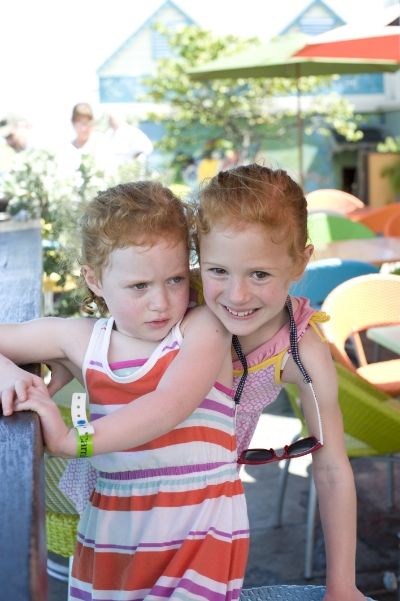 Preciousness. Right here.
I was so jazzed to go down the slide… it's so fun!
Not a bad view!
Addy and I played in the ocean for a while.. jumping on the trampoline and swimming. I got the stank eye from a few mom's since I didn't have a life jacket on her.

This was honestly one of the most fun days we have ever had. I loved spending time with my family and just hanging out!

*My family and I were provided with this trip by Carnival Cruise Lines. The opinions are my own!*

We left the gorgeous Orange Beach this morning to drive to New Orleans to get on the Carnival Sunshine!
Checking out of Turquoise Place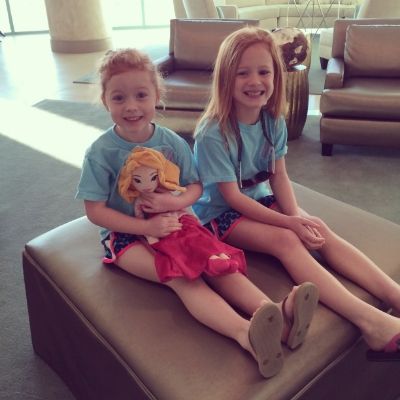 We drove through Mobile and we pointed out the USS Alabama battleship and Addy exclaimed "We're in Mobile?! Like where they drop the moon pie?"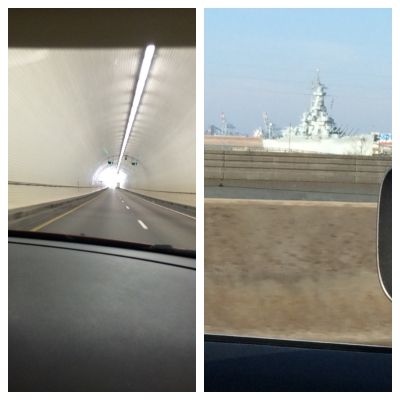 We made it to the French Quarter and Jackson's Square. The line was too long for beignets, so I opted for a Bloody Mary at Jax's. Best Bloody Mary I've ever had. I snapped some pictures of the girls and they wanted to snap some of me… of course, I'm raising a couple of shutterbugs.
On the balcony.. ready to eat some pizza!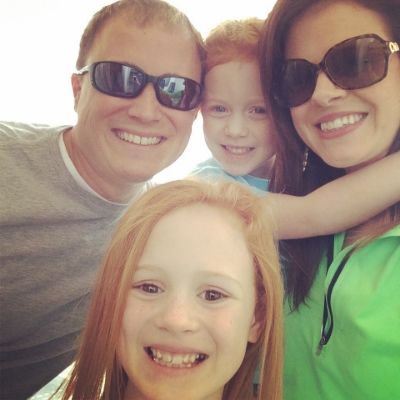 I'm happy to report that we are eating our way through the ship already.. Claire has already had 4 pieces of pizza and an ice cream cone. We've been here an hour and a half.
We can't wait to see what the week has in store!
*My family and I were provided this cruise in exchange for a review. My opinions are solely my own!*

Friday, we found ourselves in Huntsville for the state gymnastics meet. I was actually surprised we made it in one piece considering the umm.. eventful morning we had. Addy had a strong practice the night before and we have really been talking up staying focused at the meets. Her attention span is about as long as mine, so she has to stay on task.
She was excited for some domination.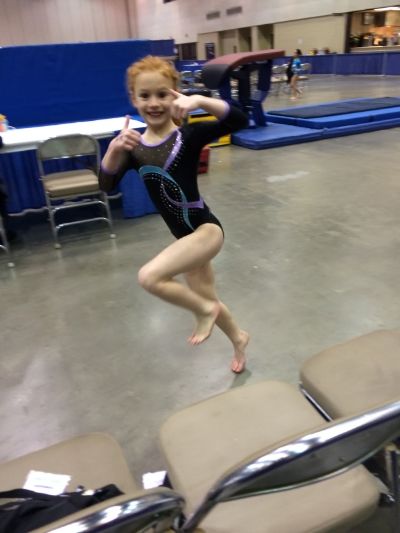 C does amazing at these things.. they last for hours and she isn't any trouble…
Addy lost her focus during the beam and floor routines which were her last events and her scores showed it. Her coach told us she was disappointed that she didn't medal in them. Hopefully it was a learning lesson. I'm still so proud. Her beam routine has come a LONG way from the beginning of the season and her vault was amazing scoring her 1st PLACE in her division.
Look at that smile!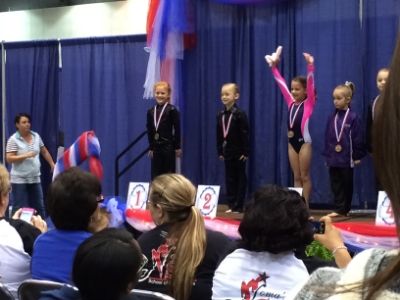 She ended up 8th overall…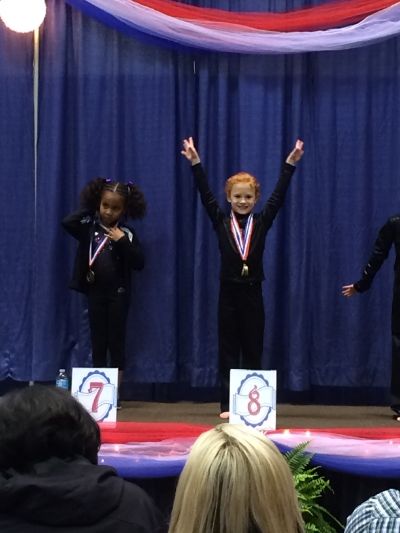 She really enjoys when I make those videos… so I will share it with you. 
I'm glad that competition season is over with… She's ready to learn some new tricks. She's been doing the same routines for a couple of years, so I think she is getting a little bored. She told me she wants to continue with gymnastics, and wants to get her back handspring down. Plus, I think she is starting tennis lessons this summer.. She's way too athletic.
How many sports did you do at one time growing up? I just concentrated on cheerleading and then when I got into high school, I picked up golf.

This time next week, we will be on board of the Carnival Sunshine. The Reds couldn't be more excited! They have been marking the days off on a calendar and giving us the daily count down.
I've got to start working on getting us all packed up!
Carnival has some great things in store for upcoming cruises! "Seuss at Sea" debuted this month on the Carnival Splendor with a "Green Eggs and Ham" breakfast with The Cat in the Hat and friends, as well as story time and movies on the outdoor theatre. 
We love Dr Seuss around here! How fun would a parade in the Promenade be??
Little C is hoping she is tall enough to go down the slides this year and I am already dreaming of Guys Burger and Fries. I know that Atuwan, our room steward from last time, will be on the Sunshine and the girls are hoping he is our steward again.. highly unlikely, but we have promised to look for him.
Now, anyone want to take a bet on what I forget to pack??
*Carnival is graciously providing my family with a cruise in exchange for my opinion, which is solely my own.*