This post is sponsored by FitFluential LLC on behalf of Koss.
I was so stoked to get this earbuds to try out.. because well.. mine are about to bite the dust. No seriously. I can hear the parts rattling in the casing when I run. The Koss Fit Series was designed by women for women.. so they know what I like!
I was thinking I would love the FitBuds.. the ones that just sit inside your ears. They have the different size cushions to change out. I had a semi-dance party around the house the night I got them while trying them out.
I found that the FitClips were actually more comfortable and fit better in my ears once I got them situated. Plus… they are that shade of mint that I just LOVE. I must say that I was a little disappointed at first, because they don't have controls on the cord and my iPod can only be controlled through that. Luckily, I have a pair of capris that are iPhone friendly, so I was able to use them with that. I also had to take my case off so the plug would fit.
I thought the sound was AMAZING in these things! The base sounds incredible and I was honestly a little shocked that they could sound this good. I'm a little bit of a music snob and being married to an A/V nerd, I have been drug to MANY a home theatre stores and these are some of the best sounding earbuds that I have ever heard. The sound is so clear and they FitClips do not move and are ridiculously comfortable! They are also sweat resistant… which is nice, since I've been known to get shocked by ear buds in the past.
I did do a little research and Koss makes some earbuds that do have the controls on the cord, so that was good to know.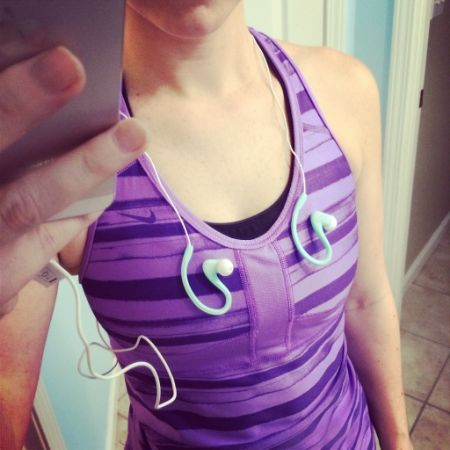 The Koss Fit Series comes in some pretty colors and they would make an amazing gift for any active chicka. You can find them on the Koss website HERE and they retail for $29.99.  They are also available at Wal-Mart, Best Buy, Walgreens, Kmart, and Sears. These retailers have them for $19.99 during the holiday season! What a deal!
Y'all know I love a company that is active on social media and they are one of them! Follow them on Twitter @KossHeadphones, Instagram @Koss, Facebook– www.facebook.com/Koss, and Pinterest– www.pinterest.com/KossHeadphones.

…is pretty much everything.
But seriously.. besides the normal running items like Nuun, Huma gel, etc. etc, it's hard to come up with gifts for adults. Most things I want, I buy.
Sometimes, I'm totally impractical and can't stop looking at these Hunter rain boots… Why must you be so pretty??
Hunter rain boots…. HERE
I do need a gym bag.. this VS Sport Hobo comes in a pink and I think I'd like it!
Victoria's Secret Hobo Gym bag found HERE
I love Thorlo Experia socks… can't ever have enough of those bad boys!
Found HERE
Athleta released a Shimmer series, y'all. This hoodie calls my name… so do the sparkly leg warmers and the shimmer tank… 
Athleta Shimmer Hoodie… HERE
I love this robe from Target too… Found HERE
I need some new throw pillows for the bedroom, but I haven't even looked at anything to know what I want. Everything I want is running related.. I feel like people get tired of buying that for me. I wish I could ask for race entries for Christmas.
Help me out, y'all! What do you want for Christmas??

As you all know, I had high hopes for this race. I wanted to PR my comeback race… Well. Things didn't go as planned. It was set to be SUPER cold.. in the 30′s and not warm up much. Good thing they let us hang inside and I got to meet a fellow blogging Bammer… BamaGirlRuns. I recognized her in her signature pigtails and houndstooth visor.
This was Robbie's first half.. and he was a tad nervous.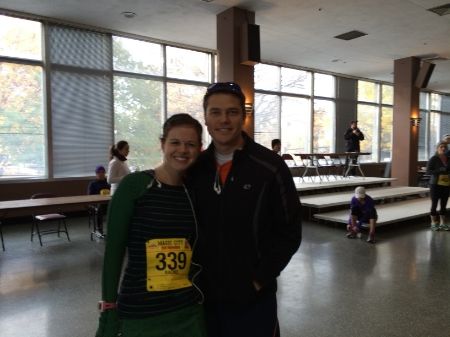 Originally, I was set to wear a skirt and long sleeve top, but something told me because of the cold, that maybe I should pack a pair of pants. I was glad I did, because 10 minutes before the start, I was changing in my car… and then I got child locked in. Lovely.
Meredith found us before the start!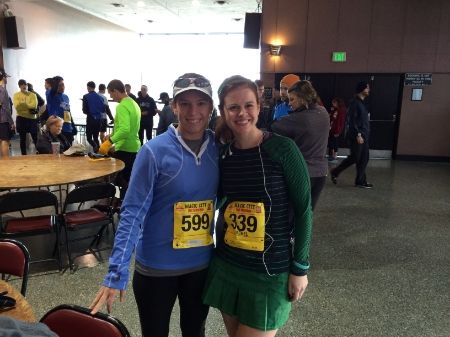 The race started late.. I have honestly never been in a race that the runners started chanting "start!" but now I have. It was so cold that my legs were involuntarily convulsing standing there. My plan was to start with the 2 hour pacers and then pull away after the half way point… did. not. happen.
I started with them and was running with a friend and we were just chatting.. and somewhere after the 10K split, I lost her through a water station. (I PR'd the 10K split.. 56 and change. A full minute and a half!) This was also where my hips started tightening up.. some slight discomfort and I tried to rally. Eventually, I realized breaking 2 was out of the question, and was fine with it. You reach a point where you become okay with all that you are giving in a race.
Here's a lovely photo… if it had a thought bubble, it would say.. "Hey! I'm in immense pain!! But there's a photographer, so smile, damn it!"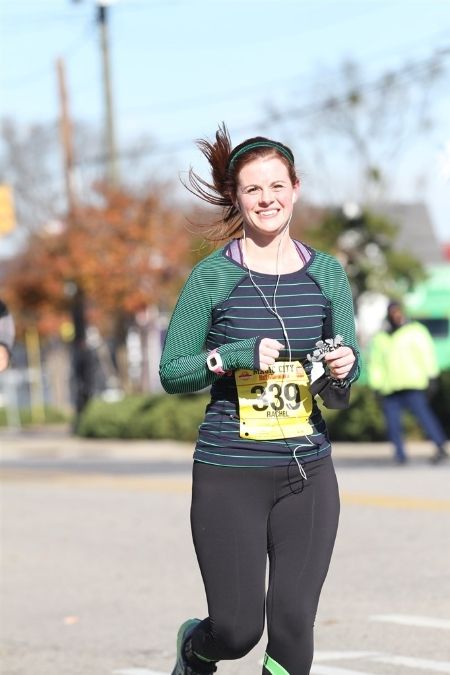 Around mile 10, I tried to rally again, but I always forget how tough this course is. It feels like a lot of uphill with no downhill. And once I hit 11, I was ready to be done. My hips were so tight, that with every step I took, I thought my hip flexors were going to snap like rubber bands. This is about the time that Sunny came up behind me. I have never been so happy to see a friend! Sometimes, it just helps to be able to vocalize your suffering to someone else. I also told her I wanted to quit. I have never had that cross my mind in a race. I have no doubt that I would have, if I hadn't been within half a mile of the finish line. But I would have had to walk back to the finish anyway… Might as well get a medal for it.
I was very happy to see familiar faces at the finish and have an ecstatic Claire run across the finish line with me. 
Look at her face! I die. She's so happy and I wouldn't have traded all the PR's in the world for having this with her. She kept saying "Look Mommy! We are running to the finish line! Do you see those pretty medals?"
After the race I could barely walk… I was almost in tears. I came across one of my coaches and he forced me to stretch my hips and ohmygod it hurt so bad.
We ended up eating lunch at Rojo, where we didn't have the best experience, but we aren't going to discuss that.
I am so proud of Robbie!! He killed his first half marathon!
After some long e-mails with my coach, I've decided that I am proud of what I accomplished out there. The headwinds and weather were certainly a factor. It was also a comeback race… one where I wasn't far off from my PR. I finished is 2:05. That's a 20 minute course PR for me. So, that's definitely nothing to shake a stick at!

I have had several people ask me my opinion on the whole Lululemon thing… Here's my opinion: Chip Wilson is a chauvinistic asshole. You are the CEO of a company that makes athletic clothing for women!! You should love women! You should embrace all shapes and sizes and rejoice in the amazingness of a woman's body! But instead, you are a woman's worst nightmare. Pointing out her flaws and places most women are the most insecure about?? Shame on you, Chip.
I think that Stephen Colbert said it nicely in his Alpha Dog of the Week…
Now, will I continue to buy Lululemon clothing? Most likely… not. I am not supporting a company who's CEO is a complete jackass. I have turned the other cheek at the ridiculously priced clothing and I've even made excuses when certain colors bleed onto other colors or when $118 jackets start tearing up after 2 weeks of wear.
I tried not to be angry. I really did. I tried not to take it out on the beautiful clothing. But.. that tiny bit of feminism deep down inside me got all riled up, and I decided that I needed to break up with the company. I love their stuff. I do. But, it's like continuing to get back together with the boyfriend who insults you in public and it makes me feel icky. I will continue to wear what I currently have, but I won't be spending anymore money in that store. Sure, I will miss the Cool Racerback tanks… but somewhere, I will find a new love. I feel certain. But for now? Me and my thighs that rub together are taking it elsewhere, and my bank account thanks me.

I suppose I should discuss the fact that I have a half marathon coming up in a few days…Blah. That's exactly how I feel about it at this moment. Which isn't a good racing mindset, let me tell ya. Life is just busy right now, and with it being so cold, it's really hard to stay motivated to get out of a warm and cozy bed at ungodly hours to run. I actually skipped the majority of my runs last week. Oops.
My goal is to break 2 hours… and I'd really love to be around 1:56, honestly. (Am I allowed to say that on the Internets?) But, to be honest, I'm still skeptical about the training and it freaks me out. Probably because my coach says I should be able to, but I just don't see HOW. Which sends my tendency towards being a control freak completely into a downward spiral. Just top that off with some race week neuroses and life craziness and we have ourselves a fine concoction of someone no one wants to be around (Holy run on sentence, y'all).
Another thing is… I need a running playlist. I've spent the majority of this training cycle running naked (No iPod, perverts) and just chatting people's ears off.. or listening to people chat mine off. Either way, I don't think strangers will appreciate me rambling on. The point of that was… send me your best running songs, ASAP.
I realized this week that my ankle brace that I run in is tearing up too.. I really don't want to have to replace that thing, but I feel like I am going to have to. Not. A. Fan. I hoped a little online shopping would help snap me out of my running funk, but nope. Not so far, anyway.
In an effort to not be such a Debbie Downer… I am including a picture from Halloween. Y'all would judge me on the amount of pictures that I take of myself and send to my friends, so lets just not go there. But I am wearing the Mouse Ears I bought at the expo for my first half marathon at Disney.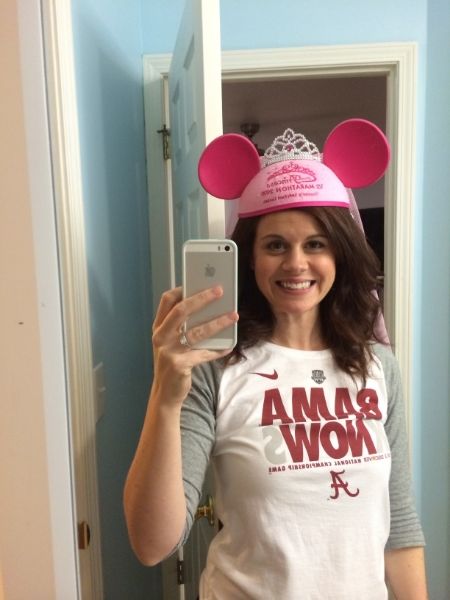 So. I need your favorite running songs and something to snap me out of this funk.

Recently, I was sent some Athleta gear to try. I've always loved to look through their catalogs whenever they come in the mail. When I tore into the package, I was expecting a pair of black running pants… talk about surprised!! It was as if Athleta already knew me and new I wasn't a black running capri type gal. Since I am on the shorter side (5'4" on a good day), they sent me the capri instead of a full length pant. I immediately put them on and they felt so good!! The Relay Capri was so soft and thick, yet light weight. I love the thicker band up top too. For those that are wondering, this is the coral color. LOVE.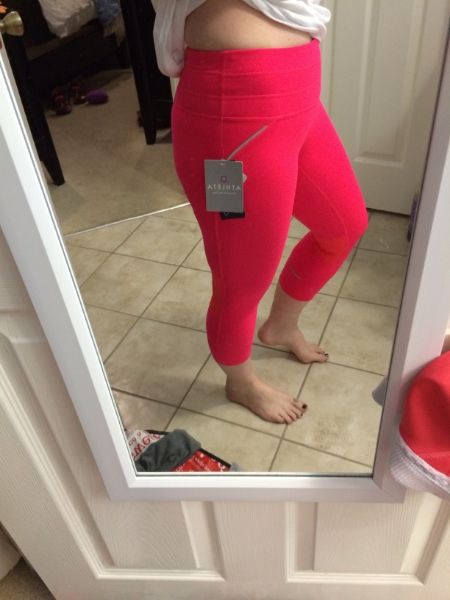 I'm so in love with this pocket looking reflective strip. It just adds a nice little detail, don't you think?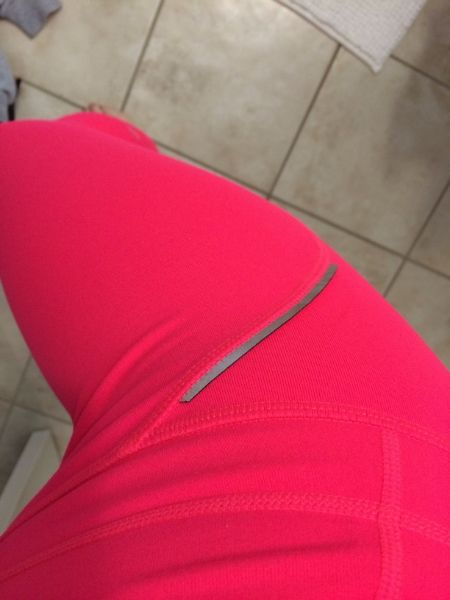 The bottom part of the Relay capri has a and that keeps from riding up. It also has some gathered detail and is ventilated behind the knee, which is a must have!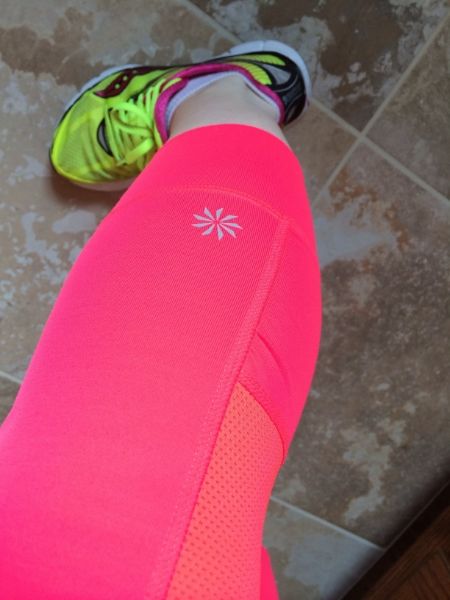 I have run in these a couple of times and I love them! I use the drawstring and these things do not move. I ran in them when it was 20 degrees last week and the only part of me that was cold was my exposed skin at the bottom. They seriously didn't let my butt fat freeze like other capris and I was most thankful. I am in need of some black running capris, and I actually ordered the Bare to Run Knicker this week. I'm ready to try it out!!
I have been so happy with Athleta as a company! I love that they interact with their customers on social media and I honestly think they are an amazing brand. They have a partnership with Girls on the Run, which is a non-profit organization to help young girls build confidence through setting and achieving goals. Their blog is a wealth of knowledge from running, to cycling, to triathlons, to training plans.. you name it, it's probably there.  I can't wait to try out more of their products. Did I mention they come in tall, regular, and petite sizing as well?? Score.

Saturday morning started with a really crappy run.. like. WHOA, crappy. I went to get the girls from my moms because they spent the night with her Friday night and then I needed to go get ready to go to work. It was Christmas Open House and was sure to be busy. I got the girls loaded up, only to find my car wouldn't start. A phone call to Hubs and he said it had to be my battery and I needed to jump it off. I am not sure how I passed Drivers Ed, because I couldn't even pop my hood much less be able to jump off a battery. Thank God for FaceTime… and a roomful of hecklers to make fun of me for not knowing how to pop my hood.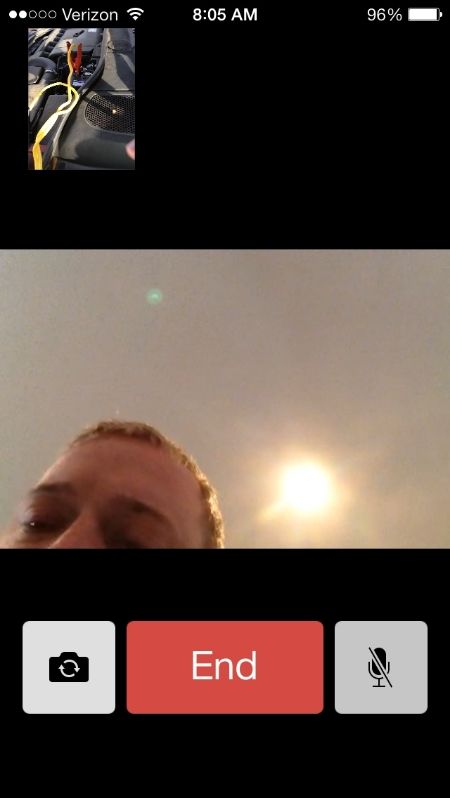 Jumping it off didn't work and Hubs wanted me to call Roadside Assistance. Having an automated call asking me to press 1 if I needed 911 emergency help, combined with my Granny coming out and telling me I needed to move my car sent me over the edge and I lost all coping skills and broke down into hysterics. Thank God for Moms because she handed me her keys and said for me to take her car and go get ready for work and she would get my car fixed. I headed home only to realize that I had no way to get into my house. I was locked out. Hubs was going to have his mom meet me there with a spare key only for her to be working out. So a trip to my in laws was in order. My father in law handed me all of his keys and said, "I don't know which one it is. But I know it's on one of those key rings."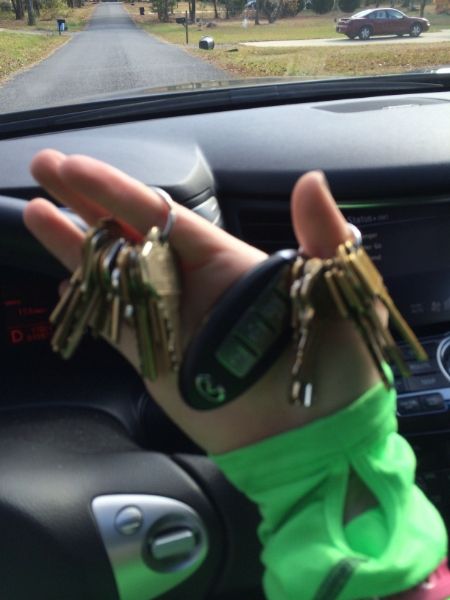 I got in the house at 9:15 and was supposed to meet my step mom to get the girls at 9:30 and be at work by 9:45…. yeah. Karen came to the house and packed the girls while I got ready and I got to work at 10:30. Not bad. My co workers are awesome and were understanding about my morning. They also let me leave early so I could get down to Tuscaloosa for the game. I was coming in so late that traffic wasn't bad and we have a parking pass, so it was smooth sailing… Although, I kept waiting for a tire to blow on Mom's car just based on the morning I had.
When I stepped out of the car, I could feel the energy. LSU has become a big rivalry with us over the past few years. The sun had just gone down and I made it to the tailgate about 2 hours before kick off. Since I wasn't here 2 years ago because I was running in Savannah, I've been told it was my fault we lost then.
We don't see this guy much, but we always love when Brandon comes to visit! It's been a long standing joke that he is my boyfriend, and we always pick up where we left off.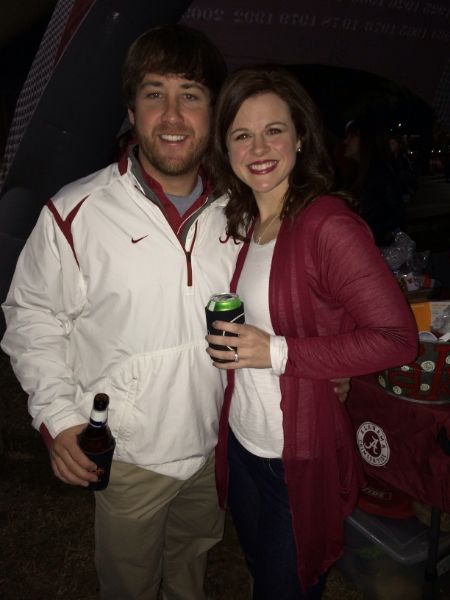 These two… no words.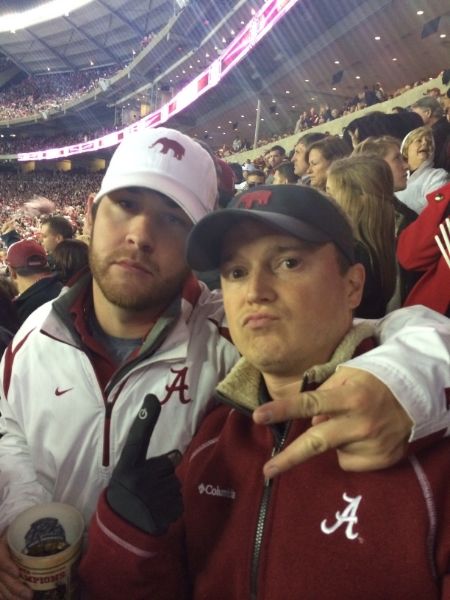 For the first time ever, J and his brothers sat together for an Alabama game. It was hard to believe that they hadn't sat together before, and it was a blast. See? Doesn't Jay look like he's having a ball?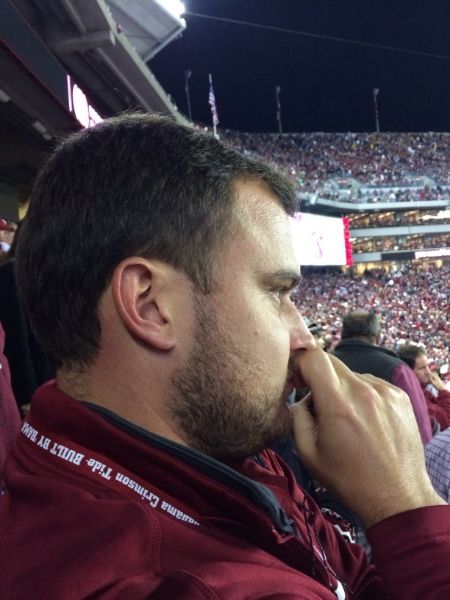 I may or may not have partaken in one too many adult beverages and I now have about 500 pictures of the game on my phone.
4 fingers in the air for the 4th quarter is a tradition that I don't understand, and the guys behind us photobombed… He was so proud.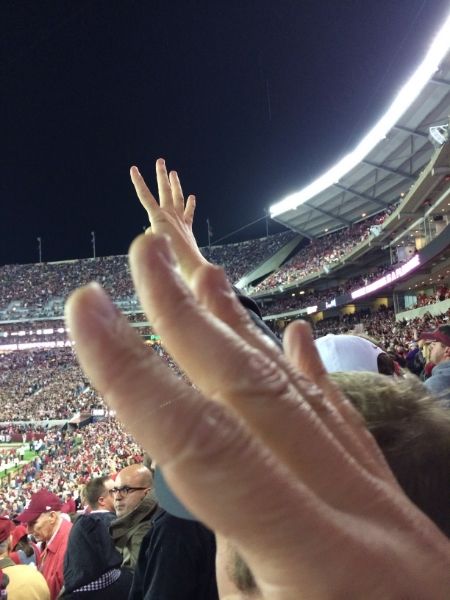 It was also drizzling… Scarves are multi purpose.

In case you haven't noticed, Hubs holding up a number 1 finger is an epidemic around here.

Hubs and his brothers… aren't they cute??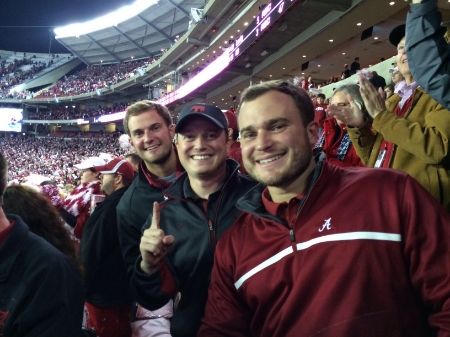 Post tailgate was insane and fun…Tricia was in town and I love seeing her!

Katie.. the official Yellowhammer maker for the tailgate.

Saturday was a roller coaster of emotions and I was up for about 21 hours… I was worried for how it started out, but it only could go up from that point!!
Roll Tide, y'all.
P.S. Don't forget to tell Molly Happy Birthday!!!
P.P.S. In case you didn't hear, Meghan became a Half Ironman yesterday… I am super proud of her!!

I ran the Vulcan 10K on Saturday, and I wasn't really feeling it, because I felt like I couldn't really race it. I knew no one running it either. But, I refuse to waste $25 on a race fee, so I got up before the chickens and somehow coerced my mom and Hubs to come watch. I know that it wasn't either of their cups of tea for a Saturday morning activity, but I think they had fun people watching and heckling the finish line crew. Anyway, my goal was to start out at a pace of 9:30 and try to finish under an hour. My previous PR for a 10K was 59:43, and I wanted to break that, but just wasn't sure it was in the cards. I ended up next to two guys that I ran with last Saturday while we were waiting on the gun to go off, and we were discussing races and whatnot, and found out they had already run the course this morning. I just don't even know what to do with people like that.
Anyway, the course starts out pretty hilly and I am generally not a fan of running in the Highlands because of this. It doesn't feel like hills, but IT IS. I started thinking, "This is really hard. Are you really trying to double this distance in a few weeks? I don't know if I'll be able to break 2 hours like I wanted." You know… really uplifting stuff. I was keeping pretty steady on my splits and once we hit Five Points area, it was pretty much downhill and I started speeding up. I had less than 2 miles to go at that point and wanted to see if I could turn it up. I felt pretty good about coming in right around an hour. Once I hit mile 5, I started picking people off. I clocked the last mile in 8:37… say what?? At the end of a race?? Sure, that normally happens in the beginning with all of the endorphins and what not.. but not at the end!
The last girl I picked off, didn't like that and caught up to me, I could see the finish line and checked to see if she was maintaining or pushing on.. she was just maintaining, so I gave it some gas and blew past her. It felt REALLY good, people.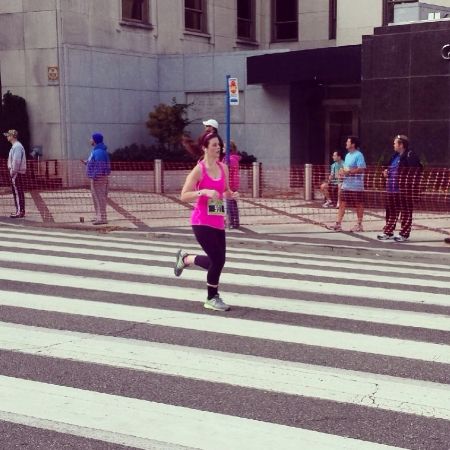 I crossed the finish line in 58:15… almost an minute and a half PR. I will take it!!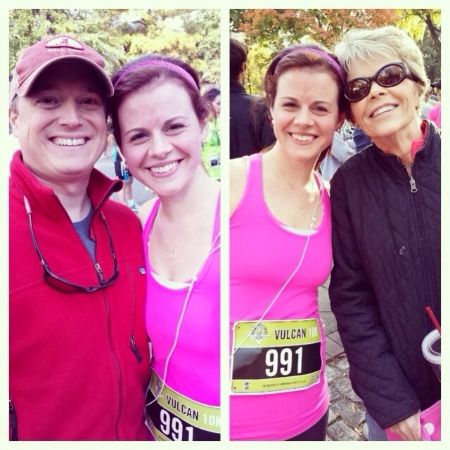 As my reward, I got to go to Lululemon at the Summit, where my picture is in the window for a goals segment they did. The last time I was in there they were talking to me about running goals and asked if they could take my picture.. and what was I to say?? Hell yeah! I also now have my outfit for Magic City and I am excited about it. Unfortunately, it's not pink, but I love it anyway.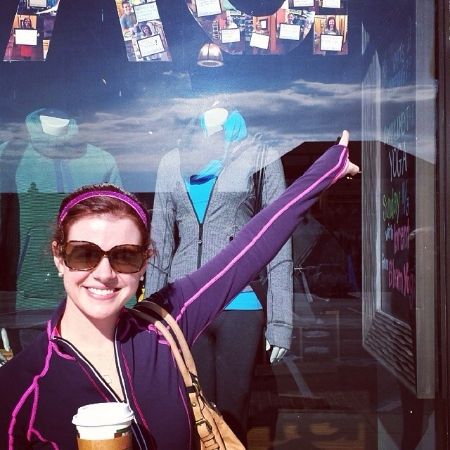 It was not a bad way to start a Saturday morning, I can tell you!
Who else raced this weekend??