We've been super busy with our little Ginger Flipper these last few weeks. I thought I'd give you an update. We had the Vision Classic in Hoover on Sunday. We decided to give Rojo another try and it didn't disappoint this time!
J and C outside… such cuties!
My little A hasn't been feeling the love for gymnastics like in the past… I think it has something to do with little sis getting to go to Nana's house and play while she has to practice. So, Mom has been picking them up on a non-gymnastics day and we started some private lessons with one of her coaches. We have seen so much improvement with her attitude and performance! I've been having talks with her about stay focused at the meets and not goofing off. In my pep talk I talked about the little things that she can do to improve her score and she said, "Mama? Is 4th place good?" (that's what she got last week) and I told her that it was, but that in the Olympics they only gave medals for 1st, 2nd, and 3rd. I could tell that made her mind up! The apple doesn't fall far from the tree… she likes her medals!
Some last minute pep talk from her Coach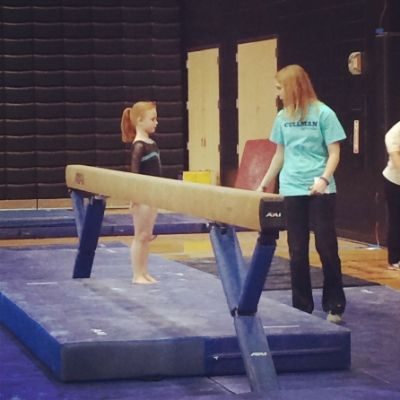 Warming up for the floor..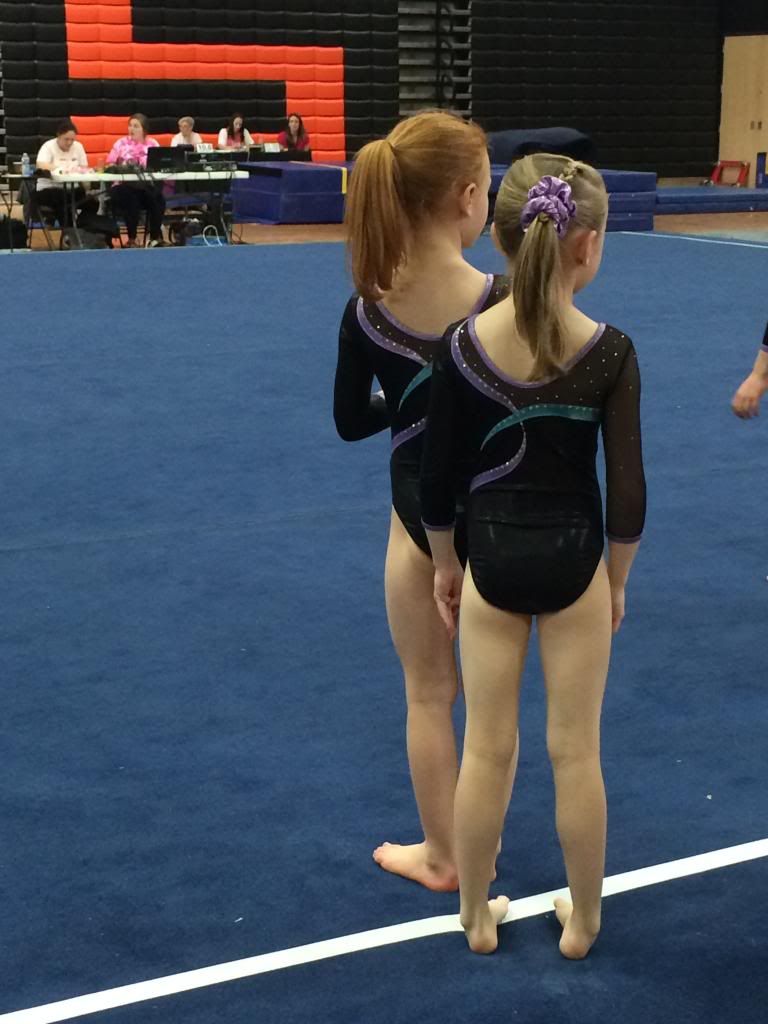 Cheesing for the awards!
A little selfie with C-bear

Proud little sister!! Juan Pablo gave her a rose! Oh no wait… that was what she got instead of medals since they didn't get delivered in enough time.

Seriously. How cute is this?!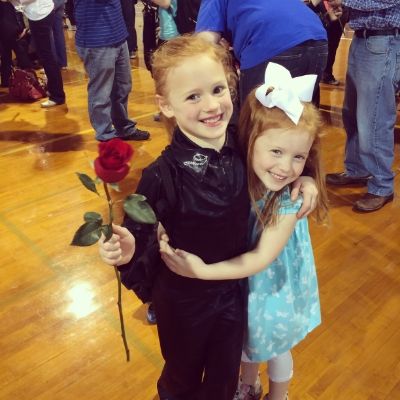 The girls with BoomPa and GiGi

I was so proud of Addy. She did amazing.. was super focused and has improved so much!! She got 2nd overall for her age group and her team won. I always take video and I finally decided to put one together of her meet. I probably should have been doing that the whole time.. Oops. #Momfail


Friday night brought me the obligatory pre race outfit pic… please notice the GU, because I'm totally going to forget that come actual race time. 
I got up at early-thirty to meet some peeps in Birmingham to drive to Tuscaloosa, where we met my brother in law, Jay who had our bibs and then continue on to the start.. parking was a breeze and we found even more people at the start.
Becca, Me, LB, and Coach Ann– who was 31 weeks pregnant!!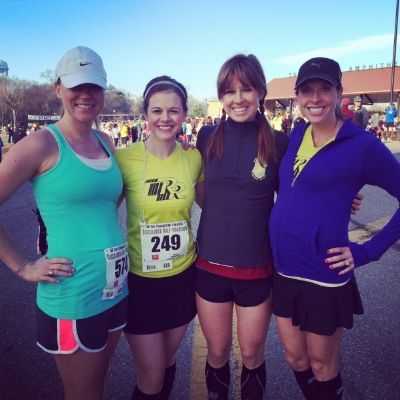 We found some of the C'town representing in T'town…

We were all just standing around chit chatting and then all of the sudden all of the people started moving and the race had started.. Way to be prepared! We started out and were chatting and feeling good and just taking in the sights of everything and enjoying the gorgeous weather (Holy run on sentence!). Becca pulled ahead pretty early, but I could still see her and easily catch her so I wasn't worried. The course weaved through some historic homes and I honestly hate courses that weave. Ann had a baby bouncing on her bladder and she had to make a pit stop around 4.5, and at the mile 6 water stop, I realized that I was probably in the long haul solo since I looked ahead and couldn't see Becca any longer.
I just tried to enjoy the scenery for the next couple of miles and listen to my tunes…not a terrible view!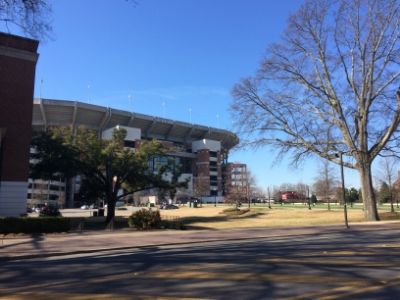 I started fading around mile 8, and probably should have taken a GU, but it was tucked safely in the car at that point and wasn't doing me any good there. It was warming up and I wanted so bad to be able to rally, and I tried, but hills popped up out of nowhere and I could not make it. At the mile 9 hill, which was boring, long, and never ending, I had a Resolute Running teammate pop up and be all "Hey! What's up?" and then he took off and completely made the hill his bitch.
Going into the race, I wasn't looking forward to the Jack Warner Parkway and the River Walk portion, but once I turned the corner onto Jack Warner, it was a downhill and a nice breeze picked up and I start picking up the pace a little bit, making good use out of the downhill. I hit mile 11, right where we get on the River Walk and saw Hannah and was so happy to see a friendly face, but I already knew the sub 2 was far gone and so was a PR.
Becca came back and found me for the last quarter mile or so, and my brother in law was waiting at the finish line… I finished in 2:04:47.. not too shabby, but far off from my goal.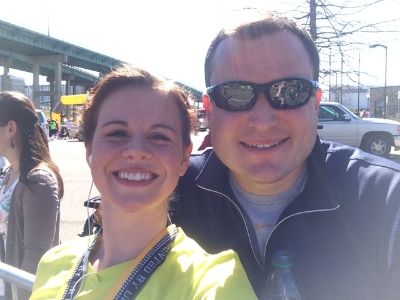 This race was a learning experience for me… sort of. I basically learned that I am a follower (not a HUGE newsflash, but always a nice reminder!). If someone sets a pace, I can run with them and chase them, but I cannot hold an uncomfortable pace on my own. I have lost the mental battle on the past 4 half marathons in the end… the 4 half marathons that I have tried to break 2. Physically, I felt fine, but mentally, I couldn't force my legs to pick up the pace. I just reached a point where I was okay with what I was giving in the race, instead of pushing outside of my comfort zone. Somehow, I've to figure out how to push past that, because it's getting really frustrating.  I'm feeling extremely discouraged and ready to toss in the towel on this distance for a while, but not without breaking 2… the goal I have been chasing for almost a year.
I've got to give a blog reader a shout out– Kim came up to me after the race and introduced herself and told me what an inspiration I was and that she started running because of me and she actually ran her first half marathon in Tuscaloosa– a 2:43!! It was so awesome to meet you, Kim! I really appreciate your kind words and you are a ROCK STAR!! Please let me know how you are doing!!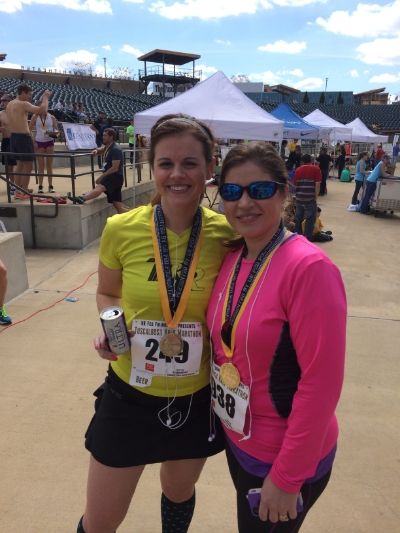 Such a beautiful old bridge….
My Juan Pablo "eeeet's okay!" I didn't PR picture… also? Not really sure what's going on with my leg. It seems to be channeling Elvis or something.
I have one more race before I turn 30 in April, and I am bound and determined to break 2 hours… so if you have some tips on breaking the mental barrier, I am ALL ears.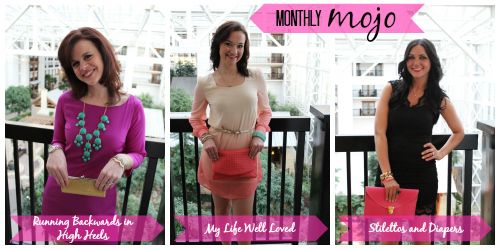 It's that time again… Time for Monthly Mojo again with two of my favorite ladies… Heather and Molly!!
I've found a new love of compression socks… they have really been helping with recovery. I want them all!!

Group texting… More importantly.. group texting with Molly and Rebecca. Doesn't everyone send selfies and discuss outfits with their friends?!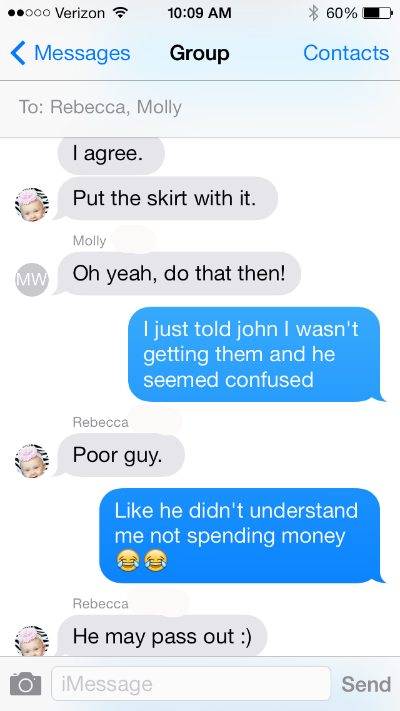 I love my Breville blender… It was sort of a Valentine's present. I've been making smoothies almost every day! (I see you eyeing my Hello Kitty toaster.. back off. It's mine!)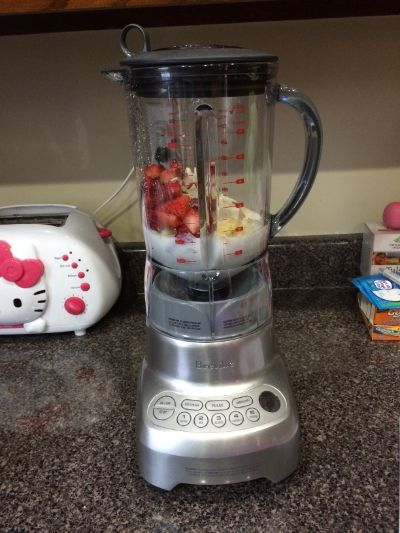 Since it's starting to warm up, Nuun is becoming super important for staying hydrated. P.S. They have a new kind out with caffeine!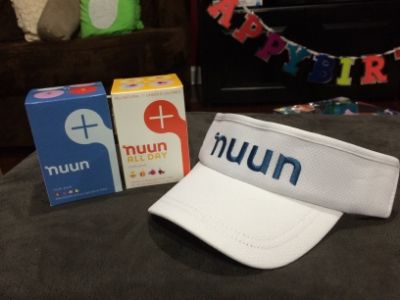 I can't stop watching Gossip Girl again… I'm once again obsessed with my favorite Upper East Siders.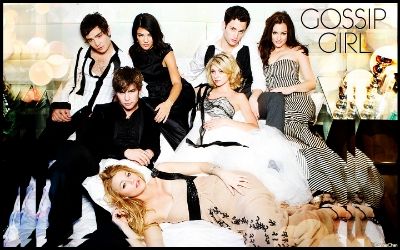 What are some of your favorite things right now??

After I picked myself up after Mercedes, I decided I was going to make Tuscaloosa a good race. It should be flat, it looks like weather is going to be pretty dang good, and most of all– a ton of friends are running it and it should be a blast.
I'm really hoping to finally break that 2 barrier, and think I can do it on this course, but I am not going to stress. I'm still not that far from Mercedes, and it may prove difficult to race so soon. I guess, I still regret not taking that sub 2 in Tuscaloosa last year.. but I held back to talk a newly made on the course friend to the finish.. Sometimes, it's good to be a friendly face on the course to someone.
I did my last long run solo this weekend… I think that was a wise choice since the mental battle has been such a struggle for me. I needed to be able to talk myself into keeping pace and I pretty much nailed it.
It was just me and the Colonel Johann G. Cullmann on Sunday morning!

I feel confident I can do this, but will not stress about it. I can't let myself overthink and stress about paces and what not.. I will just run my race to the best of my ability.
I've found a new love in compression socks over the past few weeks. I've been wearing them during long runs and and afterwards and it's helped the soreness in my ankle so much. I actually ran my long run without my brace!
They get their love of brightly colored clothes honest, y'all.
I'm pretty much in love with this video that aired on Fallon last night.. I'm adding Let It Go to my race playlist immediately!
Anyway.. who is racing this weekend??

*The following post is sponsored by FitFluential LLC on behalf of PUMA*

I have been killing it lately in the cooking department. I finally got tired of eating the same things over and over and decided to man up and take over the grocery shopping responsibilities again. Enter.. eMeals. I love eMeals. It's meal planning at it's finest. Since we got an Aldi here, I wanted to try out the Aldi plan. Y'all… I got a TON of food to cook and snacks for the girls for $70. Fresh fruits and veggies, meat, some delicious hummus. I'm impressed with Aldi.
I made this little deliciousness the other night.. Warm Sausage Pasta Salad. So super easy.
I've also made potato corn chowder– one of my favorites.
I made Tilapia the other night… of course I ate half of it before I remembered to take a picture. Sorry. I fed my family of 4 this meal for under $12!! I was so proud of that. And everyone ate it!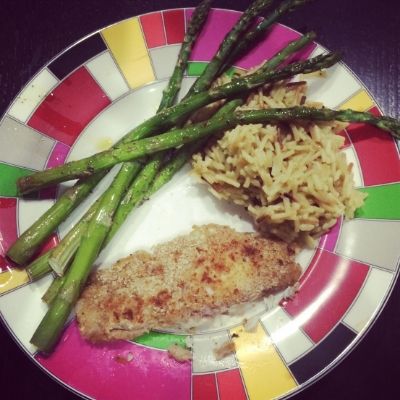 This little chicka is loving to help me cook too. She may be finicky about what she will eat, but she likes to help and have dance parties. Especially if we listen to the Frozen soundtrack.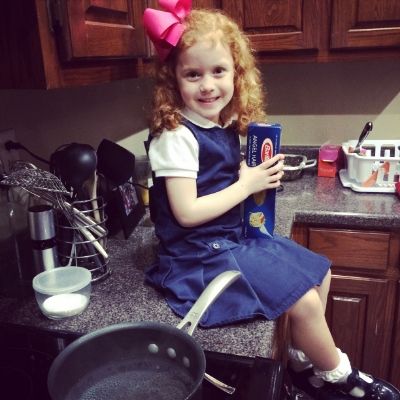 Have you ever tried eMeals? What's your take on it?

Saturday night was my normal pre race shuffle of laying out my outfit (had to decide what to wear first!), gathering all of my stuff to take, making my race playlist, etc.
When I got off the interstate, so much adrenaline coursed through me that I thought I was going to vomit. And they had roads closed that they don't normally have closed, and so parking was super fun.
Meredith was going to ride down with me, but she woke up late and didn't want to make me late for meeting my fellow Resolute Runners… We look cold. 
I found my C-town buddies staying warm inside Boutwell Auditorium.
We walked to the start line about 10 minutes before the race started and I lined up with the 4 hour marathon pacer. My plan was to stay with her, but keep an eye on my watch and stay as close to 9:05 as I could.

The gun went off and I had a brain fart and started my watch early… so much for it being time reliable at that point. After about 3-4 miles, I realized what a bad decision I made with wearing long sleeves.. should have done a tank for sure. I was feeling good though, staying with the pacer. She was a little fast, clocking those miles in the 8:50′s and between miles 5-6 and I decided to do what my coach told me, and back off. I still had a long way to go. I hit the 10K split in 54 minutes, which is a PR for that. I made through 5 points, no problem, but when I hit the Highlands, my brace came untied and I had to stop and tie it, and I basically lost all momentum at that point. I couldn't rally. Miles 7 and 8 were my slowest. I switched my watch view to pace instead of time/distance so I could keep an eye on my pace. I tried to make up lost time on a hill (so smart! Not.) and told myself "do not let your pace get above a 9:30″ and I just watched it creep up and there wasn't anything I could do about it. I knew at that point, that the sub 2 was gone from my grasp.
I tried to hold on to the fact that I could still PR and I've never cursed anything more than I did running at mile 12. That last mile will get you. I crossed the finish line to cheers from some RR teammates and that made me smile. I PR'd with a 2:02:30.
I can't say enough of the online support that I receive via Instagram and Twitter. You people rock!!!
I was so proud of Katelyn, who ran her first half yesterday and killed it.
Jo Ann, Katelyn, and myself post race… Jo Ann is a rock star runner.

It's safe to say that post race, Katelyn and I had fun. This is basically all that we did. I told her we were lucky that her mom doesn't know how to Vine or else there would be so interesting videos out there of our dancing.

I'm trying to be okay with not breaking my 2 hour time goal. I keep playing a lot of "what if" scenarios in my head, which makes it hard. I'm going to run Tuscaloosa in 3 weeks, so we are hoping it happens there. By the time I got home yesterday, Coach Ann had already sent me my training, so we've got some work over the next 3 weeks to prepare. I refuse to turn 30 without hitting sub 2.
I felt like I had been hit with a baseball bat after I got home yesterday. I took two naps. You know that achy-can't-get-comfortable-feeling like you get with the flu? That's how I felt. My lower back is sore from my phone in my spi-belt– I should stop running with my phone, honestly. My feet are ridiculously tender and I have blood blisters… thank the lord it isn't flip flop weather! I also chaffed pretty bad in a area that no woman wants to be chaffed. I guess I will be spending some quality time with my foam roller this week since my hamstrings are like rocks.
I'm going to be honest. When I got home, and after I had taken my first nap and showered (in that order. Hubs called me gross.), I uploaded my splits and started looking and analyzing (what? C'mon. You know you do it too.) and I just started crying. I was so disappointed that I let it slip through my fingers.
Ever had a race like that? That just took a complete nose dive halfway through?? How did you recover?