I ran the Vulcan 10K on Saturday, and I wasn't really feeling it, because I felt like I couldn't really race it. I knew no one running it either. But, I refuse to waste $25 on a race fee, so I got up before the chickens and somehow coerced my mom and Hubs to come watch. I know that it wasn't either of their cups of tea for a Saturday morning activity, but I think they had fun people watching and heckling the finish line crew. Anyway, my goal was to start out at a pace of 9:30 and try to finish under an hour. My previous PR for a 10K was 59:43, and I wanted to break that, but just wasn't sure it was in the cards. I ended up next to two guys that I ran with last Saturday while we were waiting on the gun to go off, and we were discussing races and whatnot, and found out they had already run the course this morning. I just don't even know what to do with people like that.
Anyway, the course starts out pretty hilly and I am generally not a fan of running in the Highlands because of this. It doesn't feel like hills, but IT IS. I started thinking, "This is really hard. Are you really trying to double this distance in a few weeks? I don't know if I'll be able to break 2 hours like I wanted." You know… really uplifting stuff. I was keeping pretty steady on my splits and once we hit Five Points area, it was pretty much downhill and I started speeding up. I had less than 2 miles to go at that point and wanted to see if I could turn it up. I felt pretty good about coming in right around an hour. Once I hit mile 5, I started picking people off. I clocked the last mile in 8:37… say what?? At the end of a race?? Sure, that normally happens in the beginning with all of the endorphins and what not.. but not at the end!
The last girl I picked off, didn't like that and caught up to me, I could see the finish line and checked to see if she was maintaining or pushing on.. she was just maintaining, so I gave it some gas and blew past her. It felt REALLY good, people.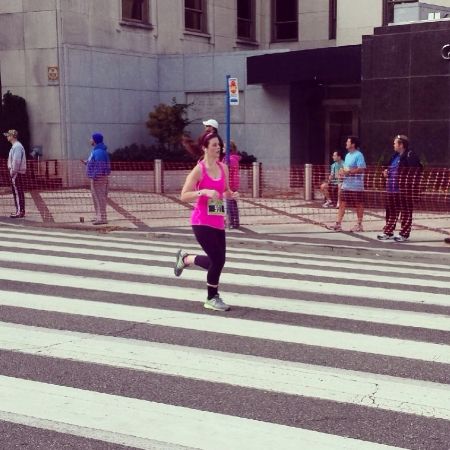 I crossed the finish line in 58:15… almost an minute and a half PR. I will take it!!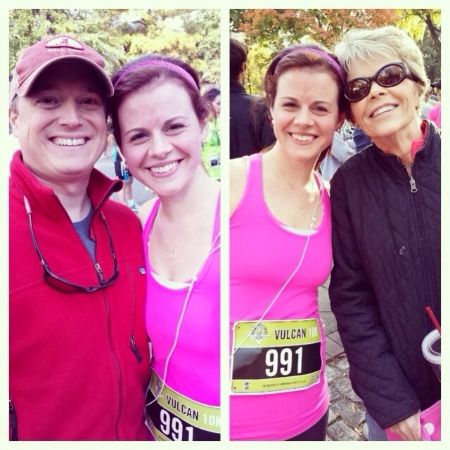 As my reward, I got to go to Lululemon at the Summit, where my picture is in the window for a goals segment they did. The last time I was in there they were talking to me about running goals and asked if they could take my picture.. and what was I to say?? Hell yeah! I also now have my outfit for Magic City and I am excited about it. Unfortunately, it's not pink, but I love it anyway.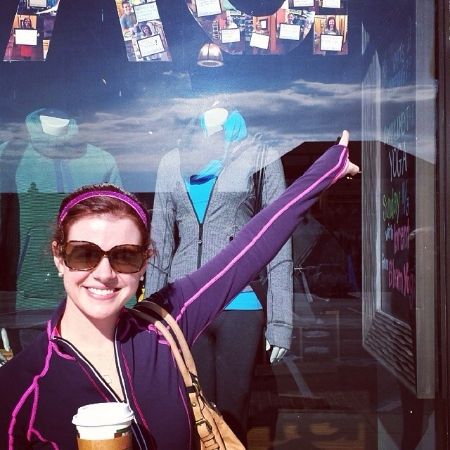 It was not a bad way to start a Saturday morning, I can tell you!
Who else raced this weekend??

I doubt y'all will be shocked to learn that I signed up for a 10K at the last minute.
I ran a good bit with Donnie and Shannon this week, and running with them really showed me how much I have improved over this training cycle.
So, after running a total of 24 miles during the course of the week, 10 of the miles logged on Friday morning, I loaded up in the car and headed to Birmingham for the Village 2 Village 10K. It starts in Mountain Brook and runs to Crestline Village and back. It has some pretty intense hills, but since I have only ran one previous 10K, I was hoping for a PR and my ultimate, somewhat-not-really-attainable goal was for under an hour. I wasn't sure how my legs were going to hold up after everything I had asked of them that week.
I stayed with Shannon through most of it, but she stayed a few steps ahead of me through the last two miles. I always had her in my sights, so I knew I was keeping a good pace (I'm trying not to obsess on my watch so much).
The course was beautiful.. gorgeous homes and views of the golf course. When I rounded the corner for the finish line, I saw the clock hit 1 hour and I got a little sad. But Shannon reminded me to look at my watch… 59:47. I had done it! My official time was 59:43.. a 9:38 pace. Not too shabby, y'all. That made is a 9 minute PR from my last 10K. So, I will take it and wear it proudly.
Gigi is the ultimate Spectator, y'all. She has to be on her death bed to miss a race. Even when I tell her it's cold and to stay in her jammies. Love you, Karen!
So, with less than 3 weeks until Mercedes, this weeks training is intense and I am staying pretty exhausted. But, if it gets me a sub 2:15, I will take that as well.
Of course, all I can think about now is what I am wearing for Mercedes.. I bought a jacket, toboggan, and capris for it, but now I am wondering if it'll be too hot for it. Typically, by Mercedes it's pretty chilly around these parts, so it may have to be a game time decision.
Does anyone have an suggestions for me?

I survived my first 10K.
I know. I was shocked too.
Let me tell you something about good ol' C-town.. it's hilly. You don't realize it until you start running.
I'm not going to complain-I literally signed up Friday morning for this race and refused to ride the course for fear I would drop out. I knew there was a bad hill.
Side Note: A lot of you have tweeted, e-mailed, Pinterested me to make sure I have seen this
Running Skirt.
Yes. I have. I own it. It made an appearance for the Oktoberfest 10K. I'm so glad that when you see houndstooth, you think of me. You don't know how much that warms my heart.
I got lots of compliments on that and the socks. I really love that
Tonia
has opened my eyes to the fun of skirts and socks.
Let's talk about 10K's that are split off from 5K's for a second.
Everything is all fine and dandy until you meet that split marker.. and then? Less than 50 runners ran the 10K. Spread that out over a 6 mile course and you'll be by yourself a lot. With no police escorts or nice volunteers telling you which way to go. It's you all by your lonesome.
Thankfully, I talked Robbie into running with me– he wasn't sure he could do it and I assured him that he could. And then?? He sandbagged me. That's right.. he ran off and LEFT me!
First off– the Oktoberfest 5K course is the same as the Strawberry Days 5K- which is a tough course. The 10K is terrible. It loops back on itself so much that we ran down the same street 3 times! How is that cool?? It's not. And let's not even talk about Scenic Drive with it's 200 ft elevation.
Dad and Claire searching for me along this finish line.
Oh there I am. With no one around me!!
Claire ran across her first finish line and didn't dig it. Karen said the pictures of us running across the finish line were too blurry. So sads.

Look, T! The makings of a Quad are there!!
Happy to be done.
My running buddy. The sandbagger. I mean, Robbie.
Running hills makes my eye stop working. Me, Karen, Claire, and Dad.
We wanted to wait and see the awards ceremony.. just in the hopes that I placed- I knew I wouldn't win the age division because Ashley won the women's part and she is in my age group.
I DID win a door prize!! A $25 gift certificate to Cummings Sporting Goods. It almost makes up for my race shirt being a size large.
The Bugermiester called me back up to the mic to talk about my tweeting habits and give me a shout out and then I requested that I be named Best Dressed on the course and he agreed. He named me "Burgermiester Best Dressed." Holla!
Anyway.. it took 45 minutes to get through the 5K portion of winners and I had to get to the BBQ Cook Off, so I had to make like a tree and get out of there.
I placed 4th and last in my age division and 22/26 females. So. This is a slap in the far to start running outside and work on my time– OUTSIDE.
My garmin time was 1:08:41. Official time 1:08:42. First 10K. I'll take it. Just so you know, my treadmill time for a 10K is 59 minutes.. so let this be a lesson to you to get your booty out on the road for an actual run.
Once I go through the pictures of the BBQ cook-off, I will post some. It was a super fun event that I was proud to be involved in.. even though I don't eat BBQ. I might as well have told those people Saturday that I had 2 heads because they couldn't have looked at me any funnier.
This week will be kind of busy– photo session, BBQ pictures, and Addison's 5th birthday party. But I will try to be around!