Dear Addy,
I can't believe that I am writing you this letter. How are you 7?? It doesn't seem right. You no longer a baby and are a young lady. Being able to watch you grow up is an absolute privilege. You are so full of life and smiles and laughter and bring so much joy where you go, that it doesn't seem possible that God gave you to me.
Watching you, I realize how much you are just like me. You completely light up a room when you walk in and people are naturally drawn to you, but your stubbornness leaves me feeling sorry for your grandparents and how they had to deal with me.
You have always been and continue to be a Daddy's Girl. And that is a relationship that I cherish for you. You and your daddy have a special bond that I would never try to break. You understand each other in a way that you and I will never be able to, but that's okay.
You are competitive. And athletic. I'm not sure that those are a good combination, but I secretly love it. You are independent but still love to snuggle with Mommy.
You are spunk and sass and hard headed, but also helpful and smart and loving.
A lot of times I feel like I am too hard on you and that I expect too much. I just love you and want you to the best A-A that you can be.
I love you more than a hog loves slop and if you can only remember one thing baby girl, just remember that Mommy loves you.

**DISCLAIMER:  PICTURE OVERLOAD**
My eldest ginger flipper turns 7 this week and we had her party this past weekend. She requested a Sprinkles party and to be honest, I had no clue what to do with that. So, I just covered everything in sprinkles. I'll be honest, I didn't buy the first thing for this party until Thursday. Oops. Really dropped the ball on that one. But I think it turned out nicely!!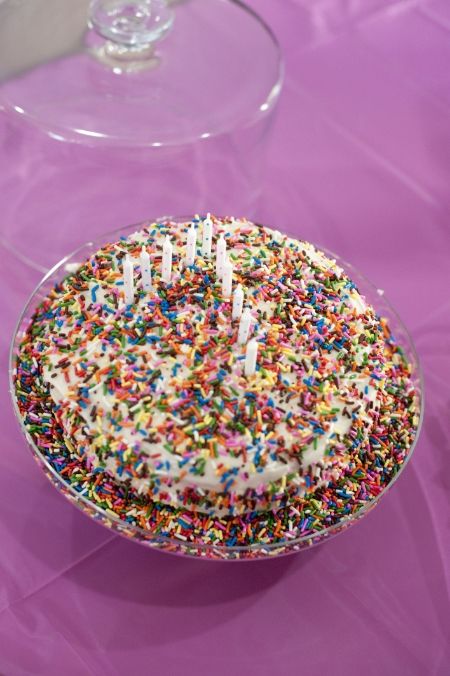 I was such a slacker about it that I couldn't even get someone to make the cake, and I had to make it myself.
We didn't do a huge party, just family. Part of her present is to go to the American Girl store in Atlanta this week.
C, Tay, A, and Avery.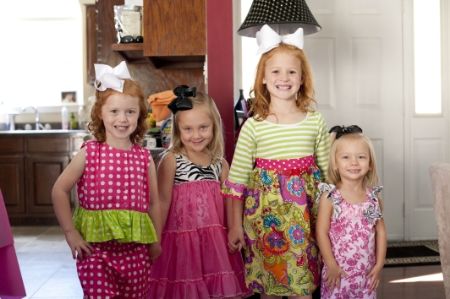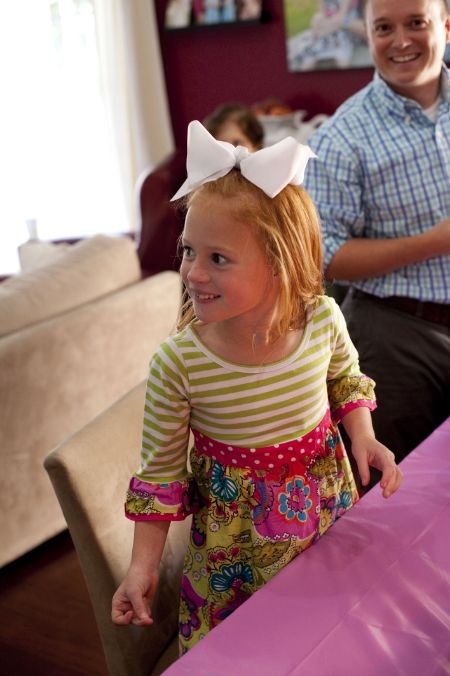 I love this picture.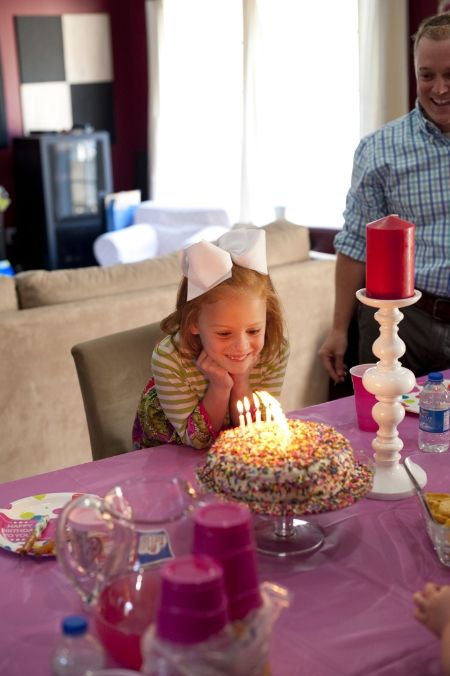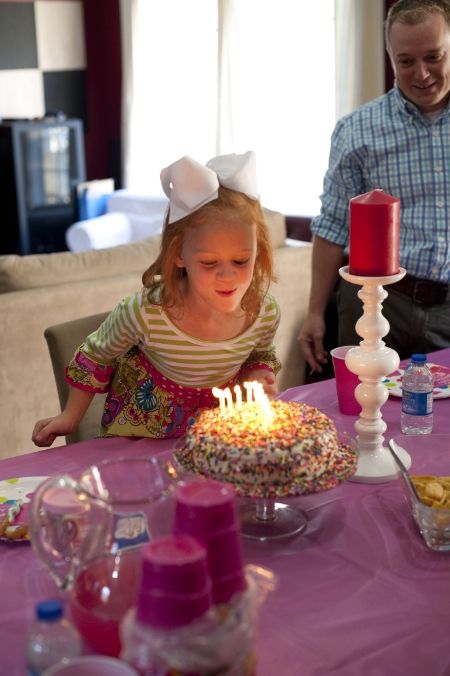 It's hard work blowing out all those candles!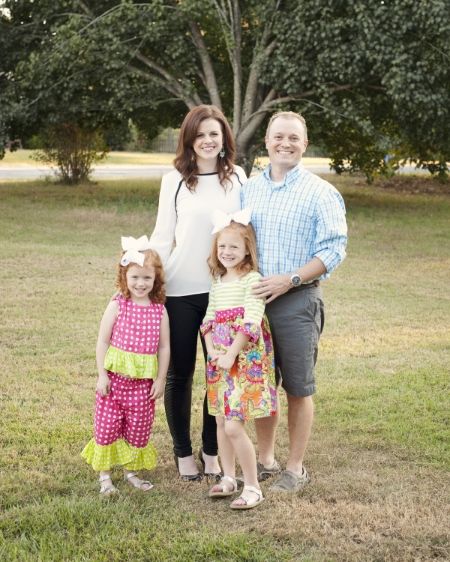 Work has been awesome to let me have an extra off day during the summer so I can spend some time with the girls. It's been awesome getting to see Addy's gymnastics practices and have our "girls day". Those normally include painting finger nails and toenails, make overs, and a fashion show.
Addy's practices are ramped up during the summer. Tuesday's are from 8-10:30 and Wednesday's are from 12-3. Claire is SO OVER Addison's gymnastics practices. I normally drop Addy off and Claire and I go back home and I shower and get ready and go back and watch the last 30 minutes. Yesterday, Claire was basically doing a countdown for gymnastics to be over. She was snuggled in my lap asking me all kinds of questions on when it was going to be over.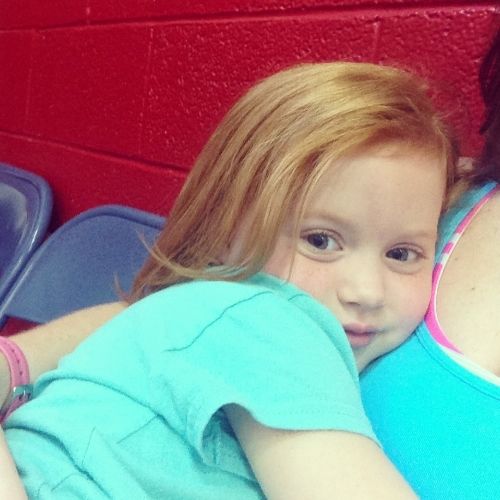 After eating lunch with J, I took the girls over to Mom's so I could do some back to school shopping. Addy has had this loose tooth that REFUSES to come out. She wiggled and pulled it so much last week, it was sore and she wouldn't let anyone touch it. My sister, Sarah, kindly offered to pay Addy $5 to let us pull it. About that time, my nephew James came over and after a couple of pig like squeals, he had a pulled tooth in his hand and Addy had a bloody mouth.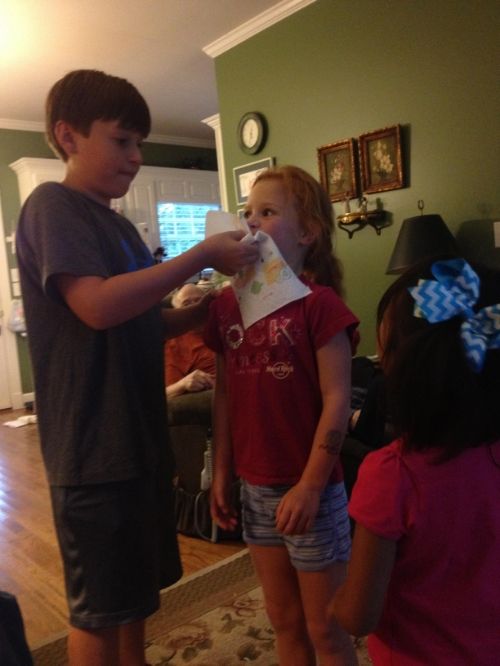 I stand by my argument that being the tooth fairy is the scary job a parent could ever do. And somehow, I'm stuck doing the dirty work. I am not sneaky at all and J could sneak up on a fly, and yet I am the one who has to put my hand under my child's pillow and steal her tooth and replace it with money.

What do you think the scariest parenting job is? I mean, besides the job of raising them not to be a detriment to society?

As y'all may know, my little Addy is a gymnast. Our competition season is in full swing and we have had zero home meets. We travel for our entire season.
We headed to Atlanta for Addy's meet last Thursday night (Yes. the night after Claires birthday and the same week as I got back from Miami. Oof.)
We started out with an awesome breakfast at the Hilton Inn by Gwinett Arena.
McKenna went and cheer Addy on.. where she informed me that I was McKenna's grandma. Seriously?
Addy and her team were ready to start stretching…
Addy competed against 13 girls in her Age Group.. normally it's just 2 or 3. There were also 97 girls who competed on her level.
During my down time, I spent 30 minutes brushing McKenna's hair. I wish I had a dollar for every McKenna doll I saw at the gymnastics meet. I could have bought a new McKenna doll!
At this point, I can't remember what she placed in. I know she got a 6th place, a 4th place and a 3rd place. She didn't place in Vault. And she got 4th overall in her age group.
Supe proud of my little ginger flipper… it was the best competition that we have seen her do. She stayed focused through the whole thing and was by far her best beam routine. She has improved so much since last season.
Did I mention that she got her medals handed to her by a 3 time World Champion and Gold Medal gymnast? Yep. Svetlana Boginskaya.. a Russian gymnast from the 1996 team.
I think she loves gymnastics even more this year, if that is possible. And I love watching her do something that she loves!

After my race, we had to book it to Huntsville for Addy's first gymnastics meet of the season…
I really dug the set up.. you could see all events going on.
Too bad I had to encounter these bad boys to make it to my seat. They almost had me in tears.
But, Addy completely dominated her events.
She places 1st on Bars, 2nd on Floor, 4th on beam and 2nd All Around for her Age Division.
She informed me that she got more medals than I did… modest, that one.
We went out to dinner afterwards to celebrate GiGi's birthday, and Claire fell asleep in the booth.
And I got the world's perfect fortune.
I mean, Duh, fortune cookie!
Have you ever gotten the perfect fortune? Or what was the worst fortune you've ever gotten?

Sweet little Addy turned 6 a couple of weeks ago. We celebrated with dinner at Carlton's. 
Yep.. about right for pictures. PS Chances are photographers have terrible pictures of their own kids. No patience left. 
What. A. Ham. 
Birthday gal! 
Getting her American Girl doll.. McKenna. 
Love at first hug. 
We celebrated her party the following Sunday at the gymnastics place.
Splits… Can't everyone do this?!
There may or may not be video of me doing this…
BFF's since age 2. 
I'm sure this isn't why Pa Bill's knee hurts…
Honey Badger don't care that her underwear is showing. 
Umm.. Hi Addy's arm muscles. 
Family pic.. Imagine. Claire wasn't feeling it. 
So, we all made pouty faces. Except for J. He is making a 13 year old girls duck face. 
 Happy Birthday to my sweet and sassy 6 year old!!

I totally forgot to post yesterday… sorry.
I went to B'ham with Brooke and Alison and we had a Girls Night Out.. so fun.
I got up early to head back this morning, in time to eat breakfast with the fam and take Addy for some special Mommy/Daughter time in the form of pedicures.
This was my first time coming to this place.. they have ipads to browse on while you get your toes done!
Addy's finished product… too cute, right?!
I went with OPI's "You don't know Jacques." I know Brooke will be proud…
Cleaning, cooking, laundry, and of course, watching football for the rest of the day. Addy's birthday party tomorrow!

Dear my sweet and sassy Addy,
You are 6 today. SIX. Where did the time go?!
You are well on your way to being a little lady.
I can still remember when it was just you, and you would wake up around 5 am and we would watch The Wiggles and Mickey Mouse Club House…
You are and have always been, curious. You question everything. I love that about you, and yet, it's also maddening at times. 
You are just girly enough.. You love a good dress and an awesome lip gloss, but forget a hair bow or a purse.
You are an amazing athlete… no matter what it is that you do, you are flexible, graceful, and poised. 
The mischievous sparkle in your eye makes my heart stop. It makes you constantly push your limits and test your boundaries.

I know we do and we will continue, to butt heads. You are too much like me for us not too. Which works, since you are a Daddy's Girl and he listens to what I say.
At 6, I can tell you are an extremely passionate person… some would call it dramatic, though.

Addy, I want so much for you out of life. Your personality alone, demands that the world be at your finger tips and I want that for you.
I have no doubt in my mind that if you can dream it up, you will make it happen for yourself.
I look at you, and see so much of myself at that age. Your initial shyness in new situations, your inability to express yourself with words when upset, and just your general gigglyness.
But sometimes, you just need to curl up with your Mama and that's okay too.
You're in Kindergarten now.. I am not sure where the time has gone, but I am ready to sit on you to make you stop growing.
I wish I could freeze time. I know every year I say that… but it's true. You are no longer a toddler, you are a little lady. 
One, with a fire and spirit that is untouchable. If I can leave you with one quote that I want you to remember always, it's "Don't let anyone ever dull your Sparkle."
Addy wee, you sparkle and shine. I want that for you always.
Happy Birthday, sweet girl! I hope being SIX rocks your face off.

Some things you just aren't ready for.
Like my daughter starting to cheer.
I was hoping to make it until she was at least in middle school but somehow I found myself giving in to her pleas.
And isn't she just the cutest flipping thing?!
For those that know Addy in real life… this won't come as a shock that she is a natural head cheerleader.
Whatever she does, others follow suit.
What shocked me was how stage mom I felt inside watching her.
She was goofing around too much, she wasn't holding proper position or staying in line, she wasn't enunciating from her diaphragm….
All I could think was "Let me get out there!! I'll coach these girls!!"
no worries though, all of these thoughts were in my head and I never spoke them to anyone… other than my mom. She understood though.
For reals.. how adorable is she?!?!

Time for another school year.
To be fair, Claire started her pre-school at the beginning of the month.. 
Big Sis Addy patiently waited her turn.. until yesterday.
She is going to a private Christian school, and it requires a uniform. Which makes getting ready for school a breeze!

Oh geez. Be still, my heart. 
We made it with minimal crying on my part.. I was a brave girl! Addy did fantastic informing me that "It was better than Alabama Football."
When I asked about her day she said, "I was very good. I kicked Emily in the chin and I said I was sorry." Umm… alright then.
Claire wants new friends because hers, "Talk too much." Distracting, that socializing.