Saturday morning started with a really crappy run.. like. WHOA, crappy. I went to get the girls from my moms because they spent the night with her Friday night and then I needed to go get ready to go to work. It was Christmas Open House and was sure to be busy. I got the girls loaded up, only to find my car wouldn't start. A phone call to Hubs and he said it had to be my battery and I needed to jump it off. I am not sure how I passed Drivers Ed, because I couldn't even pop my hood much less be able to jump off a battery. Thank God for FaceTime… and a roomful of hecklers to make fun of me for not knowing how to pop my hood.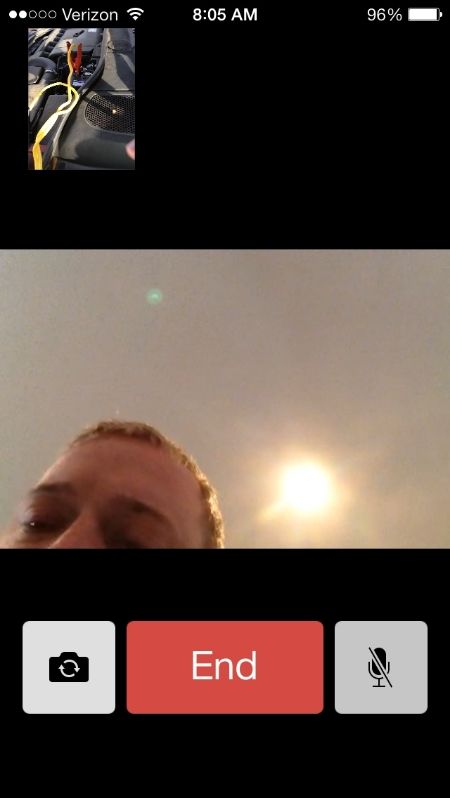 Jumping it off didn't work and Hubs wanted me to call Roadside Assistance. Having an automated call asking me to press 1 if I needed 911 emergency help, combined with my Granny coming out and telling me I needed to move my car sent me over the edge and I lost all coping skills and broke down into hysterics. Thank God for Moms because she handed me her keys and said for me to take her car and go get ready for work and she would get my car fixed. I headed home only to realize that I had no way to get into my house. I was locked out. Hubs was going to have his mom meet me there with a spare key only for her to be working out. So a trip to my in laws was in order. My father in law handed me all of his keys and said, "I don't know which one it is. But I know it's on one of those key rings."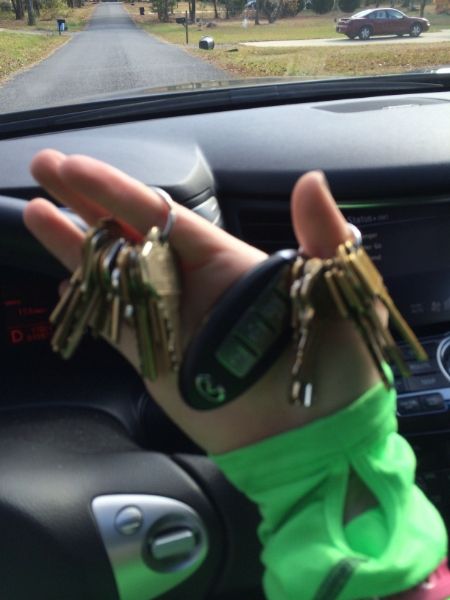 I got in the house at 9:15 and was supposed to meet my step mom to get the girls at 9:30 and be at work by 9:45…. yeah. Karen came to the house and packed the girls while I got ready and I got to work at 10:30. Not bad. My co workers are awesome and were understanding about my morning. They also let me leave early so I could get down to Tuscaloosa for the game. I was coming in so late that traffic wasn't bad and we have a parking pass, so it was smooth sailing… Although, I kept waiting for a tire to blow on Mom's car just based on the morning I had.
When I stepped out of the car, I could feel the energy. LSU has become a big rivalry with us over the past few years. The sun had just gone down and I made it to the tailgate about 2 hours before kick off. Since I wasn't here 2 years ago because I was running in Savannah, I've been told it was my fault we lost then.
We don't see this guy much, but we always love when Brandon comes to visit! It's been a long standing joke that he is my boyfriend, and we always pick up where we left off.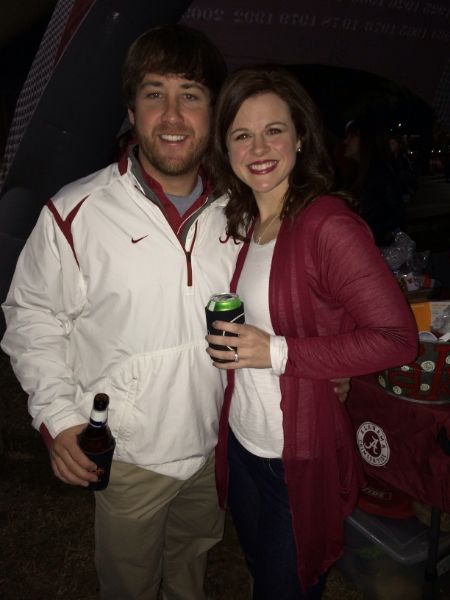 These two… no words.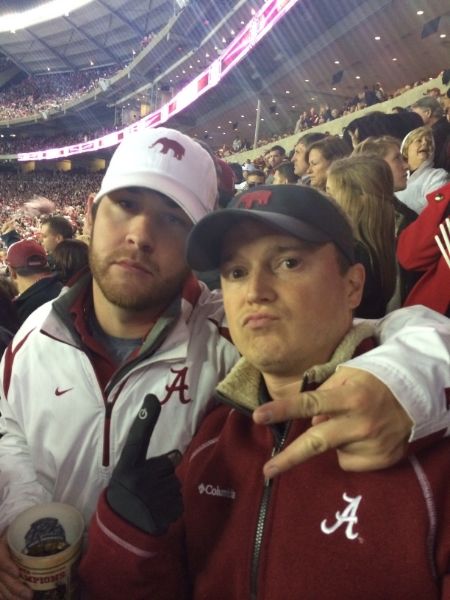 For the first time ever, J and his brothers sat together for an Alabama game. It was hard to believe that they hadn't sat together before, and it was a blast. See? Doesn't Jay look like he's having a ball?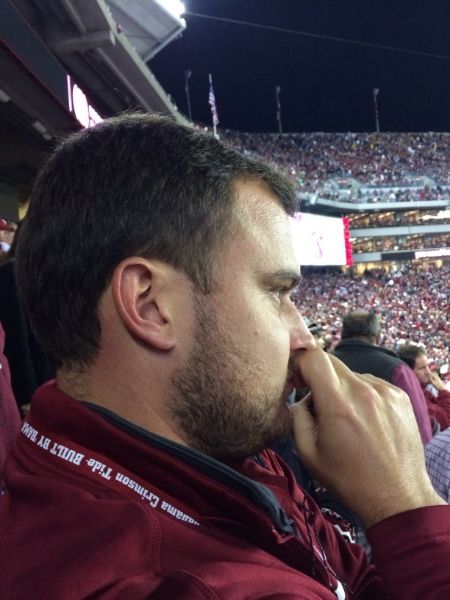 I may or may not have partaken in one too many adult beverages and I now have about 500 pictures of the game on my phone.
4 fingers in the air for the 4th quarter is a tradition that I don't understand, and the guys behind us photobombed… He was so proud.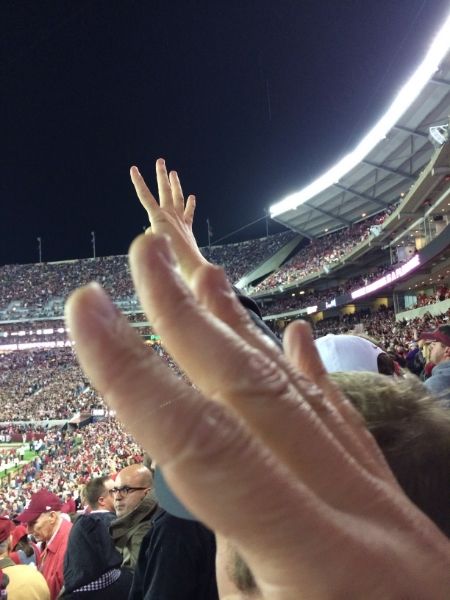 It was also drizzling… Scarves are multi purpose.

In case you haven't noticed, Hubs holding up a number 1 finger is an epidemic around here.

Hubs and his brothers… aren't they cute??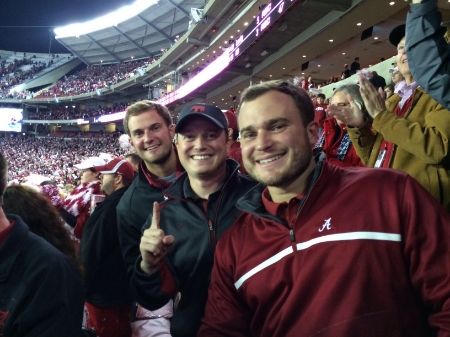 Post tailgate was insane and fun…Tricia was in town and I love seeing her!

Katie.. the official Yellowhammer maker for the tailgate.

Saturday was a roller coaster of emotions and I was up for about 21 hours… I was worried for how it started out, but it only could go up from that point!!
Roll Tide, y'all.
P.S. Don't forget to tell Molly Happy Birthday!!!
P.P.S. In case you didn't hear, Meghan became a Half Ironman yesterday… I am super proud of her!!

I swear I'm not intentionally holding out on y'all on the foot thing. I just sort of forgot to update the blog on it. Oops. So, I ended up going to physical therapy a couple of weeks ago and she gave me lots of stretches and told me to ice it twice a day and I could run half a mile on a track with the brace and work up from there and eventually back to the road and out of the brace. Do you realize that being told you can only run half a mile after a month off is actually worse than being told NOT to run?
So, I did that for about two weeks with no pain. Then it came time to head to Tuscaloosa for the Ole Miss game and I knew I wasn't missing a crisp Fall morning campus run. So, I said I'd do 2 miles and stop immediately if it hurt.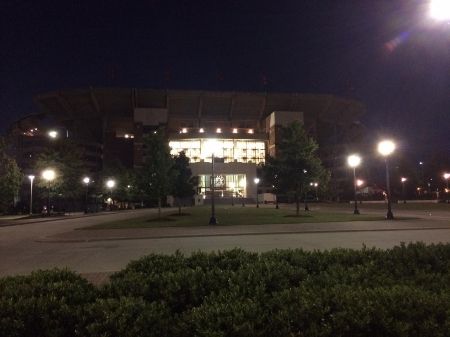 We tailgate across from the Walk of Champions and the stadium, so I just headed down University and Fraternity Row. It's crazy how these new Fraternity houses are. I remember when I was in school (yes. I just said that.) that the KA house was the nicest on campus.
Not bad, right?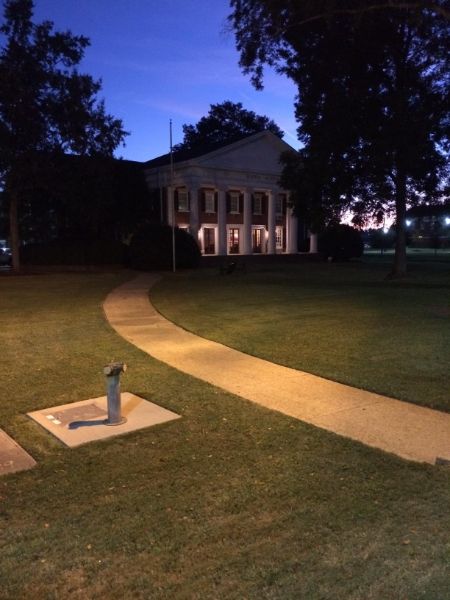 This is just one of MANY new Fraternity houses.. Freaking MASSIVE.
When they expanded the stadium, they tore down several Fraternity houses and they got rebuilt. They also tore down some others to make room for more campus housing.
I ended up cutting down to Bryant and I had to go see the Alpha Gam house. It's just gorgeous. I really love how the new houses still hold the aspects of their original houses.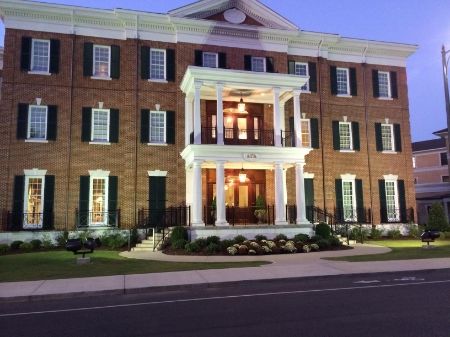 I cut down Sorority Row and down the side of the stadium and said Good Morning to the Nick Saban statue. He seemed to enjoy some Energy Bits. 
I had no pain post run. I ran Monday morning (3 miles) and Tuesday morning (3 miles) and my ankle was a tad sore so I am taking today off and will give it a try again tomorrow. Hubs keeps getting on to me about doing too much, but just like an addict, I can't stay away.

I saw this dress several weeks ago and knew it had to come and live at my house. This is one of my very favorite clothing stores in Tuscaloosa, Ellie Crimson.
Doesn't my brace look so fashionable? Don't be jealous. I wore my Molly Suzanne stack and my Ellie Crimson necklace.
We started the day by meeting my parents to drop the girls off for a day at the zoo… had to snap a pic with my Dad!
We made it Atlanta by lunch and after a semi-uneventful MARTA ride, where I had a man give me to history of the MARTA, we set up shop at Taco Mac for a very long wait, but football was on, so, who cares?
When we stepped outside to head to the game, we were lambasted by a man asking if we would take a picture with his friend, who was a Hokie. He explained that they had done this for Michigan State and she had given a heel pop. He even showed me my competition. I informed him that, "Pssshh we were from the South and clearly we were better at everything than anyone from Michigan." I may have also been a tad tipsy. I asked him if he was going to Tweet or Instagram it and he should tag me, he said, "Oh, I'm in my 40′s. I don't do that stuff." Umm.. okay.
I love a game inside the Georgia Dome… except actually having to get to the Dome and leave the Dome area. The seats weren't too shabby…
I wanted to get a pic with Hubs and he kept holding up his number 1 finger. That is one of my pet peeves and I kept slapping it down and everyone around us started laughing about it. The action shot is a new fav.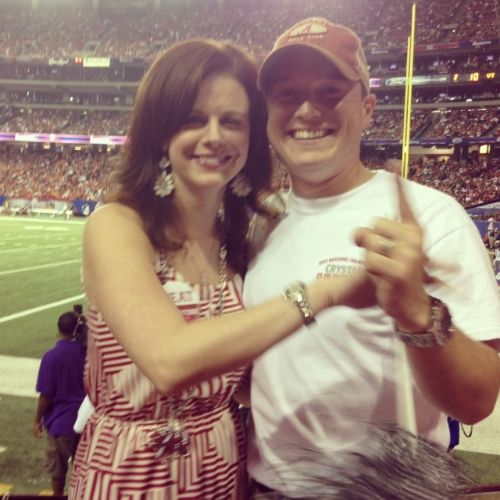 We booked it out of there to get the girls from Birmingham and head to Tuscaloosa to spend the night. We got up early Sunday morning to head to New Orleans to leave on our family cruise… I'm really excited about it! Wish us luck being trapped in a small room with the Reds.


So, I went to a little game in Miami this week… it's called the National Title Game.
The weather was gorgeous and my team won, so that was a plus.
What I wore:
Excuse the rogue zipper. I fought it all day.
Skirt: Judith March
Top: The Limited from 10 years ago. Yes. Really. Bought it my freshman year of collage.
Shoes: KMart
Jewelry: Ellie Crimson and Molly Suzanne
Photo bombed by Jay… hope your proud of yourself!
Close up of my favorite bracelets from Molly Suzanne!! Seriously. Go check her out!!

I know. I keep being behind on the happenings of my life. But really, I should just be proud that I am remembering to blog at all with how crazy life is right now.
We headed to Atlanta for the SEC Championship last weekend.
We were on the road by 6:30 for the 3ish hour journey. We stayed with J's cousin Marie and rode the Marta in… it never fails. I always see crazy things on the Marta and this trip didn't disappoint. I need to make a PSA– Ladies, if you feel inclined to wear short and tight skirts, either wear underwear or learn how to sit properly in a skirt!! I don't want to see your drunken lady biz on public transportation!!
Moving on…
We hung out in the hospitality area and  I scored this awesome Nick Saban head…
We had a lot of fun with these…
After that, we headed into the dome.
I spotted this tall dude, and looked at him, thinking he looked familiar, and I hit J asking him, "Was that Jay Barker?!" and he replies, "oh, yeah. I guess it is." I informed him I needed my picture with him. Not the best picture, but I don't care!
For those of you who don't know, Jay Barker was our QB many years ago, and is married to Sara Evans.
I don't know about y'all, but when I find peeps in my seat somewhere, I get this attitude about me. Well, it didn't fail me in Atlanta. I found some little frat boy in my seat. And low and behold, it turns out it was my cousin.
Whoops.
Anyway, no need to tell you that this game was an emotional rollercoaster for me. I knew it would be close but dang. I wasn't expecting a game QUITE like that. I've never been so happy to watch the final seconds disappear on the clock.
Oh, hello Eddie Lacy. You're a beast. Did you know that?
We celebrated at Taco Mac, one of my favorite places to eat.
Hannah and I got photo bombed by Jay.
He's just lucky I'm not posting the videos on him dancing in the street.
As if you had to ask, I will be spending some time in Miami come January.

Hey, remember that time I forgot to blog about the Iron Bowl? Me neither.
Basically, it was super cold and setting up the tailgate required me to wear this…
We were better prepared for the cold this time… bringing numerous blankets and even an electric blanket!
Rebecca's husband Robbie stopped by.. Yes, we allow Auburn fans!
Really.. the love between these two…
We always enjoy some good interaction at our tailgates…
Mark and I were rocking our crimson.
Hubs and I had a wonderful time, albeit, cold at the game. Not much to say about the game. We won 49-0.
My Iron Bowl outfit consisted of a cream sequin top, crimson velvet blazer, houndstooth sparkly scarf and my wedge boots.
Next up… the SEC Championship game!

Here was my outfit choice for the Texas A&M game. It's the first time I have worn pants all year. Weird, no?
Tank- Kmart. Yep. Kmart
Pants- Target
Shoes- If The Shoe Fits.. only $25!!

We headed to Tuscaloosa Friday night, since Alabama was playing Texas A&M.
We ended up going to watch the Tide opener in basketball. While I don't care for basketball, I took one for the team and went so all the boys could go. I spent most of my evening people watching the fans that would go up to Trent Richardson in the stands and get his autograph.
Hubs and I watching some Hoops.
We got up at 5:00 to go set up the tailgate. I normally go run at this point, but decided not to, since I have the sickies. I haven't ran all week and it just ticked me off.
We stopped at Panera where I saw they have poser blue cups.
B Lee has come back into our lives after a hiatus… he enjoyed a Starbucks muffin at the tailgate.
We have priorities…
Yep. Priorities with Kirk Herbstreit.
I was trying to get my vitamin C in to help my sickies.
Hanging with all my friends….
Just kidding. More people actually showed up.
Philly and myself at the game…
One of my favorite parts of the Pre-game is our video sequence.
We did a Veterans Day Half Time performance..
Can I just say that I was against inviting Texas A&M and Missouri into our conference? And obviously with good reason. Going into this weekend, I had no clue who "Johnny Football" was. And I wish I still didn't. That kid is elusive and a Houdini in some situations. He left me completely dumbfounded. We had our chances to win that game and kept making stupid mistakes. At least we still have the SEC Championship to look forward to, as long as we beat Auburn.
I am here to tell you, that breaking down a tailgate AFTER a loss is terrible.
I felt deflated.. like the tent.
B Lee is hanging with the satellite dish
We have the sads.
We ended up driving back Saturday night. I had a photo session with the sweetest family and then worked at the store.
How was your weekend?

Saturday was one of those days that was just awesome all around. I woke up to go meet my peeps for a "long" run. I was hoping the hip would hold up to 6 miles. As I waited, I saw tons of small running groups. I was shocked we had so many runners here. Yes, I knew theoretically, they were there. But I hardly ever see them! It made me want to get out and make new friends. Anyway, Donnie wanted to run a small 5K that was going on that morning. I hemmed and hawed about it and he looked at me and said, "What difference does it make if you run in a race or now?" Uhh.. I had no response. So, we signed up.
I had already made the joke about wondering who I was… the crazy girl getting up before the sun to go run in 45 degree weather. Where did she come from?! Then, I became one of THOSE people who were running more miles before the race. Confident enough in their abilities to perform in the race after expending energy. I swear, sometimes I look around and wonder how I got to these places.
My hip hurt, by the way. I'm currently having a love affair with Ibuprofen, ice, and the heating pad. It all seems to be working.
Anyway, I ran and picked up donuts for the girls on my way home, rushed to shower and get dressed and head to work. I found out during work that I had placed 2nd in my age group– major sweetness!
I came home from work to find J had gone grocery shopping and made homemade chili… I was so pumped!!
THEN.. I saw that my new Lululemon crops had came in… YES!!! I love these things more than you should love a pair of workout clothes.
As I was putting away the rest of the groceries, (No he didn't put everything away.. I'm a little anal about where things go) I noticed these bad boys…
Yes please!!! We straightened up the house and Donnie and Shannon came over to watch the Bama game… I was a little shocked by how much she screams. She and John were like two peas in a pod! I'm not gonna lie.. I was more than a nervous wreck the entire game.. it felt like last year and we were about to have our dreams crushed! With 1:34 left on the clock, John announced that he wasn't sure if he could watch the rest… but then, TJ Yeldon came through for us with the winning touchdown, and I looked about like Tom Cruise with his couch jumping. We were all screaming and I was jumping on the couch like a crazy person.


GIFSoup
I really love this.. because touch that thang, fo is something we always say.
I woke up Sunday and had some dominating coffee…
 Sunday was not really productive, and an extremely lazy day. It was awesome, too.
How was your weekend?
Did you watch the Bama/LSU game?
Did you race?