I ran the Vulcan 10K on Saturday, and I wasn't really feeling it, because I felt like I couldn't really race it. I knew no one running it either. But, I refuse to waste $25 on a race fee, so I got up before the chickens and somehow coerced my mom and Hubs to come watch. I know that it wasn't either of their cups of tea for a Saturday morning activity, but I think they had fun people watching and heckling the finish line crew. Anyway, my goal was to start out at a pace of 9:30 and try to finish under an hour. My previous PR for a 10K was 59:43, and I wanted to break that, but just wasn't sure it was in the cards. I ended up next to two guys that I ran with last Saturday while we were waiting on the gun to go off, and we were discussing races and whatnot, and found out they had already run the course this morning. I just don't even know what to do with people like that.
Anyway, the course starts out pretty hilly and I am generally not a fan of running in the Highlands because of this. It doesn't feel like hills, but IT IS. I started thinking, "This is really hard. Are you really trying to double this distance in a few weeks? I don't know if I'll be able to break 2 hours like I wanted." You know… really uplifting stuff. I was keeping pretty steady on my splits and once we hit Five Points area, it was pretty much downhill and I started speeding up. I had less than 2 miles to go at that point and wanted to see if I could turn it up. I felt pretty good about coming in right around an hour. Once I hit mile 5, I started picking people off. I clocked the last mile in 8:37… say what?? At the end of a race?? Sure, that normally happens in the beginning with all of the endorphins and what not.. but not at the end!
The last girl I picked off, didn't like that and caught up to me, I could see the finish line and checked to see if she was maintaining or pushing on.. she was just maintaining, so I gave it some gas and blew past her. It felt REALLY good, people.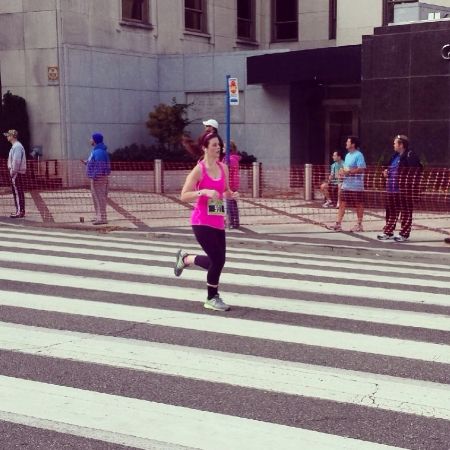 I crossed the finish line in 58:15… almost an minute and a half PR. I will take it!!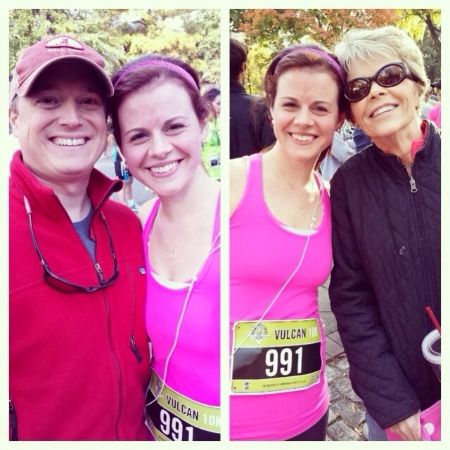 As my reward, I got to go to Lululemon at the Summit, where my picture is in the window for a goals segment they did. The last time I was in there they were talking to me about running goals and asked if they could take my picture.. and what was I to say?? Hell yeah! I also now have my outfit for Magic City and I am excited about it. Unfortunately, it's not pink, but I love it anyway.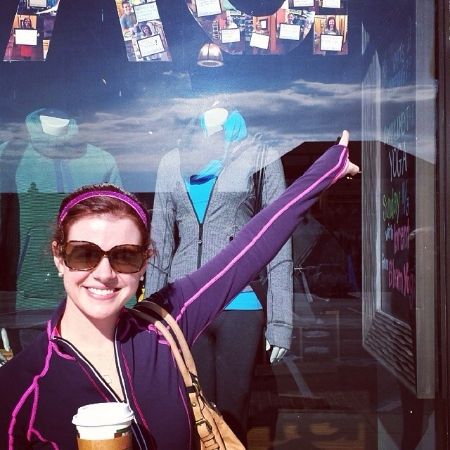 It was not a bad way to start a Saturday morning, I can tell you!
Who else raced this weekend??

I made it back to Alabama, safe and sound. A tad exhausted, but glad to be home.
I'll be honest, heading into this years BlissDom, I wasn't sure how I felt about it. Financially, it was a bigger undertaking for me having to fly, instead of drive. Since I've already gone to Miami this year, and heading to DC next month, plus a vacation this summer, I was sorta, kinda wishing I hadn't committed myself to it. GUILT set in.
But, I decided to go and have a good time and and learn and network, with the knowledge that maybe next year, I wouldn't go.
The travel alone needs it's own post dedicated to it, but I'll leave you with what is fresh on my mind.
I didn't get a lot of time last year to chat with sponsors and I really wanted to make sure I had time for that this year. I did and feel I have walked away with some amazing connections.
I feel like I have changed so much since last year. Going back to work, really changed my priorities. Things I took for granted, priorities being shifted, etc etc.
Lately, I have been feeling down on my blogging. I rarely read blogs andI don't have a ton of extra time. But I love blogging and sharing my life. I am very present on Instagram and Twitter, and generally once my thought bubbles or pictures are out, I forget to post them. I haven't been posting on my family life or the reds as much as I should.
With being a Community Leader, I had certain assignments for sessions and one of my sessions was David Molnar's. If you aren't familiar with him, YOU SHOULD BE. He is not only an amazing photographer and story teller, his devotion to his son and wife are nothing short of spectacular. His Friday session spoke leaps and bounds to me, where I sat with tears in my eyes through most of the session. Even though, his session was about storytelling, his point was "Who will tell your story if you don't?" Since pictures obviously are the best storytellers, he was just saying that no matter if you are a professional or novice, Nikon or Canon, Camera phone or DSLR, just get out there and take pictures of your story.
His story spoke to me on a different level though. I realized I never take my actual camera out to tell our story. The iPhone is so much easier and less bulky. So, I am challenging myself to not share a picture from my iPhone for 30 days on the blog. All pictures have to be from my Nikon. WHOA. Right?
Now.. let's be honest. When I do a BlissDom recap post, I WILL have to post from my iPhone because I didn't take my Nikon everywhere. So, let's just exclude those posts, Mmkay?
Lastly, Jon Acuff always delivers. That man is hilarious, but he also knows how to really make you re-evaluate and think about things. His closing key note, did NOT disappoint. He spoke about the Road to Awesome… and a few things he said really stuck with me. As we get older, we start to edit our lives– cut out those who don't uplift us or things that no longer give us joy. As we begin to edit, we will meet fear. FEAR IS A LIAR. Fear only gets loud when you do things that matter. Fear never throws rocks at someone who is lying down. Fear FEARS community. Fear will always try to isolate you from others.
Fear sometimes paralyzes me. I am fearful of failure. Failing my husband. Failing my kids. Failing myself. I've got to stop being afraid. When you stop being afraid, amazing things happen. When you are unstuck, you are unstoppable.

Here's a whole bunch of randomness that I wanted to share.
A childhood dream came true. 
I made some Angry Bird cupcakes following THIS TUTORIAL. It was pretty easy! 
I did Christmas with Becca and she got the most perfect gift for my multiple personalities. (You'll only get the tag if you watch Gossip Girl. We are the non-judging breakfast club!) 
Yep. Glitter heels and a running shirt with a Princess crown and the word "Dominate". The back says 13.1
Not the most comfortable shoe to wear for 4 hours, but surprisingly, not that bad to walk in. Your arch just starts to protest after too long. 
A surprise Christmas gift from John.. He did really good with all the surprises! He listened to things I talked about and didn't follow the list completely. Good job!! 
I also got The Hunger Games book.. oh my. Fantastic! I rate the series up there with Harry Potter and better than Twilight. Yep. The characters are different, but the writing is amazing. I was glued to it. I read the series starting on a Friday night and finished on a Monday. (This was also NYE weekend… so I was forced to get out of the house otherwise, it could have been sooner.)
I also got a Sephora gift card.. here is one of my purchases. I debated on this. But ultimately, I am a lip gloss addict and couldn't resist.

And the best game ever. If you love this SITE, then this is the game for you!! And you probably should play it with my husband and Brother in law, as their comments are shocking and hilarious. 

We celebrated Claire's 3rd birthday on Saturday. I ran out of time, so I was missing some of the decorations I had planned… like the water bottle labels and food labels. But oh well. I still pulled it off– even if I was in jeggings and a tank top and decorating cupcakes when people started showing up.
The wreath… well worth the full days worth of work, I think!
The banner.. I didn't get a picture once all the food was set out. 
Thank goodness I got a picture of these and the cake. These ended up falling during Claire opening her presents and breaking the 3 off the cake. So sad. 
Cupcakes.. not as decorated as I would have liked. Oh well.
In case you weren't sure who Becca was that I always talk about– she's my second husband and my personal stylist. (and of course a sleeping baby Avery) 
Claire thoroughly enjoyed her 3rd birthday party… I thought it was a hit and my best party yet! Even if my time management skills were lacking. I'll blame it on UPS and my husband working until noon.

As 2011 comes to a close, I wanted to look back on the year, and see if I had accomplished my goals that I set out to do. So, I went to my archives posts and realized that I never wrote a goals post for 2011. Cray cray. But, 2011 was a BIG year for me. In every aspect of my life. Let's reflect shall we? (This is gonna be fun.)
I started and completed a Project 12 (More on this later!).
We took the girls out of school to help pay off some debt– we paid off two credit cards this year, leaving us with only one left!
I met Greg McElroy… AKA my Baby Daddy. Kidding! But doesn't he look like he could be the father of my children? 

I went to Blissdom- my first blogging conference! It was amazing! And I am returning in 2012 to Blissdom as a Community Leader!! HOLLA!
I ran my 2nd, 3rd, and 4th Half Marathons this year.. (That's a LOT when you say it like that!)
I reached my goal weight.
We had a tornado rip through our town.
We traveled.. hitting VEGAS!, Disney, Penn State, NYC, and numerous Alabama Football games.
I marked several things off my 30 in 30 list!
I became a FitFluential Ambassador.
And I found out this week that I have been accepted as a Nike Fit Tester. Whoo!
2011 rocked my socks off.
How was your 2011??

Hey y'all! I am still alive! This past week kind of took over my life and I am not very good with balance, apparently. With my family out of the country, I am taking care of tons of things for them, plus blogging for my sister on her adoption blog. I guess I've put all of my blogging efforts into hers. Moving on…
No one emailed me to claim their prize in the giveaway, so I picked another winner. 
Michelle, if you would e-mail me at runningbackwardsinhighheels[at]gmail.com Please and Thank you!
Since I have major problems with balancing all the aspects of my life, if you have any tips they are greatly appreciated. How can I balanace running, mom, wife, photographer, small business owner, blogger, social media addict?? I dropped runner and blogger this week in lieu of cleaning my house. It felt wonderful. Plus… decorating my tree became the most stressful event ever. I blame Pinterest to fuel my perfectionist self to decorate the perfect tree. And then Hobby Lobby decided to be out of everything I fell in love with. Why, Hobby Lobby, WHY?!
Anyway, our Elf on the Shelf, Buddy showed up this week.. What's he been up to?!
On top of normal craziness, Addy had a practice gymnastics meet this past weekend (pictures and video to come) and her first real meet is this weekend. Which means, they added an extra gymnastics practice to each week. As if, two days of 2 hours practices wasn't enough.
Awesome news ALERT.
I have been chosen to be a FitFluential Ambassador. I am super pumped. Complete with my very own page on their site.  You might see some other familiar faces in there. The company just started in April and is growing leaps and bounds. I cannot tell you how excited I am for what is coming in 2012!
If you are interested, you can apply to be a FitFluential Ambassador HERE. Be sure to tell them who sent you! Even if you don't blog, you can apply to be a FitFluential Enthusiast.
I also remembered I used to like to run this week and decided to hop back on that treadmill. It was nice. And it hurt. I have also starting planking every day and trying to do some push-ups… my lack of upper body strength is scary.
What have YOU been up to??

I'm doing a giveaway.. because I love all my blog readers! It's kind of a hodge podge of things that I am loving at the moment…
I've been saving this for when my new blog went live.
Here is what it includes.. a sparkly houndstooth scarf, houndstooth twisty earrings, my favorite shade of Essie polish right now- Chinchilly and a Chica Band. 
Entering is SIMPLE. Follow my blog. Leave me a comment saying so. If you want an extra entry, tweet it and then leave me a comment. If you want TWO extra entries.. blog about it and then leave me the link.
I will close the contest on Friday. You can come back each day and enter. If you want to tweet it everyday, be my guest, just be sure to leave a comment saying you did!
Here is an example of a tweet: @Runinhighheels is doing an awesome giveaway! http://www.runningbackwardsinhighheels.com
Good Luck everyone and I hope you like me it!

I got a little surprise yesterday when I got home after my long afternoon of picking up kiddos, snacks, taking Addy to gymnastics and sitting there for 2 hours.. seriously. The child better be in the Olympics.
Anyway, John and I had been talking about getting my a laptop for a while.. since, we have been discussing splitting the playroom into an office/playroom and getting my desk out of the dining room.
Well, he surprised me with it tonight. What a sweetie. Now, let's be real for a second, I paid for half of it and the other half is my anniversary gift.
Addy digs it.
Me likey… with a text from Becca..
It's a beauty.. 13 in Macbook Air. They have this nifty little thing that I am going to use and love- AirDrop.. I can access my files from my desktop- photos, etc and pull them up on the laptop and load them to the blog.. or whatever. SO EXCITING.
Yes, I have an iPad.. but it really doesn't like blogging or flash, so it's not great for blogging and photography related things. Plus, the girls play with that and they are banned from my laptop.
On a side note.. I went for my 5 mile run yesterday and I was running at a 10:00 min/mile pace, which is what I always run at, and my body was hurting.. like it was hurting at 10:45 pace. So I stepped it up to 9:30. It felt great. Although, I do have to accommodate it for a couple of runs by running 3 minutes and walking 1 minute.. it feels great. So, while I should be excited about speeding up, I think my body hates me and is making me run faster.. Dangit it for being more efficient.
Also.. don't you want me to be Internet popular, so you can win free stuff?? Pimp me out, yo!!

Anyone watch "How I Met Your Mother"? I love Barney. He may be my favorite character. I saw this sign originally on Pinterest and I knew I could make it myself. So, I had
Natalie
use her handy dandy Cricut and cut me some letters. I then, figured out the size canvas I needed and headed to the Hobby Lobby. I laid out all the letters on the canvas to make sure they would fit, and then used a ruler to make sure the words were straight.
After I got all the letters on there, I mixed my paint color and just painted over the entire canvas. Once it was done and had dried, I took all the letters off. I did do a little touch up white paint.
And then I hung it on my wall.
I love it! It's in the perfect spot to cheer you up when you aren't feeling so awesome.

Yesterday, as I was putting Addison's hair in a pony tail, I noticed a small piece of hair that didn't want to be a part of the pony tail party. It wanted to be free. I also noticed how said piece of hair was pretty short. And soft. And looked newly cut. So, I started inspecting and then interrogating. She wouldn't tell me much except that she had done it at MeMac's and used kitchen scissors.
I started getting to the bottom of it, when I refused to give her a second snack until she told me the whole story. (Taking food away, works for us. Don't judge.) She apparently, snuck into the kitchen, grabbed the scissors from the counter, ran behind the couch and cut her hair, then hiding said hair behind the couch.
Call me mean, but I told her if she ever cut her hair again, that I would shave her head or cut all of her hair to length in which she cut her hair. She promised she would NEVER do it again. We shall see…
I also got to meet her fabulous little girl, who is nothing short of exactly how I picture Addison to be in a year. Scary…
Hope everyone has a fabulous weekend!!