This party wasn't up to my normal, completely over the top parties.. because, well, I'm tired. I had left over plates from A's 7th party, so I just used those. Oops.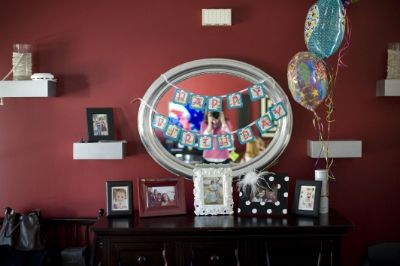 C and her GiGi
The food was low key, since we had the party right after lunchtime.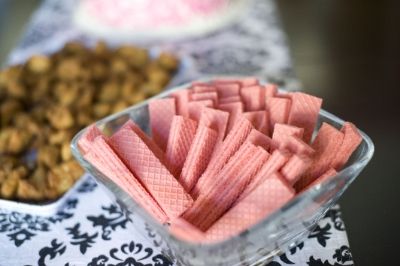 But, you know I can't NOT do a fabulous cake.. and this one was fit for a princess!!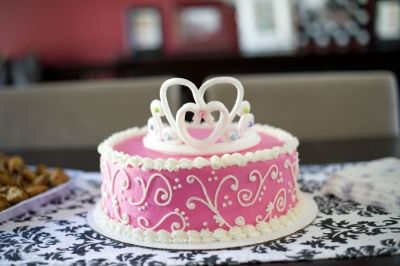 The Reds and Nana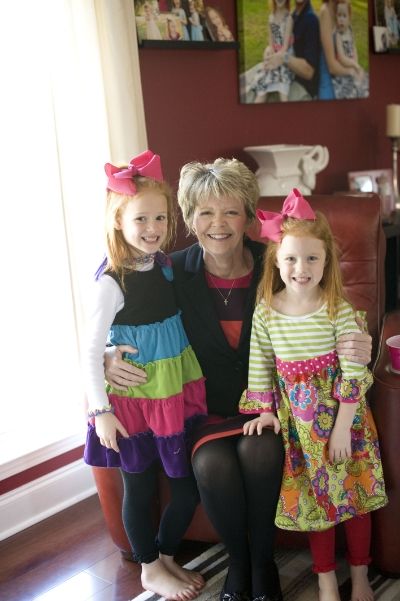 So, C got this hat from Nana that when you push the button the tail raises.. super creepy.
Sweet little girl..
She was so proud!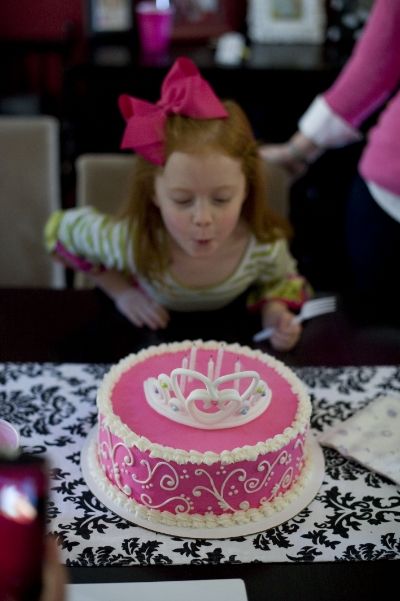 Of course it's not a true family gathering without a game of football…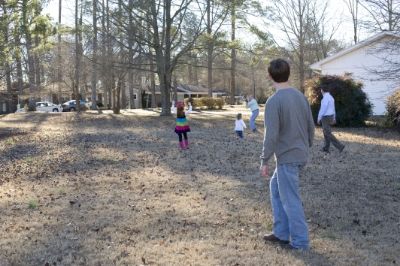 He's my lobster.. Such a good assistant for party planning.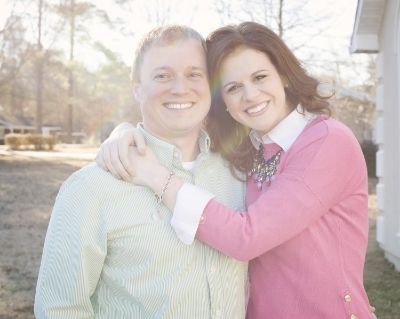 Our family of 4…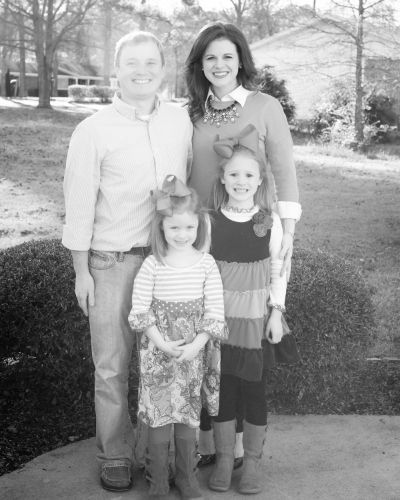 Hope you enjoyed the birthday party recap!

How is this possible? C, you are FIVE. This is such a big milestone and yet, it doesn't seem like it should be here yet.
I still remember how much your CRIED as a baby… how I was completely and utterly overwhelmed by having two children. But, you have turned out to be one of the sweetest, most loving children I have ever known.
You are so stubborn at times. You cannot be made to do anything that you don't want to. Not in a "defiant" way.. but in a "I'm not listening to you and you aren't going to make me" way. At the same time, you are organized and will always do what someone asks you to do… when you are ready.
You hate to get in trouble.. if you think you have disappointed someone, you'd think the sky was falling.
For someone who has had trouble being in pictures, this past year, you have come out of your shell and are REALLY into taking pictures now.
I am so looking forward to watching you bloom into a young lady… it's going to be amazing.
I love you, sweet girl.

Wednesday night, Mom, Addy, and I ventured over to Atlanta to spend the night and go to the American Girl store for her birthday. We got there very late with the time change and therefore, coffee was necessary all around… Hers was decaf.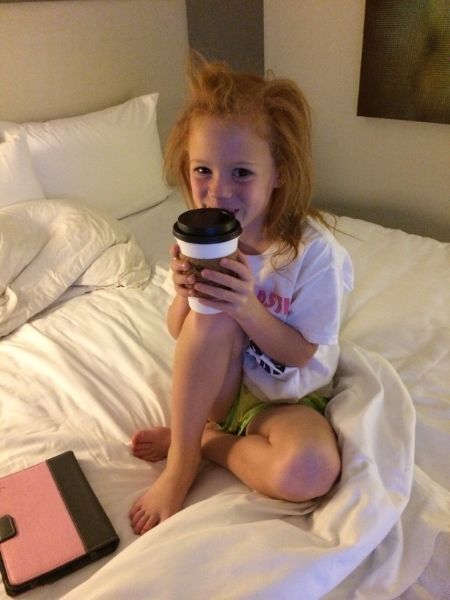 My friend Mary hooked up us with a fantastic room at the Hyatt Midtown… I sort of loved the keys. Mom was glad that I am tech savvy.. she said she wouldn't have been able to figure it out otherwise.
The lobby was gorgeous..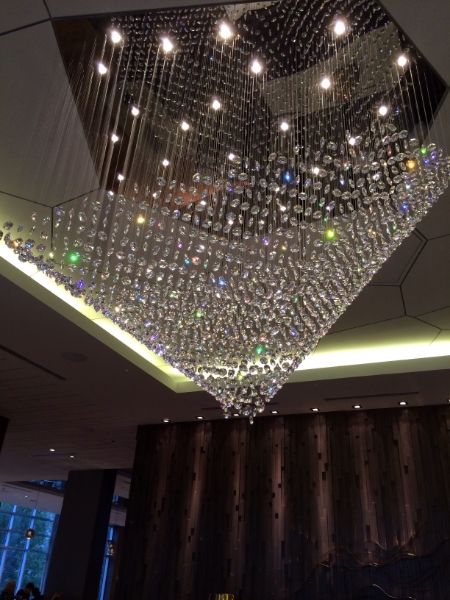 Addy and McKenna..
Mom and Addy in front of the store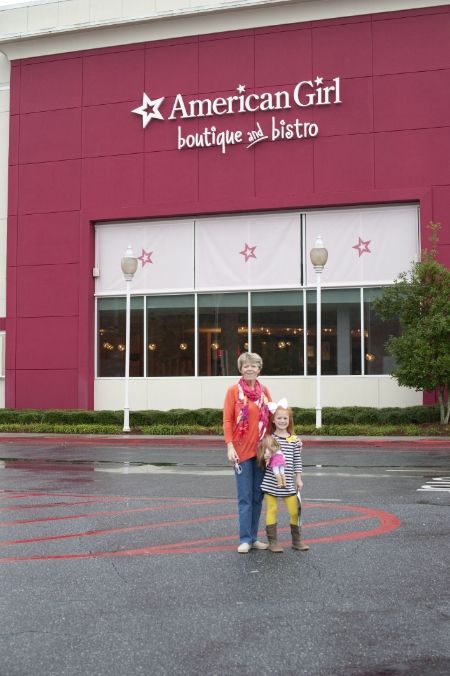 We headed straight for the doll hair salon for McKenna to get a new hairdo…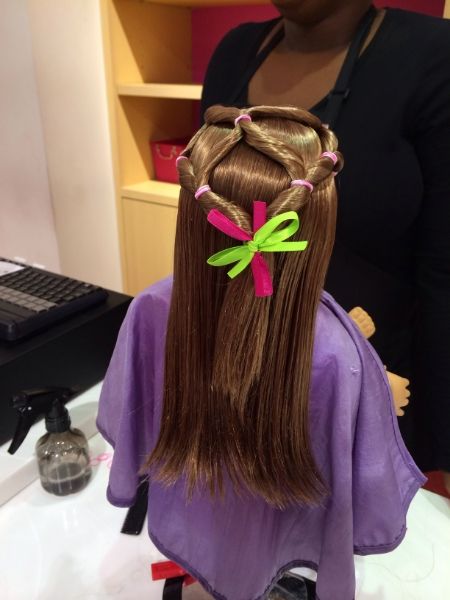 After McKenna's time at the spa, we ate at the Bistro, which has to be the most expensive macaroni and cheese that I have ever eaten.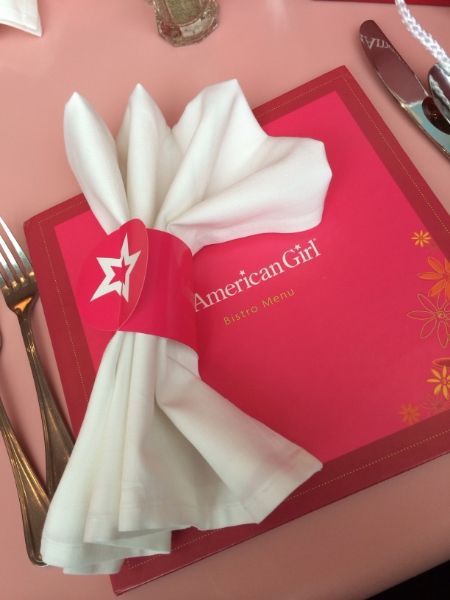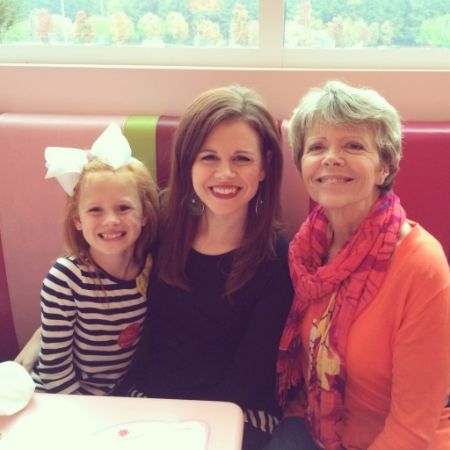 Addy enjoyed her milkshake.. thankfully, it didn't bring all the boys to the yard.

I think it's safe to say, we did some damage at the store.

We had a fantastic time with just us girls. Addy scored some major American Girl stuff and I realized just how out of my element that I am with these AG dolls.

Have you ever shopped with Crystal Faye? She has some of the cutest stuff and of course, since it's monogrammed, it just doesn't get any better than that. I am in love with the Clover Collection Lucite Tray. I've been eyeing one of these acrylic trays for MONTHS, thinking it was just what I needed for my ottoman in the living room. Crystal was kind enough to send me one for my birthday.. it even showed up like a birthday present! I immediately took it out of the box and laid it on the ottoman.
Only to come in the next morning to this: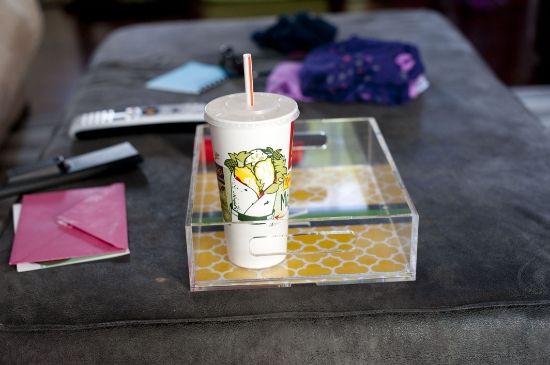 No. That's just NOT gonna fly. Plus… my ottoman is huge, so it really wasn't doing the tray justice. (Just keeping it real, folks. This is what my ottoman ALWAYS looks like in some form or fashion.)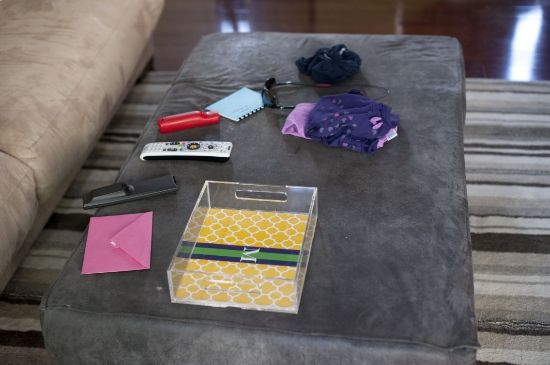 So, I made the wise decision to move it in to my closet with my jewelry.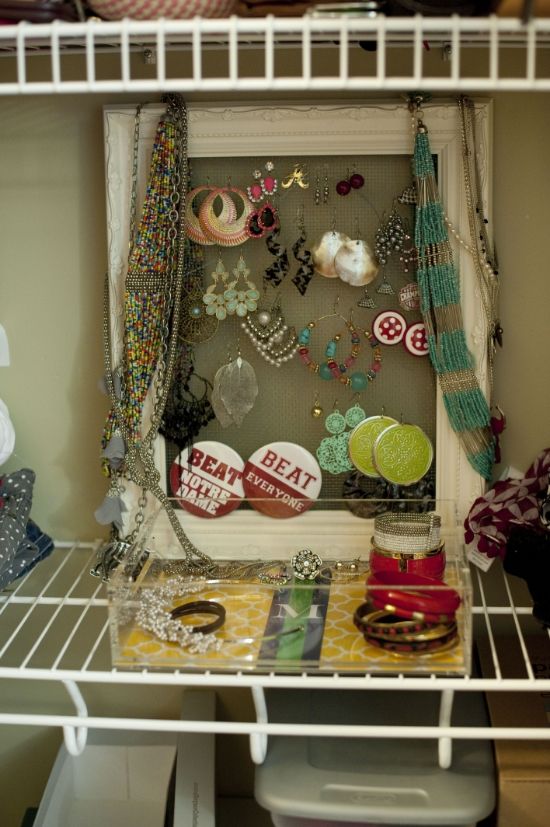 A much better place for it, don't you think? I already had a tray here, but I just swapped them out.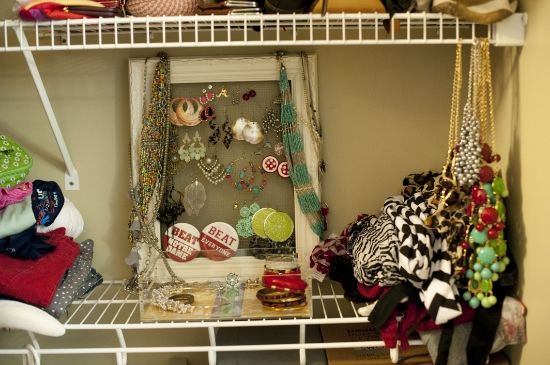 I love how much deeper the sides are on this tray than what I had here originally. It helps keep my bracelets stacked nicely. (Yes. That's a pearl tiara. Doesn't everyone have one? No? Just me?)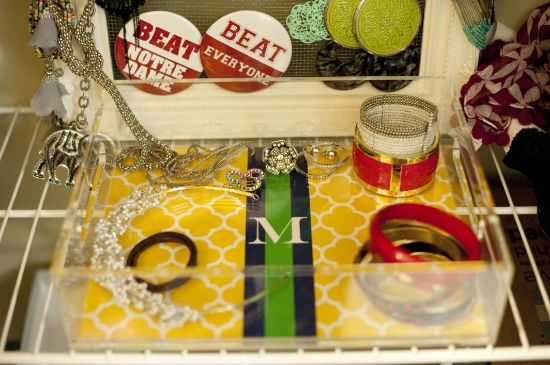 This tray is so versatile.. it could really just go anywhere.
I think this tray is a much better option here on the ottoman. Although, I still think it needs some work.. I'm just not sure what! I'm not good with the details of decorating.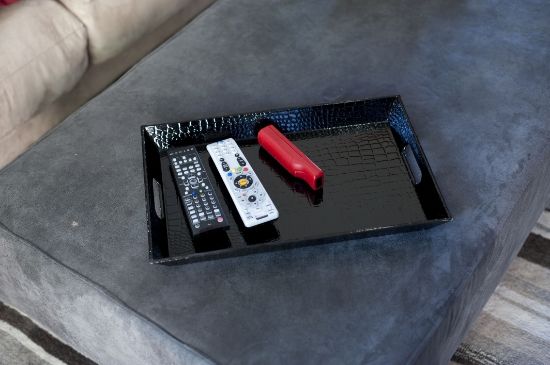 To help celebrate my birthday, Crystal Faye is going to give away one of these fabulous trays to one of you lucky ladies!!
Be sure to follow Crystal Faye on all of her social media platforms, she is always posting cute stuff to Twitter and Facebook!

Well. I turned 29. There was no stopping it, much as I didn't want it to happen. And… I have no choice but to be okay with it.
Good news? I got everything I asked for… minus the pajamas. So, I cannot complain about that. I honestly have the best friends and family. Becca couldn't break tradition.. she got me the pink TOMS wedges and they are fab. Part of my present from J was to go see Dave Matthews a few weeks ago.. I absolutely love Dave. From way back. He played some amazing stuff… and I would share with you some of the pictures if I could get my iPhone to upload to photo bucket properly.
I also got a new HOT PINK Lululemon skirt from Philly and the girls. I ordered the Epiphanie bag with the money my mom and step-dad gave me. Dad and Karen gave me a fabulous necklace and my beloved Thorlo socks in some super fun colors. My sweet friend Mary sent me a lululemon gift card instructing me to buy something cute and fun with it.
No birthday is complete without some good food and I think I surprised Philly with my birthday requests… a local restaurant called The All Steak that I generally don't like. They moved and got a facelift, so I wanted to try it out.. it wasn't fabulous but the atmosphere was very cool. Saturday, I worked and I am officially sick, so I didn't want to do much. J picked up Full Moon BBQ (say whaaatt?!) on his way home. I had the vegetable plate, since I hate BBQ and it was delicious. Sunday, we met Dad and Karen at Outback.. I was craving some cheesy fries and a Bloomin' Onion. It didn't disappoint. On the way home I told J that I wanted to go check out the new Barons baseball field at some point and he looked at me like I had grown two heads. I'm generally not a baseball fan, but that place looks pretty cool. He demanded to know what had been done with his wife and this alien was a terrible impostor and didn't know it's subject.
Anyway, this birthday was extremely low key, and I have decided that the BIG 3-0 needs to have a righteous party. I have a whole year to embrace the coming of my 30′s, right? Obviously, we need to start planning this right away.. what are your ideas?!

For Claire's 4th birthday, she requested a Sleeping Beauty birthday party.
I was happy to oblige. But I wanted something sweet and not cheesy..
Of course I waited until the last minute, and basically the party started falling apart on me late Saturday night… (party was set for Sunday.)
Lesson Learned… Don't let your husband call in the cupcakes. You will receive 2 dozen MINI cupcakes instead of regular sized.
A door decoration  is always important to me for these parties…luckily my sister had something I could borrow.
Yes, I know the picture is off center in the middle of the wreath. It was the best I could do.
I would like to thank the good people at the bakery, for helping me out and making sure I had proper sized cupcakes to serve! 
Although I had other ideas for the banner, I think it turned out pretty darn cute!
The kid got NO presents..
Dad made a buddy with Rebecca's youngest, Avery… 
And it wouldn't have been a party if Claire hadn't woken up pouty and crying. She wanted me to send everyone home.
She eventually came around and had her entourage to help open gifts!
Me and my two husbands…
The only family pic of the day… I'll take it!
After everyone left, we had to have some Just Dance 4 time….

Sweet little Addy turned 6 a couple of weeks ago. We celebrated with dinner at Carlton's. 
Yep.. about right for pictures. PS Chances are photographers have terrible pictures of their own kids. No patience left. 
What. A. Ham. 
Birthday gal! 
Getting her American Girl doll.. McKenna. 
Love at first hug. 
We celebrated her party the following Sunday at the gymnastics place.
Splits… Can't everyone do this?!
There may or may not be video of me doing this…
BFF's since age 2. 
I'm sure this isn't why Pa Bill's knee hurts…
Honey Badger don't care that her underwear is showing. 
Umm.. Hi Addy's arm muscles. 
Family pic.. Imagine. Claire wasn't feeling it. 
So, we all made pouty faces. Except for J. He is making a 13 year old girls duck face. 
 Happy Birthday to my sweet and sassy 6 year old!!

We did Addison's birthday party Sunday and it was Alice in Wonderland themed.
I honestly poured my emotions into the decorations for this thing.
My sister made this sign.. she is so crafty with her scrapbooking supplies. It's almost a little scary.
Her Mad Hatter cake.. Yummy. I had a Mommy surprise in that the top hat was a rice krispie treat!
I made strawberry cupcakes and I ordered the toppers from The TomKat Studio on Etsy and cut them out with a scalloped circle punch and attached them to toothpicks.
Chick- fil-a nuggets.. did you now you can order these as a cold tray and warm them up?
Sarah helped with the "drink me" labels. She refused to do the "eat me" ones for the food.
Addy opening all of her presents.. it was hilarious. I should upload the video b/c the things she was saying would have you rolling.
We played Croquet outside..
Then we sang "Happy Birthday"
And took some family pictures… Not sure how I feel about this one? Textures aren't really my thing but I felt like this picture needed it.. What do you think?
All NINE McPhillips in one place. It's a miracle… and I suspect a Christmas card. We will number 10 this summer.. Joseph and Tracie are expecting!!
Hope you enjoyed our Alice in Wonderland themed birthday party.. I certainly enjoyed planning it for my sweet A-A.

How can it be?
How are you FIVE already?
I knew this day would be hard for me, last year when you turned 4. And I promised myself I would treasure every day for the next year.
You're officially a big girl now.
You dress yourself. You can get in and out of the car and buckle yourself. You'd brush your teeth, if you wanted to, but I think you secretly like for me to do it for you still.
I cannot explain how proud I am of you.
You are so smart. I can see the intelligence in your eyes.
You are so funny too. You can spout off the one-liners with the best of them.
Your athletic ability is uncanny- I've never seen anything like it.
Your personality is 100% SPUNK, girlfriend.
We may go head to head in a few years, but your determination is something that should be admired.
Let's not forget you are beautiful. With all of your other wonderful qualities, it's hard to forget.
I am not ready for you to grow up. But your Daddy says you have to.
And so do you. "But Mama, if I don't grow up, how am I supposed to reach stuff that is really high up?"
The amount of questions you ask may annoy me at times, as well as how you sing-song everything throughout the day, but I am also secretly so proud that you do both.
I also secretly love how you refused to have your picture taken at school stating, "I only like my Mama to take my picture."
You love attention but also get embarrassed by it.
You smile is infectious. As well as your giggle fits.
And your love for Alabama football? It will rival your Daddy's one day.
I love your crazy hair in the mornings.
I love your stinky feet.
I love how you want to be big enough to not need snuggle time, but jump at the opportunity to have just a few minutes of it on the couch.
I see you turning into a little Mama with Claire, and I love it.
I love watching you at gymnastics- it's amazing how good you are.
I don't care what you are when you grow up, as long as you are the best Addison you can be.
I love you so much, baby girl.
I want to tell you as much as the thought enters my head, just so you know.
I love you more than a hog loves slop.
Love,
Mama

Dear Claire,
It's hard to believe you are 2. Officially a toddler. Two years ago, I couldn't wait to meet you. We wondered if you would look like your sister, and you do. You were quite possibly the easiest delivery ever documented. I pushed for 2 and a half minutes. I can remember looking at you in the picture below and couldn't believe it was you. You weren't supposed to come out so quickly!!
Lately, Addison has really taken the Big Sister role and you love it. You are a text book Little Sister. You follow her around and do whatever she says.
You may not be talking a lot, but you definitely get your point across. You are quite possibly the sweetest child I have ever met. You are so girly– it makes me smile so big.
Much like Addison, you love Mickey Mouse and Sleeping Beauty. You are an extremely thirsty child. You drink more than you eat and are quite the picky eater. No white foods. You live on hotdogs and goldfish crackers.
You love to twirl you hair when you are going to sleep and when you are drinking something. I love to watch you so much. You like to organize things by color.
You love your Mama. You follow me around and want me to hold you all the time.
You love to open and close doors.
You love to give hugs and kisses.
You love Trixie.
You still hate to be messed with.. wiping your nose or changing your diaper. You do like to wear pretty clothes and hair bows.
You love books too.
Your laugh and smile are infectious. I love to listen to you and Addison just giggle away in your room at night when you think we aren't listening.
You are our little Linus– taking your blanket with you everywhere.
You love to sleep… preferably in your own bed.
I love my days with you. You are such a joy to be around. Your personality is so much like your Daddy's– laid back and loving to make people laugh.
When you pout, it's hilarious. You cover your eyes and run into the next room or hang your head and sneak looks to see who is watching you.
I love you more than words could ever express, Sweet Girl.
Happy 2nd Birthday.
Love,
Mama