I'm linking up with Kelly again this week! I just love her. I had a semi love affair with Matilda Jane this Spring and bought the girls several outfits… much to my wallets protest.
This skirt SCREAMED Claire…
See how cute I am, Mama?

Give me a pose, baby. (She's got that down, right?!)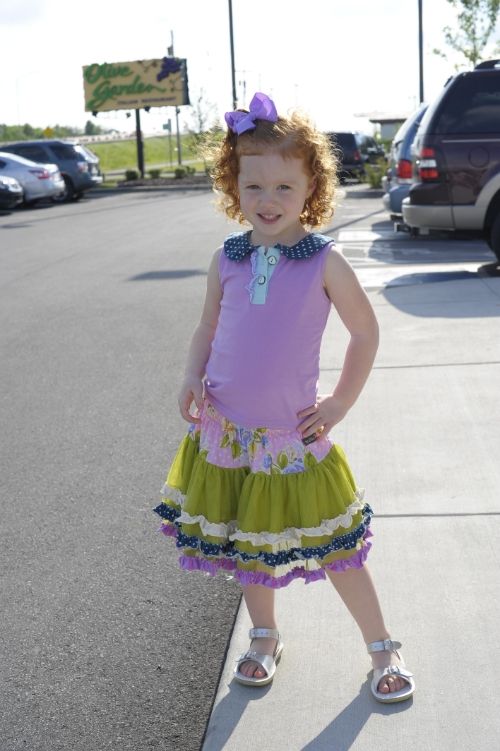 Of course, the skirt caught my eye for it's "twirl factor". That's very important to 4 year olds nowadays.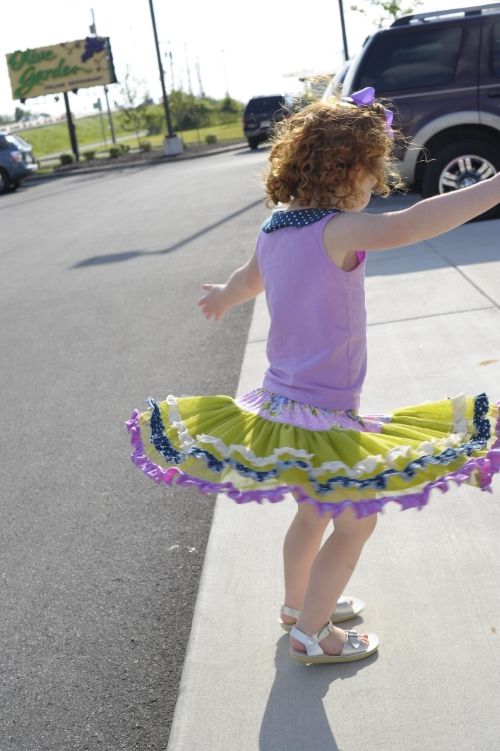 Sass. All Sass. Just know, this is the child that asked me the smell her armpit Sunday night.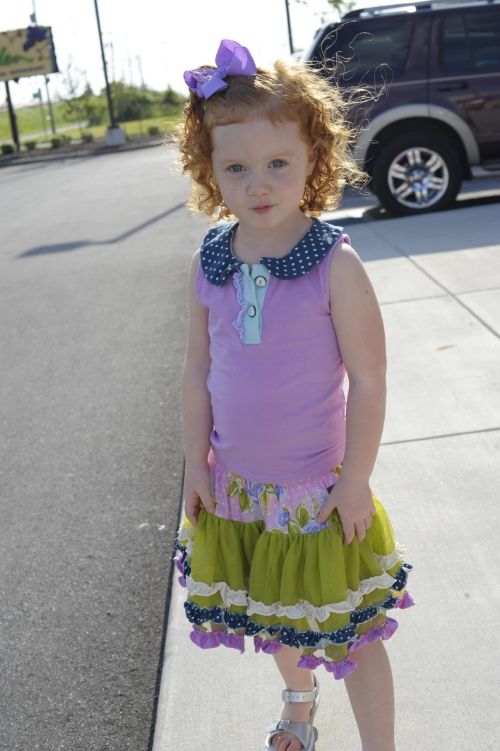 Lots and lots of twirls.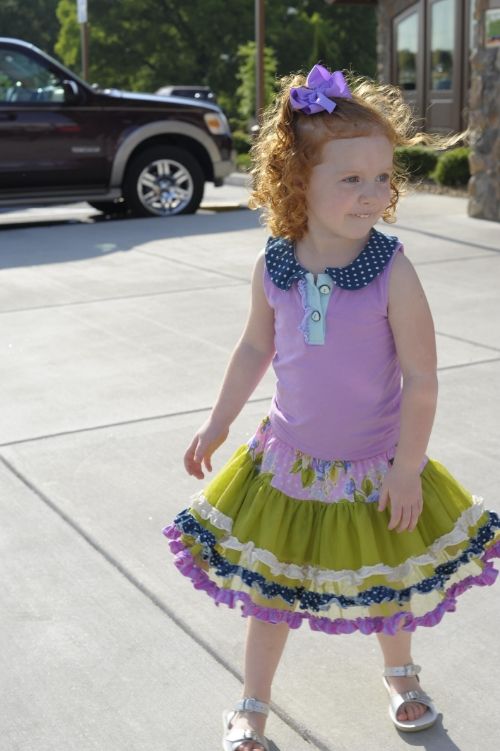 I am generally not so good with the Matilda Jane stuff.. it's all meant to go with each other, and I seemed to pick the things that clashed the most and tried to make them go together. I have never felt so fashion stupid in my life. But, I just love their stuff!!
(Disclaimer: all of these photos are straight out of the camera.. no editing. I was tired. Sue me.)

I decided to link up with Mrs. In Training today for Trendy Tot Tuesday.. simply because, I love this outfit for Claire and she is taking her first field trip today. I also love that my 4 year old chose the pieces for this outfit herself… She's such a mini fashionista.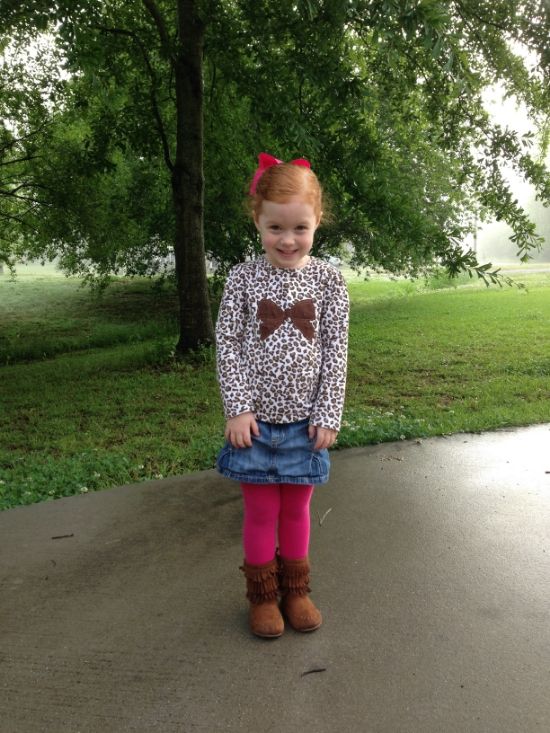 Give me a pose, Claire bear!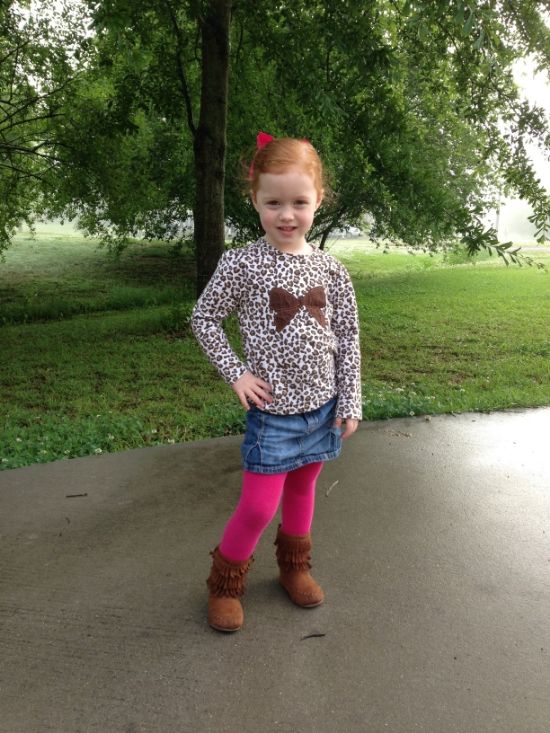 Of course Big Sis has to attempt to ruin everything for little sis…it must be so exhausting being a Big Sister.
"Claire, I've been on like, 4 field trips and I am going on one Friday AND another one next week… to Fairy Tale Land!!" What a little turd. 
Outfit Deets:
Denim skirt– Old Navy. (similar.)  | Shirt is from Belk | Boots– Old Navy | Tights and hair bow– If The Shoe Fits

For Claire's 4th birthday, she requested a Sleeping Beauty birthday party.
I was happy to oblige. But I wanted something sweet and not cheesy..
Of course I waited until the last minute, and basically the party started falling apart on me late Saturday night… (party was set for Sunday.)
Lesson Learned… Don't let your husband call in the cupcakes. You will receive 2 dozen MINI cupcakes instead of regular sized.
A door decoration  is always important to me for these parties…luckily my sister had something I could borrow.
Yes, I know the picture is off center in the middle of the wreath. It was the best I could do.
I would like to thank the good people at the bakery, for helping me out and making sure I had proper sized cupcakes to serve! 
Although I had other ideas for the banner, I think it turned out pretty darn cute!
The kid got NO presents..
Dad made a buddy with Rebecca's youngest, Avery… 
And it wouldn't have been a party if Claire hadn't woken up pouty and crying. She wanted me to send everyone home.
She eventually came around and had her entourage to help open gifts!
Me and my two husbands…
The only family pic of the day… I'll take it!
After everyone left, we had to have some Just Dance 4 time….

… I gave birth to the most precious child on Earth.
I sent my family out for some lunch for me to start pushing and exactly 2 minutes later, called them to tell them that Claire Elizabeth was here. She is her Daddy's girl and obviously didn't want to be late for lunch.
You are so sweet and well mannered. You enjoy playing by yourself and are a rockstar at puzzles.
Sometimes, I think you are so smart you are on another level entirely.
I love you, baby girl. I can't wait to see what the world holds for you.
Happy 4th Birthday, Clara Bell! 

So. I had a fail on the Blogtober. I am sorry.
Does this picture of Claire make up for it?
No? What about this picture of nmh niece, Ryleigh?


Sigh.
Fine. Here's my outfit today… Not very excited about it. It wasn't what I planned to wear today, but I couldn't find my shirt that I wanted to wear with my skirt. So, boo.



At least it's Friday!! What are your weekend plans?

Time for another school year.
To be fair, Claire started her pre-school at the beginning of the month.. 
Big Sis Addy patiently waited her turn.. until yesterday.
She is going to a private Christian school, and it requires a uniform. Which makes getting ready for school a breeze!

Oh geez. Be still, my heart. 
We made it with minimal crying on my part.. I was a brave girl! Addy did fantastic informing me that "It was better than Alabama Football."
When I asked about her day she said, "I was very good. I kicked Emily in the chin and I said I was sorry." Umm… alright then.
Claire wants new friends because hers, "Talk too much." Distracting, that socializing.

My little Claire-bear. I cannot believe you are 3.
You are extremely independent, stating "I do it myself" but at the same time, grabbing your blanket and snuggling up with me.
I love how you drink your juice and twirl your hair. That's how I know you get really tired. When both hands are messing and twirling in your hair.
You are so charming. Your smile and giggle are infectious and always have been.
You may not be the athlete that Addy is, but your ability to put together a puzzle is nothing short of amazing.
While potty training you this year, we finally got you to go by cupping our hands to our ears to listen.. and you continued to do that every time you went, but somehow it's faded away.
You call yourself "Clara" instead of "Claire" and I fear that it's catching on and we will all be calling you that before too long.
You are extremely sneaky, constantly getting Addison into trouble.
You will absolutely NOT do something that you don't want to.
I see traits of mine in you- not a morning person or stubborn, but so many of your Daddy's- excellent swimmer, singer, and very laid back at most times- I call you my little beach bum. That is, until someone wants you to do something you don't want to.
You are perfectly happy to sit and entertain yourself. Whether it be by watching a movie or reading a book or putting a puzzle together or coloring.
You are very organized.
You love your blanket, Ariel doll, Sleeping Beauty doll, and Fannie your elephant all in the bed with you.. another one of my traits.
I love you so much my little Clara Bell. I can't wait to see what being 3 years old has in store for you.

We celebrated Claire's 3rd birthday on Saturday. I ran out of time, so I was missing some of the decorations I had planned… like the water bottle labels and food labels. But oh well. I still pulled it off– even if I was in jeggings and a tank top and decorating cupcakes when people started showing up.
The wreath… well worth the full days worth of work, I think!
The banner.. I didn't get a picture once all the food was set out. 
Thank goodness I got a picture of these and the cake. These ended up falling during Claire opening her presents and breaking the 3 off the cake. So sad. 
Cupcakes.. not as decorated as I would have liked. Oh well.
In case you weren't sure who Becca was that I always talk about– she's my second husband and my personal stylist. (and of course a sleeping baby Avery) 
Claire thoroughly enjoyed her 3rd birthday party… I thought it was a hit and my best party yet! Even if my time management skills were lacking. I'll blame it on UPS and my husband working until noon.

I found a video of Addy the other day when she was Claire's age. You could only understand about every 4th word she said, but I started crying. I don't have a ton of my girls on video. Pictures? Of course. Oodles. But video of their sweet voices? Nope. I vowed to change that.
Starting with Addison's very first joke that she learned from Nana.

Untitled from Rachel McPhillips on Vimeo.
Here is another one of Claire talking about eating hotdogs and going to the Zoo.

Untitled from Rachel McPhillips on Vimeo.

Dear Claire,
It's hard to believe you are 2. Officially a toddler. Two years ago, I couldn't wait to meet you. We wondered if you would look like your sister, and you do. You were quite possibly the easiest delivery ever documented. I pushed for 2 and a half minutes. I can remember looking at you in the picture below and couldn't believe it was you. You weren't supposed to come out so quickly!!
Lately, Addison has really taken the Big Sister role and you love it. You are a text book Little Sister. You follow her around and do whatever she says.
You may not be talking a lot, but you definitely get your point across. You are quite possibly the sweetest child I have ever met. You are so girly– it makes me smile so big.
Much like Addison, you love Mickey Mouse and Sleeping Beauty. You are an extremely thirsty child. You drink more than you eat and are quite the picky eater. No white foods. You live on hotdogs and goldfish crackers.
You love to twirl you hair when you are going to sleep and when you are drinking something. I love to watch you so much. You like to organize things by color.
You love your Mama. You follow me around and want me to hold you all the time.
You love to open and close doors.
You love to give hugs and kisses.
You love Trixie.
You still hate to be messed with.. wiping your nose or changing your diaper. You do like to wear pretty clothes and hair bows.
You love books too.
Your laugh and smile are infectious. I love to listen to you and Addison just giggle away in your room at night when you think we aren't listening.
You are our little Linus– taking your blanket with you everywhere.
You love to sleep… preferably in your own bed.
I love my days with you. You are such a joy to be around. Your personality is so much like your Daddy's– laid back and loving to make people laugh.
When you pout, it's hilarious. You cover your eyes and run into the next room or hang your head and sneak looks to see who is watching you.
I love you more than words could ever express, Sweet Girl.
Happy 2nd Birthday.
Love,
Mama