Life has been and will continue to be ridiculously busy for me… I don't know how I let this happen, honestly. Between gymnastics, work, running.. the time just slips away from me and the next thing I know, I won't have a free weekend until the end of April.
Anywho, this past weekend, we drove to Tuscaloosa for A's meet that was Sunday morning. It was the Pink Meet weekend, so Denny Chimes was lit up in pink.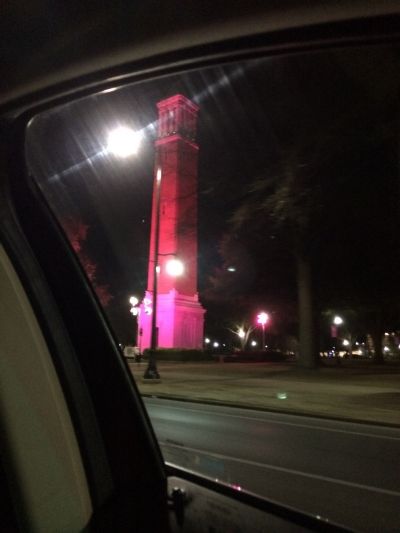 A found an interesting water bottle at Uncle Jay's house. We told her that maybe she shouldn't pack it for her meet.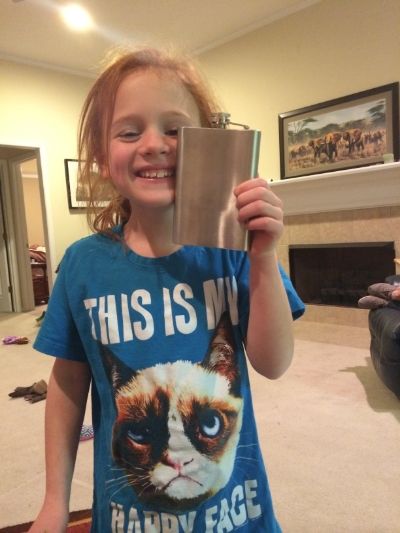 Speaking of Uncle Jay… his birthday was that Sunday and I know how he wanted to spend it was waking up for an 8am gymnastics meet. But at least The Reds drew him a picture!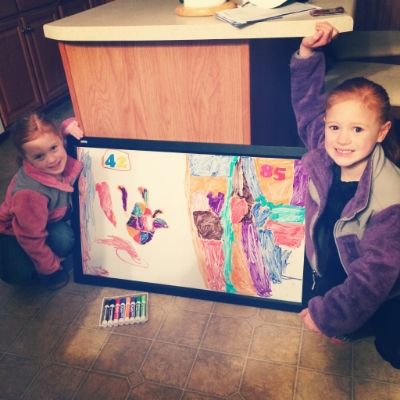 A got 5th overall, 5th on floor, 2nd on bars… I think. I can't keep up. With so many meets back to back it's hard to keep up. All I know is, we have a butt ton of medals all over the house.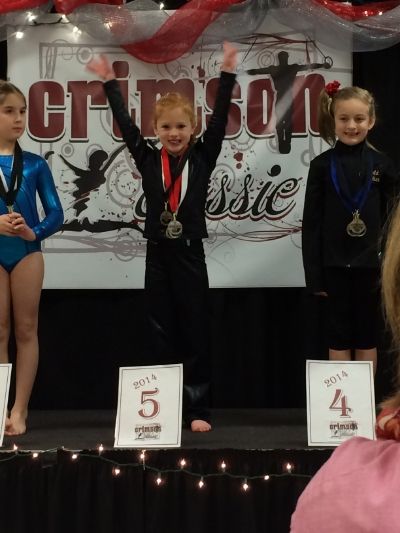 Their team got 3rd overall and I love this pic of her peeping over the top of the banner.

We love the Crimson Classic!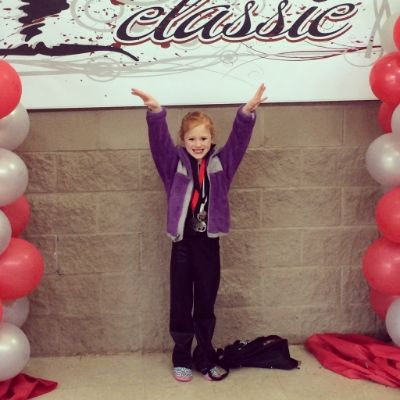 Afterwards, we ate at T'Town Cafe and it was delicious! And you can tell that C gets her looks from the M side of the family. She loves her Uncle Jay!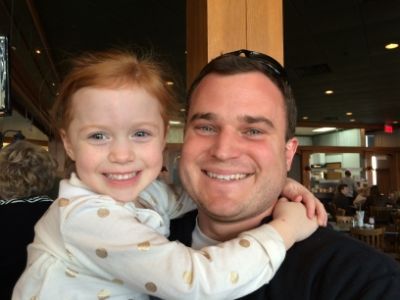 After lunch, we headed back home and I had to head out for my long run..Solo. It wasn't terrible but I would've liked some company. I ended up taking my phone and group texting with Becca and Molly the whole time. Even if I couldn't respond, it was nice to know they were there!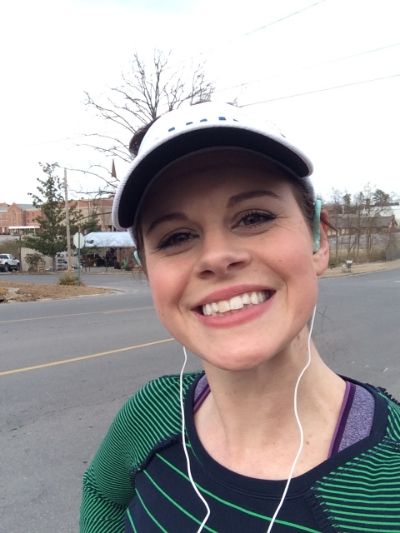 I had texted my sister and told her that I was heading out for a run and if I knocked on the door, to let me in to pee or give me some water. I was about a block from her house, but not planning on stopping, when I felt something cold and wet hit the back of my leg. I completely panicked, thinking, "This is why you don't wear skirts or shorts! Things touch you!" I turned around and saw my nephew's dog wanting to play. HOLY CRAP. That dog scared the crap out of me. So, I ran the dog home, only to not be let into my sisters house. No one would answer the door! After a several minutes, I just looked at the dog and said "Stay!" and went on my merry way.
I've got one more long run before Mercedes in a couple of weeks.. my thoughts on that will be coming up soon.
Happy Friday, y'all!

I have had a few WTF motherhood moments this week…
Monday, my mom picked the girls up and took them to Chick fil A for a snack and to play. Turns out that Addy KISSED a BOY on the playground. She doesn't even know his name. Never seen him before. Ummm.. WHAT?! This proves to be a problem for the future and I am going to need some Xanax for it.
I finally got Buddy the Elf out on Monday night. I was so proud that he decorated the girls pink Christmas tree.
He was out for all of 30 minutes before Claire comes to tell me that Addy touched him. Well, the elf loses his magic if that happens. Addy is telling me she didn't touch him and Claire is saying she did. Given Addy's history of lying, I am not believing her. I try to explain to her that Buddy can't get back to Santa if he loses his magic… nothing. I am so put out when it's time to leave for school. Then? I find this:
This is not mine. I start questioning the girls since it was on the bench that their school bags were on. Addy says it doesn't belong to her. Claire says Addy took it from mom's. So I ask Mom if she has seen it. Nope. I ask John. Nope.
So, in an effort to inspire their conscious, Buddy doesn't move Monday night. Tuesday morning, I question the girls again. Still standing firm with their answers.
Addy gets a little 'tude with me and Redneck Mommy came out. But you know what? She scared the crap out of the reds and I got some answers.
Turns out, Claire was lying. Addy *almost* touched Buddy. I made C apologize to Addy. Also? Claire stole the ring from her teacher. SERIOUSLY?! So, I made her apologize to Addy again. Then, I apologized to Addy for not believing her.
Man, motherhood is hard sometimes.
Also? That creepy elf needs an instruction manual for when things pop up that I have no clue how to answer. I'm not the best with lying and when Addy pips up with "You tricked us! You decorated the tree!!" I start stuttering and looking around for someone to throw me a life raft.

I seem to be noticing a trend here… oh my tangent-like blog posts.. I sure hope you enjoy them!
The past 7 days have been a little cray cray for Ray Ray..
We've had some family drama (keep it us in your prayers and good thoughts, I'd go into it on the blog, but don't want to make anyone mad)
Hubs went out of town for the weekend leaving me with both girls, which we were going to have a girls weekend, but then I ended up getting a RIGHTEOUS head cold. I thought my eyes were going to bulge out of my head.
I took Claire to the ENT, he thinks he snotty nose is just from allergies, so she is now on Singulair and a nice nasal swab to help clear it up. We go back next week for further evaluation.
I've been working on some new crafty projects, that I plan to share with you in the coming days.
We found out that my Brother in law and sister in law are going to have a baby GIRL! Yay! I have a feeling this one will be another ginger…
I had to run a long run with my head cold… 6 miles. It got easier after 3.5 but it was tough mentally.
I awoke Monday to images of this on my computer screen:
A tornado hit where I grew up. So scary. I've talked to my step-mom briefly, she is okay, can't get out of the neighborhood- they've got everything blocked off. I've heard there was damage to my elementary school, but I am not sure of the extent. My dad was in Little Rock and is on his way home. Basically, all of my dad's family lives in either Center Point, Pinson, or Trussville and those areas were hit. My aunt and uncle and cousin live in the neighborhood where that 16 year old girl was killed. They are fine and don't have any damage. SO thankful that all of my family is okay! On top of that, before the tornado hit, my grandmother fell trying to get into bed and was admitted to the hospital.
Also, Brighthouse- stop sending me e-mails. If I wanted a picture of me doing this, I would have ordered it already.

Hi. I am on the verge of a mental running breakdown. Every time I have run since Disney, my knee hurts and I am getting side stitches. Since I like to overanalyze everything, here is my breakdown. My knee is hurting because I need new shoes. Because my knee hurts, I change my running gait and hunch therefore inhibiting my breathing ability while running. Makes sense? Totally nonsense? You be the judge.
I told John that I don't think I should run until I am able to go get re-fitted and get some new shoes. Now, let's just find the $$ and time to head up to the Huntsville to Fleet Feet Sports.
Not running and having bad runs kinda makes me a little crazy in the head. It makes me stress about it, and that runs over into my daily life. And doesn't help my attitude with my sassy princesses. And honestly? It makes me a little depressed. I REALLY want to run Nashville, I have yet to sign up due to the fact that I am scared I am really injured and I want to mentally be ready for this race and I don't feel like I am right now. And then I get mad about it. You see why I am a little bit of a crazy person, right now?
Any advice, words of wisdom, slaps in the face are always welcome.
In other news, I am headed to Hartselle today with Becca so she can get fitted for her bridesmaids dress for her brothers wedding– did I mention that I am the wedding photographer? Holy cow. I am. I am so pumped. And then tonight, pizza dinner and play date with Lee and Alana and their kiddos. Super excited about what today holds.
Guess it's time to get out of the jammies and put some real people clothes on.
P.S. Did you watch the Bachelor? So glad he picked Emily. Loved her hair on the After the Final Rose- but that was the most awkward show ever. Brad has a temper? Must be bad– why didn't she have the ring and he gave it back on the show? That's just strange. I would love to know what happened… Because I am just nosey.
P.P.S. I am not a fan of the scales this week- I had gotten down to 131.5- I could taste the glory of 130- and guess who's hormonal and has a monthly visitor and back up to 135?? So, I refuse to input my weight on My Fitness Pal this week.

Wow. Just wow. I woke this morning to find my inbox being flooded with comments and e-mails from all the readers that have stopped by from Skinny Runner. You guys are so nice! You have really made my Friday! It makes me feel bad that the first post is a rant on my children.. Whoops. I promise those things rarely happen.
Anyway, I wanted to share some of the awesome advice I got on how to deal with the 'tude and toddlers… apparently, the best thing is to ignore it. Which is going to be crazy hard for me to do, but I shall try and let you know how it goes. I am also going to try and really compliment her when her behavior is awesome. She really is extremely sweet and likes to help- so I am going to encourage that.
GiGi came and picked the girls up yesterday and they spent the night with her and it was awesome. I really needed that- they will be coming home sometime today, so I am going to try to knock out some of things on my To Do List– got some crafts I want to work on and some organizing too.
I also got out and ran this morning.. Two and a half miles- nice and easy- except I seem to have forgotten how to breathe and keep getting side stitches. I need to make sure I am drinking enough water.
To my new readers– is anyone planning on running the Rock N Roll Country Music Marathon in Nashville at the end of April? I still haven't signed up, but I really want to!

So, I survived my weekend. Just barely. It went a little something like this.. Friday– date night with the hubs to see No Strings Attached, where I laughed entirely too loud and related too much for my liking with Natalie Portman's character. Seriously. Emotional robot.. I totally understand her. As my heart was going out for a sister, John leaned over and whispered, "What is UP with her? She has problems!" Whoops.
Saturday- John worked.. supposed to run 6 miles, only did 4.8. Photo session at 1. Dinner in Huntsville with Mom and Bill– delish!! And a great time was had, in my opinion.
Sunday- overslept for church–children are not good alarm clocks. Who knew? Birthday party at 2– which my children went to and I took pictures for then straight to Birmingham for dinner for Jay's Birthday.
Whew. I am tired just typing all that.
Claire has a new way of eating goldfish she would like to share with you.
Look Ma! No hands!!
Then, you pile them all together…
Try to eat one the normal way.. it just doesn't feel right!
Back to my new way!!
All of that makes a person entirely too tired… So Ma takes pictures while I sleep!
Why am I so cute?? Who knows!
Consider this my Project 52 week 3 too! Two birds with one stone!
I am turning into a crazy person… I am leaving for Blissdom tomorrow!! Gotta pack up my stilettos and jeggings.. and I don't have enough room in one suitcase. Unless I go get my BIG bag that I normally check in an airport.. too much? Most likely.
Oh.. and tomorrow is Jay's birthday and my mom is having knee surgery and I will most likely not get to see her since I am leaving at lunch time.
I really hope I don't forget my ADD medication!
And since I really enjoyed the other days music trivia.. I shall start doing that again. I think "Grenade" was a little too easy for peeps.
"So baby, what's the story? Did ya find another man? Is easy to sleep in the bed that we made
WHen you don't look back, guess those feelings they start to fade away.
I used to feel your fire, but now it's cold inside
and your back on the streets like you didn't miss a beat"

I know. It's been a while. But I have an excuse. I have been sick. Went to the doctor last week, he told me I had an cold which it's primary place of attack was my chest and back of the throat. And it was a "landing pad" for other infections. Whatever. Just give me some medicine and send me on my way.. a week later.. I am still sick!!!
We have also had a mouse problem during my sickness… I could hear it squeaking in the cabinet under the sink. Which meant, I didn't go in the kitchen. Or clean it. Or clean the rest of my house. Terminix man came, said there were actually TWO of them. Great.. he took care of them and set some more glue traps. I heard another one squeaking… and then it stopped. and THEN Saturday, I was minding my own business, editing pictures at my computer, and I thought I saw something move by my foot. Hmm.. didn't seen anything so I thought it was an illusion. BUT, then a few minutes later I got up to get something out of the kitchen and I saw it. A mouse, climbing into a hole between my cabinets and my oven. AHHH… I screamed. John made fun of me. And I left. I am pretty sure John didn't do anything about that mouse.
Also.. BIG NEWS in our small town. We had our Wet/Dry vote last week… and We have gone wet. So.. we can serve and buy alcohol here. It's a BFD, people. I am hoping for a Target or a Publix or both. That would be way super awesome. It won't go into effect for a few months, while the City Council works on the stipulations.
I have also been crazy busy with photography lately. Which is a good thing. I am loving it.
Happy Monday!

Sunday afternoon was just like any other lazy day. We had just come in from the pool where Addison and Claire both had a blast and really, FINALLY, started swimming. Claire has gotten into this new habit of stealing Addison's shoes that are haphazardly laying around and sticking them on her hands. It really peeves Addison and she always uses her Mommy Voice, "Cwaire, do NOT do that Aaannyyymore!", which consists of lots of clipped tones and words. As John and I were enthralled in the Man Vs Food marathon that was on the Travel Channel, we hear they thud. The one that let's us know that Claire has taken a spill. John looks at me and says, "I don't understand how she just falls randomly." After a few seconds, Addison looks at us, who has been watching the whole thing unfold, and says, "Uh OH! Cwaire have blood!" We immediately jump up, John gets to her first. And sure enough, blood is coming out of her lip at an alarming pace. We get over to the sink and start to clean it up, and John is asking, "did she bit through it? what about her teeth?" And about that time, blood starts coming out of her nose and I start my investigation on whether it's broken or not. We get the bleeding stopped and decide that she does, indeed, need to be checked out "just in case". Which, I hate doing, simply because it's a $35 co pay down the drain. Normally, they just check you out, say, "Oh she's fine! Just keep doing what you are doing!" and then I'm $35 poorer. But, I was worried her nose was possibly broken or she was going to need stitches, so we went to Urgent Care. Her nose was in fact, NOT broken and the doctor would do stitches for the fact that it's inside the lip, but it looked really bad.
So, that was our Sunday evening. Monday goes off without a hitch, with me going to Huntsville to get my car serviced and Tuesday morning is no different, with Addison crawling into my bed around 6:30 as John is on his way out the door. Claire wakes up around 7:30 and I get up with her. Addison sleeps until about 8:45, which she NEVER does. When she woke up, she was BURNING UP. Like, she'd been sleeping wrapped in a heating blanket all night. I give her a few minutes, to cool down, thinking it was just warm under my covers and she tends to radiate heat anyway. I take her temp. It's 104. I take it a few minutes later and it's 103.5. At this point, I decided to just give her some Tylenol and see what that does to her fever. Over the next few hours it brings it down to around 101.5 and after her nap it's 103.5. So I load the kiddos up and take them to Urgent Care again. They recognize us, and I assure them that it's the other child this time. The lady takes A's temp and it says 99.6. I said No Way. She takes it again. 99.5. I just decide that she doesn't know how to take a temperature.
So, they do a strep test and it's negative, but all signs point to strep, so that's what we are treating. Strep Throat. Great.
After one dose of medicine, she was already feeling better and after the second dose, she is pretty much back to normal, just a not as hungry version of herself. Which, has been kind of awful, she is still contagious until tomorrow afternoon. So, we can't go anywhere. Boo.
Anyway, here is a picture of her with chocolate on her face and a video of her dancing and singing to Lady GaGa, who is her very favorite.
Addison Sings Lady GaGa from Rachel McPhillips on Vimeo.
Hope You Enjoy!

I realized that there have been some things that I had lacked in blogging about. I didn't realized that I hadn't talked about changing my hair color until after I posted all the Disney pics. I went dark, peeps. And I like a LOT more than I thought I would. It's darker than what I had in mind.. I wanted more of a Carrie Bradshaw in SATC movie, but got more Selena Gomez. But, it's cool! It didn't fade as much as I thought, but I dig. I hope you dig too!
( P.S. Addison just came over here and asked who this girl was and when I told her it was me, she stated, " But.. it doesn't look good!)
Also, the night before we left for Disney, we went to go see Rascal Flatts and Darius Rucker in concert. It was awesome! We ordered our tickets through the fan club( nerdy) and so we didn't know where we were sitting until we picked up our tickets at will call. Well, people, we were on the second row!!! Philly said my my face was priceless as we were walking down to the floor. Being our normal chatty selfs, we got sucked in to a convo with the peeps next to us, and I felt a kindred soul in the 13 year old sitting next to us. She loved RF and was so excited to be there. I took it upon myself to make sure she had a good time. These 16 year old skanks ended up in the 3 seats directly in front of me and tried to sneak two of their friends in those seats with them. *Note to skanks- 5 people don't fit in 3 peoples seats. The 13 year old couldn't see, so I, told upon myself to find my inner bitch( trust me, it wasn't that hard) and tell those girls ( who had already been told by security to move ) to get back in their seats. She wanted to say something, but thought better of it since I was giving her the stern mommy look. It doesn't work on my kids, but it totally works on other people. I also had to call security on those biatches later because they tried to sneak back!! Seriously?!!? 3 times they got into trouble. Sounds like someone's parents have their work cut out for them.
So, do you like the hair? Any more thoughts on the cleanse? Tips to get me back on my running game? I'm planning on running the Rock N Roll half marathon in Nashville… who's with me? Also, I'm setting a goal of 25 miles a week running wise. Who's gonna help pump me up?

We started off our weekend by taking Addison to her first gymnastics meet. It was Alabama's "Power of Pink" meet. We ate at Bento before the meet, and I am telling you, that I experienced the longest fall known to man kind. I am not kidding. John had time to turn around and ask, "Are you okay?" before I hit the ground. And I hit the ground. HARD. On all fours. On one of the busiest streets in Tuscaloosa. In front of one of the most popular bars. Luckily, no one was outside said bar, but trust me, the street was crowed and I know someone was saying, "Oh my God, did you see that girl just bust it?!!?" As long as I don't make YouTube, I am cool. Before going into the meet, I cracked Addison's eye with the seat belt, so she was cut and is now sporting a black eye. Cool Mom!
A little unsure, but excited nonetheless!

Cheerleaders are always a plus!
She has some great connections with her Uncle Jay and she got to go down on the floor afterwards and meet some of the gymnasts.
Here is Addison with Morgan Dennis, who is Alabama's top gymnast. She is beyond awesome. Not the best picture, but…
On Saturday, John had to work and I had a photo session, but we went over to Mallory and Austin's new house for some pizza that night. The girls just love them. Addison frequently asks if we can go see Mal and Aus- she is so cute!
John just lounged in the chair and watched the Olympics.
Mallory left Addison play with her camera, and she wouldn't stop taking pictures.. it was so cute!
Mallory and Claire.. I definitely think they should work on one of these!
On Sunday, we made a trip to Target to look at some stuff for the house. I need to figure out what to do with my makeshift office, which is in the dining room. I need more storage. I may have to do a blog post and you guys can help me figure some stuff out. I love weekends where we don't have to do anything but what we want to do… we aren't homebodies at all, so it's nice to be able to say, "Let's jump in the car and go" Joseph and Tracie watched the girls while we went to Target and had a make-shift date night. I would much rather do dinner and a movie or dinner and a trip to Target than anything else.