I have been killing it lately in the cooking department. I finally got tired of eating the same things over and over and decided to man up and take over the grocery shopping responsibilities again. Enter.. eMeals. I love eMeals. It's meal planning at it's finest. Since we got an Aldi here, I wanted to try out the Aldi plan. Y'all… I got a TON of food to cook and snacks for the girls for $70. Fresh fruits and veggies, meat, some delicious hummus. I'm impressed with Aldi.
I made this little deliciousness the other night.. Warm Sausage Pasta Salad. So super easy.
I've also made potato corn chowder– one of my favorites.
I made Tilapia the other night… of course I ate half of it before I remembered to take a picture. Sorry. I fed my family of 4 this meal for under $12!! I was so proud of that. And everyone ate it!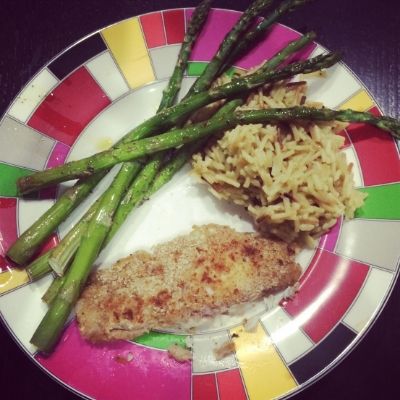 This little chicka is loving to help me cook too. She may be finicky about what she will eat, but she likes to help and have dance parties. Especially if we listen to the Frozen soundtrack.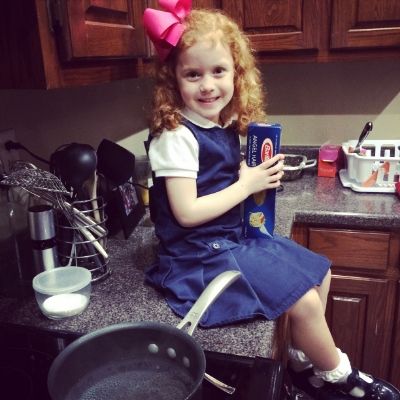 Have you ever tried eMeals? What's your take on it?

Y'all. Have you heard of emeals? It takes the thinking out of dinner. You can pick your different plan and every week a new plan comes out. It has 7 meals and even prints out a shopping list.
The dinners are easy and usually we have enough left overs to eat lunch on the next day. WIN! It gives an estimated total for each weeks grocery list and it's ALWAYS under $100 for our family of 4.
Best part? My kids loves them. Claire- the picky eater- will eat most of the meals. It's a miracle!!
You can check out the meals blog for some recipes, tips on how to simplify your life, organize your days, and plan family fun.
Check out their blog HERE
Check out their Facebook HERE 
Their Pinterest is HERE
Follow them on Twitter HERE 
Normally, meals runs $5 a month, but I am giving away a 3 month subscription to a lucky winner!
The contest will end April 23rd.
All you have to do is check out emeals and let me know which plan you want to try.
You can also sign up using the coupon code BLISSDOM and you will receive a discount.
Anyway, our family loves emeals and you know anything Dave Ramsey likes, I dig.
If you are interested in extra entries, follow emeals on Facebook, Pinterest, and Twitter and leave me a separate comment saying you did so!
Now, go enter!!