When I was in nursing school (It was many moons ago. Long before the reds!), it became apparent to me I had a problem being able to focus and stay on task. I went to the dr to discuss this issue and after being asked several questions, I was diagnosed with ADD. Now, I don't have the hyperactive, can't stay in my seat ADD that many of us have grown up hearing about. What I have is an inability to focus and stay on task. I get distracted easily and often lose my train of thought. I am extremely organized and have awesome big picture ideas, that I have a hard time implementing because I can't stay focused on tedious tasks. It's super annoying. I've tried multiple ADD medications, but for the most part they either leave you jittery and/or not hungry. Which has been a MAJOR problem with my endurance sports. I often forget to eat meals, simply because I am not hungry. Or my blood sugar drops and then I'm really worthless.
This summer, I started taking EnergyBits as a way to refuel and recover from workouts. I felt better and could still feel that "runner's high" for hours after a run. It gave me as much pep, if not more, than a cup of coffee. Fast forward to my injury early this Fall… the good people at EneryBits encouraged me to take them to help with the inflammation and recovery of the tendonitis. So, I did. Every morning. And after about a week, I started to feel so good about how my mornings were progressing with being able to get things done and stay on task, that I stopped taking my ADD medication. For a month, I did without it. I felt better. Was eating better. Was doing a good job at staying on task and not feeling like I had a million thoughts running through my head at one time. So, that was nice. Oh. And you know, my ankle was feeling better. The kicker for me, was when I had blood work done last month. I am always borderline anemic and they always stress the importance iron in diet and yada yada yada… not this time. She praised me for how great all of my blood work looked. So.. BOOYAH. Sold. I am a believer in the Bits.
What are the Bits? They are Spirulina Algae. They have the highest form of protein found naturally. Which means, they are able to provide the brain with amino acids that would otherwise be missing. Algae is also considered an "adaptogen", which means it's has the ability to automatically determine what nutrients your body is low on and providing that and then passing out what it doesn't need. EnergyBits don't just help ADD. They help a multitude of mood disorders. If you are taking any prescription medication for depression, anxiety, etc. I urge you to try them for a week and see how you feel. 
With October being Breast Cancer Awareness month, EnergyBits wants to get the word out about how much it helps with fighting cancer. It's pretty awesome.
Are you interested in giving EnergyBits a try? Use the code RUNINHIGHHEELS for a discount when ordering.

As a runner, I am constantly looking for the perfect fuel for running. Not mention, something that has a ton of vitamins and minerals and doesn't have a ton of processed stuff in it. Where I get most of my information from now is Twitter, and I've been seeing a lot of stuff about EnergyBits. So, I started lurking around and asking questions.
EnergyBits are made of Spirulina Algae. Which is basically nature's version of an energy drink. It is 100% natural with just ONE ingredient. And one serving is 65% protein. EnergyBits contain 8 essential amino acids that help improve stamina, focus, immunity, and recovery.
The first time I tried them was after a particularly intense long run and I had to go straight to work after. I had MOUNDS of energy. But I never crashed like with caffeine or anything else. The only way I know to describe it, was that it was like runners high all day.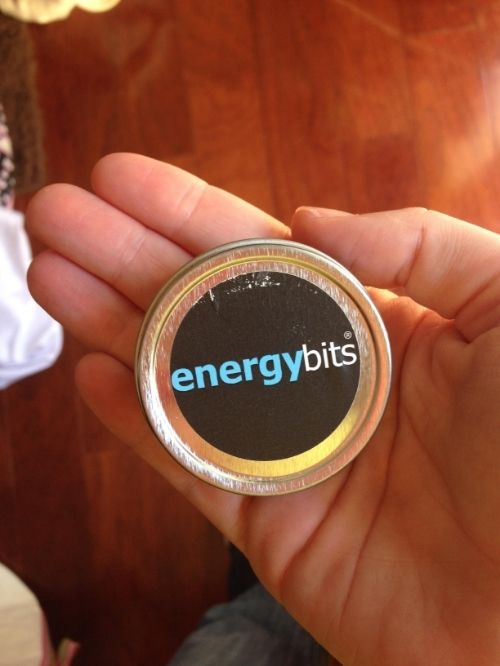 I made the mistake of chewing them the first time I took them.. Since it is algae, it doesn't have the best taste and turned my teeth green. But, swallowing them is a cinch and doesn't taste bad at all.
I've added them to protein shakes and the girls have loved them. I keep these little tins everywhere.. Purse, camera bag, gym bag. They are awesome for an afternoon snack when I am dragging tail, or as a post workout snack.
I am excited to announce that I am an EnergyBits Ambassador! I love being a part of an awesome company that is fitness forward and cares about it's clients. If you want to try EnergyBits, feel free to use the code RunInHighHeels for a discount!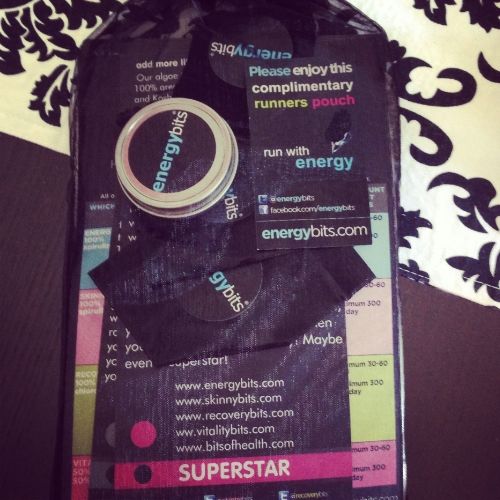 Be sure to check them out on Twitter– @EnergyBits and on Facebook!
Have you ever tried EnergyBits?