I happened to be with my mom when I found my Easter dress this year and I was in love with it… she also bought one too, but that's okay..
I don't wear too much green, but I am starting to add it to my closet.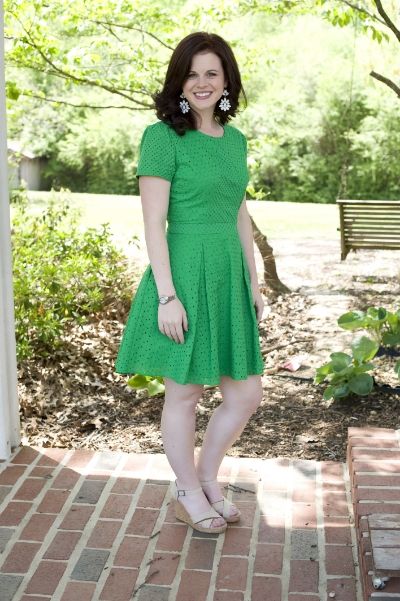 I didn't figure out until later that it had pockets!
A little redhead wanted in the picture

I love a good family picture.. but I hate you noon sun! You make terrible shadows!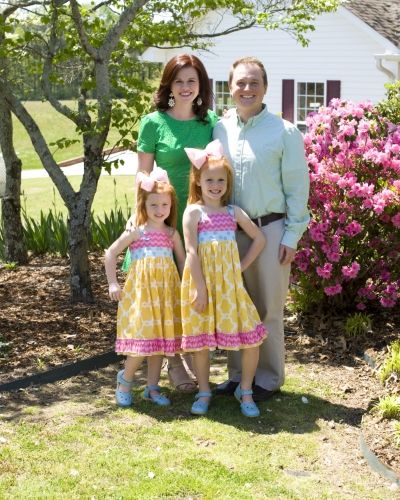 Me, my mom, and my sister… See how Mom and I are color coordinated? That's what happens when I pick out her Easter dress.

I love this one with Mom and all the grandchildren.. mainly because of Claire. That kid has come out of her shell as far as pictures are concerned!

Time for the egg hunt!

Now if someone, besides myself, would come eat all this Easter candy!
How was your Easter?

Was your Christmas as crazy as mine? I'm sure it was!
We started off with Addy's school Christmas party…
Umm.. hello twinsies.
We had Claire's Christmas party on Friday…
And Christmas with Dad and Karen.. I swear he's not holding me hostage.. the picture was my idea!
Dad and Karen did great.. a Princess crown medal hanger!
Dad is not a fan of toy boxes…
We had two parties Sunday, before heading to my cousins.
Here's my Grandmother with her '84 babies… me and my two cousins are about 6 weeks apart, all born in 1984. 
Christmas Eve always starts with brunch at my Granny's and Christmas with Mom and Bill.
Here's a look at one of our presents… Mine says Beat Auburn, everyone else has and Sarah's says Irish for a day, Tiger for life. 
The girls at MeMac and Poppy's
Love my shirt from Jo Jo and Tracie!!
Claire digs her iPad and ear phones from Nana and her pink case from MeMac!
Christmas morning here was a blast.. Addy woke the house up at 5:45 to see what Santa brought.
A WiiU was their big gift, but they also got new pajamas, Toms, a bunch of reading and writing skill books(review to come!), and a bunch of other little stuff.
Addy already put Siri to good use, by asking her to help spell words.
Christmas Tradition with Hubs… champagne and Christmas lights!
I got a bunch of my Philosophy stuff, a bike computer, an electric wine opener, a BCS Championship shirt, and Just Dance 4 for the Wii U!
Did everyone have an excellent Christmas?! What was your favorite gift?

Sweet little Addy turned 6 a couple of weeks ago. We celebrated with dinner at Carlton's. 
Yep.. about right for pictures. PS Chances are photographers have terrible pictures of their own kids. No patience left. 
What. A. Ham. 
Birthday gal! 
Getting her American Girl doll.. McKenna. 
Love at first hug. 
We celebrated her party the following Sunday at the gymnastics place.
Splits… Can't everyone do this?!
There may or may not be video of me doing this…
BFF's since age 2. 
I'm sure this isn't why Pa Bill's knee hurts…
Honey Badger don't care that her underwear is showing. 
Umm.. Hi Addy's arm muscles. 
Family pic.. Imagine. Claire wasn't feeling it. 
So, we all made pouty faces. Except for J. He is making a 13 year old girls duck face. 
 Happy Birthday to my sweet and sassy 6 year old!!

I debated on whether or not to write this post for a while, and then I decided against it. Not because I didn't want to share this story, but because I was trying to learn from my mistakes.
I have since changed my tune. I feel like it's something that needs to be brought to the attention of the Internet.
During the summer, I was asked to leave my job because of something that I wrote on my blog. I took my anger and vented about coworkers and customers in a humorous fashion and I guess there were people who didn't think it to be funny. The blog was something I never talked about at work. I never said where I worked on the blog. Someone found my blog by doing some intense stalking of me.
I'm not going to lie, it hurt. Something that I loved to do so much, had cost me my job. Apparently, freedom of speech doesn't apply anymore. I thought it was ridiculous that they used that against me. I went into a little bit of a depression over it. I had to pick myself up and move on though. I had to find another job.
I started my new job the first week of September. I didn't hate it, nor did I love it. About 2 weeks ago, I got a call from one of the boutique owners here in town, and they wanted to talk to me about a job interview for a shoe store they had just bought. I talked to J about it, and we both agreed that it was a better fit for us as a family and we knew I would be a lot happier there. Now.. he's started calling me a gypsy. Comedy, I tell ya.
I finish my two week notice on Thursday and start my new job on Monday. We are pushing to get ready to move into a new space, so it's going to be a lot of work but I am ready!! It's a perfect fit me, y'all. The use of social media, photography, organizing.. and HELLO?! SHOES!!
Anyway, back to my original point to this post. You may not be some anonymous on the Internet. And whatever you say, can and will be used against you. It's all about your digital foot print.. You put it out there, you better be willing to let it cost you something important in your life.
Have you ever put something out on the Internet that you wish you could take back?

So. I had a fail on the Blogtober. I am sorry.
Does this picture of Claire make up for it?
No? What about this picture of nmh niece, Ryleigh?


Sigh.
Fine. Here's my outfit today… Not very excited about it. It wasn't what I planned to wear today, but I couldn't find my shirt that I wanted to wear with my skirt. So, boo.



At least it's Friday!! What are your weekend plans?

Today consisted of an early morning workout, clearing off my desk at work, and dinner with my Brother in Law for his belated birthday…
and snuggles from this cutie
Seriously?! She is so freaking cute.
One last thing.. Here's my outfit, post lunch with the Hubs and our friend Mark.
White dress shirt: The Limited
Maxi skirt: Target
Turquoise bauble necklace

You never know when it will hit.
Where you might be.
But it's always unexpected.
JUDGEMENT. 
(Scary, huh?)
You see, as moms, we worry.
Are we doing the best thing for our children? Are we teaching them the right way? Are we too hard on our kids? Should we discipline them more?
It's a constant worry. Add working full time to that mix, and you've got a whole nother load of Mommy Guilt coming your way.
Who's picking them up? Am I missing something major? Am I doing enough with them? Am I doing enough for my own sanity?
With all that worry about raising my girls to be the best they can, I tend to be a little on the vulnerable side.
I try to set aside some time for me and some time for my husband, and then rest is for the girls.
And when I am judged by what I do, it HURTS.
Add in being judged by a loved one, well… that just stepped it up a notch.
To have that person criticize the way you have chosen to bring up your kids, will cut you to the core in a way that no woman should ever know.
As if we aren't hard enough on ourselves, we have to worry about the judgement from others.
Shouldn't we be free from the judgement of our family and close friends?!
Is it a crime for me to want to set a good example for my children to live a healthy lifestyle by working out and eating right? What about setting goals and reaching them? Or them watching you cross the finish line of a race that you have spent the past 3 months training for? I want my girls to know that you can do anything that you set your mind to and what better way than to show them?
Can we stop the judgement? Can we put away the need to put others down for not doing things the way we would do them?
It's time, ladies.

it's been since we tied the knot.
This fall will be 10 years of us together. That seems like such a long time, but it passed in a blink of an eye.
It seems like just yesterday you would call and wake me up at 11:00 am so I would get up and go eat lunch and go to class.
Here's our very first picture.. Such babies!! 
Here's the picture I took moments after we got engaged…
One of my favorite pictures of us.. from our rehearsal dinner.

Our engagement picture
Our wedding reception.. you know our band rocked!

It's crazy to think the ride we have been on so far…
from football games…
to the birth of a daughter…
to the birth of another daughter..
to a National Title game and a trip to Pasadena.. (And weird hair for both of us!) 
to more football games… (I'm sensing a trend, here!)
to Viva Las Vegas… among other fantastic trips. 
To Penn State..
and a trip to New Orleans this January… 
You've helped me grow into the person that I am proud to have become. You've given me two fantastic red heads, that I wouldn't trade the world for.
We've shared thousands of laughs, highs and lows, good times and bad.
You take my mood swings and my stubbornness for what it is.
You accept me– faults and all, and I thank you for that.
There's no one else I'd rather high five at a football game, or give a sweaty hug to after I cross a finish line, or be absolutely lazy with on a Saturday morning.
I'm glad you attempted to talk me out of going to that Frat house the first time we ever talked on the phone.
Just so you know, I'd totally wait at the Arby's on University for 45 minutes all over again.

Love you, dear.

Wow. I totally meant to schedule this post for last week… but whatevs.
We took some impromptu family pictures for Easter.. I mean, of course I wanted one of our family being all color coordinated, but we had some time to kill before lunch, so I took everyone outside.
Look how cute these girls are… they love their daddy!
Such sweeties! And.. what's that? Both girls smiling AND looking at the camera… it's a miracle!
Addy has perfected her NEW gymnastics salute.. as opposed to the old one…
Claire has hers down pat too… 
John said he looks like an insurance salesmen… 
Addy took this.. be still my heart. The rule of thirds AND negative space. I love it. 
She took this one as well… our poor chins are working with the height disadvantage of a 5 year old. 
This one took some work.. I should show you the outtake of the family picture.. it's classic! 
I want to do a photo wall with these pictures… Can't decide how to lay it out though.. What are your thoughts?
Are these good enough to constitute their own wall?
Also.. I should announce a winner for the Estrea Giveaway…
Maybe that will help make your day, since your kiddos have been sick! Email me at runningbackwardsinhighheels@gmail(dot)com with your address and I will get the info to Estrea!

I started this Project 12 in January, so hopefully we would have 12 good family pictures at the end of 2011. It was not easy. There are several months that I had to do 2 pictures, simply because we didn't have time/ I forgot. I am very glad we did this. It became apparent early on, that I was going to have to get creative or else they would look the same. Some of these, I have no make-up on, some are the best we could do simply because we have two small children who are very uncooperative in front of the camera sometimes. (Some would call this perspective.. me learning what it's like in front of the camera.) 
June was actually taken at Addy's birthday. 
I feel like this project really helped me with my positioning of people and also helped my photoshop skills, as I had to learn how to photoshop my kids into pictures.
April is probably my least favorite month.. with a toss up between August, May, or November being my favorite.
September is probably hands down the best picture of the girls, but too bad my eye went wonky in it.
I don't think I will do another one of these for 2012.. although they are nice to have, they are a lot of work, and I feel like I exhausted the grandparents taking these pictures. Or ya know, Tracie, who took a good bit of them too!
P.S. Dear Grandparents.. If you want one of these pictures, please just tell me and I will order it. Don't steal them off the blog and print them. It will make me sad so see a poor quality picture of my family framed in your house.