I saw this dress several weeks ago and knew it had to come and live at my house. This is one of my very favorite clothing stores in Tuscaloosa, Ellie Crimson.
Doesn't my brace look so fashionable? Don't be jealous. I wore my Molly Suzanne stack and my Ellie Crimson necklace.
We started the day by meeting my parents to drop the girls off for a day at the zoo… had to snap a pic with my Dad!
We made it Atlanta by lunch and after a semi-uneventful MARTA ride, where I had a man give me to history of the MARTA, we set up shop at Taco Mac for a very long wait, but football was on, so, who cares?
When we stepped outside to head to the game, we were lambasted by a man asking if we would take a picture with his friend, who was a Hokie. He explained that they had done this for Michigan State and she had given a heel pop. He even showed me my competition. I informed him that, "Pssshh we were from the South and clearly we were better at everything than anyone from Michigan." I may have also been a tad tipsy. I asked him if he was going to Tweet or Instagram it and he should tag me, he said, "Oh, I'm in my 40′s. I don't do that stuff." Umm.. okay.
I love a game inside the Georgia Dome… except actually having to get to the Dome and leave the Dome area. The seats weren't too shabby…
I wanted to get a pic with Hubs and he kept holding up his number 1 finger. That is one of my pet peeves and I kept slapping it down and everyone around us started laughing about it. The action shot is a new fav.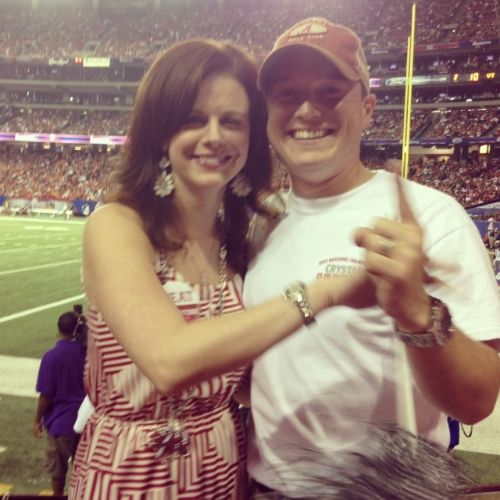 We booked it out of there to get the girls from Birmingham and head to Tuscaloosa to spend the night. We got up early Sunday morning to head to New Orleans to leave on our family cruise… I'm really excited about it! Wish us luck being trapped in a small room with the Reds.