Saturday morning started with a really crappy run.. like. WHOA, crappy. I went to get the girls from my moms because they spent the night with her Friday night and then I needed to go get ready to go to work. It was Christmas Open House and was sure to be busy. I got the girls loaded up, only to find my car wouldn't start. A phone call to Hubs and he said it had to be my battery and I needed to jump it off. I am not sure how I passed Drivers Ed, because I couldn't even pop my hood much less be able to jump off a battery. Thank God for FaceTime… and a roomful of hecklers to make fun of me for not knowing how to pop my hood.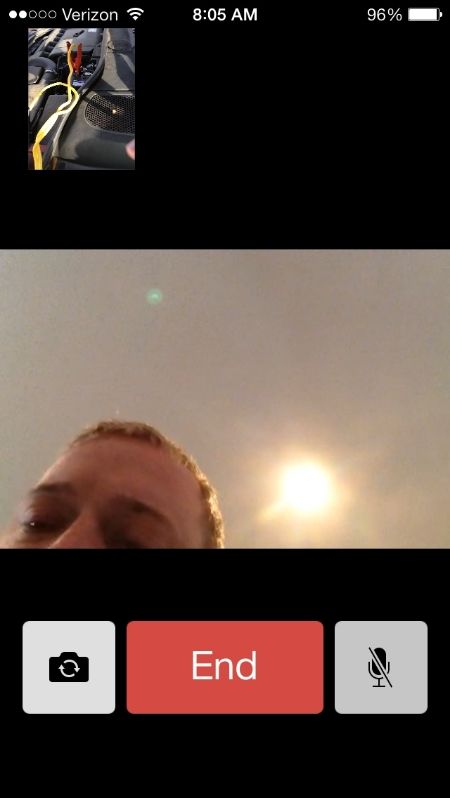 Jumping it off didn't work and Hubs wanted me to call Roadside Assistance. Having an automated call asking me to press 1 if I needed 911 emergency help, combined with my Granny coming out and telling me I needed to move my car sent me over the edge and I lost all coping skills and broke down into hysterics. Thank God for Moms because she handed me her keys and said for me to take her car and go get ready for work and she would get my car fixed. I headed home only to realize that I had no way to get into my house. I was locked out. Hubs was going to have his mom meet me there with a spare key only for her to be working out. So a trip to my in laws was in order. My father in law handed me all of his keys and said, "I don't know which one it is. But I know it's on one of those key rings."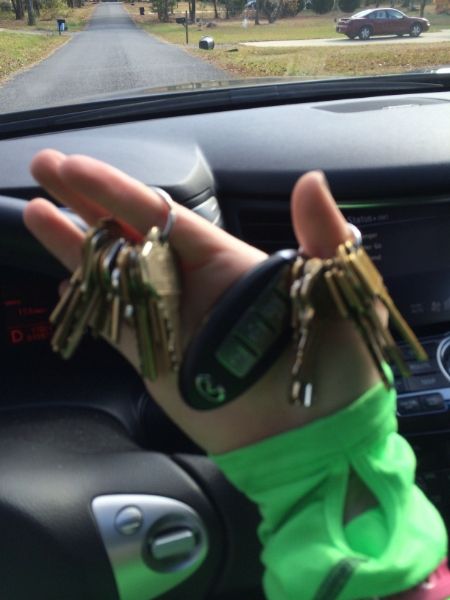 I got in the house at 9:15 and was supposed to meet my step mom to get the girls at 9:30 and be at work by 9:45…. yeah. Karen came to the house and packed the girls while I got ready and I got to work at 10:30. Not bad. My co workers are awesome and were understanding about my morning. They also let me leave early so I could get down to Tuscaloosa for the game. I was coming in so late that traffic wasn't bad and we have a parking pass, so it was smooth sailing… Although, I kept waiting for a tire to blow on Mom's car just based on the morning I had.
When I stepped out of the car, I could feel the energy. LSU has become a big rivalry with us over the past few years. The sun had just gone down and I made it to the tailgate about 2 hours before kick off. Since I wasn't here 2 years ago because I was running in Savannah, I've been told it was my fault we lost then.
We don't see this guy much, but we always love when Brandon comes to visit! It's been a long standing joke that he is my boyfriend, and we always pick up where we left off.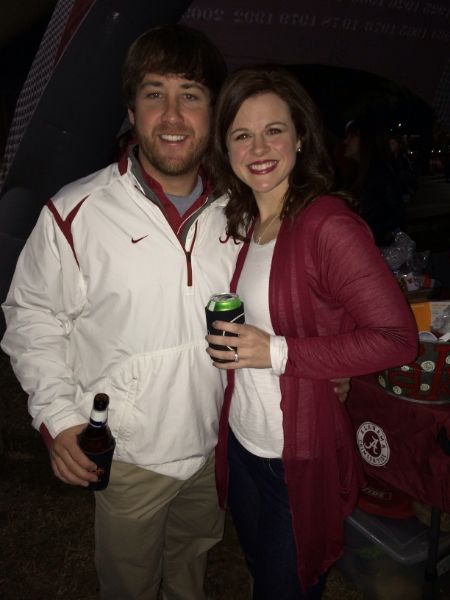 These two… no words.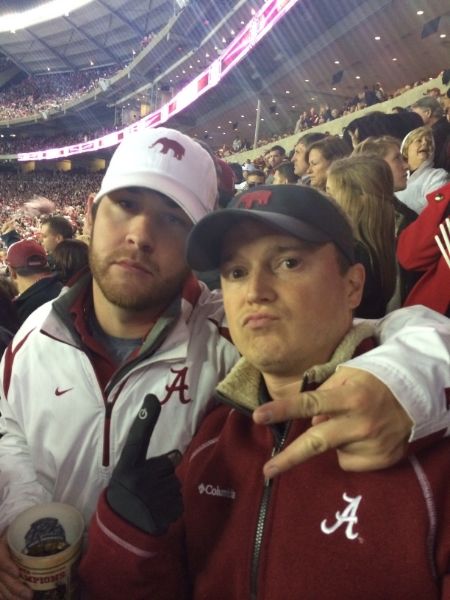 For the first time ever, J and his brothers sat together for an Alabama game. It was hard to believe that they hadn't sat together before, and it was a blast. See? Doesn't Jay look like he's having a ball?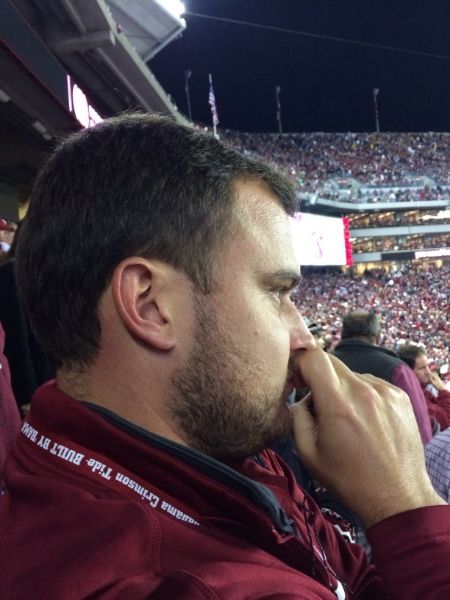 I may or may not have partaken in one too many adult beverages and I now have about 500 pictures of the game on my phone.
4 fingers in the air for the 4th quarter is a tradition that I don't understand, and the guys behind us photobombed… He was so proud.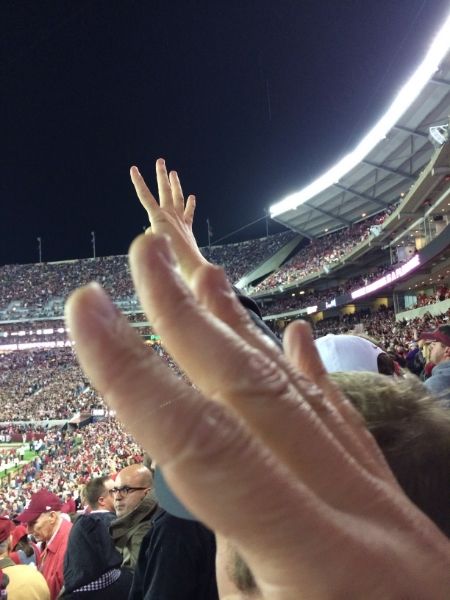 It was also drizzling… Scarves are multi purpose.

In case you haven't noticed, Hubs holding up a number 1 finger is an epidemic around here.

Hubs and his brothers… aren't they cute??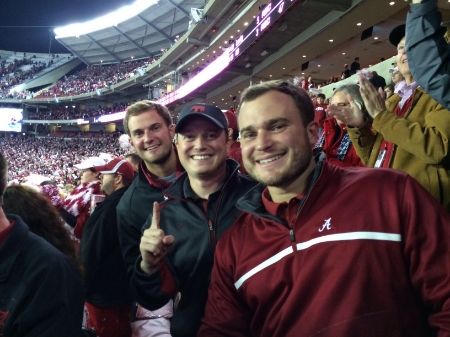 Post tailgate was insane and fun…Tricia was in town and I love seeing her!

Katie.. the official Yellowhammer maker for the tailgate.

Saturday was a roller coaster of emotions and I was up for about 21 hours… I was worried for how it started out, but it only could go up from that point!!
Roll Tide, y'all.
P.S. Don't forget to tell Molly Happy Birthday!!!
P.P.S. In case you didn't hear, Meghan became a Half Ironman yesterday… I am super proud of her!!

So, I went to a little game in Miami this week… it's called the National Title Game.
The weather was gorgeous and my team won, so that was a plus.
What I wore:
Excuse the rogue zipper. I fought it all day.
Skirt: Judith March
Top: The Limited from 10 years ago. Yes. Really. Bought it my freshman year of collage.
Shoes: KMart
Jewelry: Ellie Crimson and Molly Suzanne
Photo bombed by Jay… hope your proud of yourself!
Close up of my favorite bracelets from Molly Suzanne!! Seriously. Go check her out!!

I know. I keep being behind on the happenings of my life. But really, I should just be proud that I am remembering to blog at all with how crazy life is right now.
We headed to Atlanta for the SEC Championship last weekend.
We were on the road by 6:30 for the 3ish hour journey. We stayed with J's cousin Marie and rode the Marta in… it never fails. I always see crazy things on the Marta and this trip didn't disappoint. I need to make a PSA– Ladies, if you feel inclined to wear short and tight skirts, either wear underwear or learn how to sit properly in a skirt!! I don't want to see your drunken lady biz on public transportation!!
Moving on…
We hung out in the hospitality area and  I scored this awesome Nick Saban head…
We had a lot of fun with these…
After that, we headed into the dome.
I spotted this tall dude, and looked at him, thinking he looked familiar, and I hit J asking him, "Was that Jay Barker?!" and he replies, "oh, yeah. I guess it is." I informed him I needed my picture with him. Not the best picture, but I don't care!
For those of you who don't know, Jay Barker was our QB many years ago, and is married to Sara Evans.
I don't know about y'all, but when I find peeps in my seat somewhere, I get this attitude about me. Well, it didn't fail me in Atlanta. I found some little frat boy in my seat. And low and behold, it turns out it was my cousin.
Whoops.
Anyway, no need to tell you that this game was an emotional rollercoaster for me. I knew it would be close but dang. I wasn't expecting a game QUITE like that. I've never been so happy to watch the final seconds disappear on the clock.
Oh, hello Eddie Lacy. You're a beast. Did you know that?
We celebrated at Taco Mac, one of my favorite places to eat.
Hannah and I got photo bombed by Jay.
He's just lucky I'm not posting the videos on him dancing in the street.
As if you had to ask, I will be spending some time in Miami come January.

Hey, remember that time I forgot to blog about the Iron Bowl? Me neither.
Basically, it was super cold and setting up the tailgate required me to wear this…
We were better prepared for the cold this time… bringing numerous blankets and even an electric blanket!
Rebecca's husband Robbie stopped by.. Yes, we allow Auburn fans!
Really.. the love between these two…
We always enjoy some good interaction at our tailgates…
Mark and I were rocking our crimson.
Hubs and I had a wonderful time, albeit, cold at the game. Not much to say about the game. We won 49-0.
My Iron Bowl outfit consisted of a cream sequin top, crimson velvet blazer, houndstooth sparkly scarf and my wedge boots.
Next up… the SEC Championship game!

Saturday was one of those days that was just awesome all around. I woke up to go meet my peeps for a "long" run. I was hoping the hip would hold up to 6 miles. As I waited, I saw tons of small running groups. I was shocked we had so many runners here. Yes, I knew theoretically, they were there. But I hardly ever see them! It made me want to get out and make new friends. Anyway, Donnie wanted to run a small 5K that was going on that morning. I hemmed and hawed about it and he looked at me and said, "What difference does it make if you run in a race or now?" Uhh.. I had no response. So, we signed up.
I had already made the joke about wondering who I was… the crazy girl getting up before the sun to go run in 45 degree weather. Where did she come from?! Then, I became one of THOSE people who were running more miles before the race. Confident enough in their abilities to perform in the race after expending energy. I swear, sometimes I look around and wonder how I got to these places.
My hip hurt, by the way. I'm currently having a love affair with Ibuprofen, ice, and the heating pad. It all seems to be working.
Anyway, I ran and picked up donuts for the girls on my way home, rushed to shower and get dressed and head to work. I found out during work that I had placed 2nd in my age group– major sweetness!
I came home from work to find J had gone grocery shopping and made homemade chili… I was so pumped!!
THEN.. I saw that my new Lululemon crops had came in… YES!!! I love these things more than you should love a pair of workout clothes.
As I was putting away the rest of the groceries, (No he didn't put everything away.. I'm a little anal about where things go) I noticed these bad boys…
Yes please!!! We straightened up the house and Donnie and Shannon came over to watch the Bama game… I was a little shocked by how much she screams. She and John were like two peas in a pod! I'm not gonna lie.. I was more than a nervous wreck the entire game.. it felt like last year and we were about to have our dreams crushed! With 1:34 left on the clock, John announced that he wasn't sure if he could watch the rest… but then, TJ Yeldon came through for us with the winning touchdown, and I looked about like Tom Cruise with his couch jumping. We were all screaming and I was jumping on the couch like a crazy person.


GIFSoup
I really love this.. because touch that thang, fo is something we always say.
I woke up Sunday and had some dominating coffee…
 Sunday was not really productive, and an extremely lazy day. It was awesome, too.
How was your weekend?
Did you watch the Bama/LSU game?
Did you race?

 Hello All! First, I would like to thank you for your wonderfully sweet comments on Claire's birthday and her party.
We left for New Orleans on Monday, to head to the National Title Game, after dropping the girls off at school. I got to see my baby on her birthday and we got super cheap airline tickets to New Orleans! Win for everyone!
We stayed at the Clarion Inn on Canal Street, that is just a couple of blocks from the French Quarter and the Superdome. Our hotel was clean and efficient, but not in the best of areas. And it was at least a half a mile trek to go get something to eat. The walking didn't bother me, but eventually, it got tiring to walk a mile to eat something. I would highly recommend staying at The Marriott on Canal.. it was super nice and steps away from the French Quarter. I am sure there are tons of other hotels, but that was the only other one I stepped foot in.
When we got there, we went to eat at Drago's. It was yummy. Each meal was better than the last. People were NOT kidding when they say you can eat and drink your way through New Orleans. We went back to change and get ready for the game. Before heading out, I told J, Kyle and Ashley that I would LOVE to see us blow out LSU, like a 21-0 victory. They laughed at me and said that they would love to see that too, but it was going to come down to a field goal.
If you are my friend, I most likely abused our friendship. I couldn't decide what to wear to the game. AT ALL. I literally spent at least 5 hours trying on all kinds of different outfits on Sunday, only to say, I was taking them all and going to decide once I got down there. The weather was iffy and I just didn't know what to expect. Then I got down there and realized that no matter what I put on, it wasn't crazy enough to look out of place or skanky down there.
Since you can't really see, my shorts are a black and grey houndstooth.
Since I missed the original match up between LSU and Bama, this felt like that game to me. It's weird playing someone you always play in a national title game… it just feels like a regular game. As we made our way to the Superdome, I saw our team bus.. and that's when I realized, "Holy smokes. This is for all the marbles! I'm going to my watch my SECOND National Title game in three years!"
I cannot believe we blew them out like that. I know for most it was probably an extremely boring game to watch, but not for us!
When Trent made that TD run and the score went to 21-0 and I said, "I called IT!! I called this score!" Philly was all, "Nah, we've got this extra point. It'll be 22-0.. you were so close!" I said, "Nope! He's gonna miss it." And guess who has two thumbs and was right? THIS GIRL!
Is now the time to talk about the obnoxious LSU girl in our section? You know there is always one. Don't worry, we let her have it when she continued to call for Jarrett Lee and stick her tongue out, when Mosley was laying on the ground hurt. And we most certainly let her have it as she ran down the steps to flee the stadium after Trent scored.
Of course we hit up Bourbon Street after seeing the team back at the hotel. Bourbon Street was cray cray. You couldn't walk down it. There were a good bit of LSU fans milling around, some still chanting "Tiger Bait" at us while others congratulated us on our victory. We realized we were never going to get in a bar or have a celebratory drink, so we headed back to the hotel… at 1 am, no less.
We woke up the next morning and went to Mother's for breakfast. I insisted on needing Starbucks, so we stopped at the team hotel, which was the Marriott, and after ordering my coffee, someone passes me who looks oddly familiar. He walked past Philly who was oblivious and I said, "That's Coach Cochran." I got nervous because if you know anything about me, my running mantra comes from him.. "If it feels good, you ain't doin' it right." So I finally got the courage to go over and ask him for a picture and he said, "What you doin' girl? Get those fingers up!"
I was still on cloud nine, and we were walking in the lobby to leave and J said, "There's Maze." He looked all sad and I didn't want to bother him too much, so I just asked for a picture.
I scored a jacket for 50% off and we went to Jackson Square and Cafe Du Monde after eating at Mother's and got some Beignets.
We walked around Tuesday and looked in shops. It was supposed to rain, so I didn't bring my camera out and I should have. It didn't rain and that was the only day we really looked around.
That night we ate at The Gumbo Shop.. it was delicious.
Wednesday morning, we had reservations at Brennan's.. and man, oh man.. it was a 3 course breakfast. It was absolutely delicious and it is the birth place of Bananas Foster. Which is one of J's favorite desserts. It was the best one we have ever had too! Along with a bloody mary with pickled green beans.. Yep. Delish!
Wednesday night, we ate at K-Paul's and it did NOT disappoint. Fried green tomatoes for an appetizer.
I had the drum fish..words cannot describe how delicious it was.
Our final morning, I had to have some more beignets, so back to Cafe Du Monde, we went.
After Monday, we really didn't do a whole lot. We would peek in shops on our way to and from meals, but we stayed in the room and relaxed. I read, John watched TV and played on the iPad. It was one of the best vacations we have had in a LONG time. Very relaxing and exactly what we wanted to do. It doesn't hurt that we won another national title game, either.
I definitely think my absence at the first match-up is being blamed for our loss in November. The team just couldn't dominate without me.

 After 2005, I said I would never go back to Auburn. We had the worst experience as a fan. People yelling in our faces, spitting on us, just generally being douches. So, this year, when John said we were going to the Auburn game, I was reluctant. I went expecting the same reaction. Even though, I think both sides need to cool it. This rivalry is getting out of hand. I wanted a clean game- no cheap penalties, no calls that could go either way that could be game changers, and most importantly, two fan bases being cordial. Now, I am not delusional. I wasn't expecting to be welcomed with open arms and invited to brunch but maybe just not to be hit with shakers when I walk past you.
I am glad to say, that our latest experience in Auburn was almost.. nice. I ended up running into Becca's dad on the sidewalk and as he gave me a hug he made a comment about it not smelling like elephant dung, but I think that was all in good humor. And then we were boo'ed by a drunk college kid as we walked past him.. again. I can handle that. Sort of. So, I would like to thank Auburn for being nice. I think the rivalry needed it.
Our win secured our spot in the BCS National Title game that is being played in New Orleans. Sugar cubes for the Sugar Bowl!
Now, I realize a lot of people feel we don't deserve to be there. Yes, we lost. One game. In over time to LSU. The number 1 team in the nation. So, yes– we deserve to be there. I also feel that Saturday's game secured Trent Richardson's name on the Heisman trophy.
John and Kyle
Coach Saban
We stayed after the game to celebrate in the stadium and watched the post game interviews.. apparently we are on tv. We cheered for Saban as he headed back to the locker room.
We stopped at Wendy's to eat and the trailer was outside… Ashley photobombed me. But it's cool.
I am looking forward to New Orleans. We've had rooms booked there since January. Yep. INSANE. With the game being played on Claire's actual birthday this year.. it's very difficult for me with Mommy Guilt. John says we will celebrate before we leave, but we just can't take the girls. That New Orleans is no place for them to be. He is right. But but but… it's her birthday!! He said it's the National Title game, that it's a big deal. I mean, these things only happen every other year for Alabama.
(kidding.. sort of.)

In case you haven't read my 30 by 30 list, one of the things on it, is to go to a Pro football game. This weekend, the New Orleans Saints and the Atlanta Falcons were playing in Atlanta and we thought it would be a good idea to go over to the game and watch it, since Mark Ingram and Roman Harper play for the Saints and Julio Jones plays for the Falcons. We went over with the assumption that we could just buy tickets outside of the gate. Kyle and Ashley went with us. Anyway, the first scalper we saw on the side of the road as we were attempting to park. We asked him how much for 4 tickets. He said he had 50 yard line seats- 4 for $1,000. Say WHAT?!? No thank you, kind sir.
We park.. after going down the wrong way on the one way street- whatevs. That's how we roll. As we walk towards the stadium, I quickly realize I have never seen anything like what was around me. It was like a giant party. One that's loud and makes you uncomfortable. At least for me, since I don't do well with large crowds- I know, I know. I go to Alabama games all the time, but it's different. The Georgia Dome is already confusing and when you feel out of place somewhere, it only heightens my sense of impending panic.
We wanted to check the ticket window and see if there were any tickets left and there were not, but we found that everyone else in that line had been sold counterfeit tickets and the lady at the window told us not to buy any tickets from people on the street. YIKES. Talk about taking the wind out of your sails. We also saw the security line and people were being patted down before entering the stadium. Something else I'm not used to. The security at 'Bama games barely look in my purse!
While the people watching was insane.. (seriously, Saints fans, y'all take the cake on how to dress for a football game!) we decided to walk over to Taco Mac and eat some lunch and then go over to Ikea and H&M. There were a lot of people watching the game inside Taco Mac and I have to say this, and I mean it in no disrespect at all, but those black women know their football! I wish you could have seen it! If they made a good play, they would get up and dance around for a little bit and then just sit down. I was in awe. Listening to them discuss the game was like listening to my husband and I was super impressed.
We headed next to one of my favorite places in the whole wide world, Ikea. Ashley and Kyle had never been and I think were little overwhelmed with just how giant it was!
We saw the latest fashion trend.. panty hose as pants. Yep. Ladies, this is NOT OKAY. I have zero desire to see your underwear through panty hose.
We thought maybe it was a one time thing, but nope, saw it again in H&M and that girl was sporting a lovely lime green thong. Ladies, let's buy some real pants, Mkay?
While, I may not have gotten to cross see a pro game off my bucket list, I think we all had a great time and I am already trying to plan my next trip to go back to Atlanta. *Sigh* Why can't Nashville get an Ikea, H&M, and a Container Store? It's so much closer to us than Atlanta.

Hi all. It's me.
I'm alive.
Much like Kenny Chesney.
I've had a CrAzY busy couple of weeks and honestly, needed to drop some balls that I was juggling.
I am all caught up.
Much like Usher.
So.. I give to you.. my past two weeks via my iPhone.. (which I now realize is totally copying Neely.. sorry, yo. It wasn't intentional.)
I ran 10 miles. It was glorious and not that painful. Which makes me quite hopeful for Savannah in 32 days.
I had dinner with the Big Guy.
I wore a dress you could see through.. by accident.
I learned the hard way not to wear high heels the day after running 10 miles, no matter how NOT sore your legs were that morning.
I ate BBQ. KIDDING. I most certainly did not. But a lot of people did. Including the Tide. Sorry Pig Sooie fans.
One of the reasons I love The Zone…
I ate my weight in cheesy potato wedges.
Had a date night with the Hubs.. and had a stranger ask me if I was going to the Fair. Which I was not.
My outfit for Savannah came in.. and the shorts are monsterously large and short. Good combo!
And last but not least… we had a sickness invade one of our children that allowed me to stay home from Gainesville.
I may or may not have had a little cry about it.. since on my 30 by 30 list is to go to every SEC stadium.. and we only play Florida about once every 5 years.. so… it's not going to happen. BUT, it should totally count, right? I mean.. I've seen them 4 other times. RIGHT???
Anyway.. as you can tell.. or maybe not? I am not doing a giveaway at my 400th post.. I do have the things needed for said giveaway, but just no time right now.
So.. eventually, grasshopper.
Bare with me.. as I have lost blogging motivation. I am trying to do better.

We decided not to tailgate since the game was at 11:00. It's so weird getting to be regular fans. We got there in enough time to go into one store- my new favorite- Ellie Crimson and I got a new dress and necklace- it's super cute. And then it was time to go in for the game. That's not nearly enough time for shopping. Can we boycott 11 am games from now on?
Lee and Alana went with us.. (SEE Robbie and Becca– it would be so much fun if we cheered for the same team!)
I even took a My Style Monday fashion picture, but did Lindsey do the link on Monday? No. No she didn't.
I broke out the vintage hat and thought I might get some compliments on it.. the only people who commented on it, were older women who would remember the correct style of hat and not those crap imitations that are all over the place now.
Our seats are in the Zone.. directly above the student section, which I dig because of the band being right there. One thing I noticed.. the fraternity pledges no longer wear coats and ties, just dress shirts and khakis. This is a travesty. After the fans and tents I saw outside the sorority houses during rush, I think we are raising a Greek system of weaklings.
They did some awesome new videos for the season, including one on the April 27th tornadoes and a ceremony. It made me tear up- I know the terror I felt from the one in Cullman, and Tuscaloosa is 10 times more devastated than us. Not to mention, all the students, faculty, and athletes that were in it and lost loved ones.
I realized that I could see myself in the reflection of John's glasses…
During halftime, we went inside, and I kept seeing this girl and thinking she had taken her top off since the back of her dress looked like a bra. Incidentally, you could actually see her bra strap under her regular dress clasp.
I found these bad boys while shopping.. It's a WIN.