Friday, we found ourselves in Huntsville for the state gymnastics meet. I was actually surprised we made it in one piece considering the umm.. eventful morning we had. Addy had a strong practice the night before and we have really been talking up staying focused at the meets. Her attention span is about as long as mine, so she has to stay on task.
She was excited for some domination.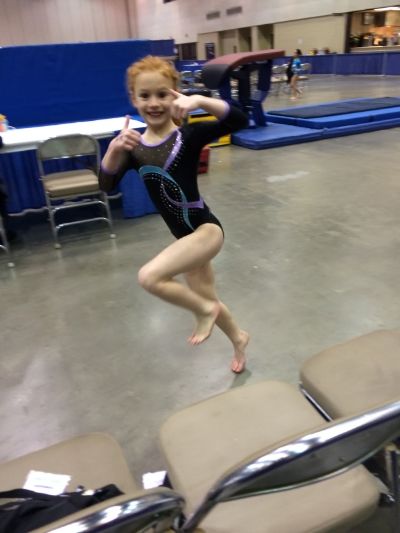 C does amazing at these things.. they last for hours and she isn't any trouble…
Addy lost her focus during the beam and floor routines which were her last events and her scores showed it. Her coach told us she was disappointed that she didn't medal in them. Hopefully it was a learning lesson. I'm still so proud. Her beam routine has come a LONG way from the beginning of the season and her vault was amazing scoring her 1st PLACE in her division.
Look at that smile!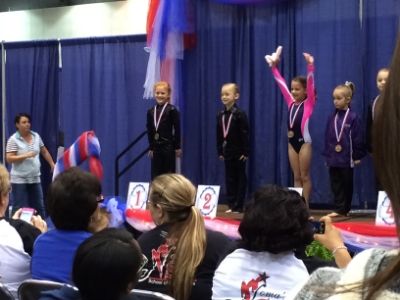 She ended up 8th overall…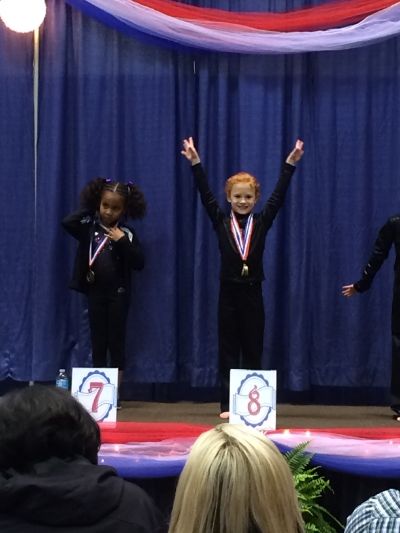 She really enjoys when I make those videos… so I will share it with you. 
I'm glad that competition season is over with… She's ready to learn some new tricks. She's been doing the same routines for a couple of years, so I think she is getting a little bored. She told me she wants to continue with gymnastics, and wants to get her back handspring down. Plus, I think she is starting tennis lessons this summer.. She's way too athletic.
How many sports did you do at one time growing up? I just concentrated on cheerleading and then when I got into high school, I picked up golf.