Remember when I was all, "Where are all these toys going to go??" Yeah well….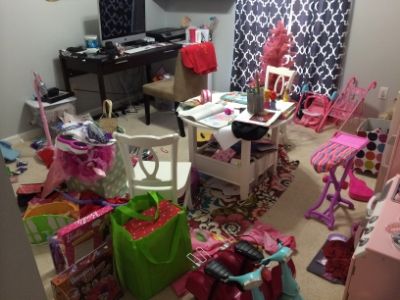 So, we had to clean some stuff out… you know, on top of the two garbage bags I did before Christmas. And I decided to include the girls… I won't give you the rundown on the drama, but I am sure you can imagine.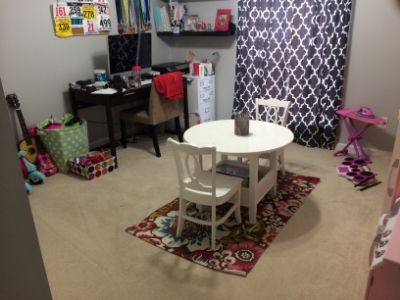 One of the girls presents from my mom was a tv, and the only way I agreed to it was that it would go in the play room. But somehow, during yesterdays discussion on where it would go, I was overruled and the tv went in the girls bedroom. Which meant, I had to rearrange their bedroom.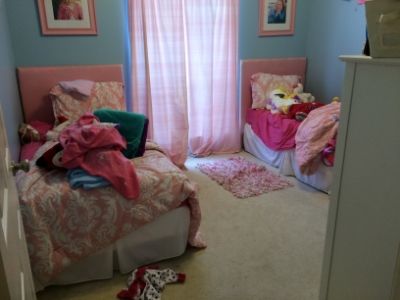 I can honestly say, I'm not very excited about this. But, seeing as I wanted to give their room a facelift, I'm trying to see the silver lining in it…. I want new bedding for the girls.. something with a lot of color, and I don't want to have to repaint the bedroom. Any suggestions? I'm also thinking shelves for pictures and a medal hanger for A's gymnastics medals.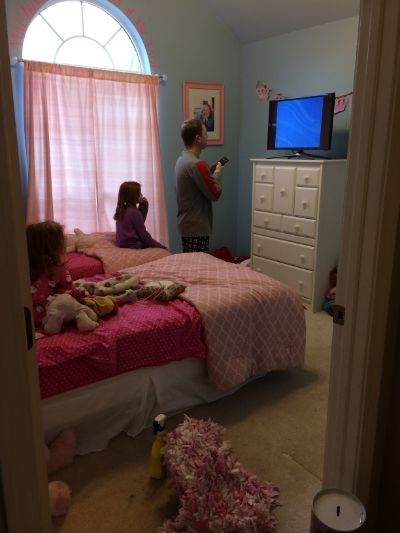 We had our annual girls Christmas dinner… good times are always had, as these ladies are some of my oldest friends.
We made the world's smallest cookies with the Easy Bake Oven… it only took an hour. But this girl was ecstatic.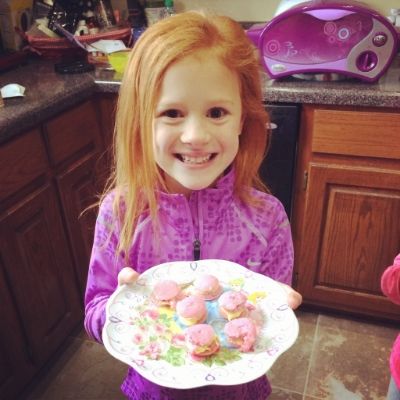 I've been what feels like laziness, but it's really just what normal people do.. sleeping until 7:30-8, and not rushing around trying to complete a million tasks. It's been a nice change of pace!

Are you tired of outfits from BlissDom yet? Apologies… it should be over soon enough. For Girls Night Out, I went with lace. And HOT PINK lace at that.
Here is a black version from H&M or here's one similar. This one is fun too!
My shoes are gold glitter pumps from Payless a couple of years ago. Here and here are pair similar.

We got snow in Alabama.. so obviously the entire state had to shut down. The girls got out of school and both mine and J's works closed. It was a nice impromtu day snowed in… until our power went out.
It was out for over an hour, but I was sort of freaking out… We weren't prepared to be without power.
What's the only logical thing to do when the power is out and you are snowed in?
Snowball fight, of course!

We don't really keep snow gear on hand down here, so I was thankful for the hats and  gloves the girls got for Christmas. I layered them in with leggings and fleece pants and rain boots and we went outside.
Addy was obsessed with eating snow.. Eeeww.
While Claire just had a blast running around.. and I was so happy to get some really good shots of her real smile.. it's hard to capture. 
We had so much fun running around and having a snow ball fight.. I'm sure the neighbors thought we were being attacked we were screaming and laughing so much.
Claire said.. "Mommy! Get your camera and  chase me around!" Let me tell you… running around in the snow in rain boots is a work out!
Sadly, the interstates were shut down here and people were trapped trying to get home… Some were there for 10 hours, finally abandoning their cars and getting a hotel.
We just are not prepared for snow here, as sad as it is.
While we were playing outside, I noticed that our neighbors outside lights were on, so I gathered the girls up and scooted them inside to the warmth and bribed them with some hot chocolate.
We woke up to another no school day on Friday.. Luckily I was already off work!
Did y'all get any snow? If so, did you play in it?

I found a video of Addy the other day when she was Claire's age. You could only understand about every 4th word she said, but I started crying. I don't have a ton of my girls on video. Pictures? Of course. Oodles. But video of their sweet voices? Nope. I vowed to change that.
Starting with Addison's very first joke that she learned from Nana.

Untitled from Rachel McPhillips on Vimeo.
Here is another one of Claire talking about eating hotdogs and going to the Zoo.

Untitled from Rachel McPhillips on Vimeo.

Long story short, Addy wants a new room for Christmas. A BLUE room to be exact. Here is the room she saw and told me that she wanted. Cute, right? Problem is, she also wants Claire to be in her room too. So, double to expense of mattresses, beds, and bedding.
So, I set out to find something. I found this adorable comforter in a bright pink from PB.
I fell in LOVE with this sheet set from PB as well.
I told John how much all of this stuff was. HE HAS GOT TO START LISTENING TO ME!!!
So, I go to order it tonight, he has a mini coronary, so I start frantically searching the internet for something cheaper. I found this gem at Bed Bath and Beyond… it really goes better with the room theme she wanted, but I think the other is more her personality. It's also less than $200 for two sets for the girls vs the $450 from PB. What should I do?
I thought I might be able to find a different comforter and still get those sheets I love so much, but so far, not looking good. HELP!
I think I may run to Tuesday Mornings and see if I can find anything there? Or TJ Maxx?

Happy Friday, folks!
I am getting all packed to head to Birmingham tonight so I can run the Jingle Bell 5K in the morning. It's totally last minute but I am getting some good girl time in with Jana Banana. Gonna have a spend the night party– no boys allowed. That is, until her husband comes home.
I went for a run last night, and it was COLD. Running the C-town hills after the sun has set is a LOT different than running the flat sidewalks of Destin. I wore too many layers, and started shedding them at the end. My ear muffs and gloves were too much, but my new capri tights and jacket were amazing. I REALLY love the capri tights.. Nike, size Large– no zippers. Mesh behind the knee– *Ahem* Christmas present? *Ahem*
Here is my running outfit for the race– new capri tights, jacket and my awesome leg warmers. Make fun if you will, but I think they rock. They may get on my nerves, but I think I will know soon enough and I could just take them off.
I was thinking of taking my camera along and doing some pictures
Skinny Runner
style? Are you interested in seeing blurry pictures from the race view? People always wear some fun race gear.
Have a great weekend!

These past couple of weeks have been nothing but craziness for us/me. Being sick hasn't helped. I am also sick again… Sarah said I needed some pro-biotics. We shall see… I was busting my hump this weekend getting orders finished and tying up loose ends since we left on Sunday for the BEACH. Yeah.. nothing says "Thanks Pilgrims for the turkey and sweet potato pie" like a trip to the beach. Now, why the beach, you must ask? In case you were wondering, John's dad's family is Catholic, which means he has like 5 brothers and sisters. And you know how those Catholics are about breeding.. they just don't stop. I'm pretty sure that MeMac knows more about Poppy's family than he does. Everyone is scattered, so every other year, the family gets together at the beach and everyone comes down and it's super awesome with 50-60 Catholics, bloody marys, sand, turkey and more children than you can imagine.
Last time, I was extremely pregnant with Claire and couldn't partake in the Bloody Mary's- they are Poppy's speciality- and I was super sad. But I am going to fight some aunts for them this year. I absolutely love Thanksgiving down here.. it's a vacation! Outlet shopping, booze, turkey, and sand. Can't really ask for much more.
We got up early(not as early as we had planned, thanks to John not turning the alarm on) and hit the road and were down here by lunchtime on Sunday. I have been able to get a run in everyday-which has just totally made my trip. The girls have been able to get in the pool with people that brought their bathing suits-not me!
I took Addison to get her first official mani/pedi today- it was love. Girlfriend was so stinking excited she could hardly contain herself.
I also got to go see Harry Potter and the Deathly Hallows Part 1. Yeah… I like wizards and vampires. And I blog. I don't think I could get much nerdier. Ahh-mazing. I can't wait until Part 2 comes out… I may or may not have already re-read the book while down here…
Anyway, we are doing our Thanksgiving dinner with the family tomorrow night and getting up Thursday to travel back home to get ready for the Iron Bowl.. Alabama vs Auburn is Friday. This is the big game, peeps.

I have found that in my grown up years, there is nothing more that can make you feel good as a good ol' girls night out. Take a couple of your best girls, add dinner and a movie, and you just can't beat it. After finally working out everyone's hectic schedules we able to scoop a couple of gals together to go see Sex And The City 2.
There is a difference now to getting ready. It's called children. And children, don't want you to have these GNO's. Addison followed me into my bathroom to get ready and proceeded to whine, "But Mama! I don't want you to go eat dinner and a movie! I want you to stay here with me!"
But, I'll tell ya, my little Addison is a sucker for make-up. So, I put the finishing touches on mine, I looked to her and asked her if she would like some make up for that night. She perked up. I normally, never let her just play in my make-up. I will put on whatever she picks up, but I don't let her have at it, like a Picasso painting. But I remembered one of the greatest memories of my childhood was when my Mama let me play in her make up before bed. Since she worked the night shift, she would let me put a little lipstick on or mascara and I really felt like Hollywood. I have probably started something that I will shortly wish that I didn't, but for these 20 minutes, she was the happiest little girl.
You'll be happy to know that he didn't take her to dinner like that… he did change her clothes, which I was afraid he wouldn't.
Want to know a funny story? My dear friend, Brooke, who was in charge of finding the movie times, who was also, pretty sick last week. She looked at the movie times and saw that there was an 7:05 and an 8:05 movie. We ate dinner and got to talking with Jana, who joined us, and we headed to the movie around 8:00. We get there and go to get our tickets, and the 8:05 time isn't showing up. Turns out, Brooke looked at the times on Thursday and the times changed on Friday. So, we ended up going back to Jana's and just having girl time, which was much more fun than hanging out with Carrie, Miranda, Samantha, and Charlotte.
P.S. Don't forget to enter my GIVEAWAY!!!!!

I have been pretty MIA lately and I apologize. The girls have been keeping me busy and while I have taken quite a few photos, there aren't enough hours in the day to allow for me to edit and trying to come up with something that doesn't resemble garble for the blog.
My little Addison has been through some behavioral problems in the last couple of weeks at school. I'm not sure what is going on, but I think we finally got it cleared up. She has been picked on a lot, and I have to wonder if she finally started standing up for herself with resulted in going to time out 5 times in ONE day for hitting. It was a rough week for us.
BUT, she never ceases to amaze me with some of the things she says and does, and here is a post completely dedicated to my first born.
Her "tricks" as she calls them are becoming more and more bold and "dangerous" as she calls them, but it is stunning to watch her teach herself how to do hand stands, rolls, jumps, and her new attempt at a front walkover. The girl has never had any gymnastics training and I feel we could have a future Olympic Gold Medalist gymnast on our hands. She is so petite for her age, she weighs about 35 lbs, which is pretty thin, but she eats ALL THE TIME and never stops jumping. Her legs are ridiculously muscular.
Some of her new sayings include:
Yesterday, as we were driving, John said, "Oh look, there's so and so( I don't even remember who he saw)!"
She also loves Alice in Wonderland.. which, honestly, this child watches more movies that I never saw growing up. But, I guess it means, I get to enjoy them with her and nothing makes me more happy. She is really getting into wanting make-up and lip gloss is an absolute MUST for her. She loves snuggling with me in the mornings and getting to snuggle on the couch after Claire has gone to bed with Mommy and Daddy. She loves to watch Gossip Girl and Tori and Dean with me and LOST is a Tuesday night must-see for her.
She definitely has that red head temper but can be so sweet and loving it will bring tears to your eyes. She always thanks you for the smallest things and tells me how much she missed me when I was gone( even if it's just 10 minutes).
I just can't wait to watch her rock the world, but I REALLY don't want her to grow up!

Last night, we had a horrible night. It was one of the nights that I have long forgotten how bad they really are. Claire woke up around 11 and basically screamed and was awake for the next two hours. She woke Addison up and somehow they both ended up in our bed, which had never happened before. And even though I would say we were all snuggled in our bed, I think the only people who are happy about it where Addison and Claire. Claire woke up around 4:00 am and John went and put her back in her bed, without a PEEP.
But, I digress.
Yesterday, mom called and said that her pool was open, and asked if we wanted to come over and swim. After naps, we went over and Addison had a blast. We had to pull her out because she was shivering and turning blue.
I love the lazy day promises of the Summer!
When I picked Addison up from school today, they informed me, of course, no nap but that she was in time out 5 different times for hitting her friends. Not really sure if it was because of the night we had or what. But I'm not really sure how to discipline this. Normally, we spank( don't judge!!!) but it just doesn't seem right to spank for hitting. Ya know? If anyone has any suggestions, let me know!