I feel the need to Keep It Real, folks. When my training ramps up, it's all I can do to keep the laundry done. So, let's just forget the rest of the house. Now, don't get me wrong, I LOVE a clean house. Everything organized and put away and in it's place. But, after wrangling kids, training, and working all day.. I just don't have it in me to clean up. Below is a photo diary of what my house looks like. Hopefully, it will make you feel better about yourself.
This is what greets you when you come in.. either walk past it, or add to it!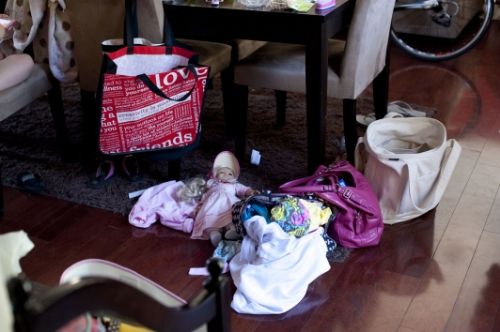 Complete randomness all over. Oh Hiiii iPhone! I see you there!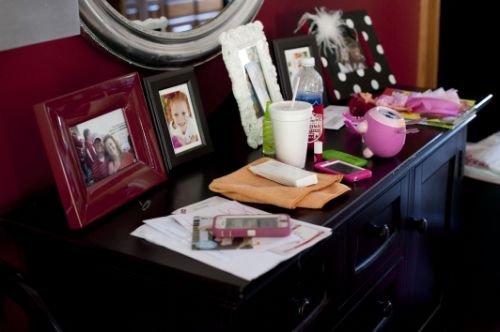 The girls play room… Oy vey.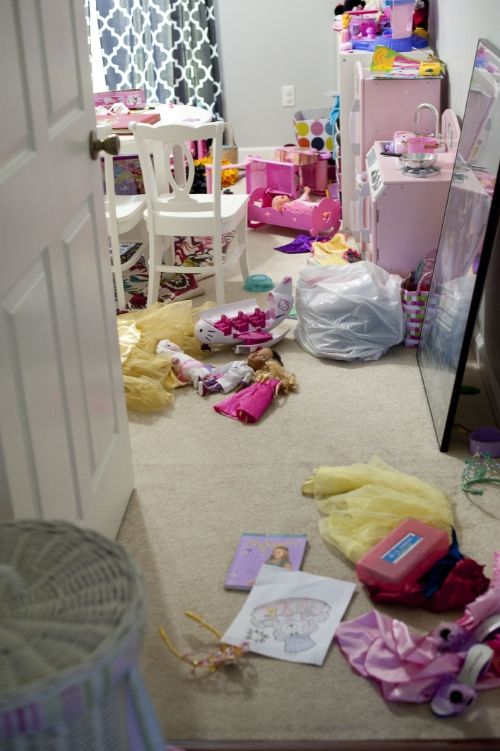 Are the Princesses lining up for battle? Or perhaps getting ready for a Harry Potter like game of chess?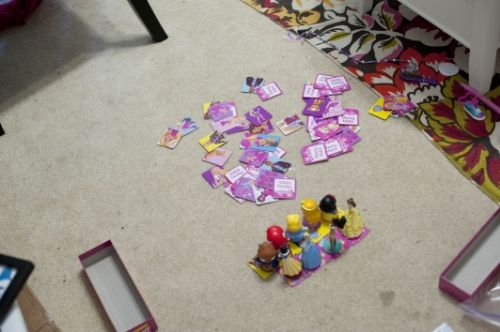 Bearcat pride cannot hide in this house… My old Pom Poms are a must have, apparently.

Last but not least, here is the jungle treachery that you will find on the way to my bedroom… A lone running shoe, a camera bag, tote bag (this was after I had been to see Grandpa), a piece of luggage that has been there since I went to DC, and my vacuum cleaner.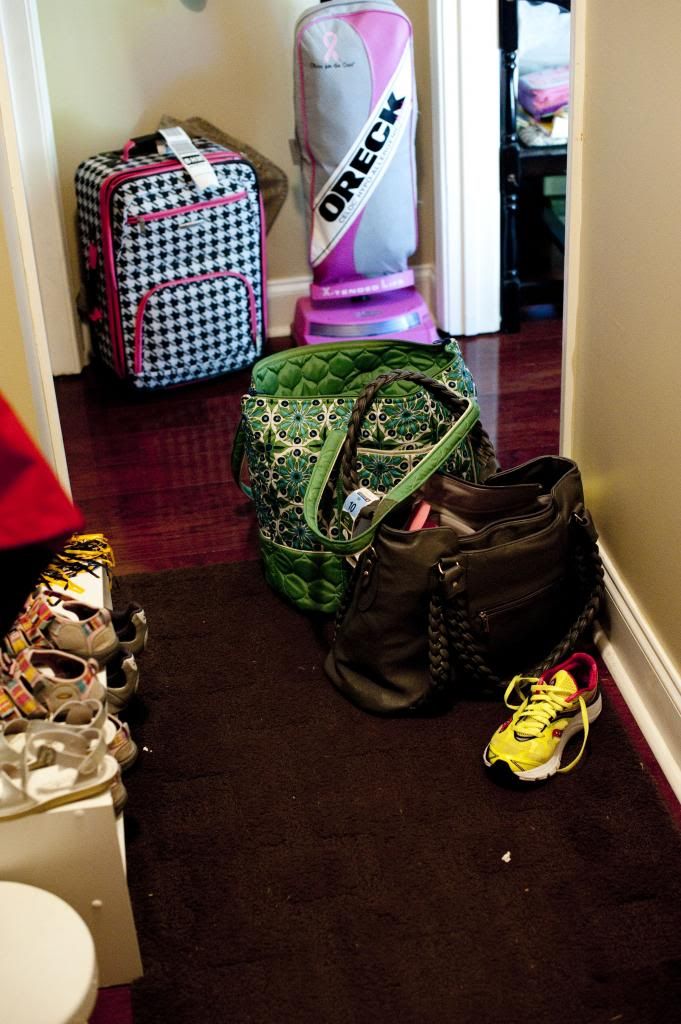 Basically, my house always looks like this. I can't tell you the last meal I cooked and I am pretty sure I haven't been grocery shopping since 2012. If it weren't for my husband, most days I probably wouldn't even remember to eat… he keeps me fed, y'all. He caught on to what a grouch some one who is rungry is!
Please share with the rest of us the sacrifices you and your family make to train… it's always nice to know you're not alone!!

We celebrated Claire's 3rd birthday on Saturday. I ran out of time, so I was missing some of the decorations I had planned… like the water bottle labels and food labels. But oh well. I still pulled it off– even if I was in jeggings and a tank top and decorating cupcakes when people started showing up.
The wreath… well worth the full days worth of work, I think!
The banner.. I didn't get a picture once all the food was set out. 
Thank goodness I got a picture of these and the cake. These ended up falling during Claire opening her presents and breaking the 3 off the cake. So sad. 
Cupcakes.. not as decorated as I would have liked. Oh well.
In case you weren't sure who Becca was that I always talk about– she's my second husband and my personal stylist. (and of course a sleeping baby Avery) 
Claire thoroughly enjoyed her 3rd birthday party… I thought it was a hit and my best party yet! Even if my time management skills were lacking. I'll blame it on UPS and my husband working until noon.

This child is so full of life, spunk and sass. She is infuriating and precious. And so sweet and thoughtful.

She is hilarious. I wanted to share some of the funnies she has said in the past couple of months…
She was telling me about eating a corndog.. "I ate a corn dog. It was so good. But… I was biting it and THEN. My hot dog fell out of my corndog sack!"
She kills me singing. All. The. Time. Here are some of her gems.
"Ba Ba black sheep have you any wolf?
Yes sir. yes sir. 3 bags full.
One for my master,
one for the maid,
one for the little boy who lives in the maze…"
and of course who could forget the classic:
"Row row row your boat gentle down the stream,
merry merry merry life's above a dream."

Yesterday, as I was putting Addison's hair in a pony tail, I noticed a small piece of hair that didn't want to be a part of the pony tail party. It wanted to be free. I also noticed how said piece of hair was pretty short. And soft. And looked newly cut. So, I started inspecting and then interrogating. She wouldn't tell me much except that she had done it at MeMac's and used kitchen scissors.
I started getting to the bottom of it, when I refused to give her a second snack until she told me the whole story. (Taking food away, works for us. Don't judge.) She apparently, snuck into the kitchen, grabbed the scissors from the counter, ran behind the couch and cut her hair, then hiding said hair behind the couch.
Call me mean, but I told her if she ever cut her hair again, that I would shave her head or cut all of her hair to length in which she cut her hair. She promised she would NEVER do it again. We shall see…
I also got to meet her fabulous little girl, who is nothing short of exactly how I picture Addison to be in a year. Scary…
Hope everyone has a fabulous weekend!!

One day last week John called me at home. "Hey, Greg McElroy is signing autographs at Cummings Sporting Goods on Saturday. You want to go?" As if he even had to ask. He should know by now that I would be all about it.
Since I have a minor crush on Greg McElroy.
And when I say minor, I really mean, It may sort of, kind of, rival the Tom Brady obsession of 2007.
It didn't start out that way but he sealed the deal in the 2009 SEC Championship game when he played a little hopscotch with the sidelines to get a 1st down.
I found the clip on YouTube… it's around the 2:20 mark in the video. I love the agility. And the leg kick.
I won't be offended if you don't watch this video.. it's highlights of us dominating the Gators.
But finally… YAY!
He signed a ball for Addison.. she was so embarrassed and shy. In the car, she had asked me if he would have his helmet on and I told her no. I told him this story and Addison elbowed me in the side when I said it. I'm scared of her teenage years.
The crowd of peeps waiting… It wrapped around to the end of the shopping center and pretty much stayed that way. Poor guy was there 4 1/2 hours signing autographs and taking pictures.
I can't say enough about the character that I saw from this guy. He made sure everyone got a picture and an autograph. He treated everyone like they were the only person in line and that there wasn't a line out the door. He even had a great answer to the little kid who had on an Auburn hat and told him he liked Auburn more. "Well, you've still got a few more years to change your mind!" Great answer!
I honestly felt like a giddy school girl. I couldn't even look him in the eye. Not that he was eye level. Because dude is TALL. And all muscle.
Now, for my picture. I had been joking that I wanted to get my picture taken with Greg and the girls since he looks like he could be the father of the redheads more than John could. Only if they didn't act JUST like John… people might start to question it. Funny enough… we can't get a good family picture of the girls looking at the camera, but the one with Greg McElroy could be a freakin' Christmas card… which, it totally might be. Could you blame me?
Seriously. He even gets the squinty eye when he smiles. Just like me! *sigh*
Let's keep in mind, that I am 5'4 and had on about 4 inch heels. Like I said.. TALL.
I realize most people won't get this, but this guy is already a legend in Alabama Football. He is an incredible public speaker and most importantly, he seems to "get" Alabama Football. I wish him many years as a Pro quarterback and hope he can be the 14th quarterback to wear #12 and win a Super Bowl.
Let's just get drafted to a good team, Mmmkay?
Now if I could just get him to tweet me back and possibly wish me good luck on my half marathon and a Happy Birthday come April?? Is that too much to ask?

This. This is what has started my utter and complete fascination with being a part of a flash mob. Don't know what a flash mob is? Well, it's a group of people who get together and choreograph dances and do them in public places.
I saw this one today, and it's probably the best one I have seen. I immediately started youtubing these videos…

Stop. Hammer Time.

Backstreet's Back. Alright?

Can't have a Flash Mob without MJ…

Ohhh. Modern Family. I double heart you.

I totally want to be apart of one of these!! I don't care how dorky you might think it is… This is totally awesome!!!!
I found a new event to add to my bucket list… Who's with me???

Every once in a while, I will get a crafty surge and I have to succumb to it. Yesterday's was Christmas pillows. SaSa came over and I was setting up Christmas decorations and telling her how I thought I might make some Christmas pillows to match the tree skirt and she spotted my table runner and matching cloth napkins I had yet to put in their home. She told me to make that into a pillow.. I had two- I could make a pillow! I told her that if I used a different fabric for the back that I could make two! I also had the perfect cream to match the stripe. When I went to my fabric tote, I found a bunch of fabric that I could use in my pillow making. I decided to try to do and put together what I could so I could wait on going to Hobby Lobby just in case there was something else I ran across needing.
FINISHED PRODUCT!
Excuse the Christmas tree box in the floor…
This was the cloth napkin!
back of it.
I made the back out of some red corduroy that I used for Addison's Christmas pants last year.. I obviously bought entirely too much! The light green was left over from the iPhone pillows I made a few months ago. The dark green was felt. The red dots were felt. It would have been easier to use felt for all
the stripes but I had that fabric, so I used it.
This was an after thought pillow.. I had left over red fabric and I thought I would make one to match the stockings.
Want to know what these SIX pillows cost me? $20!!! Since I had the red felt, and all the fabric all I needed was green thread, dark green felt, and poly fill. Which I did poly fill instead of pillow inserts since it was cheaper and actually easier to work with.
I'd say that's a Christmas deal!

So, I figured it would be best if I divided Jamaica into multiple posts since I don't have an entire day to sit at a computer and load pictures to the blog… as much as I wish I did!
Hey, look, it's Nick Saban….
The Red Lane Spa…
We quickly got settled into our rooms-which I can't find the picture of at the moment, and headed to the pool.
We ended up eating a late dinner, which, also meant that John Sr had more time to drink. Therefore, making a very memorable dining experience, but don't ask him about it because he doesn't remember. It provided comic relief for the rest of the trip though.
That night, they had a chocolate buffet, which wasn't as good as I wanted it to be, probably because the chocolate had a good chance of melting before you could eat it. Those white chocolate balls had rum in it… surprise!
I can't tell you how awesome the trip was…it was so nice to relax, sleep in, and take naps!

Since I am at the beach this week, I figured I could at least offer you some eye candy. You may remember how I did my Top 5 Girls crushes, so, it's only fair that I do my Top 5 Guy Crushes.
Is it wrong that I kind of want to lick his abs? No? Okay. Good. He is legal, people. Don't judge.
Next off, while he may have been knocked off the number 1 spot since he married that ugly supermodel.. seriously? What can he see in Giselle? Hello… I am right here.
Bradley Cooper. (Please come get in my tub)
It was love when I saw him in Wedding Crashers. There is something about dark hair, blue eyes, a killer smile and cockiness that draws me in like a moth to flame. Seriously. Have you seen my List? The Hangover sent me over the moon. And have you seen the latest A-Team trailer? I'm pretty sure I would go watch this guy in a paper sack.
Some of you may be surprised by the lack of a certain Vampire. But, let's face it, while he is a pretty face, he is also a goob in interviews and apparently doesn't bathe, so I'm out.
Your Welcome for the Man Candy.

I have been pretty MIA lately and I apologize. The girls have been keeping me busy and while I have taken quite a few photos, there aren't enough hours in the day to allow for me to edit and trying to come up with something that doesn't resemble garble for the blog.
My little Addison has been through some behavioral problems in the last couple of weeks at school. I'm not sure what is going on, but I think we finally got it cleared up. She has been picked on a lot, and I have to wonder if she finally started standing up for herself with resulted in going to time out 5 times in ONE day for hitting. It was a rough week for us.
BUT, she never ceases to amaze me with some of the things she says and does, and here is a post completely dedicated to my first born.
Her "tricks" as she calls them are becoming more and more bold and "dangerous" as she calls them, but it is stunning to watch her teach herself how to do hand stands, rolls, jumps, and her new attempt at a front walkover. The girl has never had any gymnastics training and I feel we could have a future Olympic Gold Medalist gymnast on our hands. She is so petite for her age, she weighs about 35 lbs, which is pretty thin, but she eats ALL THE TIME and never stops jumping. Her legs are ridiculously muscular.
Some of her new sayings include:
Yesterday, as we were driving, John said, "Oh look, there's so and so( I don't even remember who he saw)!"
She also loves Alice in Wonderland.. which, honestly, this child watches more movies that I never saw growing up. But, I guess it means, I get to enjoy them with her and nothing makes me more happy. She is really getting into wanting make-up and lip gloss is an absolute MUST for her. She loves snuggling with me in the mornings and getting to snuggle on the couch after Claire has gone to bed with Mommy and Daddy. She loves to watch Gossip Girl and Tori and Dean with me and LOST is a Tuesday night must-see for her.
She definitely has that red head temper but can be so sweet and loving it will bring tears to your eyes. She always thanks you for the smallest things and tells me how much she missed me when I was gone( even if it's just 10 minutes).
I just can't wait to watch her rock the world, but I REALLY don't want her to grow up!