Friday, we found ourselves in Huntsville for the state gymnastics meet. I was actually surprised we made it in one piece considering the umm.. eventful morning we had. Addy had a strong practice the night before and we have really been talking up staying focused at the meets. Her attention span is about as long as mine, so she has to stay on task.
She was excited for some domination.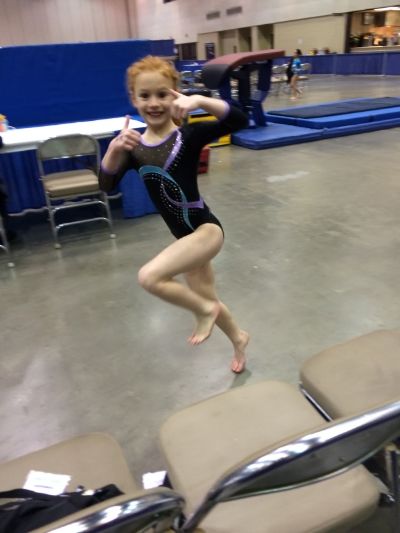 C does amazing at these things.. they last for hours and she isn't any trouble…
Addy lost her focus during the beam and floor routines which were her last events and her scores showed it. Her coach told us she was disappointed that she didn't medal in them. Hopefully it was a learning lesson. I'm still so proud. Her beam routine has come a LONG way from the beginning of the season and her vault was amazing scoring her 1st PLACE in her division.
Look at that smile!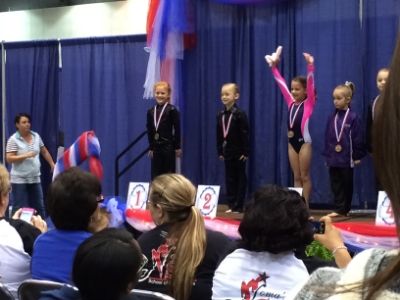 She ended up 8th overall…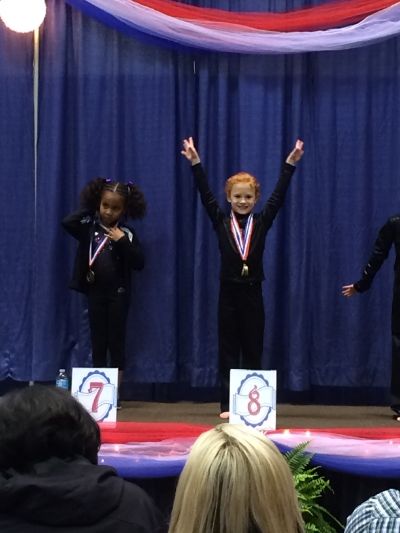 She really enjoys when I make those videos… so I will share it with you. 
I'm glad that competition season is over with… She's ready to learn some new tricks. She's been doing the same routines for a couple of years, so I think she is getting a little bored. She told me she wants to continue with gymnastics, and wants to get her back handspring down. Plus, I think she is starting tennis lessons this summer.. She's way too athletic.
How many sports did you do at one time growing up? I just concentrated on cheerleading and then when I got into high school, I picked up golf.

We've been super busy with our little Ginger Flipper these last few weeks. I thought I'd give you an update. We had the Vision Classic in Hoover on Sunday. We decided to give Rojo another try and it didn't disappoint this time!
J and C outside… such cuties!
My little A hasn't been feeling the love for gymnastics like in the past… I think it has something to do with little sis getting to go to Nana's house and play while she has to practice. So, Mom has been picking them up on a non-gymnastics day and we started some private lessons with one of her coaches. We have seen so much improvement with her attitude and performance! I've been having talks with her about stay focused at the meets and not goofing off. In my pep talk I talked about the little things that she can do to improve her score and she said, "Mama? Is 4th place good?" (that's what she got last week) and I told her that it was, but that in the Olympics they only gave medals for 1st, 2nd, and 3rd. I could tell that made her mind up! The apple doesn't fall far from the tree… she likes her medals!
Some last minute pep talk from her Coach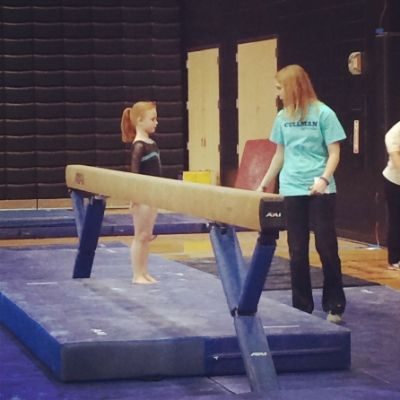 Warming up for the floor..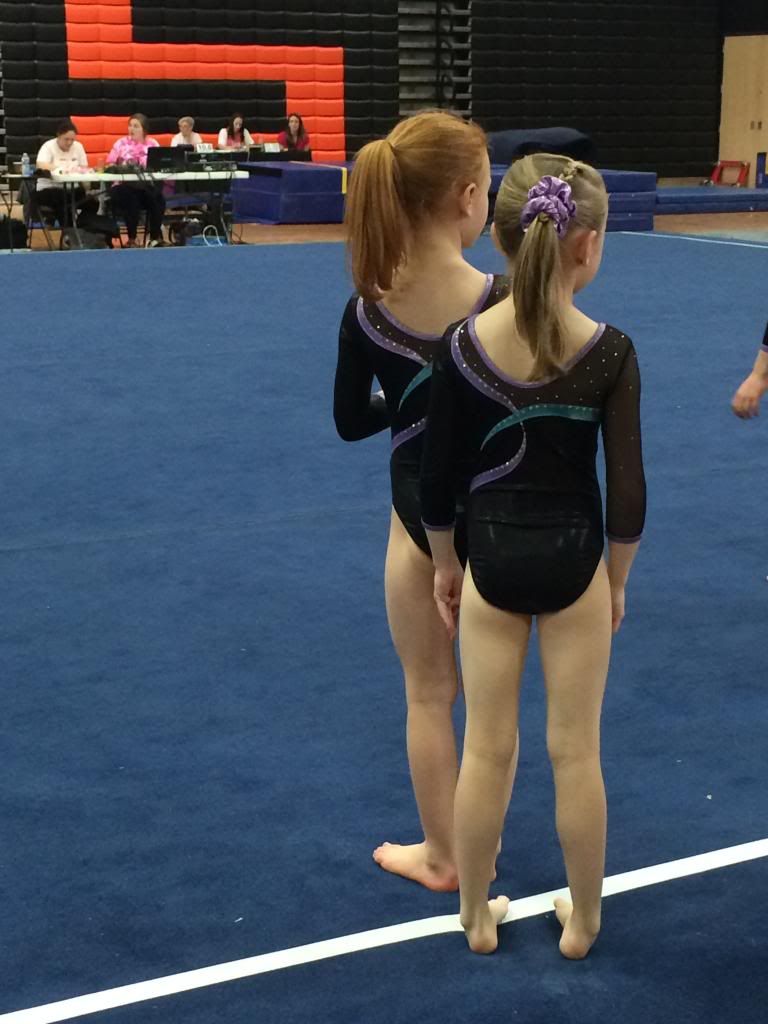 Cheesing for the awards!
A little selfie with C-bear

Proud little sister!! Juan Pablo gave her a rose! Oh no wait… that was what she got instead of medals since they didn't get delivered in enough time.

Seriously. How cute is this?!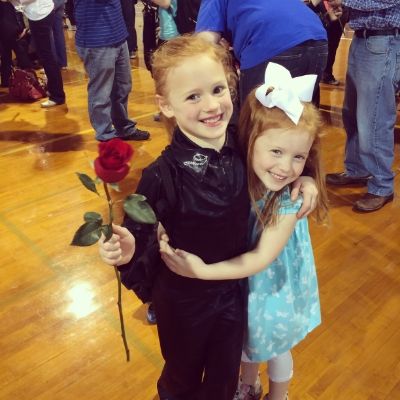 The girls with BoomPa and GiGi

I was so proud of Addy. She did amazing.. was super focused and has improved so much!! She got 2nd overall for her age group and her team won. I always take video and I finally decided to put one together of her meet. I probably should have been doing that the whole time.. Oops. #Momfail


Life has been and will continue to be ridiculously busy for me… I don't know how I let this happen, honestly. Between gymnastics, work, running.. the time just slips away from me and the next thing I know, I won't have a free weekend until the end of April.
Anywho, this past weekend, we drove to Tuscaloosa for A's meet that was Sunday morning. It was the Pink Meet weekend, so Denny Chimes was lit up in pink.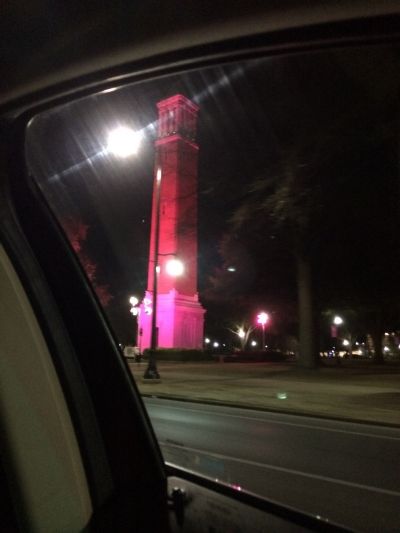 A found an interesting water bottle at Uncle Jay's house. We told her that maybe she shouldn't pack it for her meet.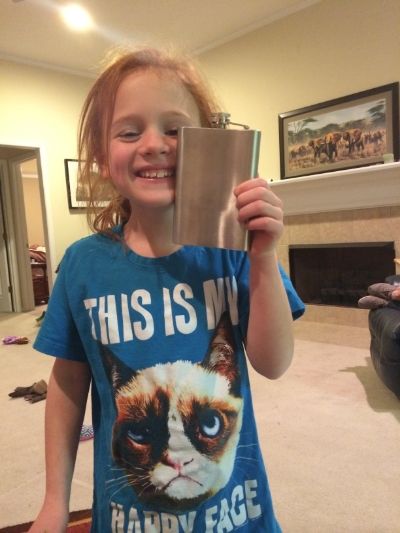 Speaking of Uncle Jay… his birthday was that Sunday and I know how he wanted to spend it was waking up for an 8am gymnastics meet. But at least The Reds drew him a picture!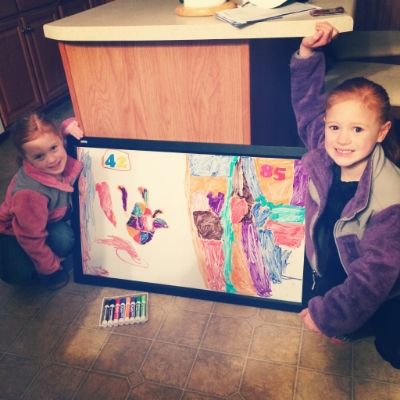 A got 5th overall, 5th on floor, 2nd on bars… I think. I can't keep up. With so many meets back to back it's hard to keep up. All I know is, we have a butt ton of medals all over the house.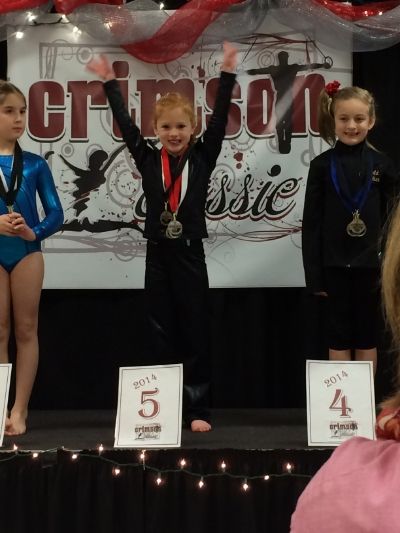 Their team got 3rd overall and I love this pic of her peeping over the top of the banner.

We love the Crimson Classic!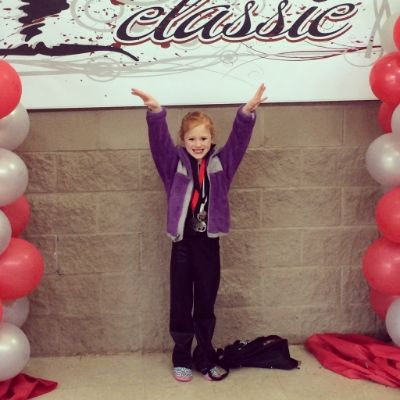 Afterwards, we ate at T'Town Cafe and it was delicious! And you can tell that C gets her looks from the M side of the family. She loves her Uncle Jay!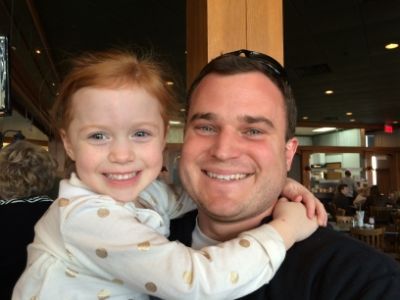 After lunch, we headed back home and I had to head out for my long run..Solo. It wasn't terrible but I would've liked some company. I ended up taking my phone and group texting with Becca and Molly the whole time. Even if I couldn't respond, it was nice to know they were there!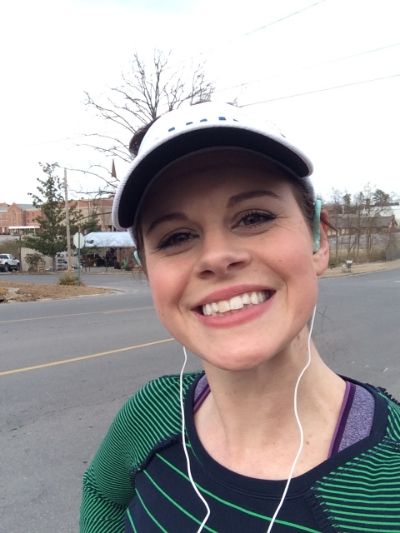 I had texted my sister and told her that I was heading out for a run and if I knocked on the door, to let me in to pee or give me some water. I was about a block from her house, but not planning on stopping, when I felt something cold and wet hit the back of my leg. I completely panicked, thinking, "This is why you don't wear skirts or shorts! Things touch you!" I turned around and saw my nephew's dog wanting to play. HOLY CRAP. That dog scared the crap out of me. So, I ran the dog home, only to not be let into my sisters house. No one would answer the door! After a several minutes, I just looked at the dog and said "Stay!" and went on my merry way.
I've got one more long run before Mercedes in a couple of weeks.. my thoughts on that will be coming up soon.
Happy Friday, y'all!

 Happy Friday, Folks! Hope your week has been fantastic.
I've got some random thoughts and tidbits to share.
1. Claire hates change. Summertime has brought us a new gymnastics class with new teachers. She's not a fan. I hoped that if I went out there with her, it would help her be more comfortable. WRONG. She was pissed. And refused to participate in the class. Awesome use of financial resources! 
2. My new Erin Condren planner came.. I love it. They always modify it a little bit every year and it's awesome. I really wanted the paisley one, but it had a black/grey background and I wanted white… turns out, after 3 years of ordering these things, I just found out that you can request color combinations. Of course, mine had shipped at that point. FAIL.
3. I bought this Benefit Primping for the Stars kit at Sephora this weekend. I love the lip stain, it's my very favorite, but thought it was ridiculous to buy one tube of stain for $32 when I could buy this kit for $30. I opened it up on Wednesday and saw I am missing a component out of said kit. So, I guess I need to call them.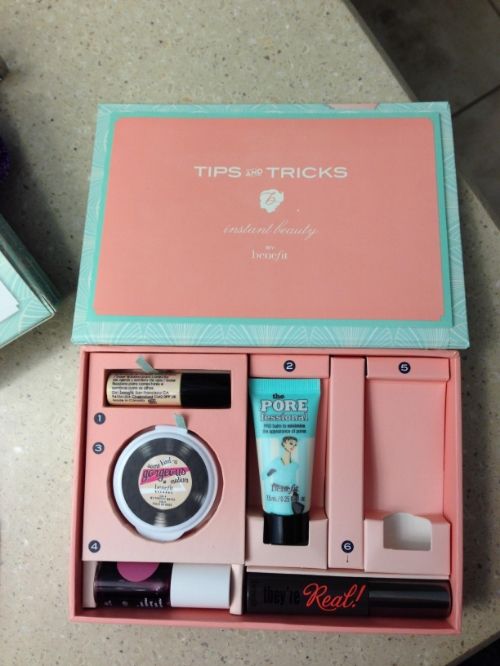 4. This mascara was in it… it's the best mascara! My lashes were crazy long. Now if only they could make some cellulite reducing cream or something.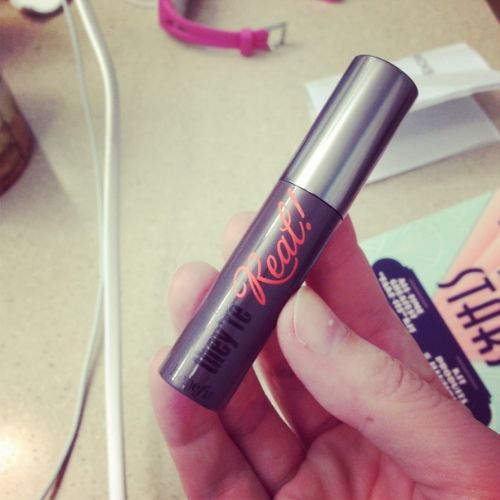 5. I didn't want to run outside last night. Against my better judgement, I ran in the 90 degree heat. In the 3 miles that I ran, I got honked at SIX TIMES. WTH is wrong with people that they think it's funny to honk at runners?! That's a 2:1 ratio of honks per mile ran. That's just unnecessary. I hope to one day be fast enough to catch one of those cars and yell at them. Or at least catch up to them at a stoplight so I can give them the evil eye.
Have a great weekend!

I took the reds with me when I ran Tuscaloosa, so they could hang with Jay and there was an Alabama Gymnastics meet on Friday night. They played UCLA, who was actually pretty good.
We met Jay at the coliseum(I never spell that word correctly.), and then grabbed some dinner at Newk's. Where Addy not only, ate her sandwich, but finished off my bowl of soup, and Claire ate an entire child's pizza and then ate Addy's chips. These McPhillips know no bounds to eating off my plate. She highly enjoyed the lobster bisque.
We had excellent seats for the meet (Thanks Uncle Jay!).
Addy was so stoked. And I think it's safe to say, this kid has figured out competition… a UCLA girl didn't stick her landing and Addy turned to me and said, "Yes!" and I questioned her, and she replied, "That means she gets point taken off! Her score won't be as high." Dang. I didn't know whether to scold her or hug her.
Claire wasn't looking forward to the fireworks that they do on the introductions…
But Uncle Jay talked her into digging it and then she was ready to see some more.
"Hold up, Mom. I'm watching gymnastics."
Addy wanted to meet some of the gymnasts post meet and while we were down on the floor waiting, she started pitching a fit, and I had had enough of it, so I pulled her into the hallway to explain that we were leaving because of her attitude, and she didn't get to see any gymnasts because of her choices and actions… and low and behold if Kim Jacobs and Ashley Priess don't walk down the hallway. This child has tears in her eyes 2 seconds before this picture was taken.
Oy. Drama. But they loved it and had a great time!! Bama beat UCLA by one point, which in gymnastics, is huge. So glad we are able to bring them down to fun things like this!

As y'all may know, my little Addy is a gymnast. Our competition season is in full swing and we have had zero home meets. We travel for our entire season.
We headed to Atlanta for Addy's meet last Thursday night (Yes. the night after Claires birthday and the same week as I got back from Miami. Oof.)
We started out with an awesome breakfast at the Hilton Inn by Gwinett Arena.
McKenna went and cheer Addy on.. where she informed me that I was McKenna's grandma. Seriously?
Addy and her team were ready to start stretching…
Addy competed against 13 girls in her Age Group.. normally it's just 2 or 3. There were also 97 girls who competed on her level.
During my down time, I spent 30 minutes brushing McKenna's hair. I wish I had a dollar for every McKenna doll I saw at the gymnastics meet. I could have bought a new McKenna doll!
At this point, I can't remember what she placed in. I know she got a 6th place, a 4th place and a 3rd place. She didn't place in Vault. And she got 4th overall in her age group.
Supe proud of my little ginger flipper… it was the best competition that we have seen her do. She stayed focused through the whole thing and was by far her best beam routine. She has improved so much since last season.
Did I mention that she got her medals handed to her by a 3 time World Champion and Gold Medal gymnast? Yep. Svetlana Boginskaya.. a Russian gymnast from the 1996 team.
I think she loves gymnastics even more this year, if that is possible. And I love watching her do something that she loves!

After my race, we had to book it to Huntsville for Addy's first gymnastics meet of the season…
I really dug the set up.. you could see all events going on.
Too bad I had to encounter these bad boys to make it to my seat. They almost had me in tears.
But, Addy completely dominated her events.
She places 1st on Bars, 2nd on Floor, 4th on beam and 2nd All Around for her Age Division.
She informed me that she got more medals than I did… modest, that one.
We went out to dinner afterwards to celebrate GiGi's birthday, and Claire fell asleep in the booth.
And I got the world's perfect fortune.
I mean, Duh, fortune cookie!
Have you ever gotten the perfect fortune? Or what was the worst fortune you've ever gotten?

Sweet little Addy turned 6 a couple of weeks ago. We celebrated with dinner at Carlton's. 
Yep.. about right for pictures. PS Chances are photographers have terrible pictures of their own kids. No patience left. 
What. A. Ham. 
Birthday gal! 
Getting her American Girl doll.. McKenna. 
Love at first hug. 
We celebrated her party the following Sunday at the gymnastics place.
Splits… Can't everyone do this?!
There may or may not be video of me doing this…
BFF's since age 2. 
I'm sure this isn't why Pa Bill's knee hurts…
Honey Badger don't care that her underwear is showing. 
Umm.. Hi Addy's arm muscles. 
Family pic.. Imagine. Claire wasn't feeling it. 
So, we all made pouty faces. Except for J. He is making a 13 year old girls duck face. 
 Happy Birthday to my sweet and sassy 6 year old!!

Gymnastics.. what can I say about it?
It's been two practices a week totally 4.5 hours every week.
It's been entertaining myself as well as a 3 year old during those practice times.
It's been early morning Saturday meets, in sometimes, far away places.
It's been hundreds upon hundreds of dollars spent.
It's been trying not to turn into a Toddler and Tiara mom when your child half ass does a competition that you have driven 2 hours one way to compete.
You know what else it's been? It's been a complete joy to watch my child do something that she loves and has a real natural talent for.
I know, she's 5. But Addison's athleticism has been present since she could walk.
We have watched her competition scores and attitude steadily decline over this Spring. It's been hard to watch.
We had numerous talks about making sure that we do our best.
But.  We resorted to bribery to get the kid to take her competition seriously. We told her if she got one blue ribbon, she could get her ears pierced. (She's been asking me to do it for a while.)
We talked about staying focused on our event, and remembering what we were supposed to be doing. Having straight legs and pointed toes. Showing those judges our "muscles".
What Philly does at gymnastics meets…
What Claire does…
Her bar routine has come a long way…
Cutest booty eva. 
She is totally in her element here. 
Her team… How cute are they?!
Maybe now is where I tell you it paid off. I have never seen her so focused. I am SO SO SO SO proud of her. She ROCKED her floor routine– it's her best one. 8.80 got her a blue ribbon!!
Chatting with Daddy about her first place in the floor routine.
Talking to Nana.. "You're taking me to Five Guys, right? And then Yogurt Mountain?"
Now that competition season is over, they have already started working on more tricks.. She came home tonight and can do a handstand roll.. Yep. Craziness.
If they had a rotation for spunk and personality… she'd get a perfect 10 every time.

This post is a total brag fest on my 4 year old.
My little A-A has been invited to join a competition gymnastics squad. Yep. She is the youngest on the team, by the looks of it. Kristy talked to me last week about it a little, and then when we went in on Tuesday, she was all, "here is your packet. Why doesn't she start tomorrow?" So, we head to the secret gym that I didn't know existed and are now part of the cool kids club.
If you follow me on twitter, then you know my Mama Bear has come out more than once about Addy and her gym mates, from bullies to teachers not paying attention to her not getting the coaching I felt she needed. Well, look no more. Because this is basically one on one coaching. This squad won State this year. You know what that means? I better start preparing my "mother of the Olympic athlete" speech.
Her 45 minutes of gymnastics a week just turned into 3.5 HOURS of gym time.
This is whole different level, people. These girls are GOOD. It took Addy a little bit to warm up, but within 15 minutes of this class, she had already mastered her back bend. She is totally coachable and I think is super impressed with the bigger girls. It doesn't hurt that one of her instructors was an Alabama gymnast, either.
She gets to travel with this squad starting in December. And she was kinda ticked she didn't get a trophy after Wednesdays practice. But, maybe she will get over it.
I said she would be the next Dominique Dawes.
Someone else said what about the next Keri Strug? I said. No. Duh. She hurt her ankle!
Maybe we can compromise on the next Shawn Johnson. After she competes in the Olympics, she can go on to win the coveted Mirror Ball trophy on DWTS.
Come on. You know you'd watch.
Here are some videos from Wednesday's practice. Maybe we should re-think the Olympics?
Either way, I am super proud of her for this opportunity. She loves gymnastics so much and it's a thrill to see her face accomplish something.
She told me she is ready to learn to switch bars. Umm.. alright. Let's get on that!
Untitled from Rachel McPhillips on Vimeo.
Untitled from Rachel McPhillips on Vimeo.