Before telling you about my trip to DC, I think I will post my race recap!
FIrst off, the Expo, was sort of lame. You really couldn't buy anything and it was just nuts. But, the packet pick up was separate and was a breeze, so kudos for that one. With all of the walking up and down hills, my calves were tight and I knew I wouldn't be running on fresh legs.
I laid out all of my gear the night before….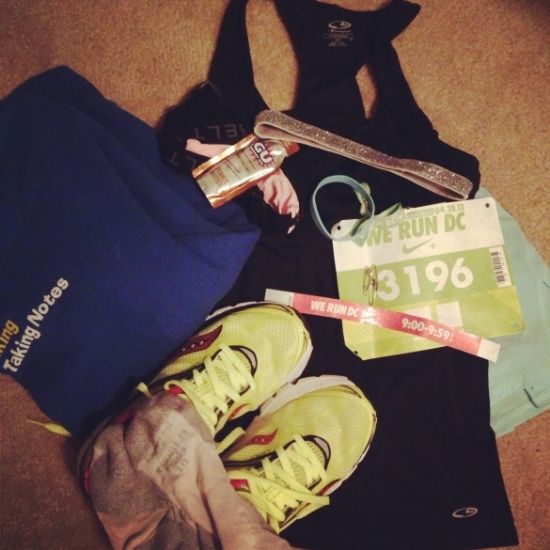 The gorgeous sunrise heading into the city…
Molly's husband drove us into the city, instead of taking the metro. He dropped us off about 3 blocks from the start line. It was awesome. I hope it was awesome for him too.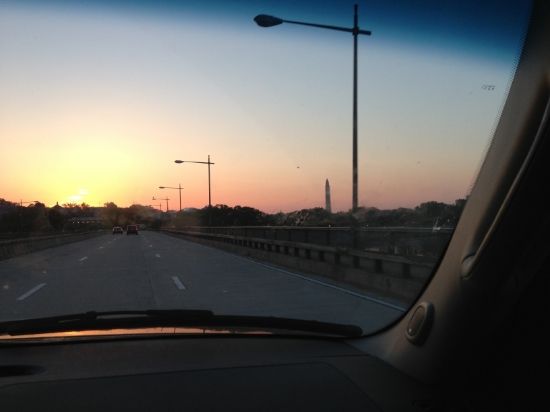 We entered into the 9:00-9:59 coral.. which, honestly, was completely pointless seeing as how they didn't do a coral start.
We all just started out at once.. and we were behind the 2:10 pacer. I was NOT HAPPY about weaving around so many women in tight spaces. There were 15,000 runners, and a lot of them first timers, (I hate to stereotype..BUT) they probably didn't know there are rules to racing. We spent the first two miles LITERALLY weaving in and out of people. I was so frustrated that I couldn't get pasted the 2:10 pacer. It cleared a little after mile 2 when we were crossing the bridge to Arlington Cemetery.
We finally caught sight of the 2:00 pacer on the loop by the Kennedy Center.. I knew then it was going to be tough to catch up. Around mile 6, my IT band started making its presence known and I got a side stitch.. I knew I was pushing it too hard. I decided right then and there that I wouldn't injure myself over a sub 2:00 half. I would run what I could and give it everything I had and I would be happy. At this point, Molly was pushing me and I felt bad that I had nothing to give her except facial grimaces. It didn't help that around this point, it was completely boring as we were running around the golf course. I tried to find funny signs to help me out. I never realized how hard it was to try to catch a pacer… the mental stress that just adds to the run. That part was misery.
As hard as I was running, this was a very cleansing run for me. I let go of everything else going on in my life, and completely concentrated on the race and the steps in front of me. It was just very… freeing. I had nothing to do but run like it was my job. We saw Molly's fam around mile 10 and it was a nice change of pace. B got some pictures of us and I realized how bad I hunch my shoulders when I run.. no wonder my shoulder blades go numb!
Anyway, it wasn't long after that, Molly lost me as I couldn't continue to beast up the hill. I knew then that I wouldn't break 2 hours, but I might could possibly PR. Heading back into the tunnel was awful and not near as exciting as it was at the beginning of the race. As we rounded the loop and I could see runners running towards the finish line, I got really pissed off because I HATE when courses do that. We made the worlds longest loop and heading back, I could see the finish line. So, I attempted to push it and completely ran out of gas because I misjudged how far the actual finish line was. At mile 12.5 I was really pissed off. But I got my phone out because I knew I would want pictures at the finish line, and saw all of the Tweets, FB messages and texts that lined my screen. I couldn't believe it.
I crossed the finish line with my hands held high and a smile on my face and guess what? There won't be any pictures because Nike didn't have photographers!! WTF NIKE?!?!
Anyway, as I stood in line to get my Tiffany, I told the girl behind me (yes, I told her.) "Hey, I'll take your picture with him if you'll take mine." She looked at me like a crazy person, but also a genius.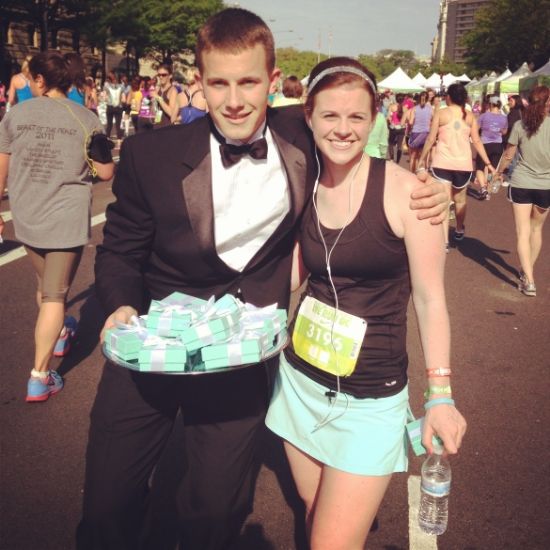 I found Molly and we had our "WE DID IT!!!" picture.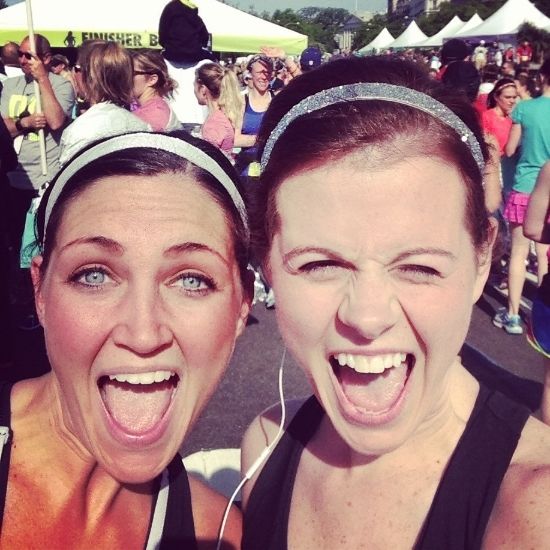 Posing with our blue boxes..

Washington Monument? Yes, please!!!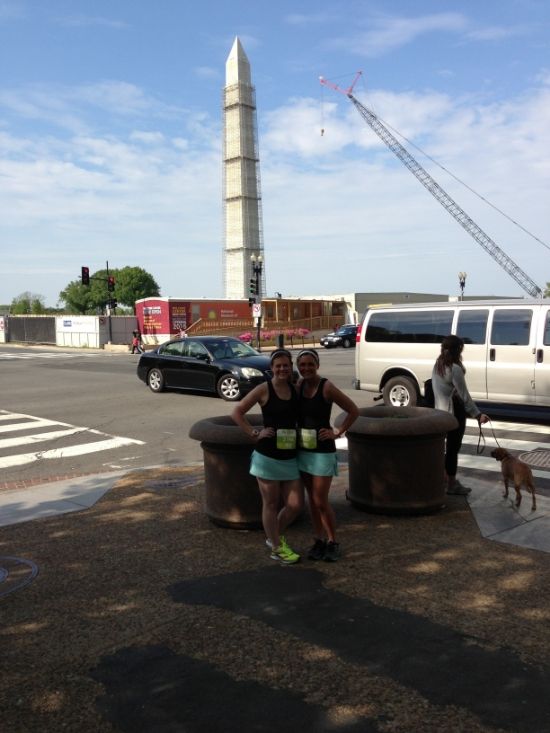 What?! It's the White House, y'all!!

So, it wasn't a sub 2. It wasn't even a PR. But you know what it was? It was my 10th half marathon. And that is nothing to shake a stick at. I ran my 10th half in a time that I never thought possible. That's 131 miles in half marathons alone. Not to mention training cycles and 5K's and 10K's. I celebrated on Sunday. Everything that I have been able to do because of running. It has changed me in so many ways. I cannot thank you enough for the support and encouragement that you have given me on the Internet. From those who wished me good luck, to those who actually tracked my race online, I cannot thank you enough. It's amazing to have that kind of support.
Now for the bling…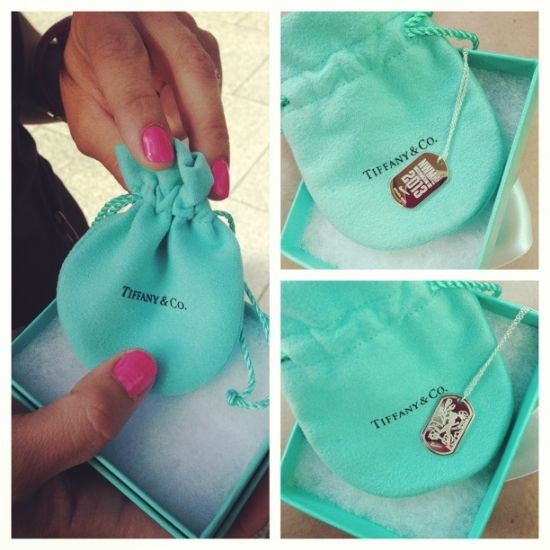 Awesome, right?
Now, would I run this race again? This race was amazing. The course was beautiful. I did not care for the lack of coral starts. Or the fact that the 2 hour pacer can't hold up her sign very well. The runner tracking was a complete joke. I want something that posts to Twitter, not Facebook!! The fact that there weren't any finish line photos royally ticks me off. I also don't like the lack of information out there from Nike. But, I feel like I got my money's worth and everything was well organized. I heard there weren't a lot of port-o-potty's, but that didn't affect me, so I am not sure.
I can tell you one thing… I've been wearing Tiffany since Sunday!