Happy Tuesday, Folks!
This weekend was kind of blah- I honestly was really down on myself about my lack of weigh loss lately. I just can't seem to break 131.5 and it's pretty freaking maddening to me. So, I ended up eating my feelings and whatever else deemed necessary to shove in my belly- yogurt mountain, Mugshots burgers and fries, a diet coke… I ate it all. It was glorious. Well worth it.
I got back into the swing of things on Monday. I have started back with interval training for my running and doing Jillian… I am starting level 2 tomorrow. It's actually much easier this go 'round than last years go round. I can really tell a difference in my endurance of it, even if my lack up upper body strength is quite sad.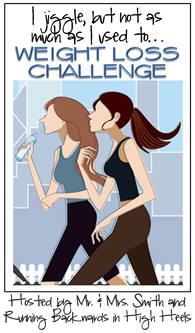 This leads me to the weight loss challenge between
Mr and Mrs Smith
and myself to lose our last 6 pounds. We are challenging YOU to lose as much as you can in the next 8 weeks. We will be linking up on Thursdays, so just grab the button code for your blog, write up about your goals, how you plan on losing the weight, etc. We want to be able to cheer you on, so if you will just link up your blog here and make sure we have your e-mails and blog info so we can follow along and give encouragement!
The last link up will be June 2nd and the person who has lost the largest % of body weight (You don't have to post your weight if you don't want to) will win a prize from
Lindsey
and myself!
Still have questions? Just e-mail me at rayray.mcphillips@gmail.com
********************
I ended up taking my Karhu's back to the Trak Shak this weekend- the long of the short is, they told me to super glue the piece together, I thought I should not have to super glue a pair of shoes that are less than 3 weeks old- and now I own a new pair.
They said that the band coming apart from me "shoving" my foot into my shoe without untying them loose enough. (Could've been helpful if you told me that happens when I bought the shoes.)
Anywho- at least I got to eat Mugshots for supper and get some Yogurt Mountain. Which is wear I saw Prom goers– in loud patterned dresses-with sparkly Toms shoes on.
Now, let me say, I haven't been a huge fan of the Toms. I am sure they are crazy comfy. I feel like they are like Birkenstocks or Wallabees- which I owned both of.. and numerous pairs of Birkenstocks, I might add.
But you could put glitter on poo and I would display it in my house. So, now I want a pair of pink glittery Toms shoes.
And I am literally stalking our children's shoe store in town for my girls to have a pair- they have been waiting on UPS to bring them for two days- don't think I haven't been in there twice in two days, 'cause I totally have.
FYI- My friend is preggers and they don't know what they are having yet, but they already have their boy name picked out and they need a girl one- they are having a hard time time coming up with one- Do y'all have any suggestions??