As you all know, I had high hopes for this race. I wanted to PR my comeback race… Well. Things didn't go as planned. It was set to be SUPER cold.. in the 30′s and not warm up much. Good thing they let us hang inside and I got to meet a fellow blogging Bammer… BamaGirlRuns. I recognized her in her signature pigtails and houndstooth visor.
This was Robbie's first half.. and he was a tad nervous.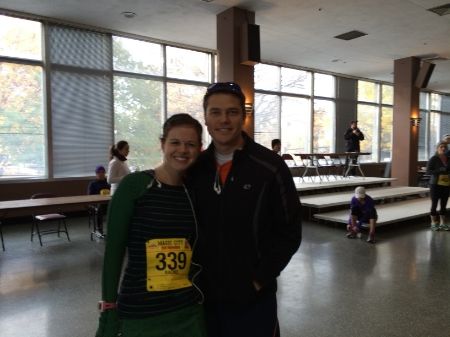 Originally, I was set to wear a skirt and long sleeve top, but something told me because of the cold, that maybe I should pack a pair of pants. I was glad I did, because 10 minutes before the start, I was changing in my car… and then I got child locked in. Lovely.
Meredith found us before the start!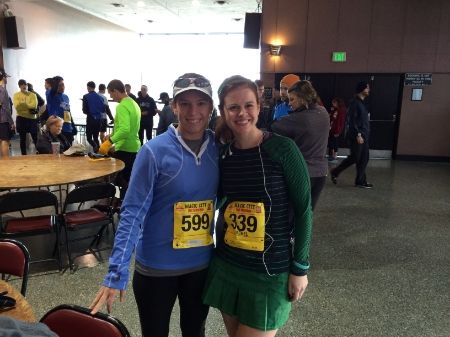 The race started late.. I have honestly never been in a race that the runners started chanting "start!" but now I have. It was so cold that my legs were involuntarily convulsing standing there. My plan was to start with the 2 hour pacers and then pull away after the half way point… did. not. happen.
I started with them and was running with a friend and we were just chatting.. and somewhere after the 10K split, I lost her through a water station. (I PR'd the 10K split.. 56 and change. A full minute and a half!) This was also where my hips started tightening up.. some slight discomfort and I tried to rally. Eventually, I realized breaking 2 was out of the question, and was fine with it. You reach a point where you become okay with all that you are giving in a race.
Here's a lovely photo… if it had a thought bubble, it would say.. "Hey! I'm in immense pain!! But there's a photographer, so smile, damn it!"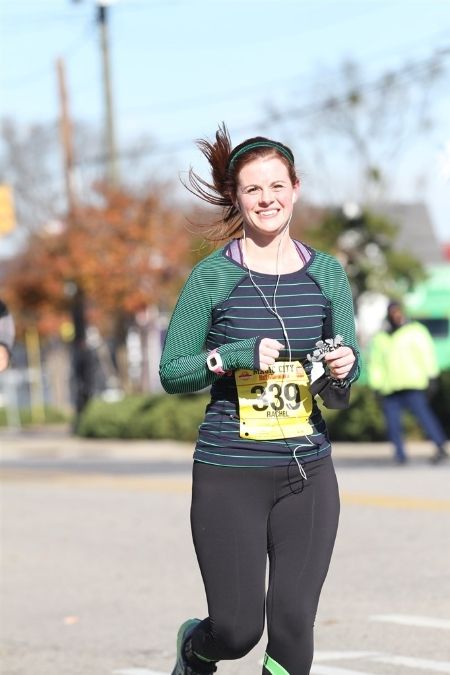 Around mile 10, I tried to rally again, but I always forget how tough this course is. It feels like a lot of uphill with no downhill. And once I hit 11, I was ready to be done. My hips were so tight, that with every step I took, I thought my hip flexors were going to snap like rubber bands. This is about the time that Sunny came up behind me. I have never been so happy to see a friend! Sometimes, it just helps to be able to vocalize your suffering to someone else. I also told her I wanted to quit. I have never had that cross my mind in a race. I have no doubt that I would have, if I hadn't been within half a mile of the finish line. But I would have had to walk back to the finish anyway… Might as well get a medal for it.
I was very happy to see familiar faces at the finish and have an ecstatic Claire run across the finish line with me. 
Look at her face! I die. She's so happy and I wouldn't have traded all the PR's in the world for having this with her. She kept saying "Look Mommy! We are running to the finish line! Do you see those pretty medals?"
After the race I could barely walk… I was almost in tears. I came across one of my coaches and he forced me to stretch my hips and ohmygod it hurt so bad.
We ended up eating lunch at Rojo, where we didn't have the best experience, but we aren't going to discuss that.
I am so proud of Robbie!! He killed his first half marathon!
After some long e-mails with my coach, I've decided that I am proud of what I accomplished out there. The headwinds and weather were certainly a factor. It was also a comeback race… one where I wasn't far off from my PR. I finished is 2:05. That's a 20 minute course PR for me. So, that's definitely nothing to shake a stick at!

I suppose I should discuss the fact that I have a half marathon coming up in a few days…Blah. That's exactly how I feel about it at this moment. Which isn't a good racing mindset, let me tell ya. Life is just busy right now, and with it being so cold, it's really hard to stay motivated to get out of a warm and cozy bed at ungodly hours to run. I actually skipped the majority of my runs last week. Oops.
My goal is to break 2 hours… and I'd really love to be around 1:56, honestly. (Am I allowed to say that on the Internets?) But, to be honest, I'm still skeptical about the training and it freaks me out. Probably because my coach says I should be able to, but I just don't see HOW. Which sends my tendency towards being a control freak completely into a downward spiral. Just top that off with some race week neuroses and life craziness and we have ourselves a fine concoction of someone no one wants to be around (Holy run on sentence, y'all).
Another thing is… I need a running playlist. I've spent the majority of this training cycle running naked (No iPod, perverts) and just chatting people's ears off.. or listening to people chat mine off. Either way, I don't think strangers will appreciate me rambling on. The point of that was… send me your best running songs, ASAP.
I realized this week that my ankle brace that I run in is tearing up too.. I really don't want to have to replace that thing, but I feel like I am going to have to. Not. A. Fan. I hoped a little online shopping would help snap me out of my running funk, but nope. Not so far, anyway.
In an effort to not be such a Debbie Downer… I am including a picture from Halloween. Y'all would judge me on the amount of pictures that I take of myself and send to my friends, so lets just not go there. But I am wearing the Mouse Ears I bought at the expo for my first half marathon at Disney.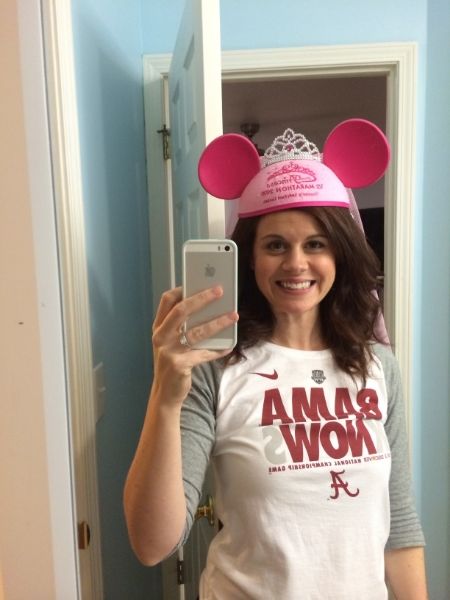 So. I need your favorite running songs and something to snap me out of this funk.

Last week I ran the Magic City Half Marathon in Birmingham. (I know, I know. Last week turned a tad crazy on me.)
I set my sights on a sub 2:30 half, with my goal being as close to 2:15 as possible. 

It was a pretty chilly morning, but was promising for excellent racing weather.
John and Addy came down with me… Claire was with GiGi and they spectated at Railroad Park.
We always have a pretty strong Cullman crew representing at races.
It ended up being delayed about 30 minutes for the Powerade truck not being there yet. But once the start gun went off, I was in good spirits. Donnie was supposed to help pace me, but had been sick like me so we weren't sure how long we would stay together. He ended up waving me on around mile 5. I was glad that I turned on the virtual pacer on my watch– I really think that helped me stay on track. The miles really flew by and I was just enjoying the race, the people, and the city. They had the 5K people merge with us around mile 6, but by the time I hit them, it was mostly walkers and I wasn't a fan of that at all. My hip started protesting me around mile 9, but I was still in good spirits mentally. As I made the turn into one of the loops, I saw Shannon not far behind the 2:00 pacer and I didn't think she was going to be able to pull out her sub 2 hour goal. Honestly? This is the worst loop in a race. I really hate when races loop. You never know how far ahead those people are who are turning out. As I turned out, I could the 2:20 pacer close behind me, and just thought, "Stay in front of her. Stay in front of her." But it took a lot out of me to cross the overpass over the railroad tracks. The 2:20 pacer ended up passing me around 12.5 and I just didn't have it in me anymore. My foot had started to go numb and my hip was screaming at me.
I saw my family at the finish line, and I high fived the girls, but they ended up running out with me. I finished in 2:20:30. A 12 minute PR. Not too shabby. I certainly shouldn't complain about it. But let's be honest, while I am proud that I was able to shave that much time off my half marathon time, and only trained for about a month, I am a little peeved I couldn't pull a sub 2:20 out of it. But I know I left it all out there on the course and had nothing else to give.
My dad took some pictures… I am not looking like I am having a good time.
After the race… I look like I am about to die.
Quite possibly the best race picture ever… and totally worth every penny  I paid for it.
I've already signed up for the Mercedes Half Marathon in February… and a sub 2:15 is totally going to happen.
I'd like to thank the fabulous
Dorothy at Mile Posts
for my rad race shirt. I freaking love it!!! It helped me channel her awesomeness for sure!!