Saturday night was my normal pre race shuffle of laying out my outfit (had to decide what to wear first!), gathering all of my stuff to take, making my race playlist, etc.
When I got off the interstate, so much adrenaline coursed through me that I thought I was going to vomit. And they had roads closed that they don't normally have closed, and so parking was super fun.
Meredith was going to ride down with me, but she woke up late and didn't want to make me late for meeting my fellow Resolute Runners… We look cold. 
I found my C-town buddies staying warm inside Boutwell Auditorium.
We walked to the start line about 10 minutes before the race started and I lined up with the 4 hour marathon pacer. My plan was to stay with her, but keep an eye on my watch and stay as close to 9:05 as I could.

The gun went off and I had a brain fart and started my watch early… so much for it being time reliable at that point. After about 3-4 miles, I realized what a bad decision I made with wearing long sleeves.. should have done a tank for sure. I was feeling good though, staying with the pacer. She was a little fast, clocking those miles in the 8:50′s and between miles 5-6 and I decided to do what my coach told me, and back off. I still had a long way to go. I hit the 10K split in 54 minutes, which is a PR for that. I made through 5 points, no problem, but when I hit the Highlands, my brace came untied and I had to stop and tie it, and I basically lost all momentum at that point. I couldn't rally. Miles 7 and 8 were my slowest. I switched my watch view to pace instead of time/distance so I could keep an eye on my pace. I tried to make up lost time on a hill (so smart! Not.) and told myself "do not let your pace get above a 9:30″ and I just watched it creep up and there wasn't anything I could do about it. I knew at that point, that the sub 2 was gone from my grasp.
I tried to hold on to the fact that I could still PR and I've never cursed anything more than I did running at mile 12. That last mile will get you. I crossed the finish line to cheers from some RR teammates and that made me smile. I PR'd with a 2:02:30.
I can't say enough of the online support that I receive via Instagram and Twitter. You people rock!!!
I was so proud of Katelyn, who ran her first half yesterday and killed it.
Jo Ann, Katelyn, and myself post race… Jo Ann is a rock star runner.

It's safe to say that post race, Katelyn and I had fun. This is basically all that we did. I told her we were lucky that her mom doesn't know how to Vine or else there would be so interesting videos out there of our dancing.

I'm trying to be okay with not breaking my 2 hour time goal. I keep playing a lot of "what if" scenarios in my head, which makes it hard. I'm going to run Tuscaloosa in 3 weeks, so we are hoping it happens there. By the time I got home yesterday, Coach Ann had already sent me my training, so we've got some work over the next 3 weeks to prepare. I refuse to turn 30 without hitting sub 2.
I felt like I had been hit with a baseball bat after I got home yesterday. I took two naps. You know that achy-can't-get-comfortable-feeling like you get with the flu? That's how I felt. My lower back is sore from my phone in my spi-belt– I should stop running with my phone, honestly. My feet are ridiculously tender and I have blood blisters… thank the lord it isn't flip flop weather! I also chaffed pretty bad in a area that no woman wants to be chaffed. I guess I will be spending some quality time with my foam roller this week since my hamstrings are like rocks.
I'm going to be honest. When I got home, and after I had taken my first nap and showered (in that order. Hubs called me gross.), I uploaded my splits and started looking and analyzing (what? C'mon. You know you do it too.) and I just started crying. I was so disappointed that I let it slip through my fingers.
Ever had a race like that? That just took a complete nose dive halfway through?? How did you recover?

This past weekend, my Twitter turned in real life friend, Jen came into town on her way to rocking New Orleans and I just had to drive down and have dinner with her and several of the Resolute Runners. It was great to meet some new people and see some "old" faces.
Jennifer is one of the first local runners I ever met on social media and she has introduced me into a whole new world of crazy with Resolute Running.. but it feels good to know they are other runner crazies out there and most even more hard core than me.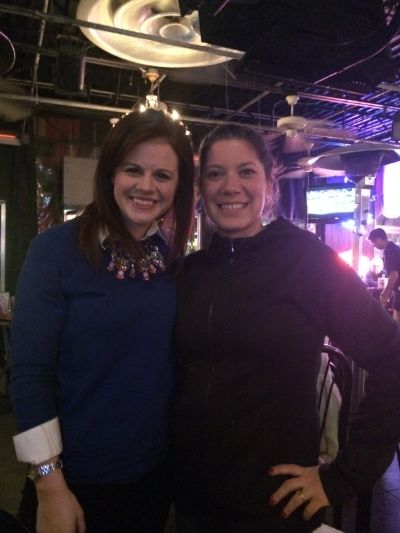 The man, the myth, the legend… Coach Alex.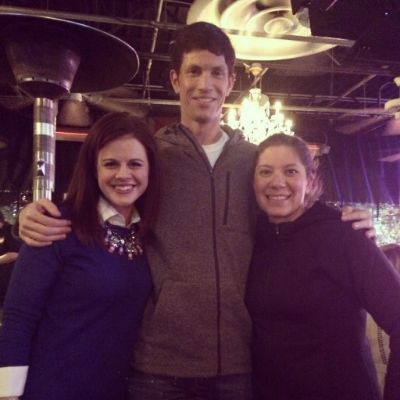 After loading myself up on pizza, I met my Saturday morning crew at a ridiculous time of 5 am to get in 12 miles. With it being my last double digit run before Mercedes, I really wanted things to go well. Let's just say… it didn't. I felt tired, lethargic, mentally not into it. We looped back to pick up some more runners around mile 7, and were waiting on them to stretch and I think we cooled off and I just could not rally. The next two miles were miserable and I just headed back to the car. I couldn't force myself to run another 3 miles. So I finished out with 9. I think I hadn't had enough water and I think my Chick-fil-a addiction is catching up with me.. So, I'm vowing to give up Chick-fil-a for the rest of the month and also make sure I'm drinking enough water. This is going to be hard, y'all. Hopefully, I will see a difference in how I feel.
I will honest, y'all. I am tired of running in this cold. When 32 degrees is "warmed up", you know it's a problem. I'm tired of fleece lined tights, and Michelin man layers, and gloves, and ear warmers. I hate using up all the hot water trying to thaw out after long runs too. There. I said it. I'm not cut out for the cold. Give me heat, humidity and mosquitoes any day. Someone needs to remind me that I said that come August.
The start of February brings the start of my 5th month with the RR team. Mercedes will be the first race on a full training cycle with my coach. I feel stronger coming back and am really hoping for a sub 2 at Mercedes. I'm still running in the brace, but starting to come out of it. There is still the normal soreness in the ankle, but it's always there and probably won't go away for a while.
I'm trying not to get nervous and psyche myself out for this race, but I want to break 2, so bad. I've been so close in the past, so I know it's there. I've put in some serious training in brutal conditions. Between wind, rain, wind, cold, wind, more cold… I'm just hoping for decent weather with no wind, please! I want to sign up for Tuscaloosa as a safety net race, but I'm not sure of my March work schedule yet, and if I thought January was busy… March ain't got nuttin' on it. It's insane.
I'm ready to race in this shirt!
I hope you guys will stick around for the upcoming racing nerves… they are sure to be good ones! I'm hoping to knock out some projects with all that nervous energy!
I need to start thinking about my playlist… I hardly run with music anymore, so tell me what you're listening to!