I could just eat this child up.
My little Addy is not a normal fashionista. She is built to be able to wear anything, but isn't interested in it at all.
No one else could pull this outfit off, I feel certain.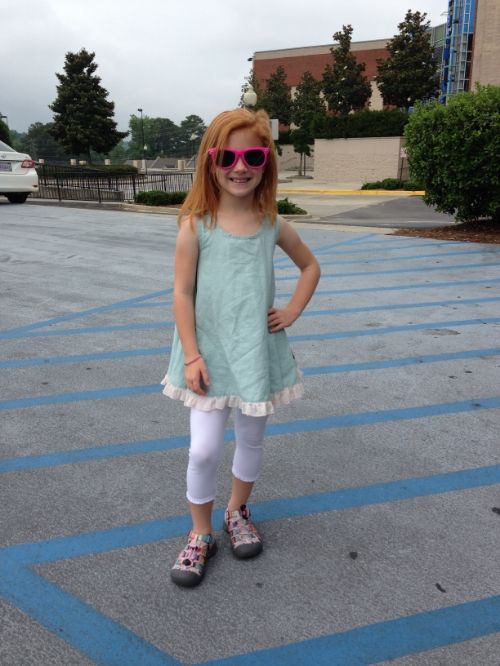 Tunic- Matilda Jane | Leggings- H&M | Shoes- Keen 

I'm linking up with Kelly again this week! I just love her. I had a semi love affair with Matilda Jane this Spring and bought the girls several outfits… much to my wallets protest.
This skirt SCREAMED Claire…
See how cute I am, Mama?

Give me a pose, baby. (She's got that down, right?!)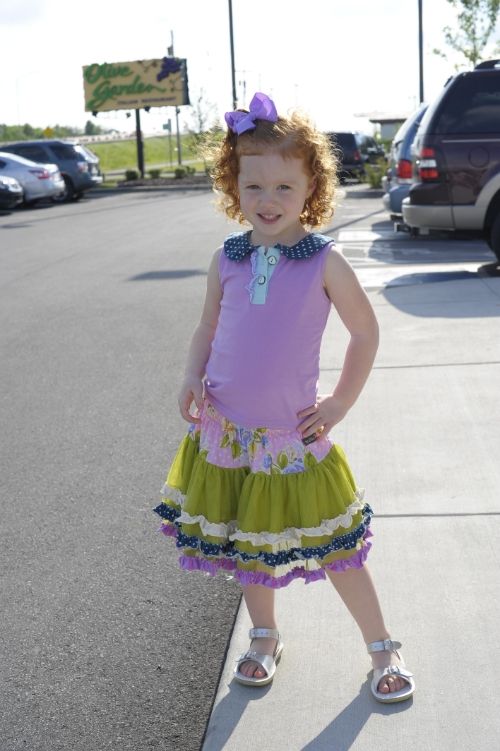 Of course, the skirt caught my eye for it's "twirl factor". That's very important to 4 year olds nowadays.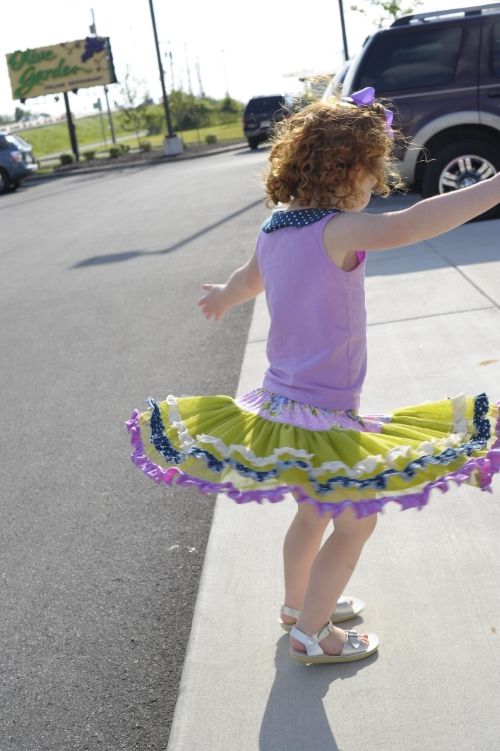 Sass. All Sass. Just know, this is the child that asked me the smell her armpit Sunday night.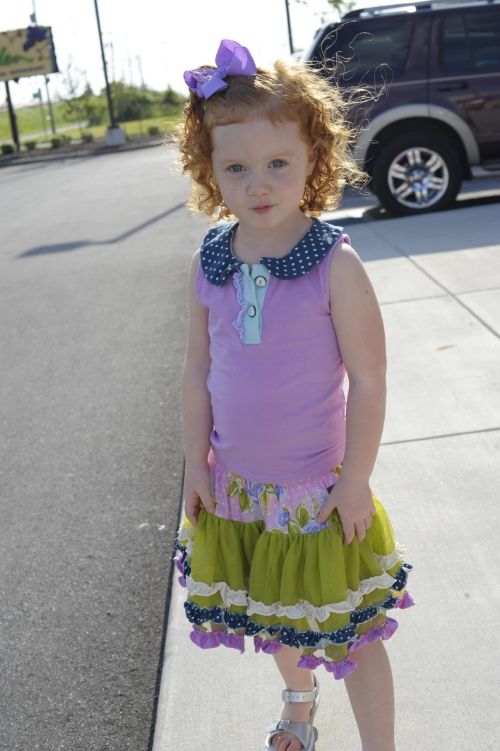 Lots and lots of twirls.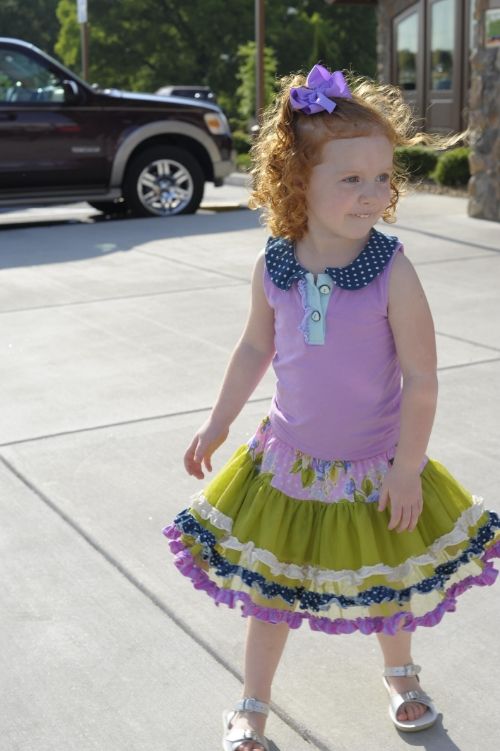 I am generally not so good with the Matilda Jane stuff.. it's all meant to go with each other, and I seemed to pick the things that clashed the most and tried to make them go together. I have never felt so fashion stupid in my life. But, I just love their stuff!!
(Disclaimer: all of these photos are straight out of the camera.. no editing. I was tired. Sue me.)

I decided to link up with Mrs. In Training today for Trendy Tot Tuesday.. simply because, I love this outfit for Claire and she is taking her first field trip today. I also love that my 4 year old chose the pieces for this outfit herself… She's such a mini fashionista.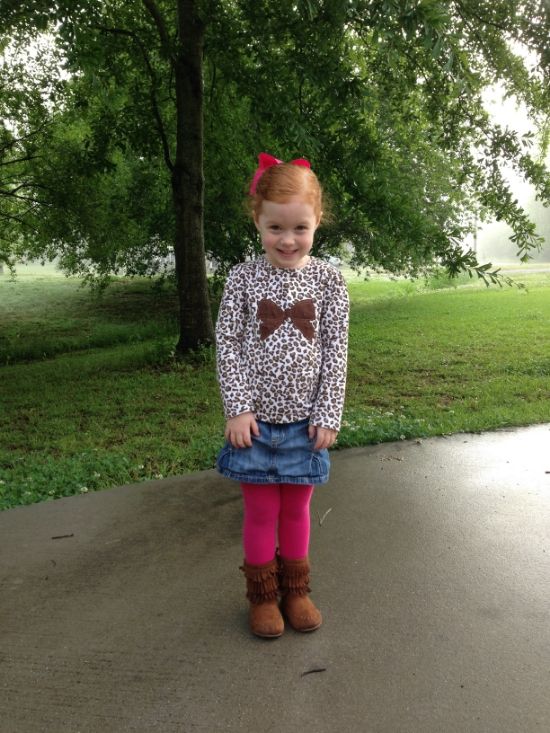 Give me a pose, Claire bear!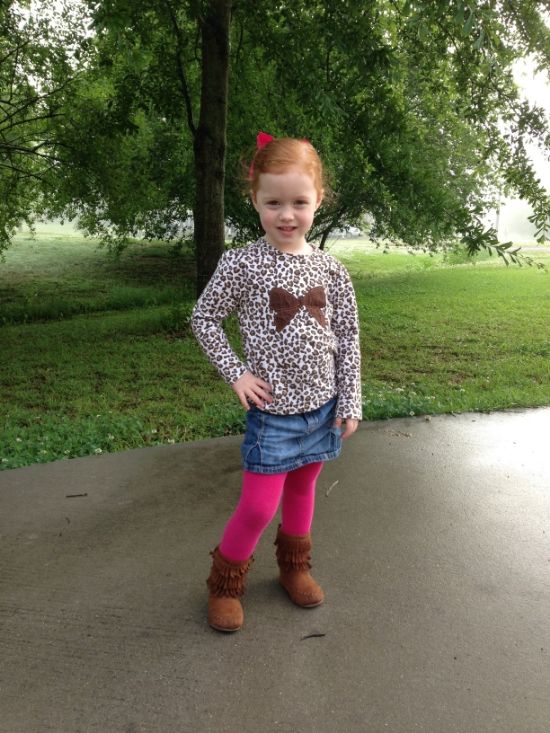 Of course Big Sis has to attempt to ruin everything for little sis…it must be so exhausting being a Big Sister.
"Claire, I've been on like, 4 field trips and I am going on one Friday AND another one next week… to Fairy Tale Land!!" What a little turd. 
Outfit Deets:
Denim skirt– Old Navy. (similar.)  | Shirt is from Belk | Boots– Old Navy | Tights and hair bow– If The Shoe Fits

Alabama's first game was this past weekend against Michigan. The game was played in Dallas.. we opted to sell our tickets and not pay $400 in airfare.
But just because we didn't cheer on the Tide from Jerry World, doesn't mean I didn't get gussied up for the game.
Couldn't decide.. tucked in or out? I was worried the high waist was too high.. is that a real problem?
Outfit Deets:
Sparkle tank- Kmart $10 (I KNOW!!)
Shorts– What a Girl Wants-local boutique- scored them on sale for $18!
Shoes- KMart $20-ish. They have been an awesome go to wedge for the summer.
Such a comfy outfit– it was perfect for eating boiled shrimp, laughing with friends, curling up in a chair and watching some football!
Addy even got her stylin' on.
Roll Tide, Y'all!

 Monday night's Halloween festivities were tons of fun. Probably one of the best Halloween's I've had in a long time. We went to my sisters and trick or treated around her neighborhood and then headed over to Becca's moms house. Addy was in full diva form. Telling my sister who called her Tinkerbell- "Who do I LOOK like?? (Pointing to her dress) I am not Tinkerbell!! (turning her back to Sarah) SEE!! No wings!!" Oh dear lord.
Sunday night, the girls went to Mom's church and were Hello Kitty and Ariel. Apparently they couldn't be seen in the same costume twice… who do they think they are?!? Lady Gaga?
Promise me that I made the right choice switching the WordPress?? I have no idea what I am doing over here.. I thought it would be so easy. I think I just need to get over the initial weirdness. P.S. Do you like the picture size? Or not? Do they need to be bigger?

The girls started back to school on Monday, but not without a little shopping trip with Nana for some back to school clothes. Pretty sure we bought out Gymboree…
The upcoming pictures are from my point and shoot, which I don't really know how to use.. so- apologies for the terrible pictures. But the faces are priceless, so it was worth it.
I like to think we have started an annual tradition of "back to school fashion show" for Daddy.
I promise she's not in pain..
She wanted to use the ottoman for her stage, but I had to ax that idea
The pink boots!! The only thing the child asked for!
Trixie apparently loves a good fashion show too. She kept sniffing the outfits.
I guess the sniff means it meets her approval.
Of course on Monday, I started what I like to think will be an annual tradition until they get into high school and can refuse to do it.
1st Day of School pictures!
Maybe you want to know how I had the time? Well, I fixed lunches and ironed and set out clothes Sunday night. As well as nap mats and bags by the back door and I got up and readied myself before the girls woke up.
Such cuties! Addy of course has always loved school but I knew Claire would be hesitant. Addy's excitement seemed to rub off on Claire until Mrs. Susan tried to take her napmat and put it in the room where the nap mats go.. Not cool. Mrs. Susan ended up peeling a screaming Claire from my body. Don't worry- I called later and they said she had calmed down quickly!
They spent the afternoon at MeMac's and Claire was chasing Addison and apparently busted it. Her face and knee is all kinds of scraped up. Poor baby! She seems to be in good spirits though!

I made the mistake of going into Gymboree a couple of weeks ago, just killing time. They had some of the CUTEST clothes for the girls. I wanted one of everything for each girl. It was a little insane. Here are some of my favorites- the black and yellow? Adorable! Especially since the Bearcat colors are black and yellow.

Happy Tuesday, Folks!
This weekend was kind of blah- I honestly was really down on myself about my lack of weigh loss lately. I just can't seem to break 131.5 and it's pretty freaking maddening to me. So, I ended up eating my feelings and whatever else deemed necessary to shove in my belly- yogurt mountain, Mugshots burgers and fries, a diet coke… I ate it all. It was glorious. Well worth it.
I got back into the swing of things on Monday. I have started back with interval training for my running and doing Jillian… I am starting level 2 tomorrow. It's actually much easier this go 'round than last years go round. I can really tell a difference in my endurance of it, even if my lack up upper body strength is quite sad.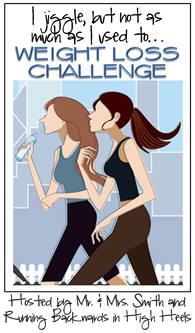 This leads me to the weight loss challenge between
Mr and Mrs Smith
and myself to lose our last 6 pounds. We are challenging YOU to lose as much as you can in the next 8 weeks. We will be linking up on Thursdays, so just grab the button code for your blog, write up about your goals, how you plan on losing the weight, etc. We want to be able to cheer you on, so if you will just link up your blog here and make sure we have your e-mails and blog info so we can follow along and give encouragement!
The last link up will be June 2nd and the person who has lost the largest % of body weight (You don't have to post your weight if you don't want to) will win a prize from
Lindsey
and myself!
Still have questions? Just e-mail me at rayray.mcphillips@gmail.com
********************
I ended up taking my Karhu's back to the Trak Shak this weekend- the long of the short is, they told me to super glue the piece together, I thought I should not have to super glue a pair of shoes that are less than 3 weeks old- and now I own a new pair.
They said that the band coming apart from me "shoving" my foot into my shoe without untying them loose enough. (Could've been helpful if you told me that happens when I bought the shoes.)
Anywho- at least I got to eat Mugshots for supper and get some Yogurt Mountain. Which is wear I saw Prom goers– in loud patterned dresses-with sparkly Toms shoes on.
Now, let me say, I haven't been a huge fan of the Toms. I am sure they are crazy comfy. I feel like they are like Birkenstocks or Wallabees- which I owned both of.. and numerous pairs of Birkenstocks, I might add.
But you could put glitter on poo and I would display it in my house. So, now I want a pair of pink glittery Toms shoes.
And I am literally stalking our children's shoe store in town for my girls to have a pair- they have been waiting on UPS to bring them for two days- don't think I haven't been in there twice in two days, 'cause I totally have.
FYI- My friend is preggers and they don't know what they are having yet, but they already have their boy name picked out and they need a girl one- they are having a hard time time coming up with one- Do y'all have any suggestions??

I have been pretty MIA lately and I apologize. The girls have been keeping me busy and while I have taken quite a few photos, there aren't enough hours in the day to allow for me to edit and trying to come up with something that doesn't resemble garble for the blog.
My little Addison has been through some behavioral problems in the last couple of weeks at school. I'm not sure what is going on, but I think we finally got it cleared up. She has been picked on a lot, and I have to wonder if she finally started standing up for herself with resulted in going to time out 5 times in ONE day for hitting. It was a rough week for us.
BUT, she never ceases to amaze me with some of the things she says and does, and here is a post completely dedicated to my first born.
Her "tricks" as she calls them are becoming more and more bold and "dangerous" as she calls them, but it is stunning to watch her teach herself how to do hand stands, rolls, jumps, and her new attempt at a front walkover. The girl has never had any gymnastics training and I feel we could have a future Olympic Gold Medalist gymnast on our hands. She is so petite for her age, she weighs about 35 lbs, which is pretty thin, but she eats ALL THE TIME and never stops jumping. Her legs are ridiculously muscular.
Some of her new sayings include:
Yesterday, as we were driving, John said, "Oh look, there's so and so( I don't even remember who he saw)!"
She also loves Alice in Wonderland.. which, honestly, this child watches more movies that I never saw growing up. But, I guess it means, I get to enjoy them with her and nothing makes me more happy. She is really getting into wanting make-up and lip gloss is an absolute MUST for her. She loves snuggling with me in the mornings and getting to snuggle on the couch after Claire has gone to bed with Mommy and Daddy. She loves to watch Gossip Girl and Tori and Dean with me and LOST is a Tuesday night must-see for her.
She definitely has that red head temper but can be so sweet and loving it will bring tears to your eyes. She always thanks you for the smallest things and tells me how much she missed me when I was gone( even if it's just 10 minutes).
I just can't wait to watch her rock the world, but I REALLY don't want her to grow up!