It's official. I am in a training funk. I've been trying to keep on keepin' on and push through and hope that helps. It hasn't. I've continued to race and sign up for races and hope I get excited about it. I haven't. I've allowed myself to make excuses to skip runs. Sure, my runs mostly stink now because it's so dang hot and humid outside. But guess what? Today is the first official day of Summer, so I have a lot more heat in my future.
I signed up for two more triathlons this week. One in July and another in August… the one in August being an Olympic distance. And then I wrote out my training plan for them and saw the work for the Olympic distance, and well, I am scared. It's a LOT of training. A LOT of Two-A-Day's. It has me wanting to crawl in my bed and curl up the The Game of Thrones.
Are you watching that? Holy cow. We are on season 2 and it is amazing. PLEASE NO SPOILER ALERTS!
Anyway.. I got sidetracked. Basically, I am in a funk and don't know what to do to get out. I feel like I've lost my training and distance and speed. I know that training in the heat will make your endurance better, but geez. It REALLY sucks.
And just maybe coming off of the big trip has me in a state of depression. The lack of buffet like qualities and multiple desserts in my house is enough to make anyone have the sads.
I know I'm not drinking enough water, so that could be a factor. Or maybe it's my crap eating habits that are catching up with me. Because I eat like a toddler and not near enough.
Basically, I'm having a pity party. If you have any suggestions for how to snap out of this, I am all ears.
Am I the only one that gets in these funks? How do you get out of them?

I've hinted at this story before.
Once all of the reports of all of the crazy stories on cruise ships starting hitting the news stations, I knew it was time to re-visit it for the Interwebz. I must apologize in advance for the lack of pictures, once you read the story, you will understand why.
I feel like I should give you some background story. About 6 weeks after I had Addison, John's family decided to start planning a family vacation. They wanted to go on a cruise. Well, I am generally not a fan of cruises. I think everyone should go on at least one, but it's not how I would choose to vacation.
Being a new mommy, I couldn't possibly fathom leaving my child to go out of the country for a week and be out of touch from the world. I mean, this little bundle depended on me to care, love, feed, and nurture it, right? So, I insisted she go.
The family told me no, but ultimately, I won that battle. So, a year later, 16 month old Addison set sail on her very first cruise. Did I mention that this was the week before Christmas? No. Okay. Are you ready? Here we go…
Addy fell in love with this big red dog.
Moving on… part of the awesomeness of this family vacation was, we were all going to stay in the pimp daddy Presidential Suite on the back of the boat. All 8 of us. 1700 square feet. Dining room. 2 Master Suites. A hot tub. Wet bar. and an 1100 square foot private deck. Oh? And our view? Was off the back of the ship. It was an amazing room. It had the potential to be a vacation that was talked about in years to come.
Our first night at dinner… it was a dress up night. Look how sweet and cute little Addy was!! Oh, what a beautiful dress.
Joseph and Tracie
The first night, Addison threw up a little bit. I figured it was seasickness. The second day, was our first day at sea, we played on the balcony, sat in the hot tub, etc.
Now, I don't think I've talked much about the fact that John battled panic attacks in previous years, but this was right smack in the middle of some of the worst of it. On the second night on the ship, he ended up getting very sick. The 3rd day, we were in port at Grand Cayman. John wanted to go to infirmary, because he thought he needed fluids. I agreed to go with him, just trying to pacify him with his increasing panic.
They said he was dehydrated, needed some IV fluids and they were going to run some tests. I remember curling up on one of those cots and taking a nap. When I woke up, I didn't feel as chipper as I thought I should, and the doctors informed us that John had the Noro Virus. They gave the option to be flown by helicopter back to the United States or we could be quarantined to our room… EVERYONE in our room had to be quarantined. For at least 48 hours of the last person being sick. They told us that it was highly contagious. Now, maybe you are wondering what the Noro Virus is? Well, simply. YOU WANT TO DIE. It is intense abdominal cramps, vomiting, diarrhea, all while wishing the end of the world would come so you didn't have to endure it any longer. Since we were in port that day, John's brothers refused to come back to the room because they knew they were quarantined once they did. They stayed out all day.
He felt better after some fluids!
This was our pimp daddy balcony. 
Our living room and dining room area
Sweet little Addy
 Right after this picture was taken, I went down. I can remember actually calling my mom and telling her I just wanted to die on American soil. Without going into extremely gross details, just know that the sickness is INTENSE. And at times, completely uncontrollable.
With the entire room unable to leave, they brought us food, drink, took our clothes to the laundry, and cleaned the room twice a day. They even had a concierge go out a shop for my mother-in-law at one of the stops we missed. On lobster night? We ordered 12 lobsters… no one ate them, but they were there. They were very accommodating to the sickies. But still, we were sick, trapped on moving vessel at sea. Slowly, every single one of us went down. Maybe you're thinking, "48 hours of sickness doesn't sound that intense." Let me assure you, the effects of this sickness lasted for over 2 weeks. You felt like you had been beaten with a baseball bat and then run over by a Mack truck for TWO WEEKS.
The one stop we did get off on was at Cozumel.
And we ran into these guys. Don't know who they are? Well, they are Nelson. The amazing twin duo from the early 90′s. I was obsessed back then. I was equally as starstuck as an adult.. they were my first concert and I talked to them for forever about it.
We tried to enjoy Cozumel as much as we could….
We tried to enjoy a nice dinner date on the boat, but with us getting over the sickness, we didn't have much of an appetite. 

Nelson was the on ship entertainment. They even pointed me out in the audience and told my story. Yep. Childhood dream came true!!! 
I have never been happier to see the city of Miami, and get back onto dry land. Maybe you think the story ends there? Nope. You would be wrong. You know how at Christmas time you run from family gathering to family gathering? Well, that's what we did. And what happened, we couldn't have predicted. You see, with the Noro Virus, we learned, that you have a carrier. One who really doesn't ever show the same symptoms. That person was Addison. So, at every gathering, Addison infected everyone. My aunts house. Both sets of parents. My grandmother, who took it back to her nursing home and passed it around. Several of them ended up in the hospital from dehydration. The week after Christmas, we saw where an entire town in Europe was infected with it.
So, my advice to anyone going on a cruise is to WASH YOUR HANDS. Seriously. You do NOT want this mess. This story is the reason that children are no longer invited or welcome on J's family vacations.
It has only taken 5 1/2 years for me to be convinced to go on another cruise. We set sail this summer on the Allure of the Seas. And you can best bet, we are staying in separate rooms!

I feel like it's been a while since I have been REAL. You know, really real? Something has been stuck in my head for a while now. Meghan made the comment to me several weeks ago telling me what a rockstar I am for all that I do– running, blogging, working full time, raising a family, etc etc.. and I'll be honest. I don't feel like a rockstar at all. Most days, I go to bed thinking of all the tasks I didn't complete and how I didn't make the most of my time. How I let my ADD (yes. I have that if you haven't caught on.) get the best of me and become distracted from the task at hand.
I am currently drowning in blog posts that I need to write, and I sit down and have no desire to do them. My house stays in a constant state of disaster. The laundry is never ending. Those things stress me out to no end. Clutter makes me feel claustrophobic. Claustrophobia will send me in a straight up panic attack. I feel guilty for not putting enough time in my training. But then I feel guilty for not spending enough time with the girls when I train.
Monday night, I skipped my workout to cook dinner because John asked me to. It took me an hour and a half to cook. Then, the girls wouldn't eat half of what I fixed. To top it off, I tripped over a groceries that have been sitting in my kitchen floor for TWO WEEKS. I completely lost all coping mechanisms and just flipped out on everyone. It took me 45 minutes to clean up the kitchen by myself, because let's be real, NO ONE wants to be trapped in a small area with someone who is currently going bat shit crazy and throwing pots and pans around.
I know I have to trim the fat on my life, but what or where? It's hard to cut out those things that once brought you joy.
For Mother's Day, I received a manicure and pedicure already set up with an appointment for my day off this week with my best friend. (Yes, our husbands coordinated it. It's okay to be a little jealous.) She asked me if I wanted to go to lunch after. Of course I do. That's something we NEVER do. But I hesitate because I have so much shit to do at home. None of it is pressing, but I am so tired of it needing to get done.
Basically, I feel like I am just treading water to keep my head above water. My brain is fried on all things. I feel like I am currently half ass doing everything that needs to get done and not putting 100% towards any one thing.
So, if you have suggestions for how I can make better use of my time or perhaps you are on the up and up on that cloning technology, I am all ears.
What do you struggle with?

We all have those days, right? Where our kids are absolutely driving us insane. The days that you want to hide in the bathroom with your iPhone and a bag of chocolate just so you can play on Twitter and Pinterest? No? Don't tell me it's just me…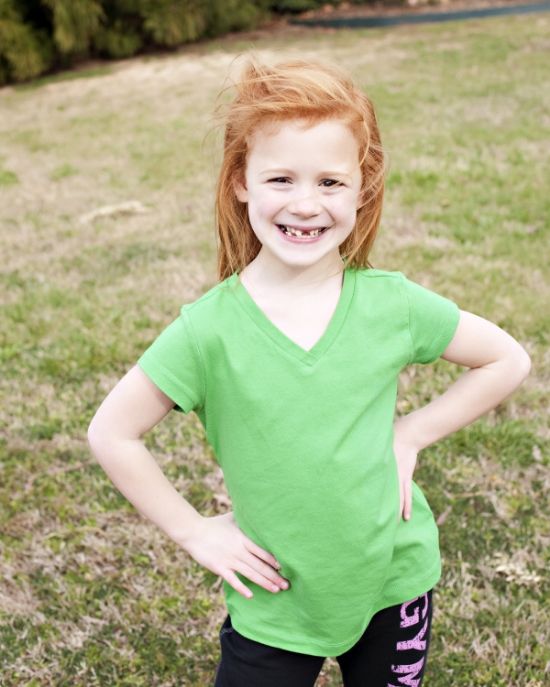 Anyway. See that adorable little girl? Well.. she is trying my patience. And if either of us live for her to see 18, it'll be nothing short of a miracle. She argues. She back talks. She does what she wants even after being told no. I've taken away iPads, tv shows, even getting a vote on dinner. Her attitude is getting better, but the general arguing.. it's enough to drive you to drink. But let's be real… in a battle of wills… I will always come out the victor. I basically invented the game of being stubborn. So, my M.O. has been to stay on top of her attitude. Constant correcting. Which means.. I feel like I'm constantly yelling at her. That I never say a kind word to her. That I am over her shoulder telling her what a crappy job she is doing. (Okay. Not LITERALLY that last one.. but it sure starts to feel that way.)
John says, "You just need to calm down with her." Me: "But she just doesn't LISTEN to me."
Prime Example: Easter morning. Girls come into our bedroom, I am (TMI coming) peeing in the bathroom, and ask Addy if the Easter bunny left anything. She obviously has forgotten that part of Easter, and her eyes light up. I said, "go stand by the bed with Daddy and we will all go look together in just a minute." I come out of the bathroom. John is on his iPad with Claire laying next to him… no Addison. Me: "Where's Addison?" J: "uhhhh.. *he yells* Addison!" She comes running in. At this point, in my pre-caffeinated state, I completely lose it. I start yelling, "I told you to come in here and stand by the bed for 2 seconds! Why couldn't you wait?! Did you hear me say that?!?!" Yes, she responds. So, I spanked her. (GASP. Yes. I spank my children.) I was just appalled that I had to spank her BEFORE we'd even had a chance to look for the Easter baskets. It was the same ol' song and dance through getting ready, going to church, and getting through the traditional Easter pictures.
I was exhausted by the time lunch came around.
Then, Sunday night, I was reading on her iPad, and I got started talking to John and scrolling through her pictures on there. You see, she loves to take pictures of herself and especially video.. mostly How To videos… much like you would see on YouTube.. obviously my daughter is a vlogger in the making. But as I was watching her little videos, I heard myself SCREAMING at her in the background. She obviously was NOT putting on her shoes like I was asking… so, yes. I was right (Aha!). But I was absolutely horrified. Is that what she hears out of me? The next video.. while I am not screaming, I am not being very nice. I know I was in a hurry and needed them to hurry.. but they didn't know that.
After watching those videos, Hubs turned to me and said, " This is not the relationship you want with her. You have to change the way you react."
So, I have been fighting every fiber in my being this week and trying a more mellow approach to my eldest.. I'm still correcting what she does wrong or when she misbehaves.. just a little less high pitched version. I don't want her to tune me out. I want to have a good relationship with her. But I also want her to have manners and be kind. Sometimes, I need to remember that she is just 6 years old and not 16, like she wishes. She is still a child and should be allowed to be a child. There has been less drama with her, and I think she's been a little kinder to her little sister… so. We shall see where this takes us.

I have had a few WTF motherhood moments this week…
Monday, my mom picked the girls up and took them to Chick fil A for a snack and to play. Turns out that Addy KISSED a BOY on the playground. She doesn't even know his name. Never seen him before. Ummm.. WHAT?! This proves to be a problem for the future and I am going to need some Xanax for it.
I finally got Buddy the Elf out on Monday night. I was so proud that he decorated the girls pink Christmas tree.
He was out for all of 30 minutes before Claire comes to tell me that Addy touched him. Well, the elf loses his magic if that happens. Addy is telling me she didn't touch him and Claire is saying she did. Given Addy's history of lying, I am not believing her. I try to explain to her that Buddy can't get back to Santa if he loses his magic… nothing. I am so put out when it's time to leave for school. Then? I find this:
This is not mine. I start questioning the girls since it was on the bench that their school bags were on. Addy says it doesn't belong to her. Claire says Addy took it from mom's. So I ask Mom if she has seen it. Nope. I ask John. Nope.
So, in an effort to inspire their conscious, Buddy doesn't move Monday night. Tuesday morning, I question the girls again. Still standing firm with their answers.
Addy gets a little 'tude with me and Redneck Mommy came out. But you know what? She scared the crap out of the reds and I got some answers.
Turns out, Claire was lying. Addy *almost* touched Buddy. I made C apologize to Addy. Also? Claire stole the ring from her teacher. SERIOUSLY?! So, I made her apologize to Addy again. Then, I apologized to Addy for not believing her.
Man, motherhood is hard sometimes.
Also? That creepy elf needs an instruction manual for when things pop up that I have no clue how to answer. I'm not the best with lying and when Addy pips up with "You tricked us! You decorated the tree!!" I start stuttering and looking around for someone to throw me a life raft.

Y'all. I don't normally blog on Saturdays, but I've got my cranky pants on. If I am being honest, they've been on since Thursday.
I keep trying to be all, "Rach, WHY are you cranky? You should fix whatever it is, so you can be your regular sarcastic self, instead of a bitch from Hell."
Let's have a look at all the things that are currently stuck in my craw.
1. The kids fighting. Addison back talking. Addison not listening. I was forced to take all enjoyable things away from her last night like her ipod touch, her tv privileges, and her coloring privileges. (If we are being honest, I thought she was going to shoot daggers out of her eye balls for that last one. It came to me as a last minute stroke of genius.)
2. I'm still greatly irritated by the punks who got in our cars and stole J's wallet and my ipod. RUDE. Karma will come back and bite you.
3. I'm irritated with running. Specifically, why isn't it easier? I just want to be fast without putting in any work. Is that too much to ask?!
4. I'm also irritated with my nostril/sinuses. I gracefully sucked half of the pool into my right nostril this week swimming, and while you'd think a nice chlorine sinus cleaning would help, it just in fact, causes that sinus to drain continuously, which means you get ZERO sleep because you cannot breathe.
5. Addison did NOT get into the school that J camped out overnight for. Therefore, we are forced to send her to private school. I would rather cut off my right arm than send her to the school we are zoned for.
6. The fact I got up at 5:15 to go run the Midnight Run course to see if I could run it under 30 minutes. (Okay, that part doesn't irritate me.) But, I passed a lady. AND. FELT. BAD. ABOUT. IT. WHAT?!? That is the exact opposite of being a competitive runner. Which, I think we all know, that I am not. I don't want running to hurt. Too bad it does. And I finished it in 30:50. UGH.
7. Same lady I passed, while I was stretching, came up and said something about me cutting off one of the turns. (Apparently, I took a turn early, following my path back.) I didn't know I did this. My distance was the same, but it made me miss a small hill (the course is quite hilly, anyway!) She must have made the comment 10 times, which made her little running buddies also say something about it. Geez, people. Does it really matter?! It's the same damn distance. Get over yourself. I would have said something, but these people were a good bit older than me. Sometimes I wish I weren't brought up in the South.. all those manners.
8. I'm still jacked that I planned to go to spin on Thursday, thinking it started at 6, and it actually started at 5:30. Therefore, I was forced to run on a treadmill. When, I didn't want to run at all. I wanted to spin.
9. THIS.
Zac. I thought you were my boyfriend. This is not okay. We only wear Crimson. Well, generally, you aren't supposed to wear shirts, but this is just unacceptable.
Help me, people. What the crap is wrong with me?!

Sometimes, when I am in my time-suck otherwise known as, Pinterest. I come across something and I'm all, "Oh. This is happening."
A certain Superman picture (that has since been taken off Pinterest. Boo.) made me think of this little boy:
As a photographer.. I can make a lot of things happen if you show me a picture you are going for. I know what I am doing there. I may not be a Photoshop genius, but for the most part, I can make things happen.
The problem is when you, the photographer, want someone else to take a picture for you. No matter if you describe to a T or even show them the picture, most likely, they won't get it.
J was pretty pumped about the picture. We tried to take it at the party and after two hours of hell, trying to Photoshop Claire into a picture, John took one look and said, "No. I need to be in a suit." Well.. okay. Wish I would have known that on Sunday.
So, I gather the supplies and tell John to meet me at his mom's after work and we are doing. this. picture.
He starts in on how he needs Clark Kent glasses.. um. Okay. Then you need to go find them. He wants me to grab some 3D glasses (!?!?!) and bring them. Done.
About 3 minutes into this photo op, I want to chunk these glasses in the road. He wants to be throwing them.. Um. Okay.
And we have a 5 year old and a 2 year old.
Pictures are hard for kids that age. I know. This is my life. I get it.
I also use tricks and noises and generally act like a fool to get kids to look at the camera and sometimes it doesn't work.
We took 99 pictures to try to get this family picture. (NINETY-NINE.)
(Side note: I am doing a Project 12- one family photo a month for a year and it may kill me)
While I am not showing you all 99.. I am showing you a few of the gems we have. This is why you hire a professional people! Which is what I really need to do. But I am stubborn.

This is just a Hot Mess.
John is giving the air gun to someone…
Could have been cute if it weren't for those stupid glasses.
Claire has found a present for you.
C is frightened by how horrific this is turning out.
Addy is clearly over this. And John is about to blow a gasket
Who are these kids?!!?
Clearly I am arguing with Addy about her pink camera. John looks more like a Blues Brother than Clark Kent
Oh What's that, Rachel? You smelled a fart?
John says it looks like I have scoop like Lois Lane.. I think I am smelling more farts.
This is the best we could do. And Yes. Some people have been photoshopped into these family pictures.
Family pictures… will drive a photographer to drink.

It's another edition of Game Day My Style Monday!
I wore the strapless dress most of the day but the white cardigan when I got cold.
The dress that Hubs got me for our anniversary from "What a girl wants"
Cardigan is from F21
Boots: target
Necklace: Target
Earrings: Etc by Nikki
We got down to Tuscaloosa on Friday, to set up the tailgate.. and *gasp* someone had stolen our spot. Now, we may not own this spot, but it's been our for a while.
So, what did we do? We got as close as we could to the other tents. We are mature like that.
They ended up moving their tents back.
Late night Target shopping brought us upon this..
It's fun.. in da-middle. I am not sure why this was so funny to us.
I spied Big AL… and I had to get my pic with him.. even if he did mess up my hair.
I got some red sparkly nail polish at Sephora.. it's called "What's your Poison?" Get it.. like a poison apple??
I forgot to take pictures from once people actually showed up at the tailgate.. but it was a good time had by all, with lots of laughs that wouldn't be funny to you, since you weren't there. But.. you are invited!!
I took this picture for Becca.. I realize the game was a nobody, but there was no sense in the woman next to me falling asleep. I mean, you could only cat nap with the 2 boys that got up at least 10 times a piece before halftime.
This picture got a little out of order.. whoops.
One of the many reasons I love sitting in the zone.. besides real chairs, a locker, air conditioning, and all the Cherry Coke I can drink.. is the red velvet cupcakes.
Also.. I have a complaint. The student section should NOT be this empty at halftime. It's not cool with me.
Oh yeah… one more reason I love the one.. Cup holders.

There's only one way to celebrate a victory in my book. And it's doing the Cupid Shuffle in your tailgating neighbors tent.
Now.. onto my running lately.
The plan was for me to get up Saturday morning before we left for the tailgate and go run my long run of 6 miles.. I mapped out my run only to be told my way in and out of Jay's weren't the best running ideas that I had. So, I decided to go with my safety over my run. The run went through a bad part of town and a busy section with no sidewalks, on top of the fact I forgot my Garmin.. so I decided to a) not get stabbed b) not get hit by a car and c) not get lost.
I said, "Oh, I'll just do 8 on Sunday instead." So.. I set out to hit the treadmill. Sunday was one of those days where nothing went right. I took my iPad to the gym so I could watch Gossip Girl and found this beauty and thought my luck had turned around!
A PINK treadmill!! I knew my day was sure to pick up! But.. alas, technology hated me and I couldn't figure out how to get the Gossip Girl to play full episodes on the iPad.
Also.. it was brought to my attention that my treadmill running has been so easy since I don't do an incline, therefore my road races kick my booty because the road is harder to run on then the treadmill. So, I decided to start running on a 1 incline.. which, is taking some getting used to and makes me feel like I am the most out of shape person ever. Which really does a number on my mental toughness. I am extremely stressed right now, and I let all of the other things that I needed to be doing come crashing down on top on my run and I started to feel like I was drowning. I did something I have never done before. I quit. Yep. I stopped running and got off the treadmill. The whole time I was disgusted with myself but I knew what was coming. A mental breakdown. I could feel it coming last week. Being gone on vacation, running a business, 5 weekends in row being out of town-2 of which are out of state, gymnastics, school, laundry, cleaning the house, training, Ladies of the Houndstooth, photography assignments and projects, social networking… it's all so much. Because everything needs something from me. Right. NOW. I guess a good description of me right now is overwhelmed. Or over booked. Or not enough hours in a day.. Take your pick.
So, instead of throwing a fit and crying and taking it all out on John, I decided to sit down and write out a list. And I delegated certain tasks for John and am trying to look at what is the most important for my mental health to get finished this week. I feel like a mature adult, acting like that!
I will try to be around the Internets this week.. but I can't make any promises, as I need to drop a ball or two that I am currently juggling.
See you on the Flip Side.

I realize that there are a ton more serious things that could happen to your child. There are thousands of parents stressed over ailments that their children are going through. My girls have always been relatively healthy- except for the occasional virus or cold.
I have also debated about putting this out there, I have beat myself up about it and surely didn't want DHR knocking on my door, but I figure if it could help ONE Mama out there, then it's golden.
Friday morning, I was trying to drink my coffee and wake up so I could actually talk and not just grunt and point around (NOT a morning person) and I hear some gagging in the living room. I turn around and Claire has her fingers in her mouth. I go over to inspect. Open her mouth and she has her teeth clenched. I ask her if she has something in her mouth. I turn to Addison. I ask her. When I finally get an answer out of her, she tells me that Claire had a necklace in her mouth. I turn to Claire, and her teeth are now unclenched and there is nothing in her mouth. I ask her if she swallowed the necklace- Addison tells me that she doesn't think she swallowed it, so I asked her where the necklace is. We look around and Addison says with a shrug, "Well, maybe she did swallow it." I start to freak a little. Claire is breathing. She is actually smiling at me. I don't know what to do. It's 7am. I call Rebecca. She doesn't answer. So I call my sister. She hands the phone to Andy. He says he is going to call a surgeon friend. Becca calls me back, calms me down, and then Andy beeps in- he tells me to take her to Urgent Care to get X-rayed and then if she needs a surgery consult to let him know. Uhh.. okay. I call the only Urgent Care that has an x-ray machine. They don't open until 8. So, I fix Addy some breakfast and we get on the road to Urgent Care at 8.
The looks I get about this situation at the Urgent Care make me feel like a crap parent. I didn't chop my child's arm off, she just swallowed a necklace that she plays with everyday!
Maybe now is where I should describe the necklace. Addison got it for her birthday. It's a silver chain with a heart shaped pendant that has a crown sitting on top with pink rhinestones. Let's think about how THAT felt going down and how it's going to feel coming out.
She gets x-rayed- it's definitely in there. They think I need a surgery consult. This where I really start to panic. My child made need a surgical procedure to get this out?!!? The surgeon that the dr talked to says to just give a day or two and see if it passes. Urgent Care Dr tells me to come back on Saturday if she hasn't passed it by then. Claire poops Saturday but nothing. We tried to pump her full of foods that normally make her go–let's keep in mind that this is the child that NEVER has a problem going #2 and we normally are silently cursing because we have to change yet another dirty diaper.
We ended up taking her back on Sunday afternoon to be x-rayed again. The necklace is lower and looks like it's going to be coming out soon. She wants us to call if she passes it, but if she doesn't then she wants us to come back on Tuesday.
The relief I felt when she said she definitely thought she was going to pass it- I can't even describe it.
Anyway, we get no poop Sunday evening, all day Monday or even Tuesday. I start to freak. Is it stuck? Is it hurting her so she is holding it in? I decided that if she didn't poop on Wednesday that I would definitely take her back and insist that they go in after it.
Good news, Super Nana to the rescue this morning. She passed the necklace, with no pain, either. The necklace is now part of the outside world again.
And that my friends, is why you should always remember that though your child may seem old enough to not swallow weird things, that they will. We have since caught Claire with another necklace in her mouth, a dress up earring, and Addison's Hello Kitty necklace. I mean, hello??
Hide yo diamonds, Hide yo jewelry if Claire is coming to yo house.
Also, for those of you who said that you did want to join the challenge.. it seems most of you are No Reply blogger e-mails and I can't e-mail you back. Will you please e-mail me at rayray.mcphillips@gmail.com

This week has been a tad difficult for me. Addison is having complete emotional blowouts about the smallest things. Here are some examples: She's been wanting to watch a lot of Toy Story, so John picked up some Toy Story soup at the grocery store for her. When she saw it, she completely flipped out, exclaiming," I only like Princess soup!!!" So I dug around and found Dora soup and she seemed okay. The VERY next day, she begged if she could eat the Toy Story soup because "It was her very favorite!!". Tuesday, I was trying to get them ready to go to MeMac's for a little bit and she flipped out because she didn't want to change out of her pajamas or brush her hair or brush her teeth.
One of my best friends is in the hospital with kidney stones and I told her we needed to say a prayer for her and she fell out again. She didn't like saying prayers, she didn't like Rebecca, she didn't like me, she didn't want to talk to Jesus. The stuff really hurt me. I was on the verge of tears. I just kept thinking… who is this child? Why is she talking to me like this? I haven't raised her to act like this. When John came home for lunch, he had a big talk with her and that seemed to help.
Yesterday, after one of her many drama filled tantrums, she told me she wanted to go shopping. !!!! What? I informed her that I don't go shopping with mean girls. Only nice, friendly, and kind little girls get to go shopping.
And now, Claire sees Addy acting like that and is starting to mimic the behavior. Shoot me. Just shoot me now.
She is sending me on an emotional roller coaster of emotions. I don't know what to do. We've tried spankings, spankings with the wooden spoon, time outs, taking toys away, big talks. I need all mothers of girls to weigh in on this! Is there a stepford daughter program I can put her in? I want her to be able to express her emotions, but not throw fits. I am trying to get it through her head that when you act nice, you get the things you want, but if you act ugly, those things get taken away. How do you do it???