I am super excited to announce that I will be starting to host My Style Monday with the fabulous Lindsey at Let the Light Shine. She rocks my face off.
On my trek to DC last week, I broke out the mint skinnies with black… Looking at this outfit now makes me realize how badly I need that tan I am never going to get… oh well. This leather pocket tee is super comfy and this is probably my favorite pair of skinnies… they don't gap in the waist!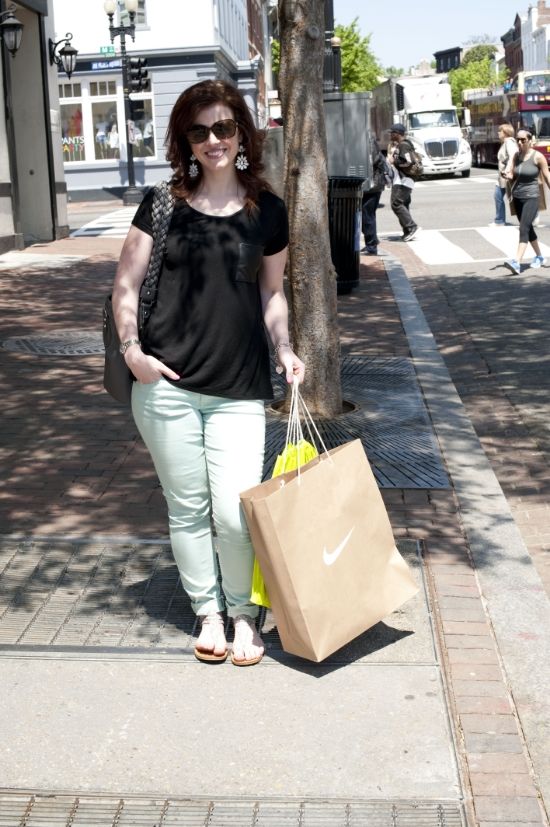 Skinny Jeans from Target (here), leather pocket tee from F21 (here), The shoes are from Old Navy last year, but here are some similar (here).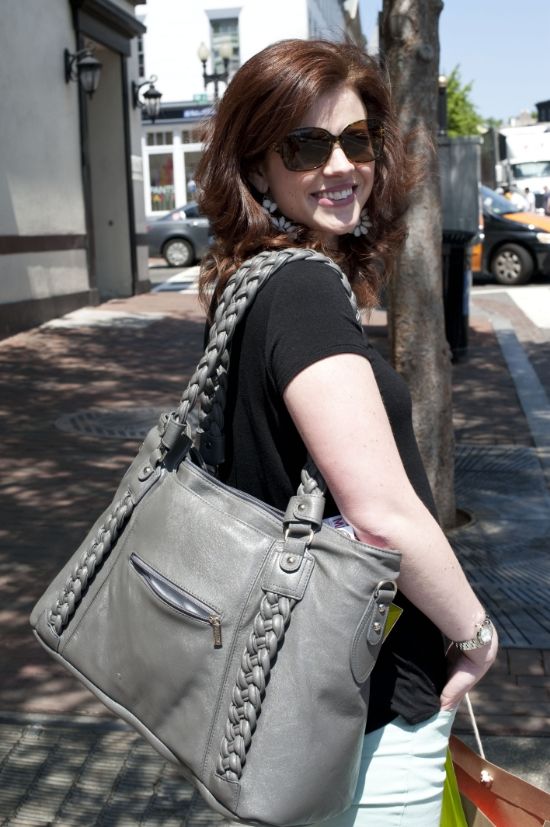 It's another edition of Game Day My Style Monday!
I wore the strapless dress most of the day but the white cardigan when I got cold.
The dress that Hubs got me for our anniversary from "What a girl wants"
Cardigan is from F21
Boots: target
Necklace: Target
Earrings: Etc by Nikki
We got down to Tuscaloosa on Friday, to set up the tailgate.. and *gasp* someone had stolen our spot. Now, we may not own this spot, but it's been our for a while.
So, what did we do? We got as close as we could to the other tents. We are mature like that.
They ended up moving their tents back.
Late night Target shopping brought us upon this..
It's fun.. in da-middle. I am not sure why this was so funny to us.
I spied Big AL… and I had to get my pic with him.. even if he did mess up my hair.
I got some red sparkly nail polish at Sephora.. it's called "What's your Poison?" Get it.. like a poison apple??
I forgot to take pictures from once people actually showed up at the tailgate.. but it was a good time had by all, with lots of laughs that wouldn't be funny to you, since you weren't there. But.. you are invited!!
I took this picture for Becca.. I realize the game was a nobody, but there was no sense in the woman next to me falling asleep. I mean, you could only cat nap with the 2 boys that got up at least 10 times a piece before halftime.
This picture got a little out of order.. whoops.
One of the many reasons I love sitting in the zone.. besides real chairs, a locker, air conditioning, and all the Cherry Coke I can drink.. is the red velvet cupcakes.
Also.. I have a complaint. The student section should NOT be this empty at halftime. It's not cool with me.
Oh yeah… one more reason I love the one.. Cup holders.

There's only one way to celebrate a victory in my book. And it's doing the Cupid Shuffle in your tailgating neighbors tent.
Now.. onto my running lately.
The plan was for me to get up Saturday morning before we left for the tailgate and go run my long run of 6 miles.. I mapped out my run only to be told my way in and out of Jay's weren't the best running ideas that I had. So, I decided to go with my safety over my run. The run went through a bad part of town and a busy section with no sidewalks, on top of the fact I forgot my Garmin.. so I decided to a) not get stabbed b) not get hit by a car and c) not get lost.
I said, "Oh, I'll just do 8 on Sunday instead." So.. I set out to hit the treadmill. Sunday was one of those days where nothing went right. I took my iPad to the gym so I could watch Gossip Girl and found this beauty and thought my luck had turned around!
A PINK treadmill!! I knew my day was sure to pick up! But.. alas, technology hated me and I couldn't figure out how to get the Gossip Girl to play full episodes on the iPad.
Also.. it was brought to my attention that my treadmill running has been so easy since I don't do an incline, therefore my road races kick my booty because the road is harder to run on then the treadmill. So, I decided to start running on a 1 incline.. which, is taking some getting used to and makes me feel like I am the most out of shape person ever. Which really does a number on my mental toughness. I am extremely stressed right now, and I let all of the other things that I needed to be doing come crashing down on top on my run and I started to feel like I was drowning. I did something I have never done before. I quit. Yep. I stopped running and got off the treadmill. The whole time I was disgusted with myself but I knew what was coming. A mental breakdown. I could feel it coming last week. Being gone on vacation, running a business, 5 weekends in row being out of town-2 of which are out of state, gymnastics, school, laundry, cleaning the house, training, Ladies of the Houndstooth, photography assignments and projects, social networking… it's all so much. Because everything needs something from me. Right. NOW. I guess a good description of me right now is overwhelmed. Or over booked. Or not enough hours in a day.. Take your pick.
So, instead of throwing a fit and crying and taking it all out on John, I decided to sit down and write out a list. And I delegated certain tasks for John and am trying to look at what is the most important for my mental health to get finished this week. I feel like a mature adult, acting like that!
I will try to be around the Internets this week.. but I can't make any promises, as I need to drop a ball or two that I am currently juggling.
See you on the Flip Side.

It's a sort of, My Style Monday.. I actually didn't wear this outfit.. it was more of a "Hey, College Football starts this week.. I want to put on everything houndstooth I own and let's take a picture.."
Do not be jealous that I own more houndstooth than you.. There is a reason this blog was almost named "Houndstooth in High Heels"
Hat- Vintage. It's an original Bear Bryant hat that was John's grandfathers.. yes. It's making a GameDay appearance.
Earrings and sparkly houndstooth scarf- Etc by Nikki's – a boutique here in C-town
Coat- several years old- found at Parisian- which no longer exists..
Dress- No Clue the brand, but if you really like it and want one for your own, shoot me an e-mail and I will look it up
Shoes- Unlisted. They are also the header shoes on this blog
Less than ONE WEEK until College Football, yo!!
Tell me who your favorite college football team is!
Also.. I want to be Internet popular, so if I can reach 400 followers before my 400th post, I shall do a giveaway, which may or may not include an item that I am wearing in these pictures.. Well. Not what I am actually wearing, but one for your very own..
Unless, you don't like houndstooth.
Then you won't get it.

It's me again, Margaret. I haven't forgotten about the blog world, but the past couple of weeks have been more than a little crazy. I hope to return to my regular over sharing as usual.
Mine and Philly's 6th wedding anniversary was Saturday. BoomPa and GiGi came and got the girls and we went to see The Change-Up.. which was hilarious by the way. Totally inappropriate and absolutely hilarious. Don't go with your parents. In fact, don't tell them it's out because it might make you uncomfortable to know they watched it.
Anyway, let me give you the back story on my dress. Back in May/June a new store opened in C-town and I loved everything that was in there, but since I had JUST bought an entire new wardrobe, I couldn't justify the purchase of a dress I fell in love with. So, I just told myself to be okay with it and mourn the loss of the perfect tailgating dress.
Enter last weekend. A friend had told me about a new store at Bridge Street called Alter D State. We went in. I fell in love. Seriously amazing stuff. I am actually still dreamy of a ruffle shirt I saw in there. I tried on this light gray version of the dress I fell in love with earlier in the summer. Alana said she didn't dig what it did for the girls, so I decided to be say and mourn the loss of that dress too. Even though, I told myself if they had it in dark gray and not light gray, I would have gotten it.
I went into What A Girl Wants just to SEE if they still had that dress. Well, guess what. They DID. They had ONE left. It was a SMALL. Normally, I would be all, "WHAT? Who wears a small. That's stupid." But the star aligned and guess what. 20 lb lighter Rach needs a flippin' small. AND it was $9 cheaper than the other one. So, I told J when I saw him. And then, in perfect awesome husband form, he brought it home for lunch and declared it my new anniversary dress.
Yep. He may forget to replace the garbage bags when he takes out the trash, but he brings me pretty's, so I shall keep him.
That was a really long story for one dress, people.
The dress is a brand called Ya.
Jewelry? Everyone's favorite white earrings from Claire's. Bracelet- Rue 21. Necklace- Blissdom swag from The Vintage Pearl.
Shoes? Flips from Old Navy.. Apologies for gross feet.
And just because I love you Internets, Here is a pic of me not ready to have my picture made.

I know. I know. I'm back! I've been taking the pictures, just not uploading them! Stupid weekend gets in the way!
This is an impromptu date night..
shirt is F21
Jeans: Old Navy
Earrings: Forever 21
Shoes: Jessica Simpson
My step-dad's niece got married this weekend.. ( my step cousin?) and I took to a Twitter poll for the dress. Ultimately, it was pretty split half and half but I let my mom make the final decision.
Dress: The Market Boutique- so sad it's going out of business!
Earrings: those white ones everyone loves from Claire's
Bracelet- Rue 21
Shoes: Miss America brand from DSW( I call them my "Jesus loves rhinestones" shoes. When I was picking out Easter shoes, I texted Becca a pic and asked her if the rhinestones were too much. She said no. I asked what Kimbo-her mom- would say- she replied with she would say "Jesus loves rhinestones!!"- hence the name of the shoes. Sorry. Tangent.)
Me and my Mama at the reception
Me and John
I think everyone has already seen my race outfit from Saturday but here it is again.
Shirt: Nike
Skirt: Running Skirts
Shoes: Karhu's
Socks: Little Miss Matched- I did wear a pair of Thorlo's under those since they were thin.
Visor: My pink and white houndstooth.. I gotta represent!
Hope you had a Fabulous weekend!!

Wait- did you even know I was gone? I spent the past week in VEGAS, Baby! But more on that to come.. still trying to unpack and get out from under this laundry pile… I'm guest posting over at Mr and Mrs Smith, so go check it out!! It's about some summer clothes- you don't want to miss it!

Happy Monday everyone! I had to do some online shopping, since it didn't look like I was going to be able to get to a mall anytime soon, so I will show you part of what came!
Black Ruffle Dress from Old Navy $16
Ruffle Tank from Old Navy- $6
Shorts- Banana Republic outlet 4 years ago
Shoes! Old Navy $17
And here is what Claire has been wearing this week! We've still had a few accidents but those have mostly happened when playing outside.

Hi all! It's Monday again. I am really scraping the barrel for these outfits which means, I need to shop.
tank: Old Navy
shirt: Papaya
Shorts: Banana Republic outlet
sandals: Target
We had an Alabama function
I think Nick liked it. John informed me he hated this vest thing.
Tank: Old Navy
Belt and Ruffle Vest: H&M
jeggings: Old Navy
shoes: Jessica Simpson
Jewelry: Claires
My new Birthday running outfit
Skirt: Running Skirt
Top: Alabama
Socks/leg warmers: Alabama
Watch: Garmin
Shoes: Karhu
Headband: Sweaty Band

This week, I actually left the house on more than one occasion. Surprising, I know! Philly almost never lets me out in public. (Kidding. For those of you that don't know him, he hates to sit at home!)
Outfit deets:
Shirt- The Limited circa 2005
Pants- Gap- 2009
Shoes- Jessica Simpson- last summer
Earrings- My white ones from Claires or Icing or whatever it is.
*Disclaimer- I have very few clothes that fit me, so you will be seeing a lot of the same stuff until I go shopping. Anyone want to fund that trip?
Outfit deets
Dress- Forever 21- bought it online- they didn't have it in store. It was only $17!!
Shoes- Target
White Earrings- Claires/Icing
This is what I wore to the A-Day game. Everything is from Old Navy except the ill fitting bra that kept trying to make an appearance the whole day. Seriously, I fought the shirt the whole day. Which makes me mad because it's NEW!! I just bought it a few weeks ago.
Shirt, jeggings, and shoes all from Old Navy. I can't remember where the earrings came from.