Before telling you about my trip to DC, I think I will post my race recap!
FIrst off, the Expo, was sort of lame. You really couldn't buy anything and it was just nuts. But, the packet pick up was separate and was a breeze, so kudos for that one. With all of the walking up and down hills, my calves were tight and I knew I wouldn't be running on fresh legs.
I laid out all of my gear the night before….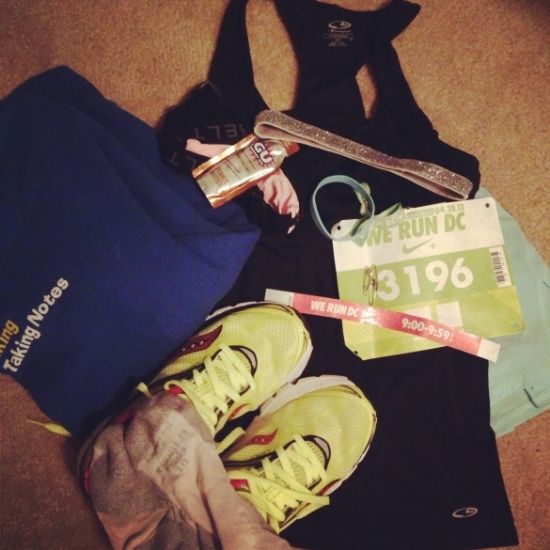 The gorgeous sunrise heading into the city…
Molly's husband drove us into the city, instead of taking the metro. He dropped us off about 3 blocks from the start line. It was awesome. I hope it was awesome for him too.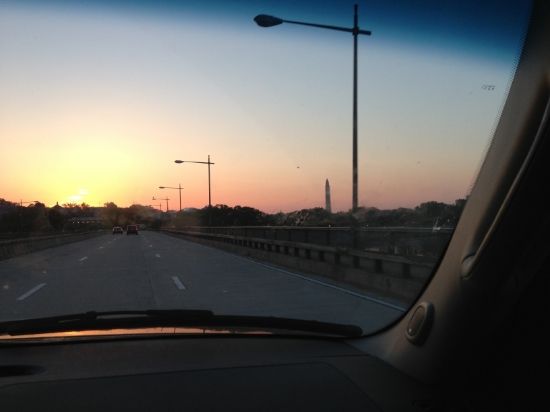 We entered into the 9:00-9:59 coral.. which, honestly, was completely pointless seeing as how they didn't do a coral start.
We all just started out at once.. and we were behind the 2:10 pacer. I was NOT HAPPY about weaving around so many women in tight spaces. There were 15,000 runners, and a lot of them first timers, (I hate to stereotype..BUT) they probably didn't know there are rules to racing. We spent the first two miles LITERALLY weaving in and out of people. I was so frustrated that I couldn't get pasted the 2:10 pacer. It cleared a little after mile 2 when we were crossing the bridge to Arlington Cemetery.
We finally caught sight of the 2:00 pacer on the loop by the Kennedy Center.. I knew then it was going to be tough to catch up. Around mile 6, my IT band started making its presence known and I got a side stitch.. I knew I was pushing it too hard. I decided right then and there that I wouldn't injure myself over a sub 2:00 half. I would run what I could and give it everything I had and I would be happy. At this point, Molly was pushing me and I felt bad that I had nothing to give her except facial grimaces. It didn't help that around this point, it was completely boring as we were running around the golf course. I tried to find funny signs to help me out. I never realized how hard it was to try to catch a pacer… the mental stress that just adds to the run. That part was misery.
As hard as I was running, this was a very cleansing run for me. I let go of everything else going on in my life, and completely concentrated on the race and the steps in front of me. It was just very… freeing. I had nothing to do but run like it was my job. We saw Molly's fam around mile 10 and it was a nice change of pace. B got some pictures of us and I realized how bad I hunch my shoulders when I run.. no wonder my shoulder blades go numb!
Anyway, it wasn't long after that, Molly lost me as I couldn't continue to beast up the hill. I knew then that I wouldn't break 2 hours, but I might could possibly PR. Heading back into the tunnel was awful and not near as exciting as it was at the beginning of the race. As we rounded the loop and I could see runners running towards the finish line, I got really pissed off because I HATE when courses do that. We made the worlds longest loop and heading back, I could see the finish line. So, I attempted to push it and completely ran out of gas because I misjudged how far the actual finish line was. At mile 12.5 I was really pissed off. But I got my phone out because I knew I would want pictures at the finish line, and saw all of the Tweets, FB messages and texts that lined my screen. I couldn't believe it.
I crossed the finish line with my hands held high and a smile on my face and guess what? There won't be any pictures because Nike didn't have photographers!! WTF NIKE?!?!
Anyway, as I stood in line to get my Tiffany, I told the girl behind me (yes, I told her.) "Hey, I'll take your picture with him if you'll take mine." She looked at me like a crazy person, but also a genius.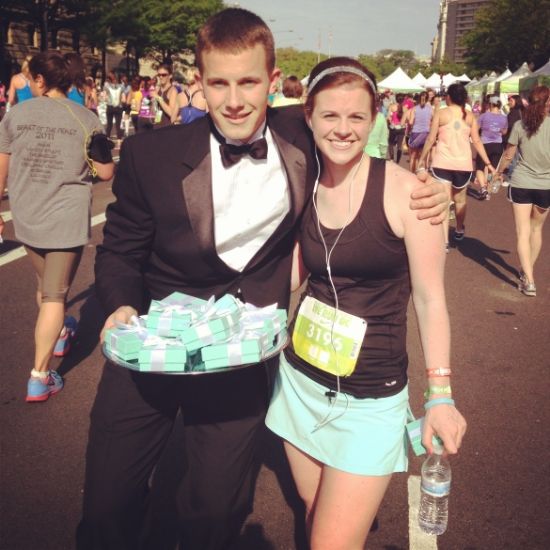 I found Molly and we had our "WE DID IT!!!" picture.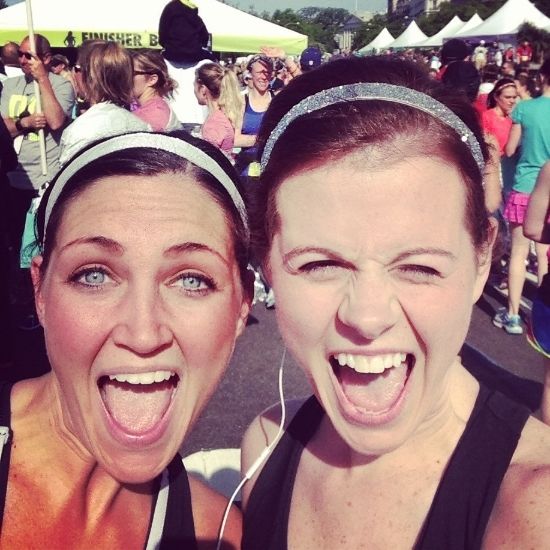 Posing with our blue boxes..

Washington Monument? Yes, please!!!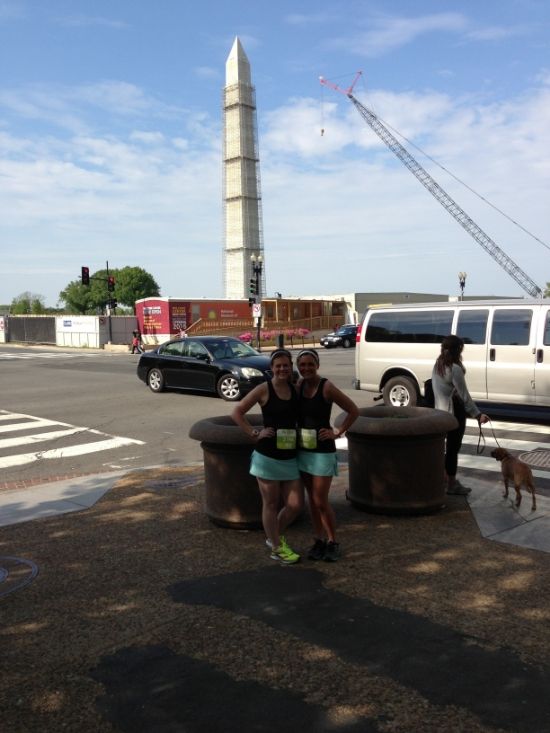 What?! It's the White House, y'all!!

So, it wasn't a sub 2. It wasn't even a PR. But you know what it was? It was my 10th half marathon. And that is nothing to shake a stick at. I ran my 10th half in a time that I never thought possible. That's 131 miles in half marathons alone. Not to mention training cycles and 5K's and 10K's. I celebrated on Sunday. Everything that I have been able to do because of running. It has changed me in so many ways. I cannot thank you enough for the support and encouragement that you have given me on the Internet. From those who wished me good luck, to those who actually tracked my race online, I cannot thank you enough. It's amazing to have that kind of support.
Now for the bling…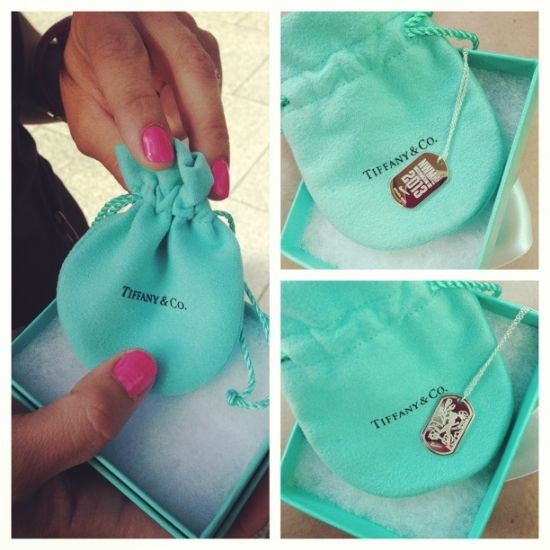 Awesome, right?
Now, would I run this race again? This race was amazing. The course was beautiful. I did not care for the lack of coral starts. Or the fact that the 2 hour pacer can't hold up her sign very well. The runner tracking was a complete joke. I want something that posts to Twitter, not Facebook!! The fact that there weren't any finish line photos royally ticks me off. I also don't like the lack of information out there from Nike. But, I feel like I got my money's worth and everything was well organized. I heard there weren't a lot of port-o-potty's, but that didn't affect me, so I am not sure.
I can tell you one thing… I've been wearing Tiffany since Sunday!

Here it is.. Nike Women's is upon us and there is no turning back. I think we all know that I am a little nervous as to what to expect. My last month of training hasn't been stellar, but I'll be honest, mentally, I am ready to give it my all. I know that I can run a sub 2, but it may not be this week. I am determined to go down trying, though.
With the sickness, I missed my last long run, but I refuse to dwell. My training since December has transformed my running and I have learned so much about myself.
I hope to enjoy every step of Nike, because this race is huge for me. It's half marathon number 10 for me. I was chosen from the lottery for it and I get to run it with one of the raddest ladies on the planet, in our nation's capitol.
I've pretty much come to the conclusion that breaking the 2 hour ceiling isn't going to feel good, but I really want this for #10. Running has given me so much over the past 3 years, and this is something that I never thought I would be able to do.
For my "taper" week, I decided to get out my bike and ride with a group that meets near my work in the evenings. Completely out of my comfort zone, I am so awkward in group settings when I don't know anyone. Which, I knew NO ONE. I thought it was going to be an easy 10-12 miles… it ended up being 20. OOPS. I didn't mean to do that AT ALL. Especially the week of a race. They were super nice and were always giving me a heads up on uneven terrain or if a driver was on their cell phone. I also had my first official fall. We were stopping to get some water, and I always unclip on the left. I was turning to the right and slowing down and I guess leaning into the turn, and just went down like a ton of bricks. There is literally nothing you can do when you are clipped in and start to fall. Just hang on for the ride. Luckily, I fell into a patch of grass, so it was all good. Minus the chain marks and the bruise on my leg, I am good.
I ran Wednesday for my last run before Nike and my legs were feeling a little tired. My chest was a little heavy due to the sickness, but otherwise, I feel good.
Nike released this little gem this week…
A Tiffany blue Free. I want it so bad. I'm still debating on if I should purchase them… I would never run a distance race in them, so it seems a little ridiculous to drop $150 on a pair of shoes. But.. they are so pretty!!!
I need to start working on my race playlist, so tell me what you favorite song is right now to run to!
Any last words on encouragement? Should I get the shoes?!

Yep. So. I'm a little late blogging about this.
But I am super stoked to say that I got in the Nike Women's Inaugural Half in DC. The date is April 28th,2013 and I plan to make this my best half yet. I want to PR this course. The best thing? I get to run it with my Internet bestie, Molly!!
Here is the course:
A lot different from RNR DC and I am super excited. I was worried the courses would be similar, but this one totally rocks!
Did anyone else get in? Are you as excited as I am?!