I had no clue that running helped with my ADD so much. Until I got injured. Now I have all of this restless energy and it has no place to go. So currently, it's all going into organizing my house. That's fun, right?? Sort of the same as running, right??
So, I saw this pin on Pinterest and it got me thinking… I shove all of my expensive running clothes into a drawer and hang up the t-shirts that I never wear. Sounds smart, doesn't it? So, I decided to flip them and move the t-shirts to the drawer.
It's a lot of t-shirts…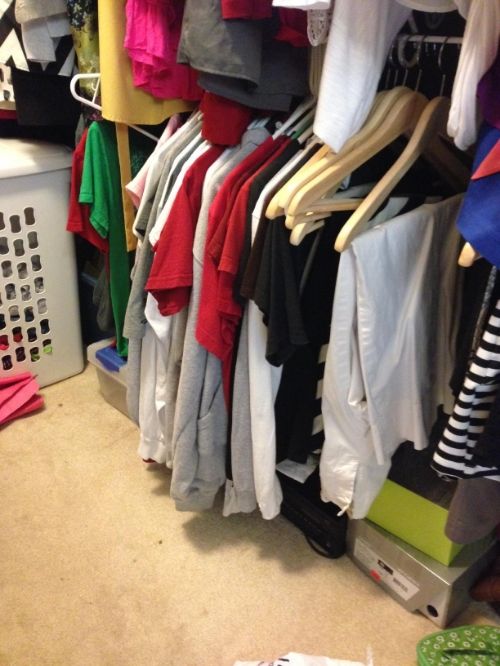 Poor Lulu.. It just shouldn't be treated like that.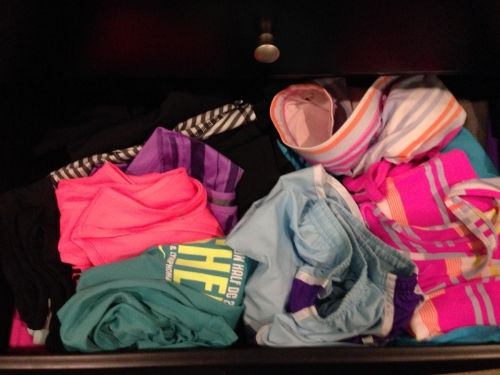 So, I folded everything up nice and tight, and I think there is even room for a couple more…
Now I won't wake up Hubs when I have to pilfer for something to wear at 4:45 in the morning.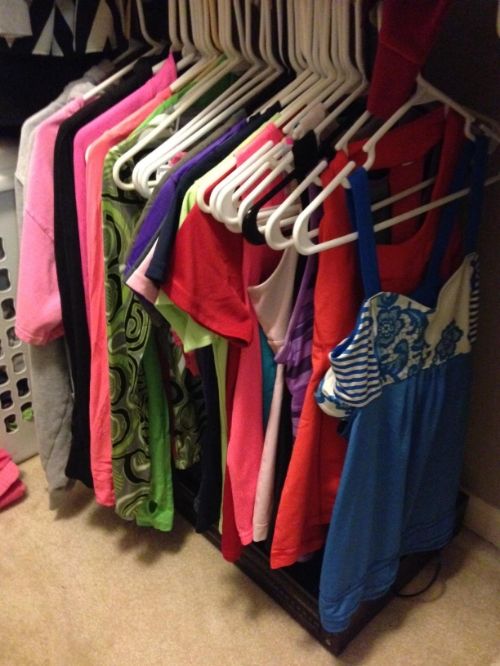 Along with the t-shirt swap, I've re-organized my linen closet, cleaned my fridge, organized my closet, and my bathroom drawers. It could be a long road to recovery, y'all.

What can I say for my love of Erin Condren? I am addicted to organizing and being organized, and she is a perfect fit.
I spent a couple of weeks pouring over her website, visualizing my new planner in my hands, trying to decide which one to order.. (I feel like I shouldn't admit that.)
Once I placed my order, I obsessively started tracking the progress.. did it have a print date? Was it printed? Ohh.. a tracking number!
So I knew when it was going to arrive on my doorstep…

First off.. let's discuss her packaging. GENIUS! So colorful– If I ever got to meet the woman who color coordinated my tissue paper to my box, well, I'd give her a hug. 
The newer planners are a little different than last years.. The spirals are sturdier. 
The tabs are already laminated.. HUGE plus! 
The paper is a little different, although, Hubs couldn't tell a difference.
The monthly spread calendar is across two pages, not just one. Which makes you lose your previous page of notes, but I dig the bigger month. 
I just started using these little stickers.. I know, I know.. slacker! 
The folder is so awesome.. 
As well as the zipper pouch..  I love to keep all kinds of treasures in it. 
I opted for the pen holder, which is already life changing. 
I have a confession. Once my planner arrived, it took me a week to change it over. I was having a hard time letting go of my other planner.. It knew me. My life was in it. This new planner felt like an impostor. (That's weird, right?) But I forced myself to change it over– it still doesn't feel like a part of me, but I am at least going to give it a fighting chance.
Have we talked about how I don't do well with change?
Do you have anything Erin Condren?
Do you love it as much as I do?