This post came out inadvertently. During my photo shoot for my Easter outfits pictures, I had Hubs take these:
Blech. Shadows, shadows, and more shadows. With Photography, lighting is everything. You don't want bright, sunny skies. Sure, you don't want rain though, but a nice overcast day helps diffuse the sun and even out the lighting.
Something to always look for, is open shade. A place that allows a TON of light in, but helps diffuse. Sometimes, trees are a good option, but you have to be careful because they can let light through their pesky little leafy holes. (RUDE.)
So, I literally moved 10 feet to under Mom's portico thing, and had my sister snap this…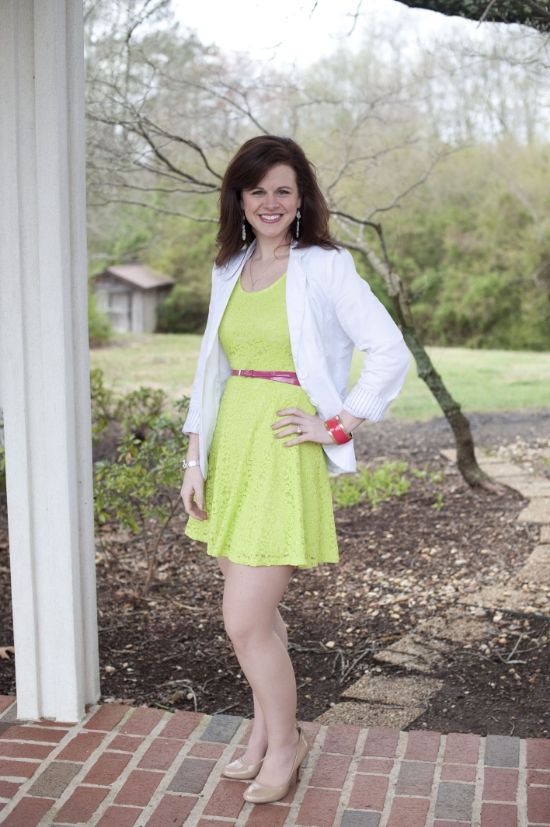 So much better, right?! You can completely see my face. Sadly, it also shows how pale and Cullen-like I am. Both of these photos are SOOC (straight out of the camera.), which means, no editing.
So, I urge you, the next time that you are out snapping pictures of your kiddos, take a look at the lighting and the difference it plays on the shadows.. you'll be surprised!

Yep. We celebrated Independence Day about 2 weeks ago.
I'm just now getting around to the pics. I did my sister's family pictures early that morning, and since all the kids were a color coordinated, I decided to try to get some shots of all the grandkids for the grandparents…
Let's review how easy it is to get 5 kids looking at the camera and smiling…
Claire is giving EMH the stink eye…
Joseph has fallen asleep..
The little Philly kids are done with pictures.
So we'll move on to the 3 granddaughters…
Claire doesn't want to be touched. 
Now she's seen a bug or something…
At least I got a decent family picture out of the deal…
Photographers must have endless amounts of patience.
I don't know where mine comes from, at times.

Wow. I totally meant to schedule this post for last week… but whatevs.
We took some impromptu family pictures for Easter.. I mean, of course I wanted one of our family being all color coordinated, but we had some time to kill before lunch, so I took everyone outside.
Look how cute these girls are… they love their daddy!
Such sweeties! And.. what's that? Both girls smiling AND looking at the camera… it's a miracle!
Addy has perfected her NEW gymnastics salute.. as opposed to the old one…
Claire has hers down pat too… 
John said he looks like an insurance salesmen… 
Addy took this.. be still my heart. The rule of thirds AND negative space. I love it. 
She took this one as well… our poor chins are working with the height disadvantage of a 5 year old. 
This one took some work.. I should show you the outtake of the family picture.. it's classic! 
I want to do a photo wall with these pictures… Can't decide how to lay it out though.. What are your thoughts?
Are these good enough to constitute their own wall?
Also.. I should announce a winner for the Estrea Giveaway…
Maybe that will help make your day, since your kiddos have been sick! Email me at runningbackwardsinhighheels@gmail(dot)com with your address and I will get the info to Estrea!

So, I realized, I never finished my DC trip..
After the race, we crashed on the couch and Sunday Molly fixed a delicious breakfast and we did a few family pics– which I basically had to beg to do for feeding and housing me for a long weekend.
Here are a few of my favs.. Molly posted the rest of the pics here. 
After that, they took me to my very first winery. Which, I highly recommend doing. SO FUN!!
We bought a bottle and sat outside on a gorgeous day and watched Coop run around and chit chatted.

It was a fabulous day… Of course, I took a few shots of these two… 
And then Molly and I may have had a couple of sips too many… 
Crazy gal… 
One of my favorite pictures ever. Internet Besties ROCK! 
I think I may hire B as my assistant.. sadly, the pay is nonexistent.
I must say… I really do have the best friends ever. They take care of me. EVERY. ONE. of them. I am so blessed.
The power of the Internet brought me this one.. who may have been scared the first time we met at a PF Changs when they moved across country. They invited me into their home and force fed me amazing home cooked meals, which made me gain 3 lbs. They drove me to and picked me up from the Baltimore Airport. I feel like these few pictures don't do enough justice for my amazing weekend in DC, nor do they repay the hospitality I was shown by this incredible family. Hopefully, B got to know me a little bit better and he is either frightened by our friendship, or approves.
I sincerely hope it's the latter.

Last week, another one of my dreams came true.
I ventured over to Atlanta with another photographer friend and we went to Jasmine Star's "The Fix".
Many of you may not know who Jasmine Star is, but she is a very esteemed wedding photographer based out of Orange County, California.
She is amazing and such an inspiration.
She did a meet and greet before it started, and signed my copy of "Exposed", which is a magazine that she published. 
She also complimented my outfit and my accessories. I Died.
Meeting her was amazing. She is so sweet in person as you would think, and is "real".
She spoke of so many things that touched my heart, but mostly about the struggle of "making it".
I don't really talk about photography a lot on here. Honestly, I don't know what to say. I feel like there are so many more people who can say it better, but I am going to try. I told Jasmine about my struggle. I keep those two lives separate. Photography goes on the photography blog, and everything else is here. But she suggested that maybe I try to merge the two. So, I am going to dip my toe in the water. I am going to start working on a post for y'all. Basic photography rules, that anyone can do. It dawned on me while at Blissdom, that people read this blog that live near me and have no clue that I am a photographer or even where I live.
So, now is the time to ask, what are some photography questions that you guys have, that I could answer?

I started this Project 12 in January, so hopefully we would have 12 good family pictures at the end of 2011. It was not easy. There are several months that I had to do 2 pictures, simply because we didn't have time/ I forgot. I am very glad we did this. It became apparent early on, that I was going to have to get creative or else they would look the same. Some of these, I have no make-up on, some are the best we could do simply because we have two small children who are very uncooperative in front of the camera sometimes. (Some would call this perspective.. me learning what it's like in front of the camera.) 
June was actually taken at Addy's birthday. 
I feel like this project really helped me with my positioning of people and also helped my photoshop skills, as I had to learn how to photoshop my kids into pictures.
April is probably my least favorite month.. with a toss up between August, May, or November being my favorite.
September is probably hands down the best picture of the girls, but too bad my eye went wonky in it.
I don't think I will do another one of these for 2012.. although they are nice to have, they are a lot of work, and I feel like I exhausted the grandparents taking these pictures. Or ya know, Tracie, who took a good bit of them too!
P.S. Dear Grandparents.. If you want one of these pictures, please just tell me and I will order it. Don't steal them off the blog and print them. It will make me sad so see a poor quality picture of my family framed in your house.

Since 2011 was such a rockstar year, I've decided to go big or go home with 2012.
Here are my goals for 2012.
Run a sub 2:15 half marathon.
get ripped. Meaning.. workout with weights.
be able to hold a handstand for 30 seconds.. possibly do a handstand push up.
Run 1,000 for the year. Yep. I said it! Roughly about 21 miles a week.
make J tiramisu
grow an herb garden and possibly a small garden for veggies.
become a superstar at time management!
I have several photography projects– a project 365 in Instagram, continuing on my Project 52, and a 10 on 10 project.
Pay off our remaining credit card bill– it'll be tough, but it's nice to have goals, right?
I want us to live on a serious budget for two months.. that'll be a hard one too!
I also want to either run a Sprint Tri or a Warrior Dash/Muddy Buddy type event. It'll be gross, for sure!
To push myself.. I tend to be lazy and quit when the going gets tough. I need to learn to push through the pain… Right Jana??
We need to learn to do things JUST for the girls. Not when it's convenient for us.
What are your goals for 2012? Anything I should add to mine??

Sometimes, when I am in my time-suck otherwise known as, Pinterest. I come across something and I'm all, "Oh. This is happening."
A certain Superman picture (that has since been taken off Pinterest. Boo.) made me think of this little boy:
As a photographer.. I can make a lot of things happen if you show me a picture you are going for. I know what I am doing there. I may not be a Photoshop genius, but for the most part, I can make things happen.
The problem is when you, the photographer, want someone else to take a picture for you. No matter if you describe to a T or even show them the picture, most likely, they won't get it.
J was pretty pumped about the picture. We tried to take it at the party and after two hours of hell, trying to Photoshop Claire into a picture, John took one look and said, "No. I need to be in a suit." Well.. okay. Wish I would have known that on Sunday.
So, I gather the supplies and tell John to meet me at his mom's after work and we are doing. this. picture.
He starts in on how he needs Clark Kent glasses.. um. Okay. Then you need to go find them. He wants me to grab some 3D glasses (!?!?!) and bring them. Done.
About 3 minutes into this photo op, I want to chunk these glasses in the road. He wants to be throwing them.. Um. Okay.
And we have a 5 year old and a 2 year old.
Pictures are hard for kids that age. I know. This is my life. I get it.
I also use tricks and noises and generally act like a fool to get kids to look at the camera and sometimes it doesn't work.
We took 99 pictures to try to get this family picture. (NINETY-NINE.)
(Side note: I am doing a Project 12- one family photo a month for a year and it may kill me)
While I am not showing you all 99.. I am showing you a few of the gems we have. This is why you hire a professional people! Which is what I really need to do. But I am stubborn.

This is just a Hot Mess.
John is giving the air gun to someone…
Could have been cute if it weren't for those stupid glasses.
Claire has found a present for you.
C is frightened by how horrific this is turning out.
Addy is clearly over this. And John is about to blow a gasket
Who are these kids?!!?
Clearly I am arguing with Addy about her pink camera. John looks more like a Blues Brother than Clark Kent
Oh What's that, Rachel? You smelled a fart?
John says it looks like I have scoop like Lois Lane.. I think I am smelling more farts.
This is the best we could do. And Yes. Some people have been photoshopped into these family pictures.
Family pictures… will drive a photographer to drink.

Two years ago, I set out in my photography journey.
I wanted to have an awesome Christmas card.
So, I set it up and had Linda take our picture.
Two years later, tons of hours editing, researching, and practicing later… John asked me to re-do the family picture. He said it was terrible. He wanted the same shot, but just better. So I turned that into our Project 12 for the month and a mini-photo shoot for the family.
Just a tad different, don'tcha think?
I am almost embarrassed about that first picture.. I was so proud and it's terrible. I've learned a little bit more about exposure and white balance, but for me, photography is about constantly studying and getting better. If you think you know it all, it's time to get out.
This is Classic Claire.
Linus and her blanket..
I love this picture.
Of course I got gussied up and had John take my picture!
I hope you enjoyed my mini-session with the kids!
I was supposed to be giving the garage an acid bath, but I have apparently sniffed too many fumes, I have been banned from working in there anymore and he is going to finish it. Who knew that you could literally get sick from smelling paint thinner fumes? Don't worry.. I have before and after pictures of the garage to share with you soon.. it's only been a project for 3 weeks.

My birthday was a hit! I had a blast, we ate at Ruby Tuesdays and I got so much Nike Running gear it wasn't even funny! Seriously, when I take a picture( and I WILL take a picture) you will be floored. BUT, I may not be around much this week, because I will be busy making magic happen. This is what I did for 5 HOURS yesterday. And people, that was my 2nd day there. I want to hear you brag on me, because, day 1? It wasn't easy!