I decided to get up before the chickens and drive to Birmingham Saturday morning to run with the Birmingham Track Club. They have an awesome group that meets on Saturdays and has multiple distances and multiple paces. With it being so flipping cold, The Trak Shak opened and let us hang inside while they went over the routes.. of course, I never listen to turns… Probably a terrible idea. But I did run with my phone, in case I got lost. Because that's been known to happen before.
The gigantic group starts together but they end up breaking off into smaller groups based on pace. I am becoming more comfortable walking into these settings of not knowing anyone and just start talking to people. Sometimes people are more receptive and others aren't, but I've found that this Saturday group is super friendly and will make you feel comfortable.
I met pacers for my upcoming half marathon and past Ms. Alabama's, so it was a good run, I'd say. Of course, the route was a little on the tough side, with some killer hills… one of which was an incline for about 2.5 miles… Super fun with the ankle. But the view atop Red Mountain… was sort of worth it. The group said the sunrise was amazing, but we were a little bit early for sunrise and it was still dark… It looks lighter because of all the lights coming from the buildings downtown.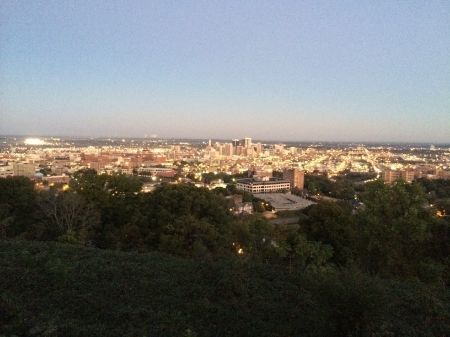 My race season starts on Saturday with my 3rd 10K ever and the first time that I've ever run the Vulcan 10K. I'm hoping it'll be a good run that I finish in under 1:00, but we shall see what the 'ol running coach says. I'd love to see sub-55, but I am not sure that is even possible or smart with a half marathon at the end of November.
The ankle seems to be holding up in the brace. It's a little more sore after those 9 miles, but nothing unmanageable. I should probably avoid big hills though.

I went to the doctor last week and enjoyed an all day affair of waiting rooms, paper work, X-Rays, and MRI's. Seriously. Try it on your day off.
Dr. M was awesome. I had the X-Ray and then met with her and she pushed around on my ankle and foot (ouch!) and was all, "Yep! It's tendonitis for sure!" I basically told her that I was a distance runner and I had goals for the Fall and if she told me to sleep with my foot tied to a ceiling fan, that I would. She saw something on the X-Ray that made her a little nervous, which in turn made me nervous. She said we could do a couple of weeks of therapy and see if that helped everything, but if I was still having pain that I'd need an MRI and and then I would have lost two more weeks. Nope. Sign me up for the giant magnetic tube, please. They were able to get me an MRI appt for that afternoon, so I ate lunch with my friend Brooke and then went to see my grandfather who had surgery that day (he's fine! No worries!!).
I got back over the the MRI place and filled out more paperwork and then had to sign over my first born to be able to pay the copay for the thing. (Don't worry, I've got a spare, so it's cool.) I also tried to butter up the lady at reception so she wouldn't talk about me behind my back (clearly I have issues). I got in the tube and had to hold my foot in a super uncomfortable position for 30 minutes, where I promptly fell asleep. I kept jumping though like you did when you used to fall asleep in class and was worried I was messing up the tests. I asked the tech how everything looked and she gave me to stank eye and told me they'd call me with the results. Since they had already scheduled a follow up for Monday, I wasn't holding my breath for that phone call.
So, I went back yesterday for the MRI results. Are you aware how bad it stinks to wait an entire weekend for news? It just seemed unfair. Anyway, she said the bone looks good (Yay!) minus some moderate arthritis where I had a previous fracture. I have posterior AND anterior tibialis tendonitis. She wants me to do therapy and wear a brace to help take the strain off of the tendon so it can heal. I'm supposed to also do some strengthening exercises. She also injected it and we should discuss that for just a second. I'm not squeamish with needles or anything medical, but she stuck me and I was good. She starts pushing the medicine and I'm still good, but then? All of the sudden, It burned and I screamed and lost complete control over my foot and leg. Clearly, she was expecting it, because she was trying to hold down my leg. It had a mind of it's own though, and I literally thought, "What the f**k is my leg and foot doing?? Why can't I control it anymore??" And then I lost feeling in it. It made that hour long drive super fun since I couldn't feel my foot.
So, I can run when there is no pain. I guess I will take a note out of Dori's book and just keep swimming and working on my upper body strength. Fingers crossed for a quick recovery so I can at least run the races I have scheduled for November.
Has anyone ever had this?? If so, let's talk about it, because I don't want to talk to my friend Dr. Google about it, because he says I should just amputate my foot.