As you all know, I had high hopes for this race. I wanted to PR my comeback race… Well. Things didn't go as planned. It was set to be SUPER cold.. in the 30′s and not warm up much. Good thing they let us hang inside and I got to meet a fellow blogging Bammer… BamaGirlRuns. I recognized her in her signature pigtails and houndstooth visor.
This was Robbie's first half.. and he was a tad nervous.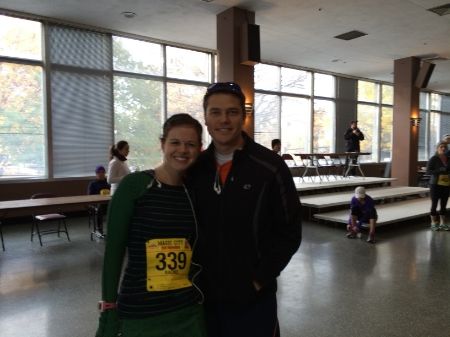 Originally, I was set to wear a skirt and long sleeve top, but something told me because of the cold, that maybe I should pack a pair of pants. I was glad I did, because 10 minutes before the start, I was changing in my car… and then I got child locked in. Lovely.
Meredith found us before the start!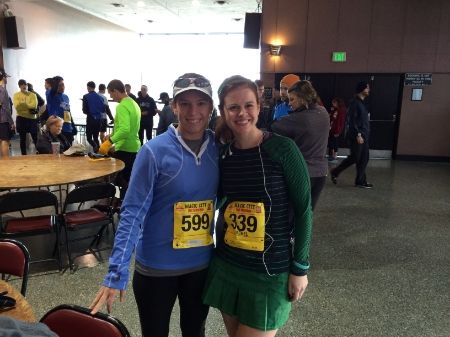 The race started late.. I have honestly never been in a race that the runners started chanting "start!" but now I have. It was so cold that my legs were involuntarily convulsing standing there. My plan was to start with the 2 hour pacers and then pull away after the half way point… did. not. happen.
I started with them and was running with a friend and we were just chatting.. and somewhere after the 10K split, I lost her through a water station. (I PR'd the 10K split.. 56 and change. A full minute and a half!) This was also where my hips started tightening up.. some slight discomfort and I tried to rally. Eventually, I realized breaking 2 was out of the question, and was fine with it. You reach a point where you become okay with all that you are giving in a race.
Here's a lovely photo… if it had a thought bubble, it would say.. "Hey! I'm in immense pain!! But there's a photographer, so smile, damn it!"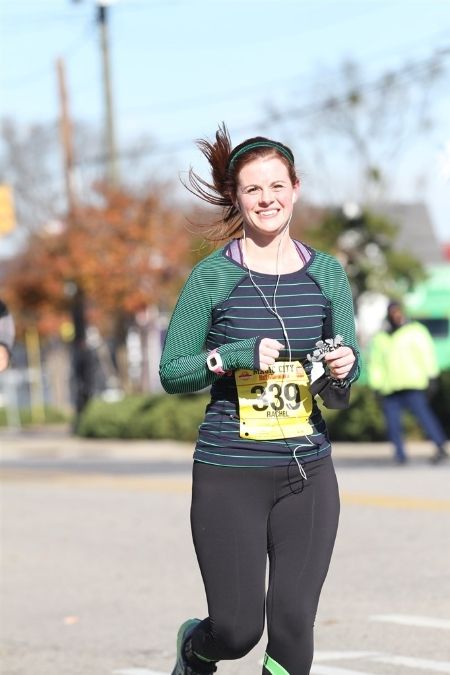 Around mile 10, I tried to rally again, but I always forget how tough this course is. It feels like a lot of uphill with no downhill. And once I hit 11, I was ready to be done. My hips were so tight, that with every step I took, I thought my hip flexors were going to snap like rubber bands. This is about the time that Sunny came up behind me. I have never been so happy to see a friend! Sometimes, it just helps to be able to vocalize your suffering to someone else. I also told her I wanted to quit. I have never had that cross my mind in a race. I have no doubt that I would have, if I hadn't been within half a mile of the finish line. But I would have had to walk back to the finish anyway… Might as well get a medal for it.
I was very happy to see familiar faces at the finish and have an ecstatic Claire run across the finish line with me. 
Look at her face! I die. She's so happy and I wouldn't have traded all the PR's in the world for having this with her. She kept saying "Look Mommy! We are running to the finish line! Do you see those pretty medals?"
After the race I could barely walk… I was almost in tears. I came across one of my coaches and he forced me to stretch my hips and ohmygod it hurt so bad.
We ended up eating lunch at Rojo, where we didn't have the best experience, but we aren't going to discuss that.
I am so proud of Robbie!! He killed his first half marathon!
After some long e-mails with my coach, I've decided that I am proud of what I accomplished out there. The headwinds and weather were certainly a factor. It was also a comeback race… one where I wasn't far off from my PR. I finished is 2:05. That's a 20 minute course PR for me. So, that's definitely nothing to shake a stick at!

Saturday was my first Tri of the season. Philly did a team relay and he was the swimmer of the group.
I've decided I don't like competing in things with my husband… he is very much on edge when I am not 15 minutes early and asks for weird "pump up" songs like "Deep River Woman"… Say WHAT?!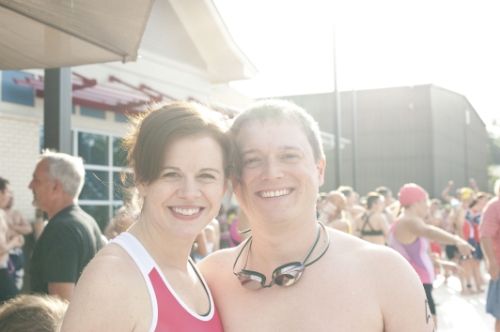 Upon arriving, I grabbed my packet and saw I was number 21.. umm what? No, thank you. That puts me up there with the "real" competitors and freaks me out, but gives me a nice spot in transition.
The girls came to spectate and were blinded by my awesomeness… or the sun. Whatever.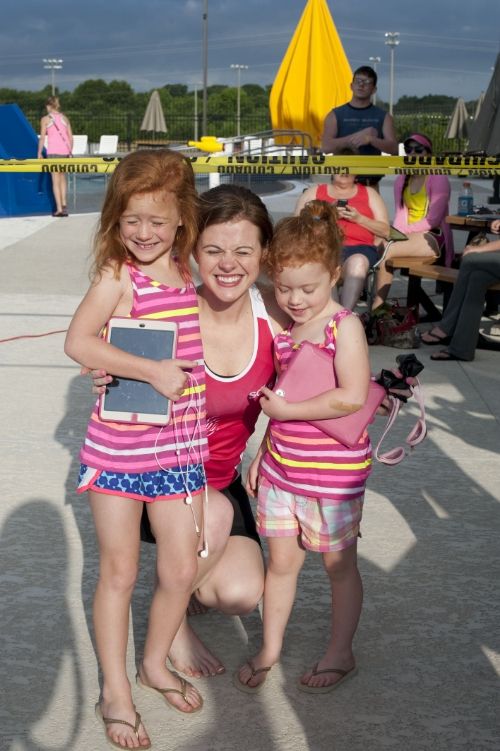 I don't have any swim pictures.. sorry. Or bike pictures. But this is me in T2… Philly is giving me a run down on how I'm doing.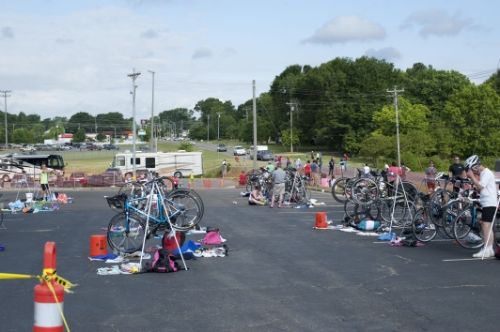 This picture says "Hey! This is fun!" But my mouth is really saying, "hey! This sucks! My legs are super pissed about this!"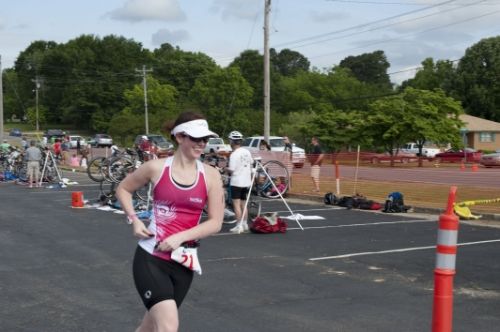 The run was mostly shaded and pretty flat minus one hill.
Here's me coming into the final stretch…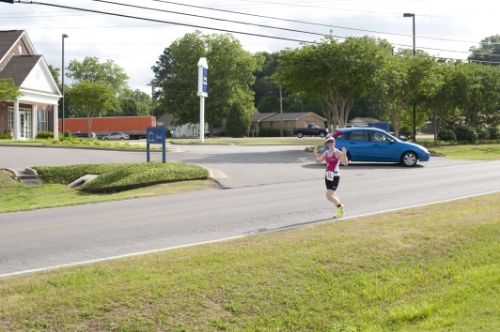 Practicing my dance moves? I am not sure.But I look like I'm having fun!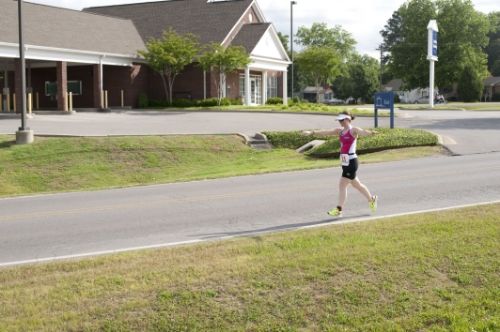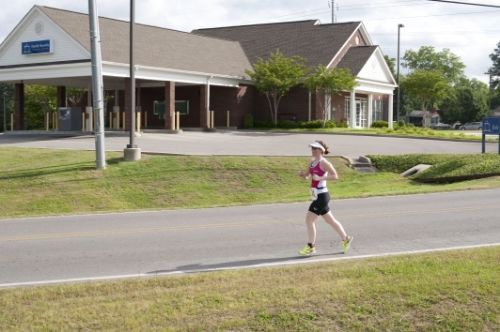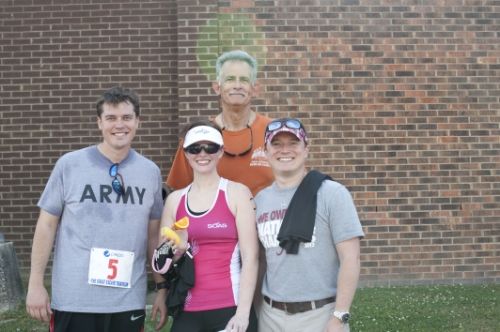 John and his team.. came in 1st. Way to go, guys!!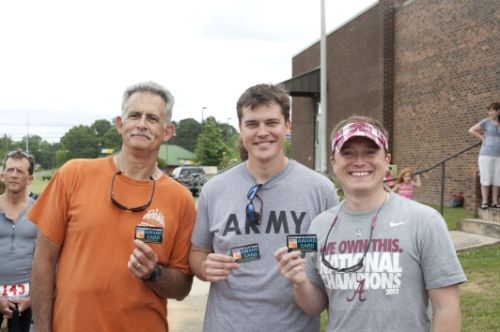 Me? I came in 2nd or 3rd, however you want to look at it.
I was 2nd, in all of the preliminary print outs, and then when they did awards, some girl came out of nowhere and beat me and the chick in front of me. No. I think it was rigged… kidding! Sort of.
Triathlons… you REALLY have to not care what you look like at the end.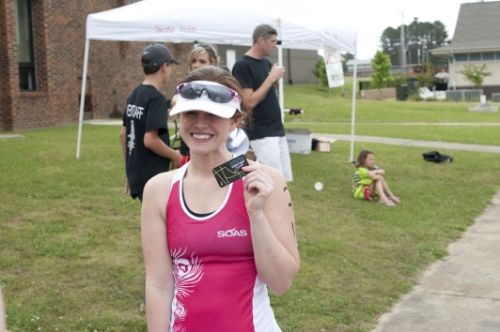 I think this is an excellent first time Tri for anyone. Pool swim, short run, easy course. They didn't have water or Gatorade, therefore, some of us didn't hydrate properly… Ahem… ME.
They also said they would be giving us swim caps, and they did not. Luckily,I had two in my bag and lent one out to a fellow swimmer.
My goal was to finish under an hour and I did… 58:41. Super proud with the first one of the season! Of course, my thought process was, "Wait. I want to do a half Ironman?!" Because, well, it's just insane to think about.

Before telling you about my trip to DC, I think I will post my race recap!
FIrst off, the Expo, was sort of lame. You really couldn't buy anything and it was just nuts. But, the packet pick up was separate and was a breeze, so kudos for that one. With all of the walking up and down hills, my calves were tight and I knew I wouldn't be running on fresh legs.
I laid out all of my gear the night before….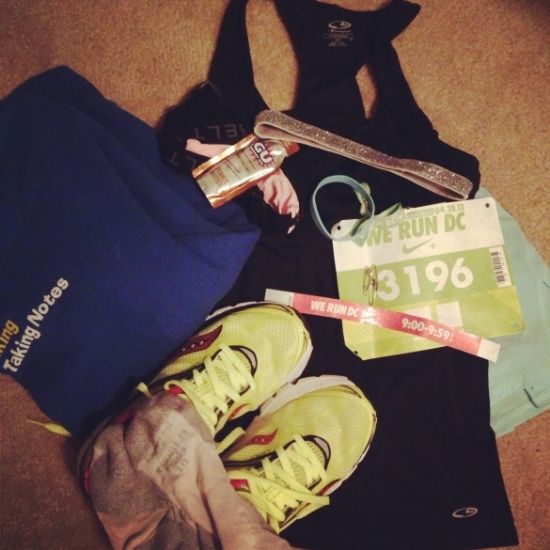 The gorgeous sunrise heading into the city…
Molly's husband drove us into the city, instead of taking the metro. He dropped us off about 3 blocks from the start line. It was awesome. I hope it was awesome for him too.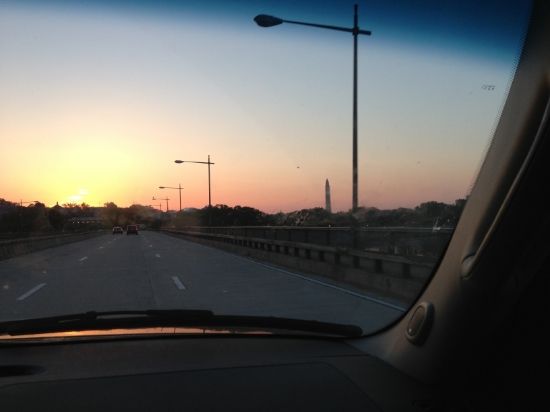 We entered into the 9:00-9:59 coral.. which, honestly, was completely pointless seeing as how they didn't do a coral start.
We all just started out at once.. and we were behind the 2:10 pacer. I was NOT HAPPY about weaving around so many women in tight spaces. There were 15,000 runners, and a lot of them first timers, (I hate to stereotype..BUT) they probably didn't know there are rules to racing. We spent the first two miles LITERALLY weaving in and out of people. I was so frustrated that I couldn't get pasted the 2:10 pacer. It cleared a little after mile 2 when we were crossing the bridge to Arlington Cemetery.
We finally caught sight of the 2:00 pacer on the loop by the Kennedy Center.. I knew then it was going to be tough to catch up. Around mile 6, my IT band started making its presence known and I got a side stitch.. I knew I was pushing it too hard. I decided right then and there that I wouldn't injure myself over a sub 2:00 half. I would run what I could and give it everything I had and I would be happy. At this point, Molly was pushing me and I felt bad that I had nothing to give her except facial grimaces. It didn't help that around this point, it was completely boring as we were running around the golf course. I tried to find funny signs to help me out. I never realized how hard it was to try to catch a pacer… the mental stress that just adds to the run. That part was misery.
As hard as I was running, this was a very cleansing run for me. I let go of everything else going on in my life, and completely concentrated on the race and the steps in front of me. It was just very… freeing. I had nothing to do but run like it was my job. We saw Molly's fam around mile 10 and it was a nice change of pace. B got some pictures of us and I realized how bad I hunch my shoulders when I run.. no wonder my shoulder blades go numb!
Anyway, it wasn't long after that, Molly lost me as I couldn't continue to beast up the hill. I knew then that I wouldn't break 2 hours, but I might could possibly PR. Heading back into the tunnel was awful and not near as exciting as it was at the beginning of the race. As we rounded the loop and I could see runners running towards the finish line, I got really pissed off because I HATE when courses do that. We made the worlds longest loop and heading back, I could see the finish line. So, I attempted to push it and completely ran out of gas because I misjudged how far the actual finish line was. At mile 12.5 I was really pissed off. But I got my phone out because I knew I would want pictures at the finish line, and saw all of the Tweets, FB messages and texts that lined my screen. I couldn't believe it.
I crossed the finish line with my hands held high and a smile on my face and guess what? There won't be any pictures because Nike didn't have photographers!! WTF NIKE?!?!
Anyway, as I stood in line to get my Tiffany, I told the girl behind me (yes, I told her.) "Hey, I'll take your picture with him if you'll take mine." She looked at me like a crazy person, but also a genius.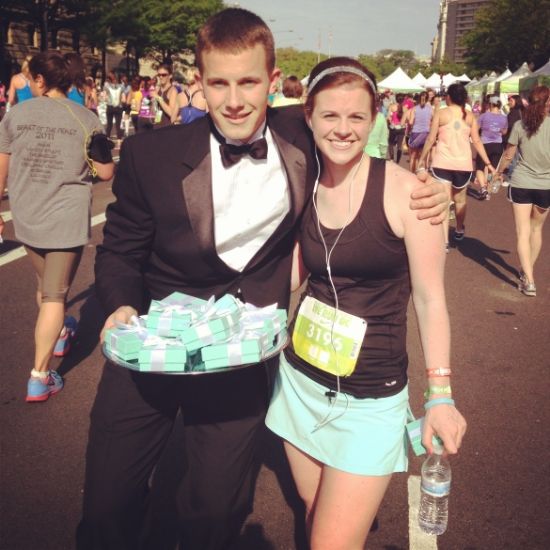 I found Molly and we had our "WE DID IT!!!" picture.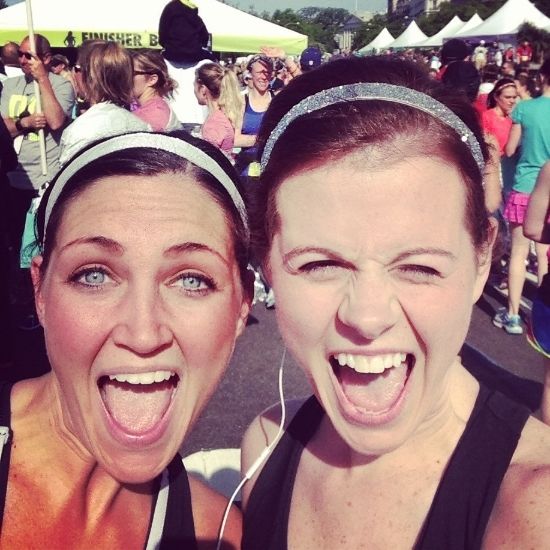 Posing with our blue boxes..

Washington Monument? Yes, please!!!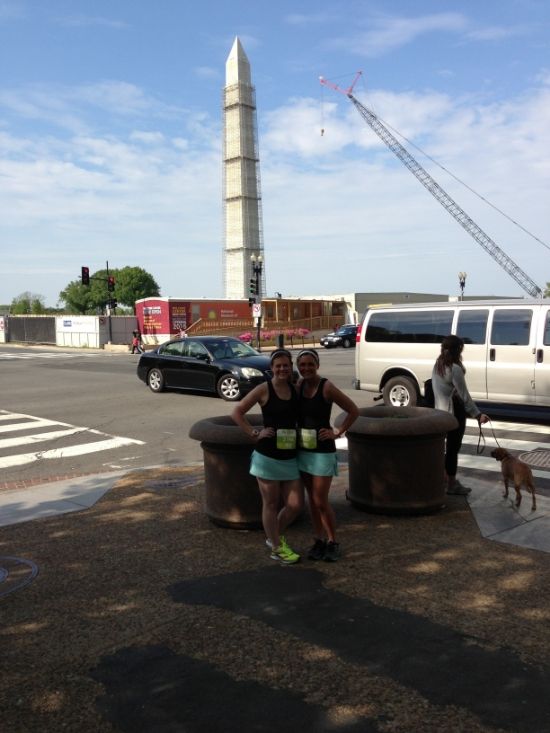 What?! It's the White House, y'all!!

So, it wasn't a sub 2. It wasn't even a PR. But you know what it was? It was my 10th half marathon. And that is nothing to shake a stick at. I ran my 10th half in a time that I never thought possible. That's 131 miles in half marathons alone. Not to mention training cycles and 5K's and 10K's. I celebrated on Sunday. Everything that I have been able to do because of running. It has changed me in so many ways. I cannot thank you enough for the support and encouragement that you have given me on the Internet. From those who wished me good luck, to those who actually tracked my race online, I cannot thank you enough. It's amazing to have that kind of support.
Now for the bling…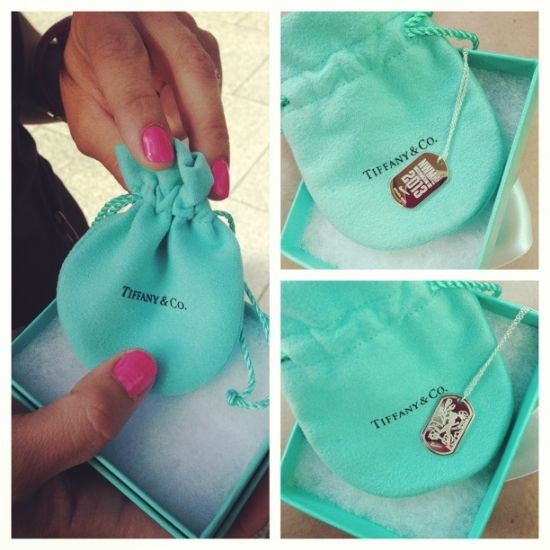 Awesome, right?
Now, would I run this race again? This race was amazing. The course was beautiful. I did not care for the lack of coral starts. Or the fact that the 2 hour pacer can't hold up her sign very well. The runner tracking was a complete joke. I want something that posts to Twitter, not Facebook!! The fact that there weren't any finish line photos royally ticks me off. I also don't like the lack of information out there from Nike. But, I feel like I got my money's worth and everything was well organized. I heard there weren't a lot of port-o-potty's, but that didn't affect me, so I am not sure.
I can tell you one thing… I've been wearing Tiffany since Sunday!

Friday night, I ventured down to Tuscaloosa with the kiddos to spend the night with my brother in law, Jay, before my race Saturday morning. I ended up ordering that Lululemon I was coveting, and had it priority shipped out, and after much drama surrounding it's arrival, it came. I was hoping it would be here around lunchtime. I had it shipped to my in laws, because I figured FedEx would show up there, than before my house. I wanted to leave by 2:50ish, as soon as I picked Addy up from school. At 2:40, I got the confirmation that it had been delivered, so I swung by to pick it up on my way to scoop up Addy. Whew!
The drive down was nothing short of awful with the cries of "I'm hungry!", "I'm thirsty!", "I have to pee!", "I hate Michael Jackson! Play a girl song!". I was contemplating jumping out of my moving vehicle. We stopped by to do the packet pick up, and it was outside and WINDY, y'all. I knew the wind would be a deciding factor in this race.
Since my runs have been less than stellar since Mercedes, I was just hoping to finish with a decent time. I would love to PR, but with my mental state, I wasn't sure I had it in me. I decided I would run what felt good and see what happened. I was hoping for a best case scenario of 2:05.
I settled into bed at a reasonable 11:15. (not reasonable at ALL!)
I decided the next morning that I would run by Panera for a bagel and coffee. I was worried about eating so late, but I decided that since it was a tailgating tradition, I needed to step up my domination. John gave me some last minute encouragement in the form of, "If you don't change your attitude, you aren't going to PR. You are in Tuscaloosa. Step it up."
I mean, besides, Nick Saban was watching anyway.
Mary came to run it and it was chilly and windy at the start. I opted to not mess with gloves, and my hands were freezing. Note to self: over sized sweat shirts are NOT your friend.
The start line…
The course started in downtown Tuscaloosa and wound back into the tornado destruction areas. I ended up spotting two fellow girls in lululemon who were running about the same pace and drafted them for a couple of miles. They had signs along the course that had facts about the tornado damage. And especially in Forest Lakes, there hasn't been a ton of rebuilding. Running through that area, and knowing what it looked like before, was something that I don't think I can describe. Tuscaloosa is my second home, and seeing these homeowners outside in their pajamas holding up signs and cheering us on only brought that emotion to the surface. I almost lost it when I was coming up a climb, and looked over at nothing but empty lots, with one freshly built house, and the homeowners were standing outside. As we made the turn, I got a whiff of fresh lumber and saw dust and could hear the pep band up in the distance playing the fight song… it was quite an experience. One that will definitely stay with me.
While this course wasn't as tough as Mercedes, it wasn't joke either. It had some climbs and the wind was a factor, for sure. There is nothing like pounding your way up a hill is 35 degree weather, only to be hit in the face with a head wind as you near the top. The wind was so cutting at times (This is a possible TMI), my boobs would get a tingly feeling like when I was breastfeeding and my milk would let down. (Gross. I know. And I just shared it with the Internet. I should be ashamed.)
The course looped back on itself through Alberta City and I could see the leaders coming through. I figured Mary would be towards the front, and she didn't disappoint. She was with the first smaller group of speedsters and went all, "Whoo! girl" on me.
Around mile 8, I caught sight of a flash of red in my peripheral, and low and behold, it belonged to me. Jay had brought the girls out to see me along the course! I ran over and gave Addy a quick kiss, and I figured Claire would cry that she didn't get one, but as they passed me in the car, Claire was blowing everyone kisses and doing her beauty queen wave.
Once we hit Jack Warner, we only had about a 5K left and I came up on a girl and started chatting with her. She was trying to sub 2 and she figured we were close, so I just hung with her and chatted. The last mile and half to 2 miles were on paved trails and let me tell you… that SUCKED. Combined with the mile markers being off… and I wasn't a happy camper towards the end.
But seeing my watch lifted my spirits…
And I had this waiting for me in the parking lot… can't complain with that!
All in all, this was an excellent run and I am so glad I did it. It was another PR for me and Mary, as well!
2:02:58 was my official time, 21st in my Age Group, and 346 overall. I am proud to say I was in the in the upper 1/4 of finishers. It feels good, y'all.
Sub 2, here I come!!

I have officially completed 1/3 of my Spring half marathons and let me tell you, I am still floating on cloud 9 about this race.
I was sort of (okay a LOT) freaking out about it. The pressure I was putting on myself to sub 2:15 this race was INSANE. I got a surprise in the mail from Mary (which. when she told me she was sending me something, I was totally expecting a funny saying on a pair of thong underwear that we kept seeing in Key West.) on Thursday, and tears were in my eyes when I opened it. The bracelet says WWCD? What would Clowney Do? Getting that bracelet from Mary, helped me calm the eff down and realize that I could do this. It may not be this weekend, but it was coming.
I knew the weather was going to be cold and everyone kept telling me it was going to be 25 at the start. I knew I would need some throw away clothing for along the course. I decided on the piece of clothing I have owned the longest. I know Philly was glad to see it go, since it came from an ex-boyfriend 13 years ago, but at one time, it was the only sweatshirt I owned.
I packed my bag the night before, because, well, that 4 am wake up call was NOT my friend.
These numbers blow my mind. Too early and TOO cold.
We made it downtown to wait inside Boutwell to stay warm. Shannon was running her first full and my goal was to stay with her and Kelly and knock out as many 9:40 miles as we could.
The corrals were crazy busy and we ended up hanging on the sidewalk until the gun went off and people starting moving. I decided to shed the sweatshirt before crossing the start line since temperature wise, I was comfortable in it what I had on. Yes, I said goodbye to it. Sue me. I was sad to see the sweatshirt go!
Maleah snapped this pic of us-I love how caught off guard I am.
We started out conservative.. especially for us. 10:00 first mile. I'll be honest.. I was a little mad. I know how I do in races, and I tend to fall apart around mile 10-11. I needed to have those good times in the beginning to make up for a crappy ending.
Now, since I can't read an elevation chart, a friend so nicely told me, "Once you reach the Chevron in 5 points, it's all downhill from there." This course is generally flat, minus miles 4-6 with some steep climbs. I saw the Chevron, and just beyond said Chevron, was a hill. LIAR, I said in head. But then, I came through 5 points and there was another Chevron and it was literally starting a downhill.. so. Yeah. My bad. Right after the 10K split was a hill and I just kept pushing up it (yep. Me. I pushed myself UP A HILL.) and lost Kelly and Shannon around that point. I kept holding back with them because I was afraid I would need to push later from them.
I did walk through my first water station that was uphill and Kelly and Shannon caught back up with me. We ran through the Highlands for a little bit.. just long enough to spot Dad and Karen! I ran over and gave my dad a kiss, all while Karen was screaming "That's our daughter, Rachel!! Right there! Run Rachel!" and people were turning around and cheering. Definitely a racing highlight for me. Dad and Karen always come out to support races, no matter how big or small and it means so much to have them there.
Karen snapped this pic..
I think mile 9 was a good bit of downhills and I took a GU at that point. I was still feeling good, still had some left in the tank and I was holding out for that final stretch. At one point, I looked around and realized, I was in the presence of mostly men and I just started weaving in and out of people, picking me feet up. It felt good. No matter how many races I run, mile 10-11 is ALWAYS the longest and the hardest. You wouldn't think it'd be that way. You've hit double digits, and you have less than a 5K left. I believe this was the point that I did some bad math in my head and thought I was going to come in around 2 hours, but I realized, even if I feel off and had to run walk the last 2 miles, I was going to make that sub 2:15 goal. That got the adrenaline pumping again, and it helped me pick up my step– I started seeing 9:15′s and 9:14′s for those final miles. I kicked it up through the shoot, and crossed the finish line with a clock time of 2:09. By the time I made it through the finishers shoot, the texts and tweets were coming through. I had broken both goals I set for myself this year. A sub 2:15 and a sub 2:10.
I called Dad but they were still stuck over on Highland. I called John and he informed me that I was smart to come in around when the wheelchair racers finished, because I had a tv finish.
I found Donnie when he got done and we went over to Boutwell for the after party..
Jim N Nick's provided the post race food.. and if you know me, you know I do NOT eat BBQ. But I happily ate this pulled pork sandwich.
I was on cloud 9 all day. I couldn't believe what I had accomplished. I also couldn't believe the outpour of support from twitter and Instagram. Seriously.. blog friends ROCK.
Me and my medal! And all of my Lululemon glory, I might add.
Donnie and I drank and chatted for a while until it was time for Shannon and Kelly to finish. I don't ever get to spectate races, and it's nothing short of amazing watching those relay teams and individuals cross a marathon finish line. Some are elated, some are struggling, but they are all badasses in my opinion.
Me, Shannon, and Kelly
Me and more beer… lesson learned. Beer is proper post race hydration. No matter how yummy.
I'm so glad I didn't give up on this goal. My next goal is obviously a sub 2, or as close to it as I can get for Nike in April. I've got one more half in two weeks, and the goal there is to finish. As of today, I still have no desire to do a full marathon, but the desire to complete a 70.3 is growing, so I think that will be the next big goal.. probably for 2014. The year of my 30th birthday.
Mercedes was a great course and honestly, the best I have ever felt physically and mentally through an entire race. I guess all that hill training paid off.
My official time was 2:06:37.
Thank you for all of the support that y'all have given me.. it feels amazing to get that sub 2:15 monkey off my back.

I doubt y'all will be shocked to learn that I signed up for a 10K at the last minute.
I ran a good bit with Donnie and Shannon this week, and running with them really showed me how much I have improved over this training cycle.
So, after running a total of 24 miles during the course of the week, 10 of the miles logged on Friday morning, I loaded up in the car and headed to Birmingham for the Village 2 Village 10K. It starts in Mountain Brook and runs to Crestline Village and back. It has some pretty intense hills, but since I have only ran one previous 10K, I was hoping for a PR and my ultimate, somewhat-not-really-attainable goal was for under an hour. I wasn't sure how my legs were going to hold up after everything I had asked of them that week.
I stayed with Shannon through most of it, but she stayed a few steps ahead of me through the last two miles. I always had her in my sights, so I knew I was keeping a good pace (I'm trying not to obsess on my watch so much).
The course was beautiful.. gorgeous homes and views of the golf course. When I rounded the corner for the finish line, I saw the clock hit 1 hour and I got a little sad. But Shannon reminded me to look at my watch… 59:47. I had done it! My official time was 59:43.. a 9:38 pace. Not too shabby, y'all. That made is a 9 minute PR from my last 10K. So, I will take it and wear it proudly.
Gigi is the ultimate Spectator, y'all. She has to be on her death bed to miss a race. Even when I tell her it's cold and to stay in her jammies. Love you, Karen!
So, with less than 3 weeks until Mercedes, this weeks training is intense and I am staying pretty exhausted. But, if it gets me a sub 2:15, I will take that as well.
Of course, all I can think about now is what I am wearing for Mercedes.. I bought a jacket, toboggan, and capris for it, but now I am wondering if it'll be too hot for it. Typically, by Mercedes it's pretty chilly around these parts, so it may have to be a game time decision.
Does anyone have an suggestions for me?

So, when we last left off on Ragnar Part 1, we were settling in at our first exchange.
We ate dinner at the exchange, and I got heckled by a 13 year old boy over my Beat Notre Dame button.. let's be real. I put him in his place.
The alarm went off around 1:30 am, for Mary's leg to start. I think she ended up starting around 3 am.
While she ran, We decorated the inside of the van…
I had yet another twilight run, this time a 4 mile run across the bridge into Marathon Key. Most people would be all, "Oh how awesome!" But you know who lives around bridges? Birds. You know who has a gigantic fear of birds? THIS GIRL.
The exchange fell on some gravel rocks and sand, so I had to be super careful coming in. But, we still did our handoff…
Getting back in the van, everyone was all, "Oh Rachel! Did you see the beautiful peacocks on the side on the bridge? They were gorgeous! They had these beautiful feathers!" No. Rachel did NOT see the beautiful peacocks on the bridge. Rachel got the beautiful scenery of the used condom on the bridge and the crap that someone took and tried to cover up like a cat with toilet paper. Yep. You read that right… someone dropped a deuce on the bridge and LEFT IT. Who does that?!
But I did see this gorgeous sunrise after.. so that kind of makes up for it, right?
After everyone finished their legs, we headed to eat breakfast at a Cuban place.. it was delicious. Then we headed to our final major exchange.
It was another high school, even though people were asleep in the gym like a refugee camp.
I, myself, rolled out a yoga mat in the grass. And my van mates took pictures.. rude.
Wanna see the inside of a van that 7 people have been living in for 30 hours? 
Mary and I planned some stellar matching outfits for our final legs…
Major props to Lululemon for these amazing skirts.
After what had to be the hardest 2 mile run in my running history, I was done with my Ragnar legs!
Since Glenn was bringing in the final leg to Key West, we raced to the hotel to drop off the van and get to the finish line so we could all cross together.
Everyone was digging on Coach's shirt….
Mary and I at the finish… awesome lady who talked me into this crazy adventure! 
The only females on the trip.. Me, Mary, and Emily. 
Van 2 representin'! 
Celebration Champagne at sunset… yes, please!
Beautiful sunset!! 
The group that made it down…
After eating a delicious dinner, Mary and Prateek said I had to experience a bar crawl on Duval Street since I had never been to Key West…
We started out… somewhere. I can't even remember. That's sad.
But second, we went to Hogs Breath. We didn't stay long.. their band was taking a break.
We went to Sloppy Joe's next, where apparently, I found a lucky penny? Who knows. It was apparently a big enough deal to necessitate a picture.
Mary and I did the Cupid Shuffle and the Wobble.. which has apparently, not made it's way into Key West because we got accused of making up the dance before coming into the bar.. Nope. I don't make them up, just rock them.
We headed next to Irish Kevin's.. where I showed the awesome signs of knowing how to rock a cowbell and got called up on stage to showcase said talents during Blister in the Sun.. I wish I had the video of me telling him to dig into his little bag for something for me to bang my stick on. I'm sure it'd make my parents proud….
Surprisingly, I woke up feeling good the next morning. Mary and I went in search of a hot tub, but we didn't have one, so I settled for a hot bath.
We met the group for breakfast, where I had some delicious french toast.
I had a friend try to disrupt my meal.. but Clint was nice enough to shoo him away.
I also made a new friend….do not be jealous, I saw him first!!
You don't want to miss the back end, y'all!
We visited the Southernmost Point…
On our way back to Miami, we relived our Ragnar adventures and stopped to try to find Glenn's lost hat at my final exchange.. I am not sure how I missed that it was an adult store, but after all of my "That's what she said" jokes, the van agreed that it was a fitting choice for my 3rd leg.
All in all, Ragnar cannot be put in appropriate words. Yes, these people may have been strangers in the beginning, but we now share a team bond. It was an AMAZING experience and I would do another in a heartbeat.. in fact… anyone want to run Ragnar Napa Valley?!

Yep. So. I'm a little late blogging about this.
But I am super stoked to say that I got in the Nike Women's Inaugural Half in DC. The date is April 28th,2013 and I plan to make this my best half yet. I want to PR this course. The best thing? I get to run it with my Internet bestie, Molly!!
Here is the course:
A lot different from RNR DC and I am super excited. I was worried the courses would be similar, but this one totally rocks!
Did anyone else get in? Are you as excited as I am?!

Have you been waiting to hear about the EPICNESS of Ragnar?!
Because I have a LOT to say.
I headed out Thursday afternoon on my second flight EVER by myself and my first solo time changing planes… I was nervous, especially since they kept delaying my flight. But I made it with no problems.
Mary, Prateek, Bob, and Emily picked me up at the airport and we headed to the hotel to meet the rest of the team. I knew our Captain, Matt, was super organized, but the man owns his own laminator. And for this girl who can't find her way out of a paper sack, I was so happy to get laminated directions of each of my legs.
I branched out, once again (I did that A LOT on this trip!) and ate some Cuban food at Versailles.. it was delish!
We headed back to the hotel to prepare for the next day and get some shut eye… and I didn't sleep very well. I woke up about 2:30 and couldn't go back to sleep until almost 4, and my alarm was set for 6 am.. since I was apparently the high maintenance one of the group, I had to get up first and get my shower.
We ate breakfast at the hotel.. our last real meal for 30 hours and headed to Publix for necessities like water, gatorade, peanut butter, and apparently stuffed potato balls (AMAZING. Have you tried these?!)
We headed to the start line to decorate the vans. We had an inside joke about R.O.U.S.'s (Rodents of Unusual Size) since something called an Gambian Pouched Rat had invaded part of The Keys. The are about the size of a large house cat.
The boxes to check off our completed legs.. and a spot for our "Baptisms" or Kills for some of you. (A kill is when you pass someone. You keep a tally of it and it makes you feel awesome.)
Team Saints and Sinners at the start line…
The only girls… PS Miami does NOTHING for my hair.
Van 1 set off and we had several hours to kill…. so we ate lunch and just hung out at the major exchange.
Mary was ready to Clowney her first leg!
I got the awesome task of being the first of our Van to wear night gear… awesome, right? No. Not awesome.
Octavian and I came up with our handoff… it's awesome.
First leg was 7.6 miles and basically a slow incline the entire way. It was tough and HOT and HUMID and HOT… and did I mention it was HOT? It started cooling off once the sun started going down and it felt pretty good. But I must say, the first half of it, was HELL. But I had 5 kills.. not bad. 3 of them I passed at a traffic light, but whatevs.
After Glenn handed off to Matt at Homestead Speedway, we headed to the next exchange to eat and get some shut eye…
Yes. This is how people sleep during a Ragnar. On a sleeping bag. In the grass. Unless you are me. I kicked the boys off the back bench and snuggled in for some of the best 3 hours of sleep I've ever had….
If you want to read Mary's part 1… here it is!