Friday night brought me the obligatory pre race outfit pic… please notice the GU, because I'm totally going to forget that come actual race time. 
I got up at early-thirty to meet some peeps in Birmingham to drive to Tuscaloosa, where we met my brother in law, Jay who had our bibs and then continue on to the start.. parking was a breeze and we found even more people at the start.
Becca, Me, LB, and Coach Ann– who was 31 weeks pregnant!!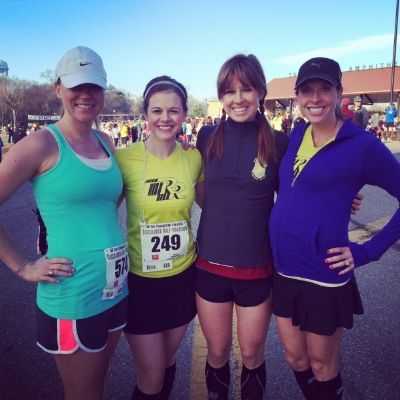 We found some of the C'town representing in T'town…

We were all just standing around chit chatting and then all of the sudden all of the people started moving and the race had started.. Way to be prepared! We started out and were chatting and feeling good and just taking in the sights of everything and enjoying the gorgeous weather (Holy run on sentence!). Becca pulled ahead pretty early, but I could still see her and easily catch her so I wasn't worried. The course weaved through some historic homes and I honestly hate courses that weave. Ann had a baby bouncing on her bladder and she had to make a pit stop around 4.5, and at the mile 6 water stop, I realized that I was probably in the long haul solo since I looked ahead and couldn't see Becca any longer.
I just tried to enjoy the scenery for the next couple of miles and listen to my tunes…not a terrible view!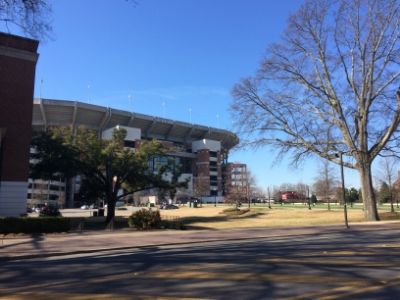 I started fading around mile 8, and probably should have taken a GU, but it was tucked safely in the car at that point and wasn't doing me any good there. It was warming up and I wanted so bad to be able to rally, and I tried, but hills popped up out of nowhere and I could not make it. At the mile 9 hill, which was boring, long, and never ending, I had a Resolute Running teammate pop up and be all "Hey! What's up?" and then he took off and completely made the hill his bitch.
Going into the race, I wasn't looking forward to the Jack Warner Parkway and the River Walk portion, but once I turned the corner onto Jack Warner, it was a downhill and a nice breeze picked up and I start picking up the pace a little bit, making good use out of the downhill. I hit mile 11, right where we get on the River Walk and saw Hannah and was so happy to see a friendly face, but I already knew the sub 2 was far gone and so was a PR.
Becca came back and found me for the last quarter mile or so, and my brother in law was waiting at the finish line… I finished in 2:04:47.. not too shabby, but far off from my goal.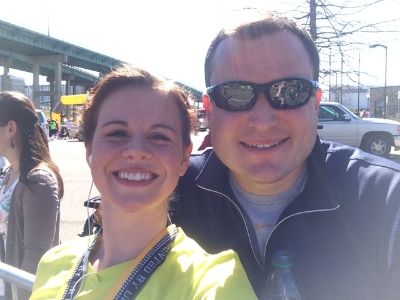 This race was a learning experience for me… sort of. I basically learned that I am a follower (not a HUGE newsflash, but always a nice reminder!). If someone sets a pace, I can run with them and chase them, but I cannot hold an uncomfortable pace on my own. I have lost the mental battle on the past 4 half marathons in the end… the 4 half marathons that I have tried to break 2. Physically, I felt fine, but mentally, I couldn't force my legs to pick up the pace. I just reached a point where I was okay with what I was giving in the race, instead of pushing outside of my comfort zone. Somehow, I've to figure out how to push past that, because it's getting really frustrating.  I'm feeling extremely discouraged and ready to toss in the towel on this distance for a while, but not without breaking 2… the goal I have been chasing for almost a year.
I've got to give a blog reader a shout out– Kim came up to me after the race and introduced herself and told me what an inspiration I was and that she started running because of me and she actually ran her first half marathon in Tuscaloosa– a 2:43!! It was so awesome to meet you, Kim! I really appreciate your kind words and you are a ROCK STAR!! Please let me know how you are doing!!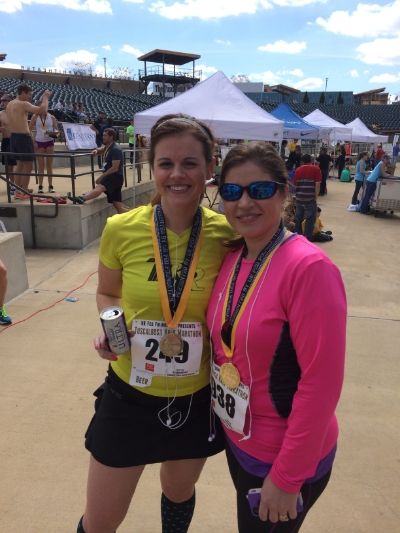 Such a beautiful old bridge….
My Juan Pablo "eeeet's okay!" I didn't PR picture… also? Not really sure what's going on with my leg. It seems to be channeling Elvis or something.
I have one more race before I turn 30 in April, and I am bound and determined to break 2 hours… so if you have some tips on breaking the mental barrier, I am ALL ears.

Saturday night was my normal pre race shuffle of laying out my outfit (had to decide what to wear first!), gathering all of my stuff to take, making my race playlist, etc.
When I got off the interstate, so much adrenaline coursed through me that I thought I was going to vomit. And they had roads closed that they don't normally have closed, and so parking was super fun.
Meredith was going to ride down with me, but she woke up late and didn't want to make me late for meeting my fellow Resolute Runners… We look cold. 
I found my C-town buddies staying warm inside Boutwell Auditorium.
We walked to the start line about 10 minutes before the race started and I lined up with the 4 hour marathon pacer. My plan was to stay with her, but keep an eye on my watch and stay as close to 9:05 as I could.

The gun went off and I had a brain fart and started my watch early… so much for it being time reliable at that point. After about 3-4 miles, I realized what a bad decision I made with wearing long sleeves.. should have done a tank for sure. I was feeling good though, staying with the pacer. She was a little fast, clocking those miles in the 8:50′s and between miles 5-6 and I decided to do what my coach told me, and back off. I still had a long way to go. I hit the 10K split in 54 minutes, which is a PR for that. I made through 5 points, no problem, but when I hit the Highlands, my brace came untied and I had to stop and tie it, and I basically lost all momentum at that point. I couldn't rally. Miles 7 and 8 were my slowest. I switched my watch view to pace instead of time/distance so I could keep an eye on my pace. I tried to make up lost time on a hill (so smart! Not.) and told myself "do not let your pace get above a 9:30″ and I just watched it creep up and there wasn't anything I could do about it. I knew at that point, that the sub 2 was gone from my grasp.
I tried to hold on to the fact that I could still PR and I've never cursed anything more than I did running at mile 12. That last mile will get you. I crossed the finish line to cheers from some RR teammates and that made me smile. I PR'd with a 2:02:30.
I can't say enough of the online support that I receive via Instagram and Twitter. You people rock!!!
I was so proud of Katelyn, who ran her first half yesterday and killed it.
Jo Ann, Katelyn, and myself post race… Jo Ann is a rock star runner.

It's safe to say that post race, Katelyn and I had fun. This is basically all that we did. I told her we were lucky that her mom doesn't know how to Vine or else there would be so interesting videos out there of our dancing.

I'm trying to be okay with not breaking my 2 hour time goal. I keep playing a lot of "what if" scenarios in my head, which makes it hard. I'm going to run Tuscaloosa in 3 weeks, so we are hoping it happens there. By the time I got home yesterday, Coach Ann had already sent me my training, so we've got some work over the next 3 weeks to prepare. I refuse to turn 30 without hitting sub 2.
I felt like I had been hit with a baseball bat after I got home yesterday. I took two naps. You know that achy-can't-get-comfortable-feeling like you get with the flu? That's how I felt. My lower back is sore from my phone in my spi-belt– I should stop running with my phone, honestly. My feet are ridiculously tender and I have blood blisters… thank the lord it isn't flip flop weather! I also chaffed pretty bad in a area that no woman wants to be chaffed. I guess I will be spending some quality time with my foam roller this week since my hamstrings are like rocks.
I'm going to be honest. When I got home, and after I had taken my first nap and showered (in that order. Hubs called me gross.), I uploaded my splits and started looking and analyzing (what? C'mon. You know you do it too.) and I just started crying. I was so disappointed that I let it slip through my fingers.
Ever had a race like that? That just took a complete nose dive halfway through?? How did you recover?

This past weekend, my Twitter turned in real life friend, Jen came into town on her way to rocking New Orleans and I just had to drive down and have dinner with her and several of the Resolute Runners. It was great to meet some new people and see some "old" faces.
Jennifer is one of the first local runners I ever met on social media and she has introduced me into a whole new world of crazy with Resolute Running.. but it feels good to know they are other runner crazies out there and most even more hard core than me.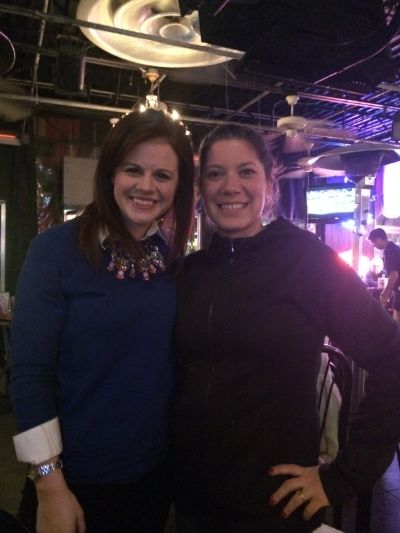 The man, the myth, the legend… Coach Alex.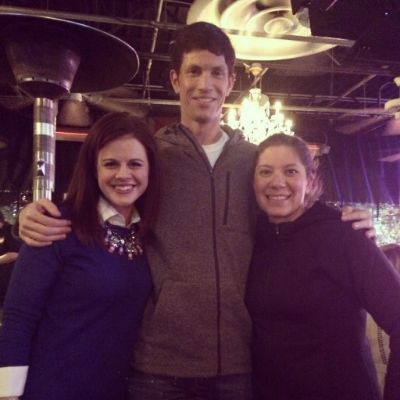 After loading myself up on pizza, I met my Saturday morning crew at a ridiculous time of 5 am to get in 12 miles. With it being my last double digit run before Mercedes, I really wanted things to go well. Let's just say… it didn't. I felt tired, lethargic, mentally not into it. We looped back to pick up some more runners around mile 7, and were waiting on them to stretch and I think we cooled off and I just could not rally. The next two miles were miserable and I just headed back to the car. I couldn't force myself to run another 3 miles. So I finished out with 9. I think I hadn't had enough water and I think my Chick-fil-a addiction is catching up with me.. So, I'm vowing to give up Chick-fil-a for the rest of the month and also make sure I'm drinking enough water. This is going to be hard, y'all. Hopefully, I will see a difference in how I feel.
I will honest, y'all. I am tired of running in this cold. When 32 degrees is "warmed up", you know it's a problem. I'm tired of fleece lined tights, and Michelin man layers, and gloves, and ear warmers. I hate using up all the hot water trying to thaw out after long runs too. There. I said it. I'm not cut out for the cold. Give me heat, humidity and mosquitoes any day. Someone needs to remind me that I said that come August.
The start of February brings the start of my 5th month with the RR team. Mercedes will be the first race on a full training cycle with my coach. I feel stronger coming back and am really hoping for a sub 2 at Mercedes. I'm still running in the brace, but starting to come out of it. There is still the normal soreness in the ankle, but it's always there and probably won't go away for a while.
I'm trying not to get nervous and psyche myself out for this race, but I want to break 2, so bad. I've been so close in the past, so I know it's there. I've put in some serious training in brutal conditions. Between wind, rain, wind, cold, wind, more cold… I'm just hoping for decent weather with no wind, please! I want to sign up for Tuscaloosa as a safety net race, but I'm not sure of my March work schedule yet, and if I thought January was busy… March ain't got nuttin' on it. It's insane.
I'm ready to race in this shirt!
I hope you guys will stick around for the upcoming racing nerves… they are sure to be good ones! I'm hoping to knock out some projects with all that nervous energy!
I need to start thinking about my playlist… I hardly run with music anymore, so tell me what you're listening to!

Run/swim/bike a combined total of 1500 miles.

Didn't happen. I was right at 1,000 miles.. pretty far off. 

Run 3 half marathons this Spring.

DONE. 

Complete 3 tri's this summer.

Only did 2.. stupid injury. 



Don't die during the Ragnar Relay.

DONE. 

Run a sub 2:15 half marathon.

DONE. 

Cook dinner every night for an entire week.

Totally forgot I set this as a goal..

Grow an herb garden and use it!

Nope. I have a feeling I will never do this.

Balance between my goals, John's goals, and what's good for the girls. Reaching goals take sacrifice for all parties, and it's very easy to become selfish with what you want, and not what's best for the family.

I'd like to think I did this! 

Take the girls on a weekend trip.. somewhere fun but within driving distance.

DONE. The cruise counts, right??

Be able to do the splits.

This is laughable that I set it as a goal..

Continue with cross training and weight training.

DONE… Err… still a work in progress! 

Clean up my eating… being more mindful of what I am putting into my body.

Still a work in progress…

Go to a Pro Football Game.

Another one that's probably not going to happen. 
I haven't set my goals for 2014 yet.. I'm a little disappointed that I missed so many. Oh well! Let's take a look back at how EPIC 2013 was.
We started off the year with C turning 4…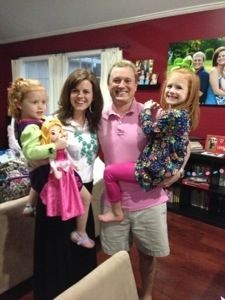 And then I ran Ragnar Relay FLK… I still can't believe I did that.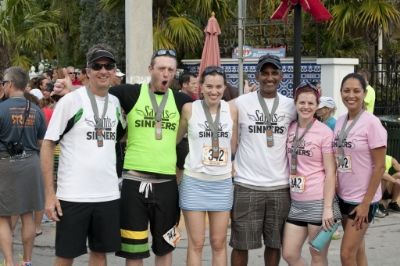 We went to the National Title game… and I was photobombed by my brother in law.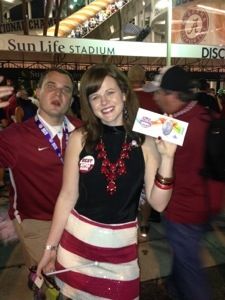 We had a snow day…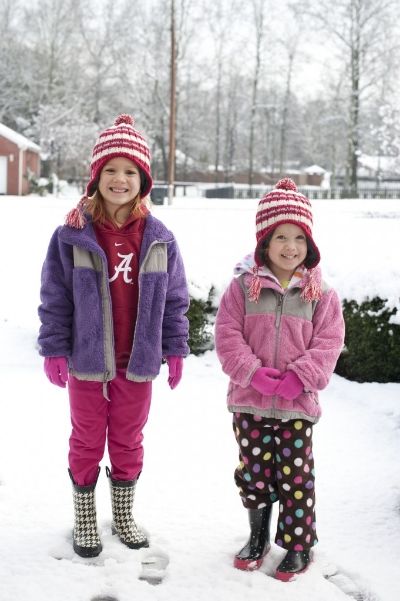 I ran Mercedes.. and officially crushed my sub 2:15 goal.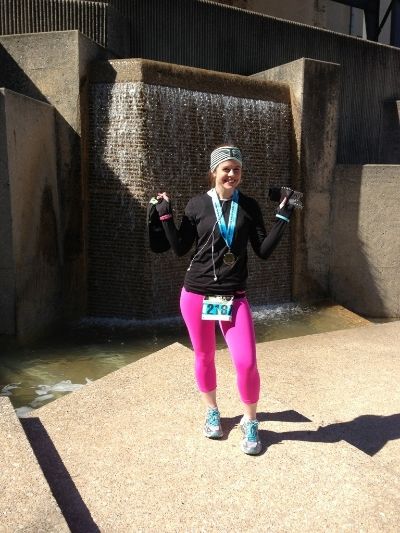 And then 2 weeks later, I ran Tuscaloosa and PR'd again..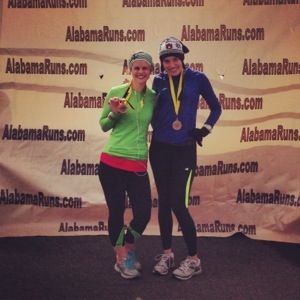 I went to Texas for the final BlissDom…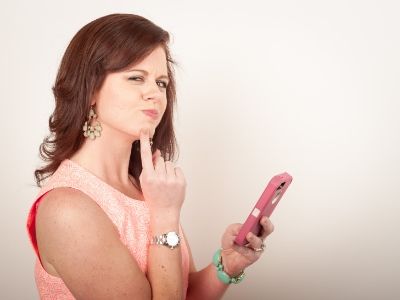 C discovered her love of a knee pop..
I went up to DC and ran Nike Women's with Molly… No PR for me, but still was one of my favorite races.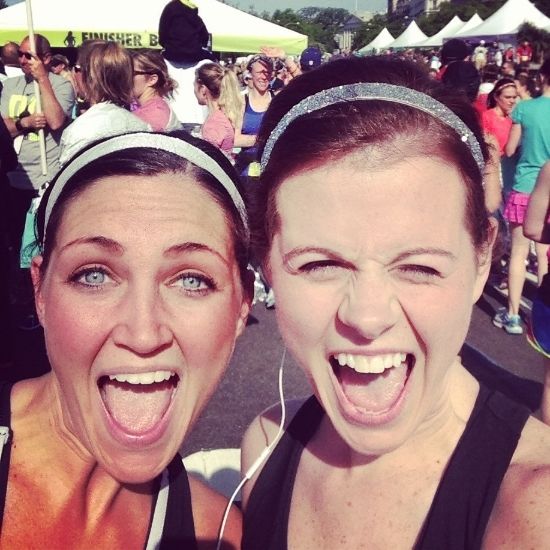 I did another Tri.. this one with J and I placed in my Age Group again.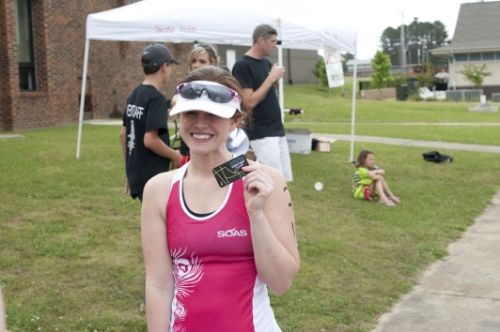 We went on a cruise… and had a fabulous time.
On the cruise, I got this super sweet bruise from an EPIC Dodge Ball game.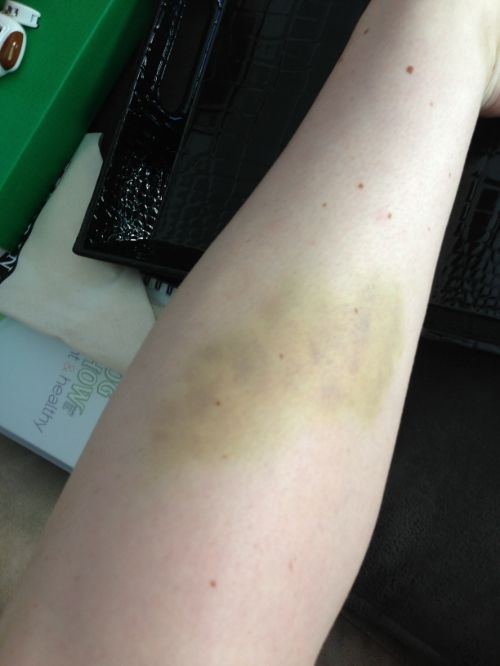 Tried some Energy Bits… loved them so much I became an ambassador. (Use RUNINHIGHHEELS for 15% off!)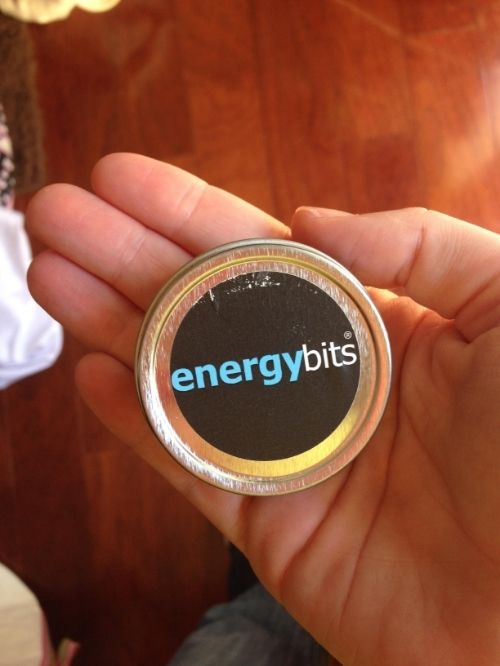 We went to the lake and Addy drove a Sea-Doo…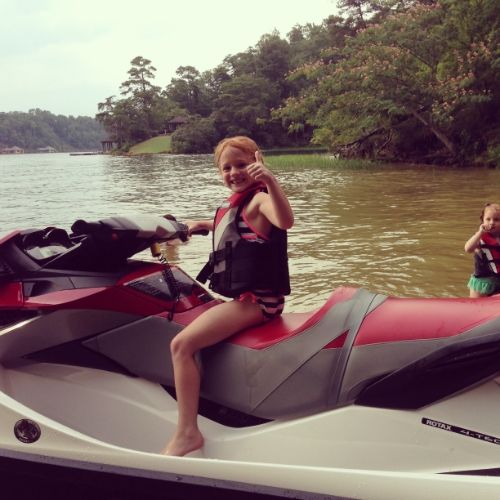 I raced twice in one day.. Triathlon in the morning and a 5K at night.
C found out just how dangerous treadmills can be…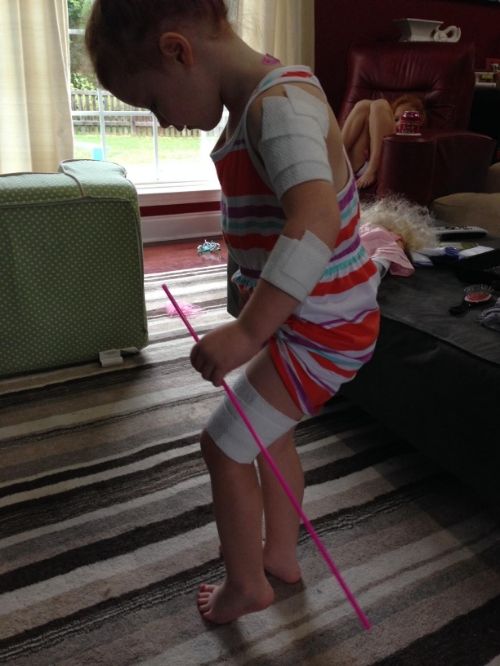 We had our yearly girls trip to the lake…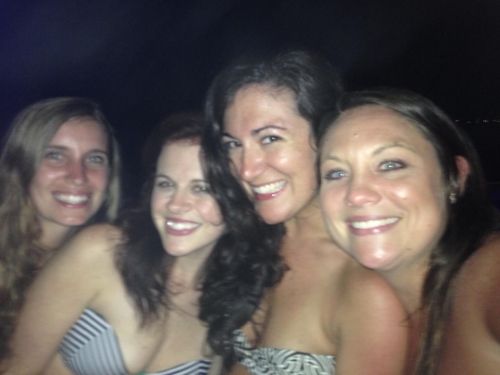 And I got injured… not at the lake. Just injured in general.

We went to the Georgia Dome and hung out with some Hokies… Hubs photobombed pictures with "number 1″.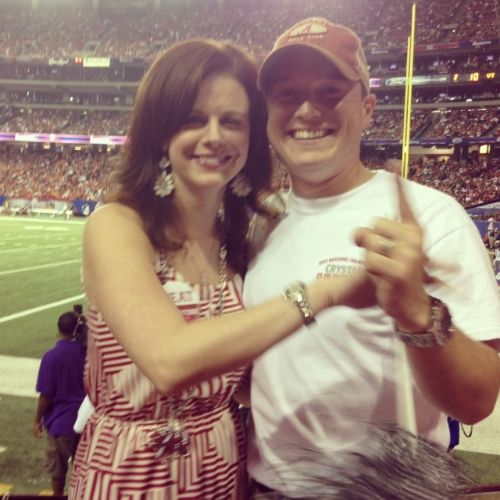 We took the girls on the Carnival Conquest…. and had a fantastic time.

We went to a few more football games….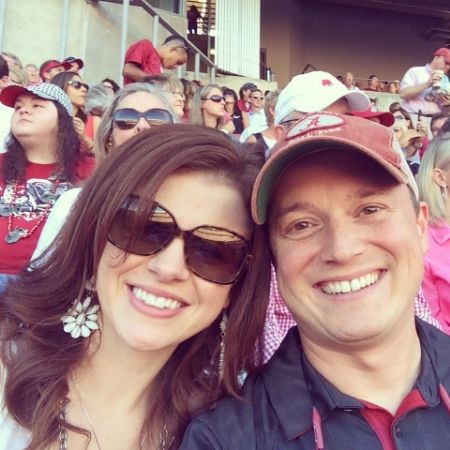 and The Lumineers in concert.. photobombed once again by my brother in law.

Mom and I took Addy to the American Girl Store in Atlanta.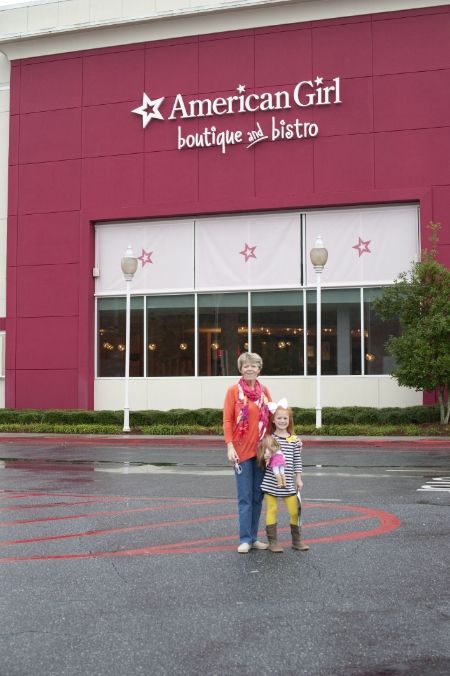 I got out of my comfort zone and ran with groups of unknown people… sometimes seeing these gorgeous sunrises over Birmingham.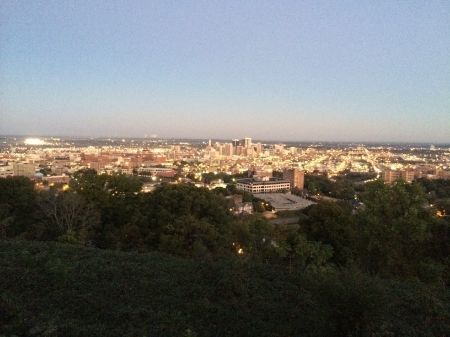 I ran a comeback 10K.. and PR'd it.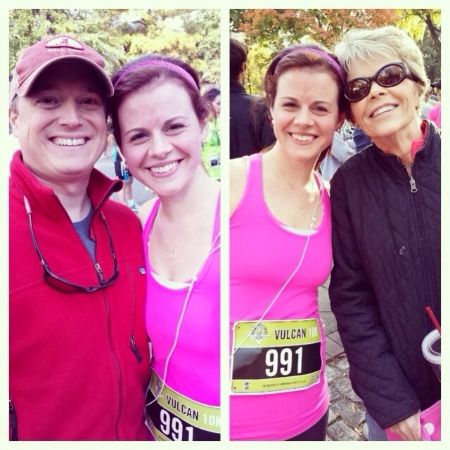 Photobombed once again by the number 1…

And I ran Magic City again.. cursed it until the end and crossed the finish line with C.

All in all.. 2013 was EPIC.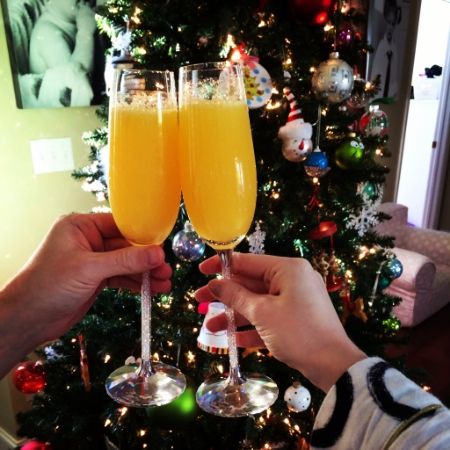 2014 has some big shoes to fill… Hope it can live up the expectations.
Are you sad to see 2013 go??

As you all know, I had high hopes for this race. I wanted to PR my comeback race… Well. Things didn't go as planned. It was set to be SUPER cold.. in the 30′s and not warm up much. Good thing they let us hang inside and I got to meet a fellow blogging Bammer… BamaGirlRuns. I recognized her in her signature pigtails and houndstooth visor.
This was Robbie's first half.. and he was a tad nervous.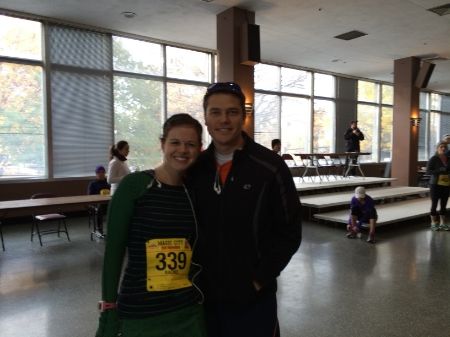 Originally, I was set to wear a skirt and long sleeve top, but something told me because of the cold, that maybe I should pack a pair of pants. I was glad I did, because 10 minutes before the start, I was changing in my car… and then I got child locked in. Lovely.
Meredith found us before the start!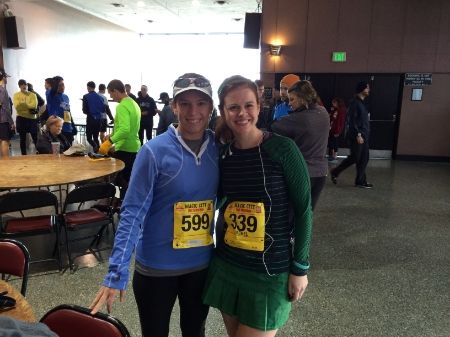 The race started late.. I have honestly never been in a race that the runners started chanting "start!" but now I have. It was so cold that my legs were involuntarily convulsing standing there. My plan was to start with the 2 hour pacers and then pull away after the half way point… did. not. happen.
I started with them and was running with a friend and we were just chatting.. and somewhere after the 10K split, I lost her through a water station. (I PR'd the 10K split.. 56 and change. A full minute and a half!) This was also where my hips started tightening up.. some slight discomfort and I tried to rally. Eventually, I realized breaking 2 was out of the question, and was fine with it. You reach a point where you become okay with all that you are giving in a race.
Here's a lovely photo… if it had a thought bubble, it would say.. "Hey! I'm in immense pain!! But there's a photographer, so smile, damn it!"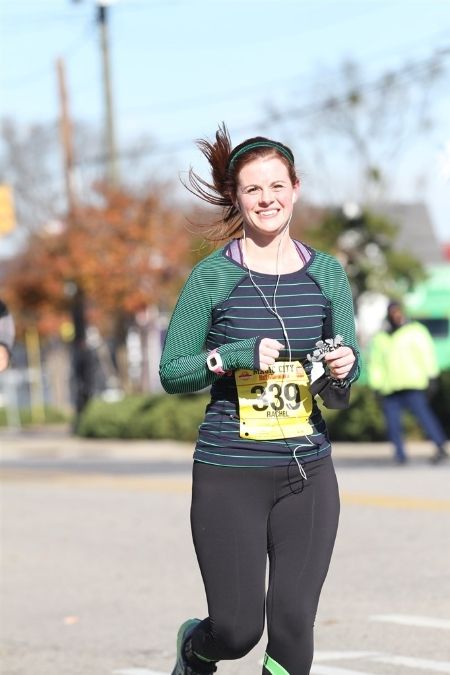 Around mile 10, I tried to rally again, but I always forget how tough this course is. It feels like a lot of uphill with no downhill. And once I hit 11, I was ready to be done. My hips were so tight, that with every step I took, I thought my hip flexors were going to snap like rubber bands. This is about the time that Sunny came up behind me. I have never been so happy to see a friend! Sometimes, it just helps to be able to vocalize your suffering to someone else. I also told her I wanted to quit. I have never had that cross my mind in a race. I have no doubt that I would have, if I hadn't been within half a mile of the finish line. But I would have had to walk back to the finish anyway… Might as well get a medal for it.
I was very happy to see familiar faces at the finish and have an ecstatic Claire run across the finish line with me. 
Look at her face! I die. She's so happy and I wouldn't have traded all the PR's in the world for having this with her. She kept saying "Look Mommy! We are running to the finish line! Do you see those pretty medals?"
After the race I could barely walk… I was almost in tears. I came across one of my coaches and he forced me to stretch my hips and ohmygod it hurt so bad.
We ended up eating lunch at Rojo, where we didn't have the best experience, but we aren't going to discuss that.
I am so proud of Robbie!! He killed his first half marathon!
After some long e-mails with my coach, I've decided that I am proud of what I accomplished out there. The headwinds and weather were certainly a factor. It was also a comeback race… one where I wasn't far off from my PR. I finished is 2:05. That's a 20 minute course PR for me. So, that's definitely nothing to shake a stick at!

Saturday was my first Tri of the season. Philly did a team relay and he was the swimmer of the group.
I've decided I don't like competing in things with my husband… he is very much on edge when I am not 15 minutes early and asks for weird "pump up" songs like "Deep River Woman"… Say WHAT?!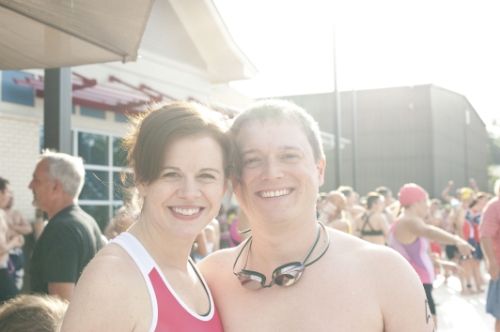 Upon arriving, I grabbed my packet and saw I was number 21.. umm what? No, thank you. That puts me up there with the "real" competitors and freaks me out, but gives me a nice spot in transition.
The girls came to spectate and were blinded by my awesomeness… or the sun. Whatever.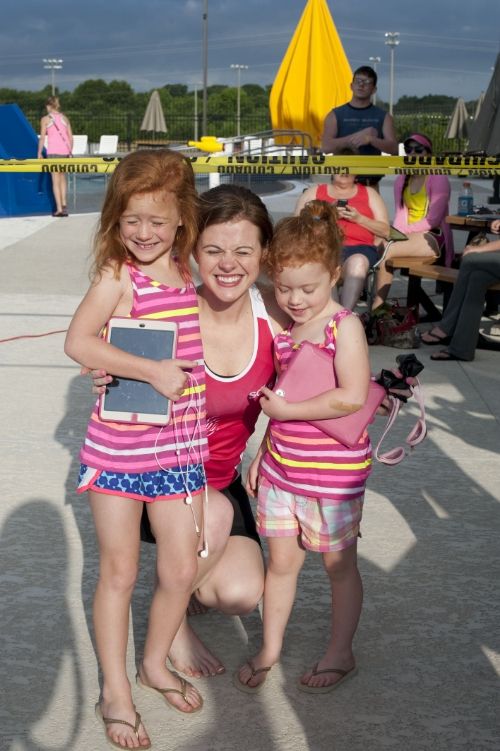 I don't have any swim pictures.. sorry. Or bike pictures. But this is me in T2… Philly is giving me a run down on how I'm doing.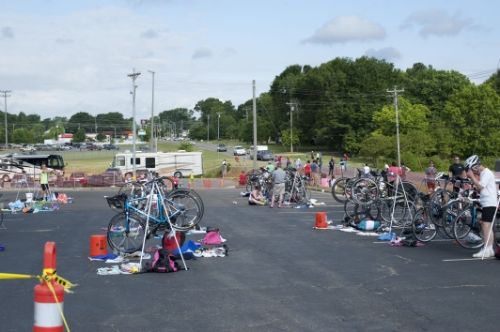 This picture says "Hey! This is fun!" But my mouth is really saying, "hey! This sucks! My legs are super pissed about this!"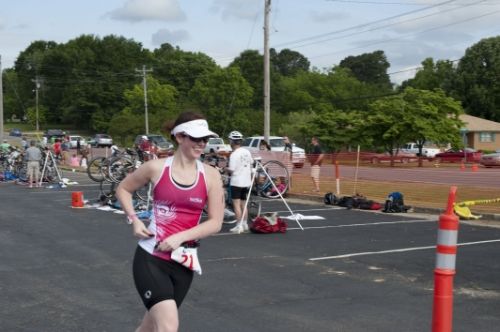 The run was mostly shaded and pretty flat minus one hill.
Here's me coming into the final stretch…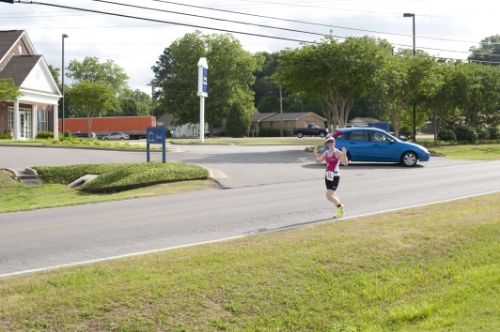 Practicing my dance moves? I am not sure.But I look like I'm having fun!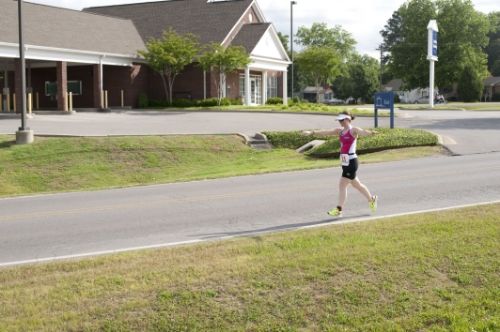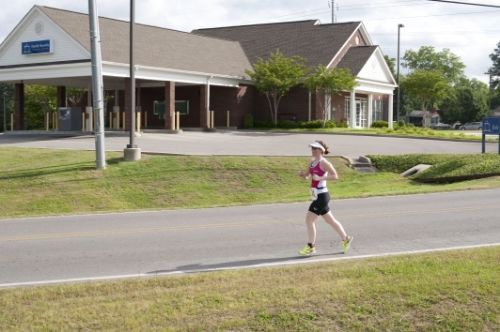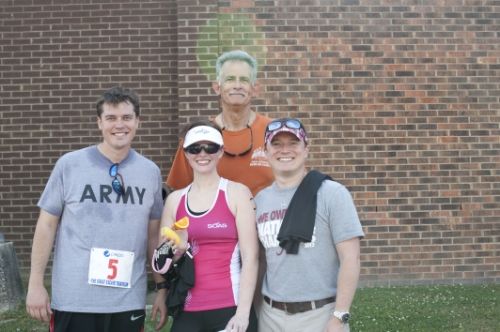 John and his team.. came in 1st. Way to go, guys!!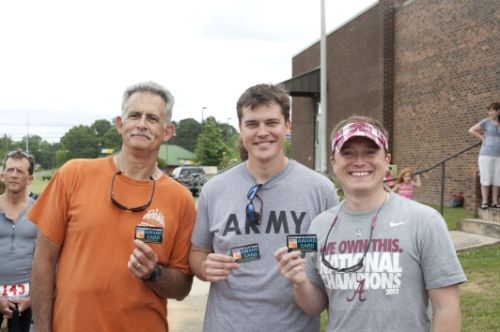 Me? I came in 2nd or 3rd, however you want to look at it.
I was 2nd, in all of the preliminary print outs, and then when they did awards, some girl came out of nowhere and beat me and the chick in front of me. No. I think it was rigged… kidding! Sort of.
Triathlons… you REALLY have to not care what you look like at the end.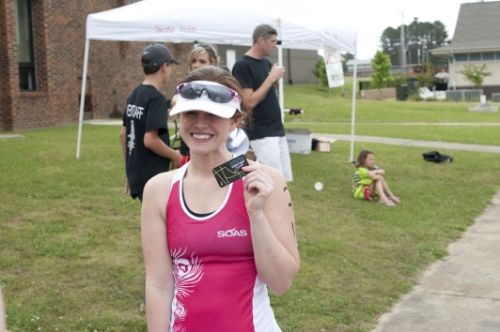 I think this is an excellent first time Tri for anyone. Pool swim, short run, easy course. They didn't have water or Gatorade, therefore, some of us didn't hydrate properly… Ahem… ME.
They also said they would be giving us swim caps, and they did not. Luckily,I had two in my bag and lent one out to a fellow swimmer.
My goal was to finish under an hour and I did… 58:41. Super proud with the first one of the season! Of course, my thought process was, "Wait. I want to do a half Ironman?!" Because, well, it's just insane to think about.

Before telling you about my trip to DC, I think I will post my race recap!
FIrst off, the Expo, was sort of lame. You really couldn't buy anything and it was just nuts. But, the packet pick up was separate and was a breeze, so kudos for that one. With all of the walking up and down hills, my calves were tight and I knew I wouldn't be running on fresh legs.
I laid out all of my gear the night before….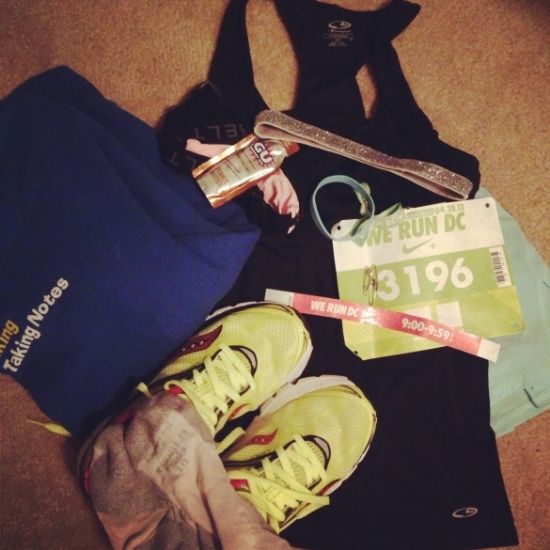 The gorgeous sunrise heading into the city…
Molly's husband drove us into the city, instead of taking the metro. He dropped us off about 3 blocks from the start line. It was awesome. I hope it was awesome for him too.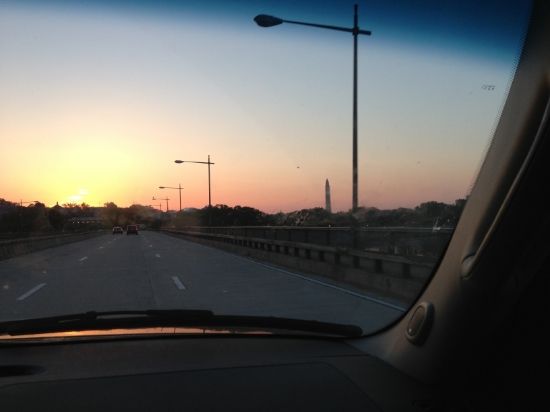 We entered into the 9:00-9:59 coral.. which, honestly, was completely pointless seeing as how they didn't do a coral start.
We all just started out at once.. and we were behind the 2:10 pacer. I was NOT HAPPY about weaving around so many women in tight spaces. There were 15,000 runners, and a lot of them first timers, (I hate to stereotype..BUT) they probably didn't know there are rules to racing. We spent the first two miles LITERALLY weaving in and out of people. I was so frustrated that I couldn't get pasted the 2:10 pacer. It cleared a little after mile 2 when we were crossing the bridge to Arlington Cemetery.
We finally caught sight of the 2:00 pacer on the loop by the Kennedy Center.. I knew then it was going to be tough to catch up. Around mile 6, my IT band started making its presence known and I got a side stitch.. I knew I was pushing it too hard. I decided right then and there that I wouldn't injure myself over a sub 2:00 half. I would run what I could and give it everything I had and I would be happy. At this point, Molly was pushing me and I felt bad that I had nothing to give her except facial grimaces. It didn't help that around this point, it was completely boring as we were running around the golf course. I tried to find funny signs to help me out. I never realized how hard it was to try to catch a pacer… the mental stress that just adds to the run. That part was misery.
As hard as I was running, this was a very cleansing run for me. I let go of everything else going on in my life, and completely concentrated on the race and the steps in front of me. It was just very… freeing. I had nothing to do but run like it was my job. We saw Molly's fam around mile 10 and it was a nice change of pace. B got some pictures of us and I realized how bad I hunch my shoulders when I run.. no wonder my shoulder blades go numb!
Anyway, it wasn't long after that, Molly lost me as I couldn't continue to beast up the hill. I knew then that I wouldn't break 2 hours, but I might could possibly PR. Heading back into the tunnel was awful and not near as exciting as it was at the beginning of the race. As we rounded the loop and I could see runners running towards the finish line, I got really pissed off because I HATE when courses do that. We made the worlds longest loop and heading back, I could see the finish line. So, I attempted to push it and completely ran out of gas because I misjudged how far the actual finish line was. At mile 12.5 I was really pissed off. But I got my phone out because I knew I would want pictures at the finish line, and saw all of the Tweets, FB messages and texts that lined my screen. I couldn't believe it.
I crossed the finish line with my hands held high and a smile on my face and guess what? There won't be any pictures because Nike didn't have photographers!! WTF NIKE?!?!
Anyway, as I stood in line to get my Tiffany, I told the girl behind me (yes, I told her.) "Hey, I'll take your picture with him if you'll take mine." She looked at me like a crazy person, but also a genius.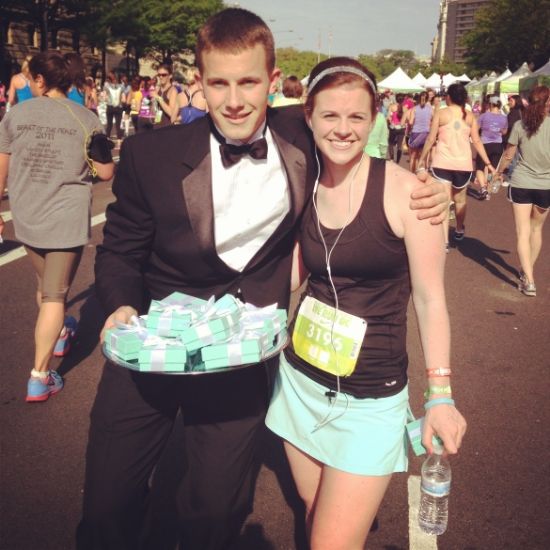 I found Molly and we had our "WE DID IT!!!" picture.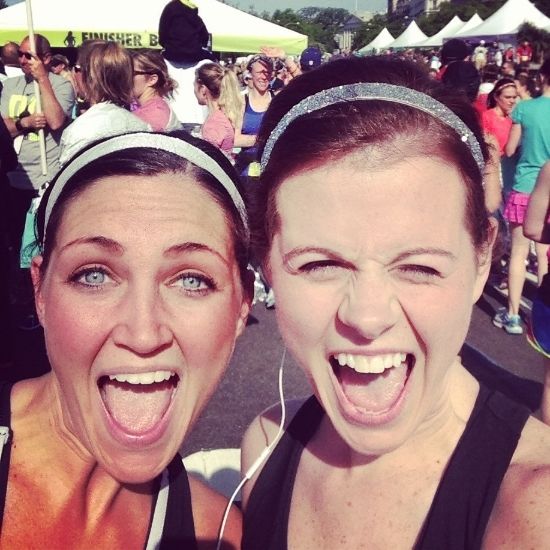 Posing with our blue boxes..

Washington Monument? Yes, please!!!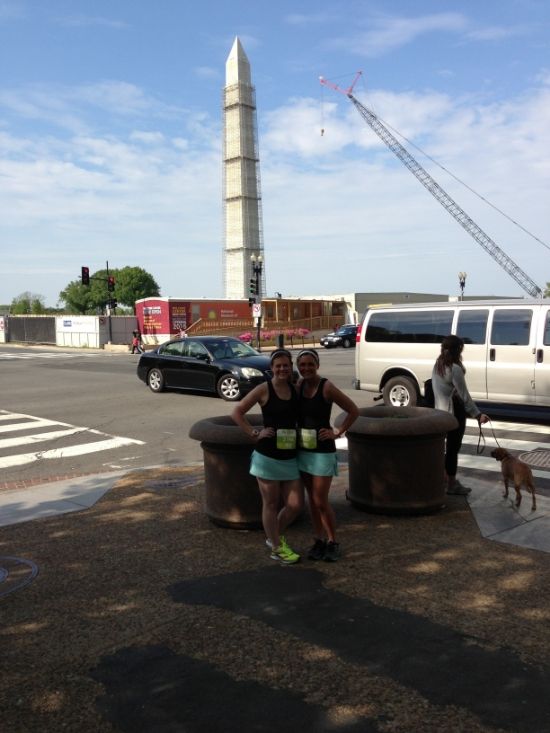 What?! It's the White House, y'all!!

So, it wasn't a sub 2. It wasn't even a PR. But you know what it was? It was my 10th half marathon. And that is nothing to shake a stick at. I ran my 10th half in a time that I never thought possible. That's 131 miles in half marathons alone. Not to mention training cycles and 5K's and 10K's. I celebrated on Sunday. Everything that I have been able to do because of running. It has changed me in so many ways. I cannot thank you enough for the support and encouragement that you have given me on the Internet. From those who wished me good luck, to those who actually tracked my race online, I cannot thank you enough. It's amazing to have that kind of support.
Now for the bling…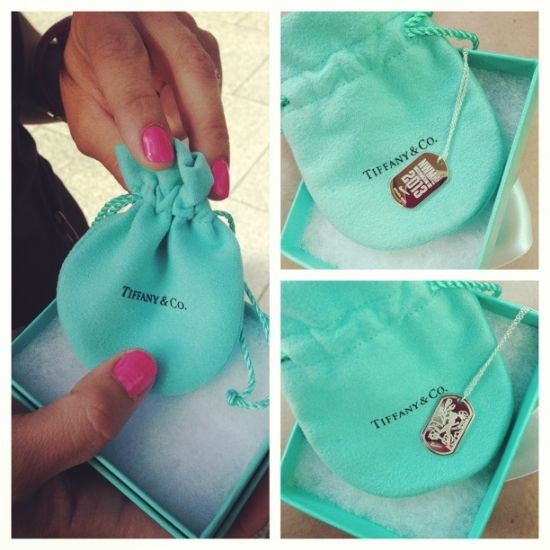 Awesome, right?
Now, would I run this race again? This race was amazing. The course was beautiful. I did not care for the lack of coral starts. Or the fact that the 2 hour pacer can't hold up her sign very well. The runner tracking was a complete joke. I want something that posts to Twitter, not Facebook!! The fact that there weren't any finish line photos royally ticks me off. I also don't like the lack of information out there from Nike. But, I feel like I got my money's worth and everything was well organized. I heard there weren't a lot of port-o-potty's, but that didn't affect me, so I am not sure.
I can tell you one thing… I've been wearing Tiffany since Sunday!

Friday night, I ventured down to Tuscaloosa with the kiddos to spend the night with my brother in law, Jay, before my race Saturday morning. I ended up ordering that Lululemon I was coveting, and had it priority shipped out, and after much drama surrounding it's arrival, it came. I was hoping it would be here around lunchtime. I had it shipped to my in laws, because I figured FedEx would show up there, than before my house. I wanted to leave by 2:50ish, as soon as I picked Addy up from school. At 2:40, I got the confirmation that it had been delivered, so I swung by to pick it up on my way to scoop up Addy. Whew!
The drive down was nothing short of awful with the cries of "I'm hungry!", "I'm thirsty!", "I have to pee!", "I hate Michael Jackson! Play a girl song!". I was contemplating jumping out of my moving vehicle. We stopped by to do the packet pick up, and it was outside and WINDY, y'all. I knew the wind would be a deciding factor in this race.
Since my runs have been less than stellar since Mercedes, I was just hoping to finish with a decent time. I would love to PR, but with my mental state, I wasn't sure I had it in me. I decided I would run what felt good and see what happened. I was hoping for a best case scenario of 2:05.
I settled into bed at a reasonable 11:15. (not reasonable at ALL!)
I decided the next morning that I would run by Panera for a bagel and coffee. I was worried about eating so late, but I decided that since it was a tailgating tradition, I needed to step up my domination. John gave me some last minute encouragement in the form of, "If you don't change your attitude, you aren't going to PR. You are in Tuscaloosa. Step it up."
I mean, besides, Nick Saban was watching anyway.
Mary came to run it and it was chilly and windy at the start. I opted to not mess with gloves, and my hands were freezing. Note to self: over sized sweat shirts are NOT your friend.
The start line…
The course started in downtown Tuscaloosa and wound back into the tornado destruction areas. I ended up spotting two fellow girls in lululemon who were running about the same pace and drafted them for a couple of miles. They had signs along the course that had facts about the tornado damage. And especially in Forest Lakes, there hasn't been a ton of rebuilding. Running through that area, and knowing what it looked like before, was something that I don't think I can describe. Tuscaloosa is my second home, and seeing these homeowners outside in their pajamas holding up signs and cheering us on only brought that emotion to the surface. I almost lost it when I was coming up a climb, and looked over at nothing but empty lots, with one freshly built house, and the homeowners were standing outside. As we made the turn, I got a whiff of fresh lumber and saw dust and could hear the pep band up in the distance playing the fight song… it was quite an experience. One that will definitely stay with me.
While this course wasn't as tough as Mercedes, it wasn't joke either. It had some climbs and the wind was a factor, for sure. There is nothing like pounding your way up a hill is 35 degree weather, only to be hit in the face with a head wind as you near the top. The wind was so cutting at times (This is a possible TMI), my boobs would get a tingly feeling like when I was breastfeeding and my milk would let down. (Gross. I know. And I just shared it with the Internet. I should be ashamed.)
The course looped back on itself through Alberta City and I could see the leaders coming through. I figured Mary would be towards the front, and she didn't disappoint. She was with the first smaller group of speedsters and went all, "Whoo! girl" on me.
Around mile 8, I caught sight of a flash of red in my peripheral, and low and behold, it belonged to me. Jay had brought the girls out to see me along the course! I ran over and gave Addy a quick kiss, and I figured Claire would cry that she didn't get one, but as they passed me in the car, Claire was blowing everyone kisses and doing her beauty queen wave.
Once we hit Jack Warner, we only had about a 5K left and I came up on a girl and started chatting with her. She was trying to sub 2 and she figured we were close, so I just hung with her and chatted. The last mile and half to 2 miles were on paved trails and let me tell you… that SUCKED. Combined with the mile markers being off… and I wasn't a happy camper towards the end.
But seeing my watch lifted my spirits…
And I had this waiting for me in the parking lot… can't complain with that!
All in all, this was an excellent run and I am so glad I did it. It was another PR for me and Mary, as well!
2:02:58 was my official time, 21st in my Age Group, and 346 overall. I am proud to say I was in the in the upper 1/4 of finishers. It feels good, y'all.
Sub 2, here I come!!

I have officially completed 1/3 of my Spring half marathons and let me tell you, I am still floating on cloud 9 about this race.
I was sort of (okay a LOT) freaking out about it. The pressure I was putting on myself to sub 2:15 this race was INSANE. I got a surprise in the mail from Mary (which. when she told me she was sending me something, I was totally expecting a funny saying on a pair of thong underwear that we kept seeing in Key West.) on Thursday, and tears were in my eyes when I opened it. The bracelet says WWCD? What would Clowney Do? Getting that bracelet from Mary, helped me calm the eff down and realize that I could do this. It may not be this weekend, but it was coming.
I knew the weather was going to be cold and everyone kept telling me it was going to be 25 at the start. I knew I would need some throw away clothing for along the course. I decided on the piece of clothing I have owned the longest. I know Philly was glad to see it go, since it came from an ex-boyfriend 13 years ago, but at one time, it was the only sweatshirt I owned.
I packed my bag the night before, because, well, that 4 am wake up call was NOT my friend.
These numbers blow my mind. Too early and TOO cold.
We made it downtown to wait inside Boutwell to stay warm. Shannon was running her first full and my goal was to stay with her and Kelly and knock out as many 9:40 miles as we could.
The corrals were crazy busy and we ended up hanging on the sidewalk until the gun went off and people starting moving. I decided to shed the sweatshirt before crossing the start line since temperature wise, I was comfortable in it what I had on. Yes, I said goodbye to it. Sue me. I was sad to see the sweatshirt go!
Maleah snapped this pic of us-I love how caught off guard I am.
We started out conservative.. especially for us. 10:00 first mile. I'll be honest.. I was a little mad. I know how I do in races, and I tend to fall apart around mile 10-11. I needed to have those good times in the beginning to make up for a crappy ending.
Now, since I can't read an elevation chart, a friend so nicely told me, "Once you reach the Chevron in 5 points, it's all downhill from there." This course is generally flat, minus miles 4-6 with some steep climbs. I saw the Chevron, and just beyond said Chevron, was a hill. LIAR, I said in head. But then, I came through 5 points and there was another Chevron and it was literally starting a downhill.. so. Yeah. My bad. Right after the 10K split was a hill and I just kept pushing up it (yep. Me. I pushed myself UP A HILL.) and lost Kelly and Shannon around that point. I kept holding back with them because I was afraid I would need to push later from them.
I did walk through my first water station that was uphill and Kelly and Shannon caught back up with me. We ran through the Highlands for a little bit.. just long enough to spot Dad and Karen! I ran over and gave my dad a kiss, all while Karen was screaming "That's our daughter, Rachel!! Right there! Run Rachel!" and people were turning around and cheering. Definitely a racing highlight for me. Dad and Karen always come out to support races, no matter how big or small and it means so much to have them there.
Karen snapped this pic..
I think mile 9 was a good bit of downhills and I took a GU at that point. I was still feeling good, still had some left in the tank and I was holding out for that final stretch. At one point, I looked around and realized, I was in the presence of mostly men and I just started weaving in and out of people, picking me feet up. It felt good. No matter how many races I run, mile 10-11 is ALWAYS the longest and the hardest. You wouldn't think it'd be that way. You've hit double digits, and you have less than a 5K left. I believe this was the point that I did some bad math in my head and thought I was going to come in around 2 hours, but I realized, even if I feel off and had to run walk the last 2 miles, I was going to make that sub 2:15 goal. That got the adrenaline pumping again, and it helped me pick up my step– I started seeing 9:15′s and 9:14′s for those final miles. I kicked it up through the shoot, and crossed the finish line with a clock time of 2:09. By the time I made it through the finishers shoot, the texts and tweets were coming through. I had broken both goals I set for myself this year. A sub 2:15 and a sub 2:10.
I called Dad but they were still stuck over on Highland. I called John and he informed me that I was smart to come in around when the wheelchair racers finished, because I had a tv finish.
I found Donnie when he got done and we went over to Boutwell for the after party..
Jim N Nick's provided the post race food.. and if you know me, you know I do NOT eat BBQ. But I happily ate this pulled pork sandwich.
I was on cloud 9 all day. I couldn't believe what I had accomplished. I also couldn't believe the outpour of support from twitter and Instagram. Seriously.. blog friends ROCK.
Me and my medal! And all of my Lululemon glory, I might add.
Donnie and I drank and chatted for a while until it was time for Shannon and Kelly to finish. I don't ever get to spectate races, and it's nothing short of amazing watching those relay teams and individuals cross a marathon finish line. Some are elated, some are struggling, but they are all badasses in my opinion.
Me, Shannon, and Kelly
Me and more beer… lesson learned. Beer is proper post race hydration. No matter how yummy.
I'm so glad I didn't give up on this goal. My next goal is obviously a sub 2, or as close to it as I can get for Nike in April. I've got one more half in two weeks, and the goal there is to finish. As of today, I still have no desire to do a full marathon, but the desire to complete a 70.3 is growing, so I think that will be the next big goal.. probably for 2014. The year of my 30th birthday.
Mercedes was a great course and honestly, the best I have ever felt physically and mentally through an entire race. I guess all that hill training paid off.
My official time was 2:06:37.
Thank you for all of the support that y'all have given me.. it feels amazing to get that sub 2:15 monkey off my back.