1. I stepped out of my comfort zone, once again, and went to the Birmingham Track Club End of the Year Party. I met some more of my Resolute Running teammates and Tanya was nice enough to want a picture with me… She must have felt my super uncomfortable vibes rolling off of me. The place was packed and I don't do well with large crowds… so it was quite the test, but I survived.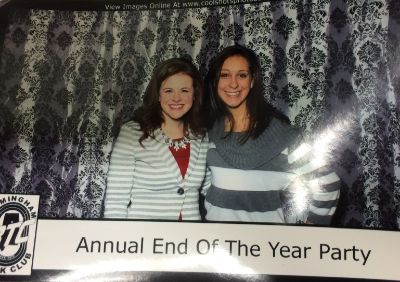 2. I was interviewed on a podcast a few weeks ago and forgot to post the link on the blog. Oops. Sorry y'all. It was the Lifestyle Accountability Show and if you want to hear me say "Umm" a lot with a Southern accent, then be sure to check it out!
3. I was chosen as a 2014 Nuun Ambassador. I have used only Nuun for rehydration for about the past 2 1/2 years and this is just amazing to me. I love when races have them at the water stops.. like Nike Women's and Ragnar.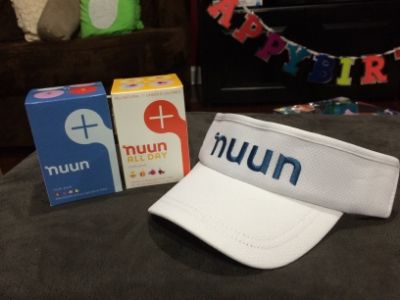 What's going on with your Tuesday?? Anything exciting?

Remember when I was all, "Where are all these toys going to go??" Yeah well….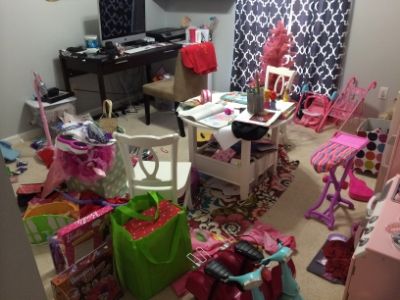 So, we had to clean some stuff out… you know, on top of the two garbage bags I did before Christmas. And I decided to include the girls… I won't give you the rundown on the drama, but I am sure you can imagine.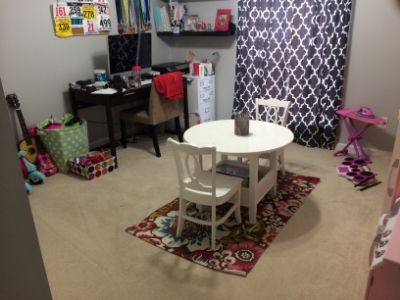 One of the girls presents from my mom was a tv, and the only way I agreed to it was that it would go in the play room. But somehow, during yesterdays discussion on where it would go, I was overruled and the tv went in the girls bedroom. Which meant, I had to rearrange their bedroom.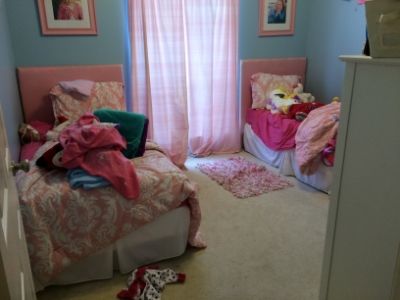 I can honestly say, I'm not very excited about this. But, seeing as I wanted to give their room a facelift, I'm trying to see the silver lining in it…. I want new bedding for the girls.. something with a lot of color, and I don't want to have to repaint the bedroom. Any suggestions? I'm also thinking shelves for pictures and a medal hanger for A's gymnastics medals.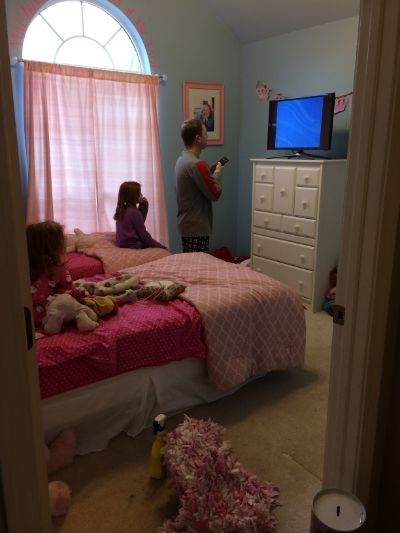 We had our annual girls Christmas dinner… good times are always had, as these ladies are some of my oldest friends.
We made the world's smallest cookies with the Easy Bake Oven… it only took an hour. But this girl was ecstatic.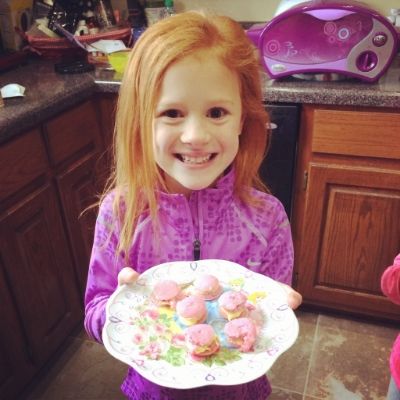 I've been what feels like laziness, but it's really just what normal people do.. sleeping until 7:30-8, and not rushing around trying to complete a million tasks. It's been a nice change of pace!

I saw that Meghan did this, and I thought it was awesome. So, I copied her. She tagged whoever, and I did the same, so feel free to steal the idea!
A. Attached or Single? Married. John and I got married August of 2005.
B. Best Friend? In Real Life Bestie is Becca. Internet Bestie is Molly. I have numerous close friends that I consider besties though.
C. Cake or pie? Cake. But really cupcakes.
D. Day of choice? Thursday. It used to be because Friends was on. I guess it's the day before Friday and that makes me happy!
E. Essential Item? iPhone. Hands down. Addicted to that thing as much as I don't want to be!
F. Favorite color? Pink. Hot Pink. The brighter the better!
G. Gummy bears or worms? Worms. I like the sour gummy worms. The blue and red ones are my favorite.
H. Home town? Originally from Birmingham, AL. But moved to Cullman, AL when I was in 8th grade.
I. Favorite Indulgence? I love Chick-fil-A, frozen yogurt, Twizzlers, and Sour Patch Kids.
J. January or July? January is better for running, temperature wise, but I do love July.
K. Kids? The two Ginger Flippers… Addison (6) and Claire (4). Plus Trixie, the Westie.
L. Life isn't complete without? Laughter. We laugh a lot in our house!
M. Marriage date? August 6th, 2005.
N. Number of brothers/sisters? 1 older sister, Sarah.
O. Oranges or Apples? I like those little oranges, or a nice green apple.
P. Phobias? Afraid of birds of any kind.Like, FREAK OUT over them. Also not a huge fan of eyeballs. I hope I never have to wear contacts.
 Q. Quotes? "If it feels good, you ain't doin' it right!"
R. Reasons to smile? Right now? Because Grandpa is doing much better and isn't  going to require surgery. Generally, because I am blessed with an amazing husband who supports my training and two of the best little redheads anyone could have asked for. I am insanely blessed.
S. Season of choice? Football season. Or to the rest of the county… Fall.
T. Tag 5 People. And just like I did, if you'd like to do it, join!
U. Unknown fact about me? I can or at least, used to be able to, curl my toes up under my feet and walk on them. I was on the golf team in High School. We went to State… I didn't play though. I have very little hand eye coordination. I am also ADD… if you couldn't tell.
V. Vegetable? Potatoes. Hands down. Always a potato.
W. Worst habit? Umm… I am extremely forgetful about things that people tell me. If you don't have 110% of my attention, I may not remember it. I leave my crap everywhere. I also have a terrible habit of leaving cabinet doors open. I also don't think twice about what comes out of my mouth. Hubs says it's my temper, hands down and my inability to pick a place to eat. Based on all of that, it's a wonder I have any friends!
X. Xray or Ultrasound? I'm not a fan of either, since they generally mean something is wrong with you.
Y. Your favorite food? Italian. Specifically, pasta.
Z. Zodiac sign? I am one of the select few whose birthday falls on an in between date. Some zodiac calendars say I'm an Aries, others say Taurus. I go with Taurus since the sign of the Bull really fits my personality more.

 Happy Friday, Folks! Hope your week has been fantastic.
I've got some random thoughts and tidbits to share.
1. Claire hates change. Summertime has brought us a new gymnastics class with new teachers. She's not a fan. I hoped that if I went out there with her, it would help her be more comfortable. WRONG. She was pissed. And refused to participate in the class. Awesome use of financial resources! 
2. My new Erin Condren planner came.. I love it. They always modify it a little bit every year and it's awesome. I really wanted the paisley one, but it had a black/grey background and I wanted white… turns out, after 3 years of ordering these things, I just found out that you can request color combinations. Of course, mine had shipped at that point. FAIL.
3. I bought this Benefit Primping for the Stars kit at Sephora this weekend. I love the lip stain, it's my very favorite, but thought it was ridiculous to buy one tube of stain for $32 when I could buy this kit for $30. I opened it up on Wednesday and saw I am missing a component out of said kit. So, I guess I need to call them.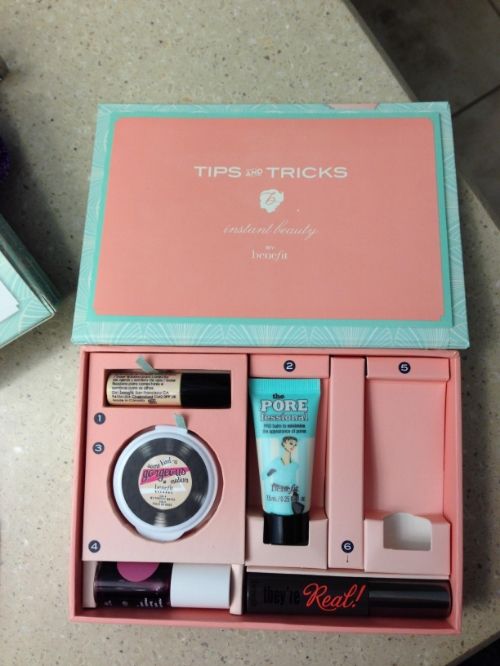 4. This mascara was in it… it's the best mascara! My lashes were crazy long. Now if only they could make some cellulite reducing cream or something.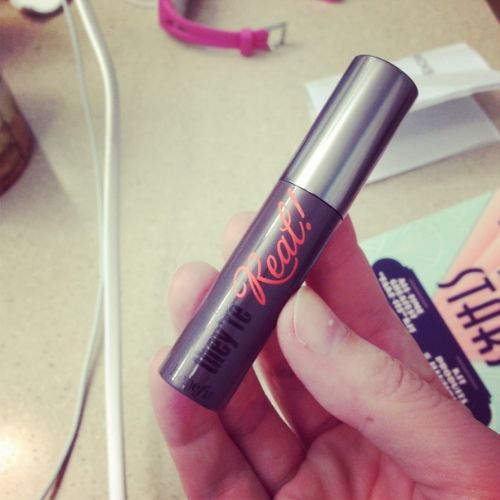 5. I didn't want to run outside last night. Against my better judgement, I ran in the 90 degree heat. In the 3 miles that I ran, I got honked at SIX TIMES. WTH is wrong with people that they think it's funny to honk at runners?! That's a 2:1 ratio of honks per mile ran. That's just unnecessary. I hope to one day be fast enough to catch one of those cars and yell at them. Or at least catch up to them at a stoplight so I can give them the evil eye.
Have a great weekend!

Oh.. Heeeeyyyy!!
I'm alive. Yes, I took a much needed break.
I honestly had too much going on and had to drop a few things, like blogging and running. And life has been SUPER busy, but I'll give you a quick run-down…
I had my 10 year high school reunion.
I'd love to say it went off without a hitch, but of course, we had some drama.
You hear me talk about this lady all the time, but have you actually seen her?! It's Becca!! 
This is my oldest group of friends– starting from the left– Jana, Brooke, Mallory, Shannon, myself, Laura, and Becca. 
This one lost her first tooth.. on the eve of her very first spend the night party… yep. I totally cried. How is she this big?!?!
The tooth fairy brought her 2 gold coins. She was pumped.
Oh. And this has happened.
A leak. in my kitchen.
A word of advice… don't build on a concrete slab.
The copper pipe was completely corroded. The plumbers were shocked!! Anyway.. I'm getting a new tile floor out of the deal. So that's nice. Hopefully, it'll go in next week. But until then.. my house is a disaster.
And Santa Claus was my plumber. Awesome.
Oh.. and I've gotten a little tied up in 50 Shades of Grey… (get it? get it?)
I don't suggest my MIL or any parental figure reading it… and if you do.. please don't tell me.
Here is my Christian Grey… dang, Ian. Why are you such a HOTTIE?!

Anyway.. I'm putting my big toe back in the waters of blogging and exercising again…
I am so behind on reading y'alls blogs, it's not even funny.
But I have missed you and I hope the feeling is mutual!
Laters, Baby.

These past two weeks have just been ridiculous. I decided I needed to start a list of things that have deserved throat punches over the past 10 days.
Fever viruses. Claire had it–ran a super high fever. I thought she had the flu. Took her to Urgent Care and she was misdiagnosed with an ear infection. Which leads to my next throat punch…
Idiot Doctors. You went through 8 years of school. You should be able to correctly diagnose an ear infection. AND know that there is a fever virus going around. C's ENT did when we took her. Which leads to the next throat punch….
Copays. Claire has tubes put in her ears yesterday.. $550. $200 for the hospital and $350 for the ENT's office.
Our Water Department. They have apparently been reading the wrong meter for 3 months.. we thought we had a leak somewhere, so we paid someone $300 to come out and check. Our water bill came in.. it was $95. J called and turns out they've been charging us for someone else's water.
Our mail lady. STOP MIS DELIVERING OUR MAIL!!!
Fever viruses. Addy now has the stupid thing.
Non-self cleaning houses.
Shopping with two kids.
Non- church appropriate Easter dresses. Where are appropriate Easter dresses?! Why is everything skankified?
Accidental full bangs. Yep. Somehow I have ended up with a haircut I absolutely hate. I honestly feel claustrophobic under the bangs. I want to claw my face off. That's normal, right?
Hopefully, my week will turn around, but geez. It's been a little insane around these parts.
Claire came out of surgery and I have the best friend that offered to work so C would have a familiar face in the OR. I cannot thank Becca enough for being there since it eased my mind for Claire's surgery. ( I know. It's tubes. It took 5 minutes to do. But, still. My baby had to go into the OR and I was worried she would be scared.)
Anyway.. Have you wanted to punch anything in the throat this week?
Also.. what are your Easter plans?

I had no idea that this was going around on the Internets and T at Racing with Babes tagged.. I'm not gonna lie and say it doesn't feel good to have someone so awesome tag me in something..
Here are the rules:
1. Post these rules.
2. You must post 11 random things about yourself.
3. Answer the questions set for you in their post.
4. Create 11 new questions for the people you tag to answer.
5. Go to their blog and tell them you've tagged them.
6. No stuff in the tagging section about you are tagged if you are reading this. You legitimately have to tag 11 people.
Here we go…
1. I am deathly afraid of the dark and birds.
2. When J is out of town I sleep on his side of the bed and let Trixie sleep in the bed with me, just in case an burglars get any bright ideas.
3. I was on my high school's tv station as an anchor. Once, while reading that days birthdays over the loudspeaker, I mispronounced some girls last name, and one of my teachers made fun of the girl who messed up that mornings announcements and I had to come clean in class that it was me.
4. During that same teacher's class (on a different day, of course), I passed out during a presentation from giving blood and had to be carried from his classroom to the gym. SO embarrassing.
5. I have a bazillion different To Do Lists at any time- goals for the year, goals for the month, a daily to do list, a business to do list, a house project to do list. I am so organized, but can't turn my mind off from other things that need to be cleaned/organized.
6. If I start a book, chances are nothing else will get done until I finish it. No laundry, no house cleaning, no cooked meals. This is probably why I rarely read anymore.
7. I thought my naturally curly hair wouldn't curl anymore, but this weekend, due to pure laziness, I scrunched it up and it still curls. I haven't straightened it since. J hates it.
8. I finally saw myself in a full length mirror at the gym in my running shorts and they are massive. How has no one told me how giant my clothes are?! I have since gone through and pulled everything that doesn't fit in hopes to force myself to buy new clothes that fit. Which means, I currently have 3 running skirts, a pair of running tights, 3 sports bras, and 4 shirts that currently fit me. Yikes. Not enough clothes to run for a week!
9. I cannot stand starting projects and not being able to finish them. It makes me insane. I'm currently waiting on J to bring me staples home so I can finish recovering a chair. The crap strewn all over my house due to it, drives me crazy!
10. I hate buffets. I would rather not eat than eat at most buffets.
11. I am mildly obsessed with The Real Housewives series… the only one I don't watch is Atlanta. I have to watch Beverly Hills and NYC on my own.. J won't watch those with me.
My Questions to Answer:
1. Birthdays. Love them or hate them. Why? LOVE. L-O-V-E. It's a day totally about ME. One year, I had to share my birthday with Easter and I was pissed because most people were all, "Happy Easter!" and not, "Happy Birthday!".
2. Get your purse/gym bag: What are the first five things you pull out? I don't have a gym bag, so I grabbed my purse. I pulled out my ipod and wallet simultaneously, my point and shoot camera, a bottle of Nuun, and my bag of lipgloss.
3. What is the one meal you can make better than anyone else? Yikes! I guess spaghetti. Although, I don't measure so basically it comes out tasting a little different each time. But I guess it's a staple around here because people like it. I also use angel hair noodles instead of spaghetti noodles. Although, I do enjoy my alfredo pasta that I make too. I also make a mean batch of strawberry cupcakes.
4. You get one wish. No restrictions. What is it? Tough. I guess to either be completely out of debt or to never have to worry about money. Or maybe I'll go with something as simple as never having to do laundry again.
5. Cake or Pie? Cake. Pie doesn't have icing…
6. What's your secret talent? I don't think I have a secret talent. Other than being able to curl my toes up under my feet and walk on them.
7. Early bird or night owl? Probably night owl. I am not a morning person, but would rather get up early to get stuff done rather than stay up late. Although, I would probably stay up until midnight most nights either reading, watching tv, or playing on the Internet.
8. Biggest pet peeve? Tough call between people who say they will do something and don't or just general clutter and un-organization.
9. What's your favorite weird food combination? (i.e. ice cream and pickles) Although I don't eat them like this anymore, J makes fun of me for saying that you are supposed to put mayonnaise on black eyed peas. I also dig mustard on meatball sandwiches.
10. Which would you choose? No social media for a year or no working out for a month? Why? Holy crap. NO working out?! I guess I'd have to choose no working out. I can't live without social media– I do a lot of photography business through social media, so I couldn't give that up.
11. What are you sending me for my birthday? Umm.. if it would make it there and not be crushed, I'd send you a GiGi's cupcake. Or perhaps a batch my strawberry cupcakes. They are legendary.
My Questions for my Victims:
1. What are you wearing right now?
2. If you could move anywhere in the world, where would you move?
3. Who is your celeb crush?
4. What is a beauty product you couldn't live without? (i.e. mascara or chapstick)
5. Do you think you are high maintenance or low maintenance? Why?
6. Would you rather have to run a marathon and a half marathon on consecutive days or be stuck on "It's a Small World" for 5 hours?
7. What is your hands down, all time favorite movie?
8. If you were on Death Row, what would be your last meal?
9. What is your guilty pleasure?
10. Do you wash your hair everyday?
11. Do you prefer to text or talk on the phone?
I am tagging:
Lindsey @ Running Down a Dream
Neely @ A Complete Waste of Make up
Megan @ Little Girl in the Big World
Brooke @ What's The Story Brooke?
Casey @ Two Frogs and a Princess

I seem to be noticing a trend here… oh my tangent-like blog posts.. I sure hope you enjoy them!
The past 7 days have been a little cray cray for Ray Ray..
We've had some family drama (keep it us in your prayers and good thoughts, I'd go into it on the blog, but don't want to make anyone mad)
Hubs went out of town for the weekend leaving me with both girls, which we were going to have a girls weekend, but then I ended up getting a RIGHTEOUS head cold. I thought my eyes were going to bulge out of my head.
I took Claire to the ENT, he thinks he snotty nose is just from allergies, so she is now on Singulair and a nice nasal swab to help clear it up. We go back next week for further evaluation.
I've been working on some new crafty projects, that I plan to share with you in the coming days.
We found out that my Brother in law and sister in law are going to have a baby GIRL! Yay! I have a feeling this one will be another ginger…
I had to run a long run with my head cold… 6 miles. It got easier after 3.5 but it was tough mentally.
I awoke Monday to images of this on my computer screen:
A tornado hit where I grew up. So scary. I've talked to my step-mom briefly, she is okay, can't get out of the neighborhood- they've got everything blocked off. I've heard there was damage to my elementary school, but I am not sure of the extent. My dad was in Little Rock and is on his way home. Basically, all of my dad's family lives in either Center Point, Pinson, or Trussville and those areas were hit. My aunt and uncle and cousin live in the neighborhood where that 16 year old girl was killed. They are fine and don't have any damage. SO thankful that all of my family is okay! On top of that, before the tornado hit, my grandmother fell trying to get into bed and was admitted to the hospital.
Also, Brighthouse- stop sending me e-mails. If I wanted a picture of me doing this, I would have ordered it already.

Here's a whole bunch of randomness that I wanted to share.
A childhood dream came true. 
I made some Angry Bird cupcakes following THIS TUTORIAL. It was pretty easy! 
I did Christmas with Becca and she got the most perfect gift for my multiple personalities. (You'll only get the tag if you watch Gossip Girl. We are the non-judging breakfast club!) 
Yep. Glitter heels and a running shirt with a Princess crown and the word "Dominate". The back says 13.1
Not the most comfortable shoe to wear for 4 hours, but surprisingly, not that bad to walk in. Your arch just starts to protest after too long. 
A surprise Christmas gift from John.. He did really good with all the surprises! He listened to things I talked about and didn't follow the list completely. Good job!! 
I also got The Hunger Games book.. oh my. Fantastic! I rate the series up there with Harry Potter and better than Twilight. Yep. The characters are different, but the writing is amazing. I was glued to it. I read the series starting on a Friday night and finished on a Monday. (This was also NYE weekend… so I was forced to get out of the house otherwise, it could have been sooner.)
I also got a Sephora gift card.. here is one of my purchases. I debated on this. But ultimately, I am a lip gloss addict and couldn't resist.

And the best game ever. If you love this SITE, then this is the game for you!! And you probably should play it with my husband and Brother in law, as their comments are shocking and hilarious. 

1. Party- It currently looks like a party store threw up in my dining room… but I am pretty sure that Addison's "Alice in Wonderland" theme birthday party is going to be spectacular…
2. Running- It's hard after racing and it finally clicked that the reason it feels like I am running through mud is because I raced Saturday and you need to let your body recover one day per mile you ran… 10K= 6.2 miles= 6.2 days to feel like racing again. Duh. How could I forget that??
3. I feel certain that after this party is said and done, that I will go through some sort of depression because UPS and FedEx aren't delivering 3 times a day.
Have you ever felt depressed because every delivery isn't for you? Or maybe a tad jealous because your child is going to Disney for her birthday and you aren't going?