1. I stepped out of my comfort zone, once again, and went to the Birmingham Track Club End of the Year Party. I met some more of my Resolute Running teammates and Tanya was nice enough to want a picture with me… She must have felt my super uncomfortable vibes rolling off of me. The place was packed and I don't do well with large crowds… so it was quite the test, but I survived.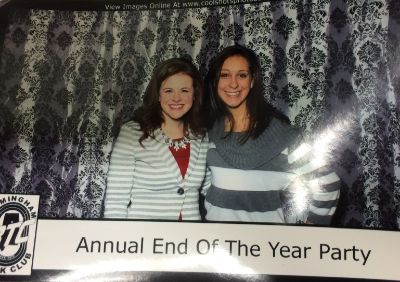 2. I was interviewed on a podcast a few weeks ago and forgot to post the link on the blog. Oops. Sorry y'all. It was the Lifestyle Accountability Show and if you want to hear me say "Umm" a lot with a Southern accent, then be sure to check it out!
3. I was chosen as a 2014 Nuun Ambassador. I have used only Nuun for rehydration for about the past 2 1/2 years and this is just amazing to me. I love when races have them at the water stops.. like Nike Women's and Ragnar.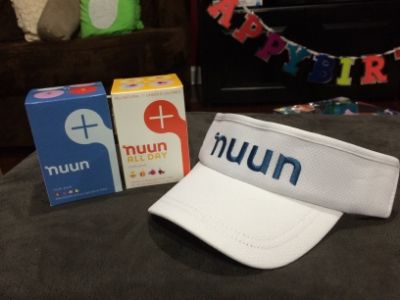 What's going on with your Tuesday?? Anything exciting?

So. I sort of did something crazy and definitely out of the norm. I hired a running coach. I know me and how I operate (it's a gift of having known myself for 29 years) and if left to my own devices, I would jump back into running with both feet… which is hard to do since running is typically one foot at a time. My friend Jennifer had sent me a link right around the time I got injured for Resolute Running. They were doing a training group for the Magic City half. After numerous e-mails with Alex about my injury and even discussing running goals when I actually couldn't run, I decided to take the plunge and do it. I figured, if he would watch me like a hawk with my ankle and tell me exactly what to do, I'd be in good shape. That's another thing with me.. I tend to follow directions well.
Coach Alex and I discussed using Magic City as my "come back" run. And the goal would be to just finish. We talked about my PR being 2:02 and how I REALLY wanted to break 2 hours and he said, "Oh. That's pretty much done. Let's look at 1:50." Wait a second. I am barely running, and am not running near 2 hour paces and you want me to set my sights on a 1:50 half? Before the conversation was over, he had mentioned a 1:30 half and me still being "moldable". Afterwards, I was very confused. I thought I was just easing back in and he's talking about major PR's.
Then I got my training plan. And it is a bunch of 10:30 paces and then I was SUPER confused. So, I e-mailed him and asked what was up– Was the goal really just to cross the finish line or was it break 2 hours? He explained to me that he was being very lenient with my paces and I should be able to run a 1:56 half with this. Skepticism, party of 1??
I read Tanya's post on Coach Alex's style and it eased my thoughts, but I'm still a little skeptical on it… but, I will trust the training and do what I am told.
For now, I am back running, with Betty the brace (she's becoming a part of me so she needed a name). I'm not doing any speed work and I am glad to know that I haven't lost too much of my fitness being out a month– I had a long run this weekend of 7 miles and still felt pretty dang good afterwards. Right now, I am running 3 days a week and cross training 2 days with 2 rest days. I have the Vulcan 10K coming up and I would love to break 55 for it, but I am not sure that will happen.