As I geared up for yesterday's half marathon, I felt ready. As ready as I did going into Mercedes last year when I knew I could pull a sub 2:15 out of my hat. And I did. I changed my race outfit from the norm… not running in a skirt, but shorts. Not running in a sparkle headband, but my Nuun visor.. and most importantly, no music.
I was picked up at early 30 with some fellow Resolute Runner's and Birmingham Track Club members that were making the trek up there.
Isn't she just the cutest? She is pregnant and a ridiculously strong runner and one of the sweetest people you will ever meet!

The car buddies… we over shared and enjoyed the summer-like conditions for a race!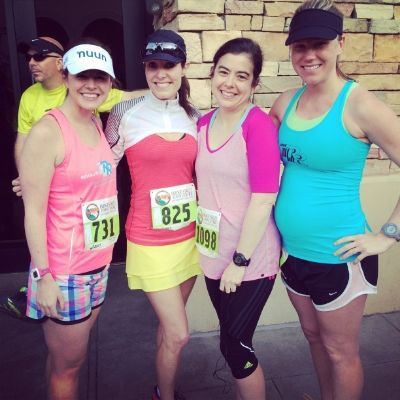 The race started, and while we had these massive chips on the bib, it was a clock time race. We started off feeling good. Halfway into the race, Coach Alex took my phone from me and started taking pictures.. and the man took a LOT of pictures.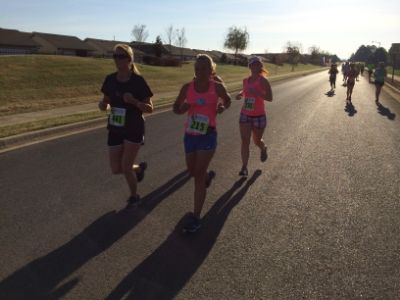 He kept giving us tips for racing.. and wanted us to stay in a tight form. As per usual, Rachel didn't listen and was a little further back than he wanted me to.

He attempted a selfie… and completely cut himself out of the picture… Coach Alex, you teach me how to race and I will teach you how to take selfies!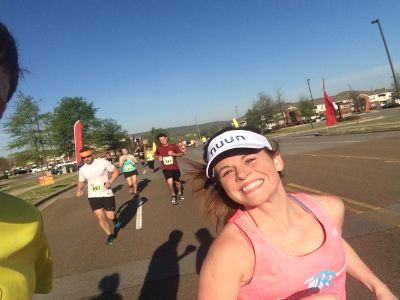 Coach Alex especially loved how we were all color coordinated and in our Resolute Running gear… we looked like a real team out there and I know that made him proud!

We sort of started getting separated as the heat got to everyone, and for a while and it was just me and Alex… I'm not sure if he enjoyed it or not. I got really whiny. And then I started huffing and making weird noises and grunting. Yep. I became THAT person on the race course and I don't even care. Then I became really mean and fiesty. Then back to whiny. And all the while, Coach Alex kept trying to talk to me. When I said "I can't. Please let me walk" He would say "What would you say to your daughters if they said that?" Then he asked me what my PR was and I couldn't even form thoughts. Then he asked me what I ran in Tuscaloosa and I responded with "something." and he laughed.
The picture after this one is honestly my favorite, but I am flipping him the bird, so it's not appropriate.. and neither is the cowbell lady story, but Alex is having a good time telling that one already!

I have a feeling he will tell me to get my eyes off the ground when he sees this one!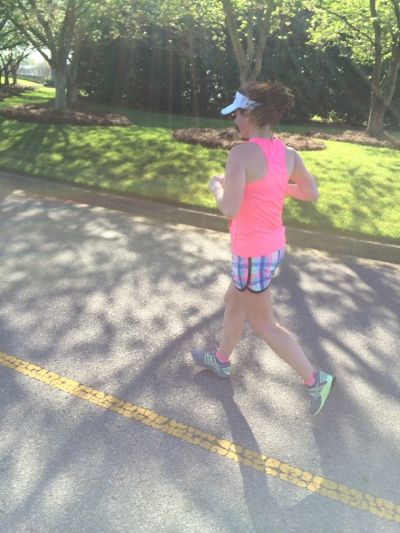 While this race was not a PR and I didn't beat my 2 hour goal, Coach Alex helped me to dig deep and not give up when I REALLY wanted to and was begging for him to let me walk. He literally had a hand on my back at times during the last two miles. This race was incredibly hot and I saw a LOT of people in need of medical attention on the course and after. When we came back into the mall area (that's where the finish line was and a terrible idea, in my opinion), Alex was telling me to kick it up, and then I saw a girl I graduated high school with, who was at the mile 13 marker calling out times and she said "C'mon Rachel! You got this!! Kick it up, girl!" and since she ran me in for my very first 5K, that thought crossed my mind. Where I thought I was going to die out on the course of a 5K, and here I am, trying to reach a goal that was never on my radar. When I started running this distance, I thought a 2:15 half marathon was the very best that I would ever be able to achieve. Over the last two years, my dedication and pride in this sport, and who it has molded me into as a person, that all came back full circle for me. I will break 2. The weather conditions weren't in it for this one and that is something that is completely out of my control. There are a lot of things you can control in a race, but weather isn't one of them.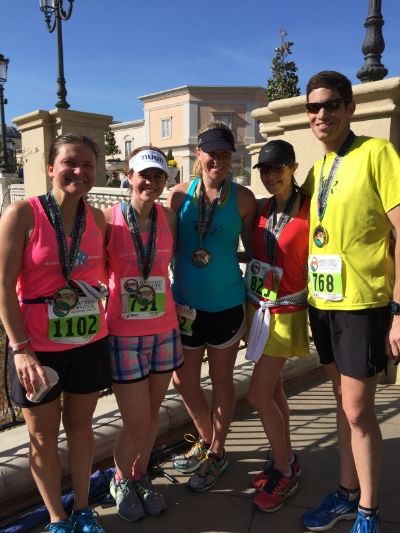 So, I will wear my 2:03:51 (official race time) with pride. I was 13th out of 79 in my age group and 288 out of almost 1,000 runners yesterday. That is not anything to shake a stick at. Looking at it like that, puts everything into a different perspective. So, for now, I'm putting the sub 2 on the back burner. It's just getting too hot right now and I need to acclimate to the heat. It's only going to get hotter in the South. I think it was mid 60′s at the race start and well into the 70′s but the time we crossed the finish line.

It was so hot and I was getting so dehydrated out there.. my fingers wouldn't bend and they were sausages. My watch my tight on my wrist and when I crossed the finish line (The finish chute wasn't near long enough, in my opinion), my arms went numb. I couldn't get them to work to get water. That was weird and scary.
Notice anything? I'm not wearing my brace. That's right.. first race without the ankle brace and it felt good, y'all. I'm officially back in complete working order! My dad and step mom were there for the start.. Dad really hates to miss me racing, which is nice, even though I'm a grown up now. J and The Red's were there at the finish line.. I didn't know they were coming and so that was a nice surprise.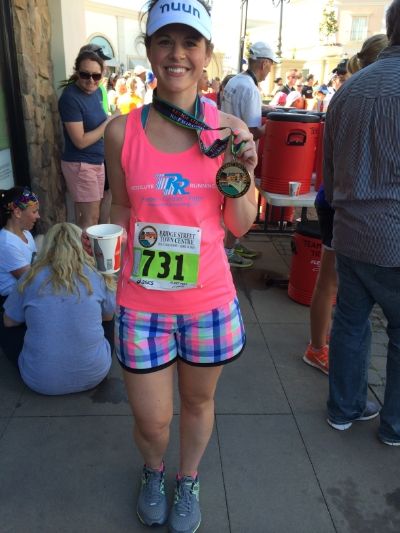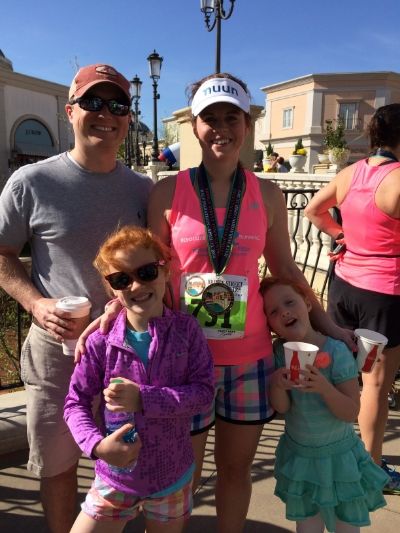 We went to brunch post race with the RR team and you know I'm all about a post race mimosa!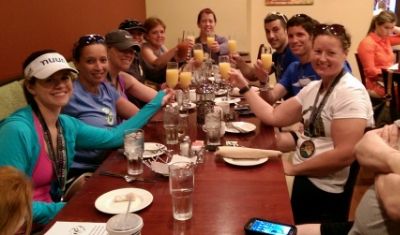 Shrimp and grits, get in my belly.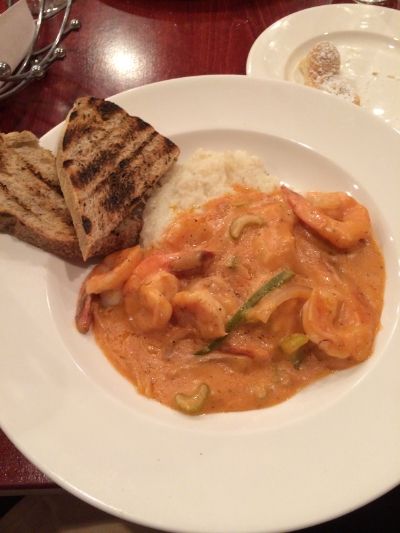 Sorry if this picture grosses you out, but I knew my toes were hurting in the race, which I thought was weird. When I got home and went to shower, this is what I found inside my shoe.

Blood. And lots of it. I think it's safe to say that the Nike in the wide isn't working for me, with all the problems I've had this training cycle with blisters. I'm on the hunt for some new shoes now.
This certainly isn't the worst race picture of me.. it's actually probably the best. Want to hear something funny? After all the stress of this being my last 25-29 Age Group race.. they broke their groups down to 25-30. So I would have been in the same age group anyway!