I can't tell if it's the color or not.. but something about the Saucony Kinvara 4 makes me at least feel like I am running faster. P.S. How fantastic is this packaging?!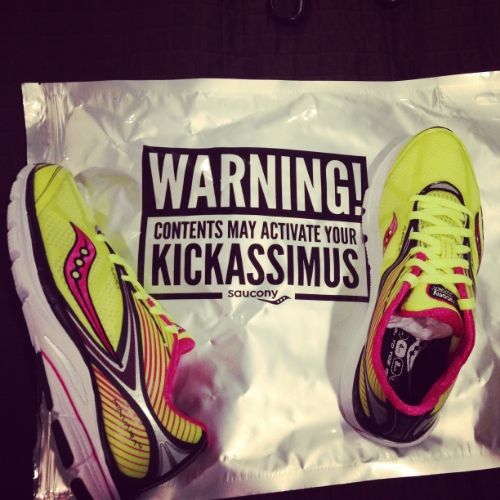 This shoe is SUPER lightweight.
I ran in them for about a week before going back to my Ravenna's for a distance run, and the Ravenna's honestly felt like a brick on the bottom of my leg.

If you remember my review of the Virratas, I was super impressed with that shoe. This one? I'm sort of in love with it. The 4mm heel-to-toe drop is much better for me than the 0mm heel-to-toe drop. I literally ran a half-marathon in them with less than 30 miles on them. (I never said I was smart.)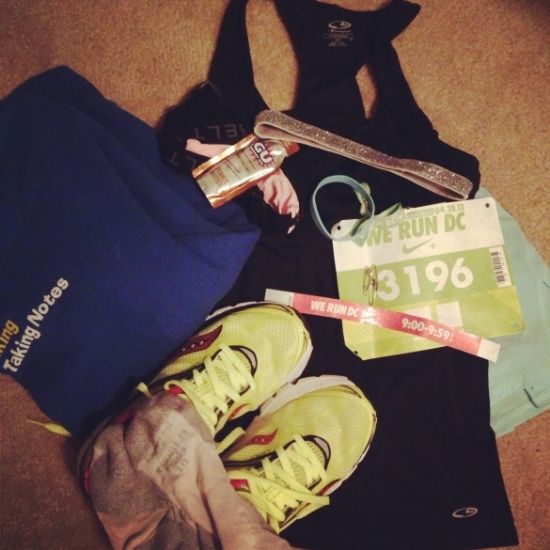 \
The Ravenna's I have been running in are a stability shoe, and the Kinvara 4 offers more cushion and support than a normal minimal shoe. Also? More room in the toe box and it doesn't feel as long as the Virrata, if that makes sense. They didn't take as much getting used to as the Virratas did.. I was able to hop in them and go with minimal discomfort.
I think I have inadvertently made the switch to a more minimal shoe. At least, for the time being. Besides.. who doesn't love a shoe that can glow in the dark?
Here is what Saucony has to say about it.

A couple of weeks ago, I was sent an amazing long sleeve shirt from YMX by Yellowman for review.
I love the color and pattern– all of YMX clothing is made based off of original tattoo art– How cool is that?!
It is made with an extremely lightweight, athletic MadKool fabric that must come from the clouds of Heaven. This shirt feels like a DREAM, y'all.
I have worn it on several runs and I cycled 20 miles in it. I was amazed at how it keeps you warm when you need it, but will somehow cool you off, when needed. I don't know if Harry Potter himself could have made a better shirt for cycling.
The price tag was a little on the steep side, but I'll be honest… I think this shirt is worth every penny. I cannot get over how lightweight it is. The fabric just has this yummy, silky texture to it. Not to mention, they way it is cut is extremely flattering.
*I was sent this shirt to review, and was in no other way compensated for this post. All opinions are my own.

Have you ever shopped with Crystal Faye? She has some of the cutest stuff and of course, since it's monogrammed, it just doesn't get any better than that. I am in love with the Clover Collection Lucite Tray. I've been eyeing one of these acrylic trays for MONTHS, thinking it was just what I needed for my ottoman in the living room. Crystal was kind enough to send me one for my birthday.. it even showed up like a birthday present! I immediately took it out of the box and laid it on the ottoman.
Only to come in the next morning to this: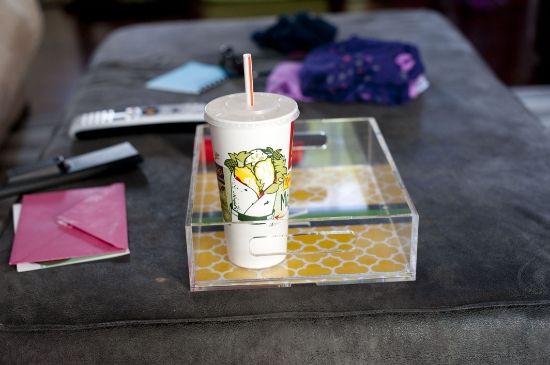 No. That's just NOT gonna fly. Plus… my ottoman is huge, so it really wasn't doing the tray justice. (Just keeping it real, folks. This is what my ottoman ALWAYS looks like in some form or fashion.)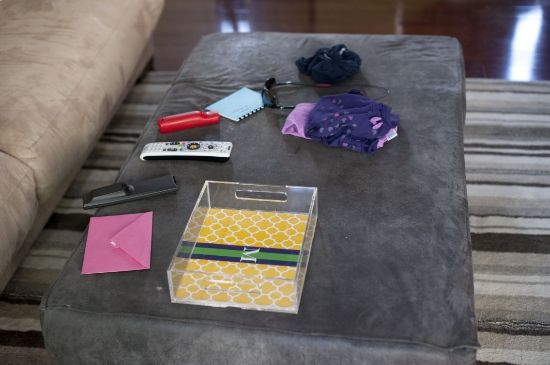 So, I made the wise decision to move it in to my closet with my jewelry.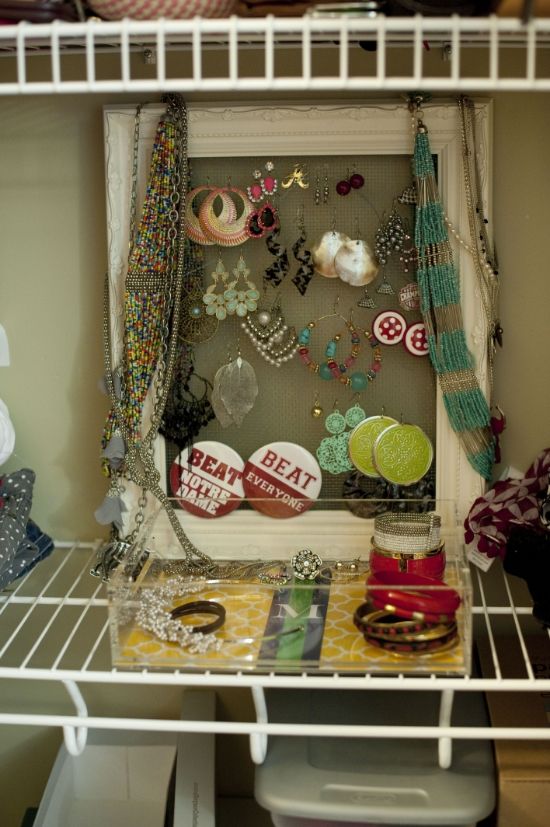 A much better place for it, don't you think? I already had a tray here, but I just swapped them out.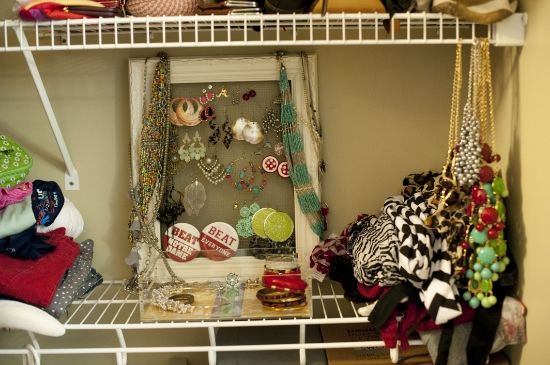 I love how much deeper the sides are on this tray than what I had here originally. It helps keep my bracelets stacked nicely. (Yes. That's a pearl tiara. Doesn't everyone have one? No? Just me?)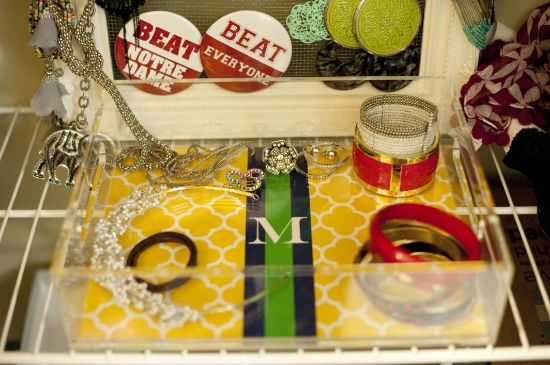 This tray is so versatile.. it could really just go anywhere.
I think this tray is a much better option here on the ottoman. Although, I still think it needs some work.. I'm just not sure what! I'm not good with the details of decorating.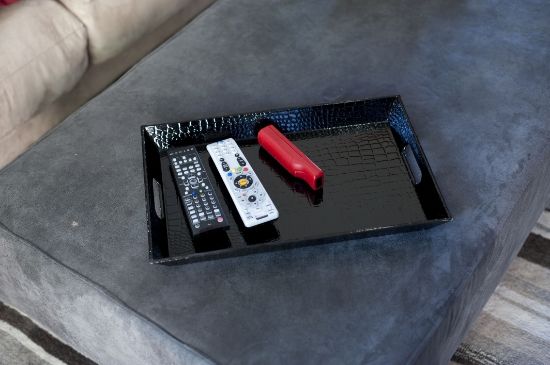 To help celebrate my birthday, Crystal Faye is going to give away one of these fabulous trays to one of you lucky ladies!!
Be sure to follow Crystal Faye on all of her social media platforms, she is always posting cute stuff to Twitter and Facebook!

Recently, FitnessGlo contacted me about a review on a 30 day trial. Don't know what FitnessGlo is? Well, it's fitness classes online for the person on the go. Made by women FOR women. Pretty awesome, right? It get s better. You can choose you classes by type, duration, OR instructor. Since I am smack in the middle of half marathon training, I wanted to use it to supplement that. Stretches, core, and some strength training.
 Jeffrey Scott is AMAZING. He is full of energy. And his legs aren't too bad on the eyes either. Trust me, when I say that these classes are nothing to shake a stick at. It may be only 15 minutes, but you will FEEL the burn.
I love a good core workout and there are so many to choose from!! With them only being 5 to 10 minutes long, it's hard not to want to do them all at once!! Plus, bathing suit season is right around the corner, y'all! 
I think we should discuss this stretching video that I did post Mercedes.. Ummm… amazing. Hurt so good and helped so much with the post race soreness.

 Each class is assigned a level (1,2, or 3) based on the toughness of the class. So, if you are just starting out, you can choose a 1 and work your way up.
I think FitnessGlo is an excellent option for a quick workout at home! I highly recommend it!
And to top it off, FitnessGlo is giving away a 90 day trial to one lucky reader!! All you have to do it comment below! I will pick a winner on March 1st! 

Winner Winner Chicken Dinner, y'all!
I was OVERWHELMED by the response to the Sparkly Soul headband giveaway. Y'all really dig some sparkly athletic wear!
Paula V– congrats!!! Please e-mail me at runningbackwardsinhighheels(at)gmail(dot)com and I will get your info to the find people at Sparkly Soul…
Thanks to everyone who entered!!

***Giveaway is now closed!!****
I have a person motto that goes something like this, "If it's pink and/or sparkly, chances are, I'm going to want it."
A sparkly headband is no exception to this rule. Truth be told, I'm glad to have found the perfect brand of sparkly headbands for running so I can wear them everyday and not feel like I've stolen something out my child's closet.
I have been wearing Sparkly Soul headbands for almost a year– getting my first one for Rock N Roll DC.
They are pretty much all I wear now. I alternated for a while with some other brands, but generally like the way that they fit my head. They don't slip and aren't too tight. I also LOVE that the sparkle goes all the way around the band.
They have SO many colors. It's hard to ever choose which one that I want.
Here is a blurb from their Press Release:
"Sparkly Soul non-slip headbands are available in a wide variety of colors and two widths. The thin 3/8" headband retails for $15 each, while the 5/8" wide headband retails for $17 each. One size fits all adults and, children ages 5 and up. Sparkle Soul headbands are proudly Made In the USA and professionally manufactured in New York City."
One of the best things that I LOVE about them? They interact with you on Social Networking, building excellent client relationships. It's nice to know if I have a question or post a picture, they are going to answer it or share it!
You can follow them on:
Twitter @SPARKLYSOULINC
Instagram/Pinterest/Tumblr user names are SPARKLYSOULINC
And because Sparkly Soul ROCKS so much, they are going to give away a headband to one of my readers. All you have to do is leave a comment telling me which color and if you would want wide vs thin.
You can enter once a day.
If you'd like an extra entry, you can tweet about it, just be sure to tag me (@runinhighheels) and Sparkly Soul (@SPARKLYSOULINC)
I will end the contest on Sunday, February 10th at midnight… and will announce the winner that week!
Good Luck!!

My girls are obsessed with reading and writing. I actually can't pick up a piece of paper that I have laid down, without finding Addison's name written on it.
So, when I was given to opportunity to review Mead's new learning products, I JUMPED at the chance. There was SO much stuff in it! Flash cards, workbooks, etc. It is totally aiding Addison in her thirst for knowledge! She is constantly asking to open another set of flash cards or another workbook.
I gave it to the girls as part of their stocking stuffers. Addy was SUPER excited about all of the new stuff! She immediately grabbed her new notebook and her iPad and started asking Siri how to spell words and she would write them down.
The dry erase board was a HIT. Going on a month after Christmas, they are still fighting over it.
The workbooks and flash cards that I received have multiple levels for educating your child. I cannot tell you how much these are being used every day in our house.
Want to win an awesome pack like mine?! It's valued at $75!
All you have to do is visit Mead Early Learning website and leave a comment saying which product you liked best.
For an extra entry, follow @MeadEarlyLearn on Twitter and send a tweet like this one: "Kicking off 2013 with great learning tools from @MeadEarlyLearn and @runinhighheels #MeadStartStrong".
Contest ends at midnight January 22nd, 2013!

I don't generally like protein drinks… they taste bad.
I had the opportunity to try FRS Performance Protein drinks and chews. I was pretty pumped when the package came.
FRS is made with Quercetin, which is a high powered antioxidant. It has been shown in multiple clinical trials that it increases endurance, enhances mental acuity, supports the immune system, and acts as an anti-inflammatory.
I throughly enjoyed the Blackberry Acai Protein drink and with 25 grams of protein, it's an awesome post run drink.
Every drink that I was given to try was delicious. The only one I didn't care for was the Orange Dreamsicle. Only because I am not a fan of orange flavored stuff. But, it tasted like a melted orange pop (remember those?! They still make 'em!) so if you're into those, you'll like it!
My favorites were the Wild Berry.. even the reds enjoyed those.
and the Cherry Limeade.
I haven't tried the chews I was given yet, but I am sure they will be the pick me up that I will need one afternoon. I will definitely be ordering more of these. I am always in need of a good protein drink to take on the go, especially with work, where I may or may not get a proper lunch.
You can order FRS Performance online or I know our local GNC store has them.
*I was given FRS products to try and review through FitFluential. I was in no other way compensated and all opinions are my own.*

Are you in need of some last minute Holiday ideas? Or perhaps looking for just a little something for yourself?
I know I am always looking for that "perfect" shampoo and conditioner. One that adds enough moisture to my locks without weighing them down. Or perhaps something that will help fight frizz. Or maybe one that will help my color last longer. This is probably why I have at least 3 different shampoos and conditioners in my shower.
Have you ever checked out Fekkai products?
Frederic Fekkai is one of the most celebrated names in beauty and the hairstyling world. Along with exceptional professional results, Fekkai products feature luxurious textures and invigorating scents!
One of the products that really stood out to me was the Silky Straight Ironless product line. It boasts that it's a salon blow out without the stylist. My hair tends to be on the wild side when it wants to be… all that natural wave and curl just goes a little nuts with the humidity here in the South!
Fekkai also has a line called Ageless. It has anti-aging formulations that prevent biological, environmental, and mechanical aging in the hair. Between all the damage I do with coloring and heat products, this could seriously be an amazing investment for my hair!
They have product lines for everything! Volume, Curls, Glossy.. you name it!
The best part? They are offering 10% off of your total order and a complimentary exclusive holiday headband with a $50 purchase (while supplies last). So, you better get on it.
The Promo Code is HEADBAND
Where can you find Fekkai products? Click here!
Tell me what products are "must haves" for you!

I may love me some fun in the sun, but my hair doesn't appreciate it as much. Living in the South, it's not only hot but humid and that's not a friend to my hair. I find myself having to amp up my flat ironing time, which makes it feel rough around the ends. Did you know that dryness and roughness are early signs of hair damage?
I got sent a new Dove conditioner a couple of weeks ago to try. I have naturally curly hair and all the damage I do to it to straighten it, well, let's just say, conditioner is my friend. Dove nourishing oil care conditioner smooths rough, dry and frizzy hair, with a dual-phase treatment.
I am happy to report that this conditioner lives up to expectations. It is extremely nourishing and doesn't weigh my hair down much.. Let's be real, my hair can handle being weighed down a little bit. It smells very nice and is really creamy. It leaves hair feeling extremely silky. I will say this, that with styling, my hair didn't hold curl quite as well, which, really isn't a problem for me and some hairspray fixed that problem, anyway.
I have been really pleased with this conditioner and will probably buy one when this runs out.
Dove has really done their homework on this one. They have several new conditioners that use a patented technology to provide nourishment to repair dry and damaged hair. Dove's dual-phase treatment includes a Fiber Active technology to penetrate deep inside the strand, helping rebind damaged proteins, as well as as patented micro moisture serum that targets damage, repairing the surface of hair by sealing lifted cuticles.
The Dove conditioners are available in a multitude of ways..
The Nourishing Oil Care Daily Treatment
Intensive Repair Daily Treatment
Daily Moisture Conditioner
Color Repair Conditioner
So, you can definitely try one that fits your hair care needs!
Don't forget to go and enter the sweepstakes for a $1,000 Spafinder gift certificate–
Tell me what your favorite conditioner is!!
Here's a snap of me the first day I used the conditioner.
Enter to win a $1,000 Spafinder gift certificate!
NO PURCHASE NECESSARY
COMMENTS TO THIS POST ARE NOT SWEEPSTAKES ENTRIES. PLEASE SEE BELOW FOR ENTRY METHODS FOR THIS SWEEPSTAKES.
You may receive (2) total entries by selecting from the following entry methods:
a) Follow this link, and provide your email address and your response to the Promotion prompt
b) Tweet (public message) about this promotion; including exactly the following unique term in your tweet message: "#SweepstakesEntry"; and then visit this link to provide your email address and the URL to that Tweet.
c) Blog about this promotion, including a disclosure that you are receiving a sweepstakes entry in exchange for writing the blog post, and then visit this link to provide your email address and the URL to that post.
This giveaway is open to US Residents age 18 or older. Winners will be selected via random draw, and will be notified by e-mail. Winners will have 72 hours to claim the prize, or an alternative winner will be selected.
The Official Rules are available here.
This sweepstakes runs from 9/4/2012 – 9/30/2012
Be sure to visit Dove®Hair.com to get a coupon for $1.50 off Dove Hair Therapy products.