As you all know, I had high hopes for this race. I wanted to PR my comeback race… Well. Things didn't go as planned. It was set to be SUPER cold.. in the 30′s and not warm up much. Good thing they let us hang inside and I got to meet a fellow blogging Bammer… BamaGirlRuns. I recognized her in her signature pigtails and houndstooth visor.
This was Robbie's first half.. and he was a tad nervous.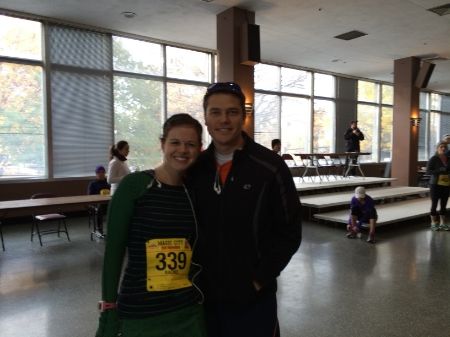 Originally, I was set to wear a skirt and long sleeve top, but something told me because of the cold, that maybe I should pack a pair of pants. I was glad I did, because 10 minutes before the start, I was changing in my car… and then I got child locked in. Lovely.
Meredith found us before the start!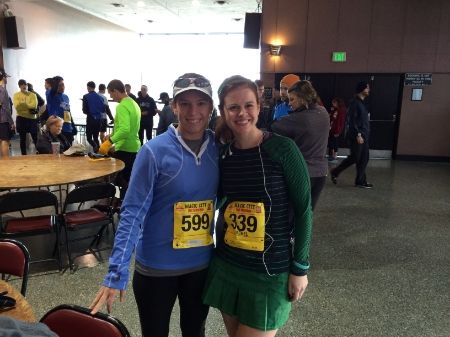 The race started late.. I have honestly never been in a race that the runners started chanting "start!" but now I have. It was so cold that my legs were involuntarily convulsing standing there. My plan was to start with the 2 hour pacers and then pull away after the half way point… did. not. happen.
I started with them and was running with a friend and we were just chatting.. and somewhere after the 10K split, I lost her through a water station. (I PR'd the 10K split.. 56 and change. A full minute and a half!) This was also where my hips started tightening up.. some slight discomfort and I tried to rally. Eventually, I realized breaking 2 was out of the question, and was fine with it. You reach a point where you become okay with all that you are giving in a race.
Here's a lovely photo… if it had a thought bubble, it would say.. "Hey! I'm in immense pain!! But there's a photographer, so smile, damn it!"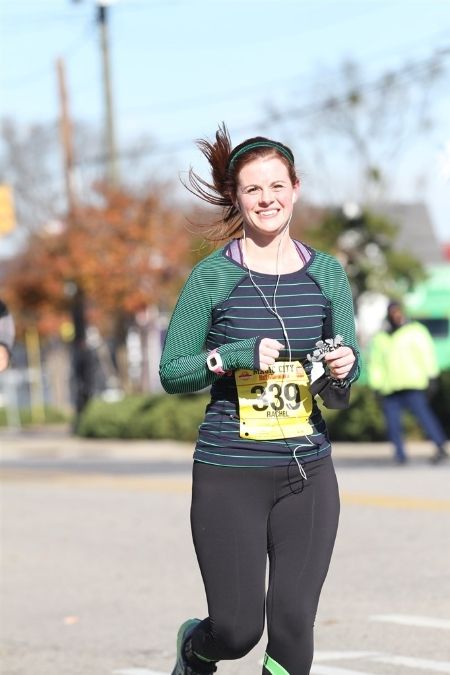 Around mile 10, I tried to rally again, but I always forget how tough this course is. It feels like a lot of uphill with no downhill. And once I hit 11, I was ready to be done. My hips were so tight, that with every step I took, I thought my hip flexors were going to snap like rubber bands. This is about the time that Sunny came up behind me. I have never been so happy to see a friend! Sometimes, it just helps to be able to vocalize your suffering to someone else. I also told her I wanted to quit. I have never had that cross my mind in a race. I have no doubt that I would have, if I hadn't been within half a mile of the finish line. But I would have had to walk back to the finish anyway… Might as well get a medal for it.
I was very happy to see familiar faces at the finish and have an ecstatic Claire run across the finish line with me. 
Look at her face! I die. She's so happy and I wouldn't have traded all the PR's in the world for having this with her. She kept saying "Look Mommy! We are running to the finish line! Do you see those pretty medals?"
After the race I could barely walk… I was almost in tears. I came across one of my coaches and he forced me to stretch my hips and ohmygod it hurt so bad.
We ended up eating lunch at Rojo, where we didn't have the best experience, but we aren't going to discuss that.
I am so proud of Robbie!! He killed his first half marathon!
After some long e-mails with my coach, I've decided that I am proud of what I accomplished out there. The headwinds and weather were certainly a factor. It was also a comeback race… one where I wasn't far off from my PR. I finished is 2:05. That's a 20 minute course PR for me. So, that's definitely nothing to shake a stick at!