Birthdays are really big deal to me. I was raised that way. You get to celebrate the entire week, if you want! Since this was a big one, my friends started in on Monday, reminding me every day that it was my last Monday of being 29.
Friday, the UPS man dropped off something special… Sherrie's Berries from Molly. I have some of the best friends!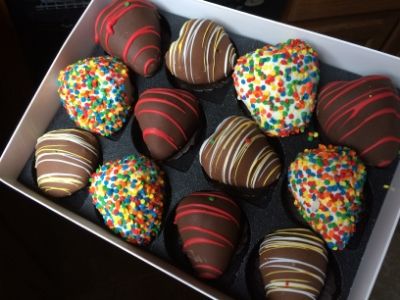 Friday night, J wanted to take me to Flemings for dinner and when I walked in, my closest friends were all at the table.. even with Molly on FaceTime! It was such a surprise and a truly amazing dinner. All of these girls are so special to me. I wouldn't be who I am without these ladies.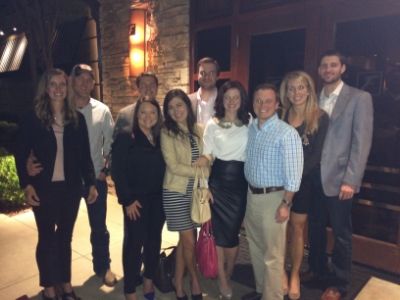 Saturday morning, I intended to volunteer at Statue to Statue in Birmingham.. it's a point to point race from Vulcan to Liberty Park.. but I met with the BUTS (Birmingham Ultra Trail Society) who were doing the S2S2S.. where they were running from the finish before the race, to the start line, and then running the race back. Well, Tanya and I weren't up for all that, but I did join them for the first half of it. She is a fellow blogger, turned stalker, turned Resolute Running teammate. It was her longest run since her injury and my last run in my 20′s..and we did it right. Showing Coach Alex up on our abilities to take selfies while running…

Looking good, BUTS! See the guy in the orange shorts? He is married to my oldest friend (we've been friends since Kindergarten) and I had no clue I was running with him until a picture showed up on Facebook and we were both tagged in it… and he is standing right next to me in it. Way to pay attention to your surroundings, Rachel!

Tanya and I had a TON of fun running.. and I must say, I like running with the BUTS, because they walk the hills.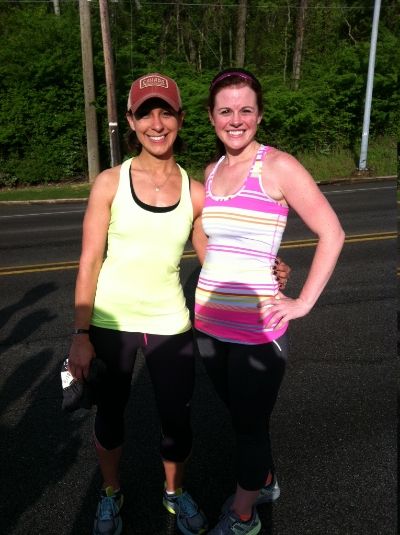 We made it to Vulcan!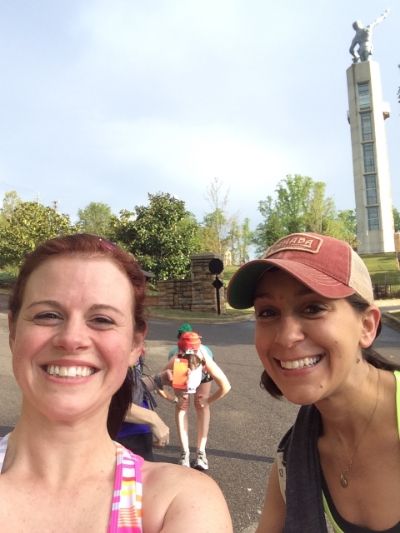 One of the things for running selfies, is finding someone with long arms to help you out for the group shots..
We ended up at the first water stop.. and were going to hand out water.. but DOUGHNUTS!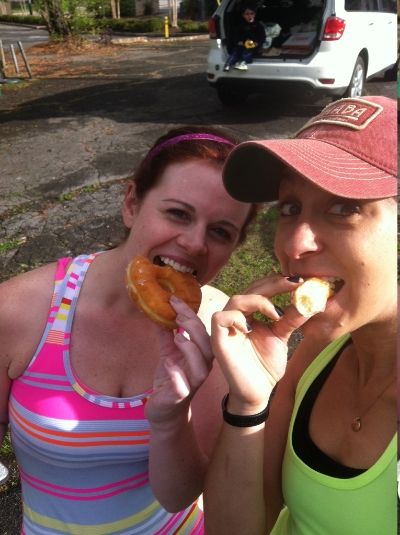 See? Another prime example of finding someone with long arms for the group selfies.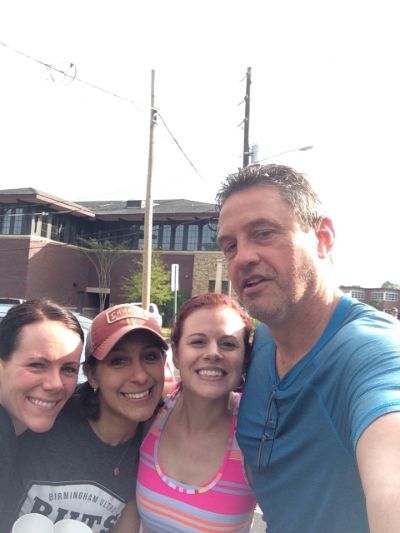 Not quite a selfie, but who can pass up Vulcan?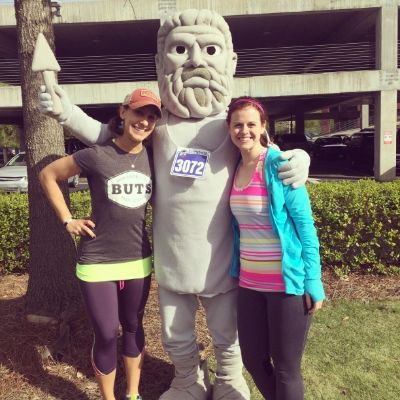 Ahh.. Liberty Park!
Saturday night was dinner with Dad and Karen..yummy Sushi!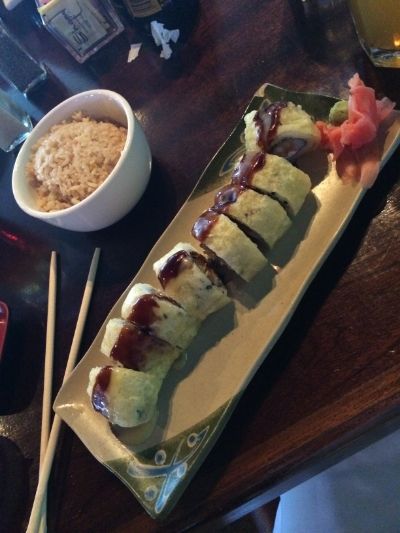 Sunday was Easter, and really deserves it's own Easter post…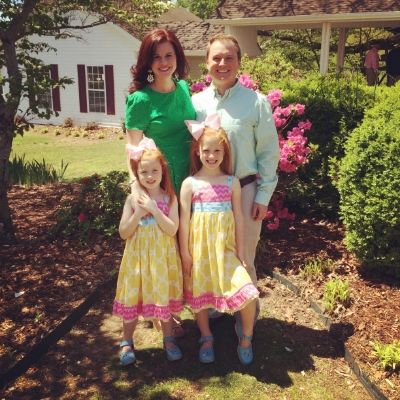 I hope this isn't a sign of things to come.. the 3 breaking on the 3-0 on the cookie cake.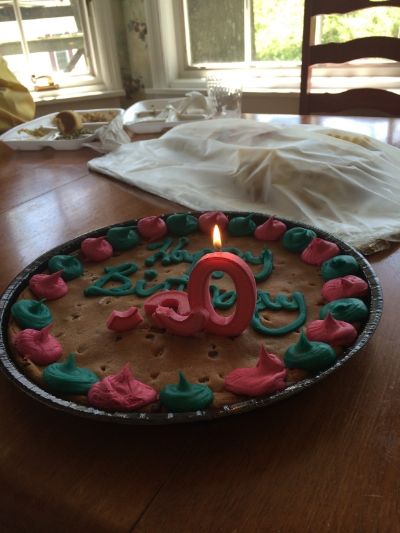 This weekend was amazing and filled with my amazing support system of friends and family. I had a blast each and everyday. The tweets, Instagram messages, texts, emails, and Facebook messages were awesome and really helped to make the day special.
Bring on the 30′s, baby!!

I keep forgetting I'm racing this weekend. This week has been so busy and just coming off of vacation.. I just haven't had the proper time to freak out about it. Which, is probably a good thing. We all know I'm a neurotic head case that can be a tad obsessive (don't agree with me). I'm also sort of over the half marathon distance.. at least right now. It's been a thorn in my side for the past year and I am ready to break 2 and move on from it… I reserve the right to change my mind on Monday.
Coach Alex is pacing me and a few others to the sub 2 goal on Sunday. I chatted with him last night about being sick recently and missing runs and the fact that I just don't care about this race.. don't get me wrong, I CARE, but I'm not obsessing… I mean, I keep forgetting about it!
My plan for Bridgestreet is this… to run through the water stations, which is not something I generally do since I'm scared to spill water on myself. That's a weird fear, I know.. forget I said anything about it. I want to make sure I concentrate in the beginning half on keeping my shoulders back and my upper body straight because that's where it gets me at the end.. My shoulders start killing me because I have been hunched over for 8 miles. And most importantly, I'm going to let Coach Alex do all the work… I'm just going to follow him and tie a rope to him if I have to. I'm going to treat it like a long run and keep up with the pack. I'm not planning on wearing music.. I never listen during training runs anymore, so why mess myself up during a race with it? All I do is end up getting mad at the words and start skipping songs.
This is it… the last half marathon before I turn 30… and I refuse to turn 30 without a sub 2 half. You'd think I would be a little more fired up about it, but I'm tired of psyching myself out about these things. It's just running and I know how to do that. Why wear myself out mentally before I've even toed the line?

I got some majorly EPIC news yesterday…
I was chosen to run Hood to Coast for the Nuun relay team.
When I applied, I never thought I would get in… I've tracked these bloggers for the past 2 or 3 years and they are wicked awesome.
Of course, the majority of last night was spent watching videos and reading recaps of everyone's experiences… and now I'm sort of freaking out. I am not sure I am on the same level as these past runners.. but I will try my hardest to get there by August!
This has been a secret bucket list item for a couple of years.. one that I thought would never happen, but yet, here it is. It's happening and I'm so stoked. Who would have thought that I would love living in a van with strangers and not showering and just running with very little sleep? I'm so excited for this opportunity!
Has anyone done Hood to Coast?

Friday night brought me the obligatory pre race outfit pic… please notice the GU, because I'm totally going to forget that come actual race time. 
I got up at early-thirty to meet some peeps in Birmingham to drive to Tuscaloosa, where we met my brother in law, Jay who had our bibs and then continue on to the start.. parking was a breeze and we found even more people at the start.
Becca, Me, LB, and Coach Ann– who was 31 weeks pregnant!!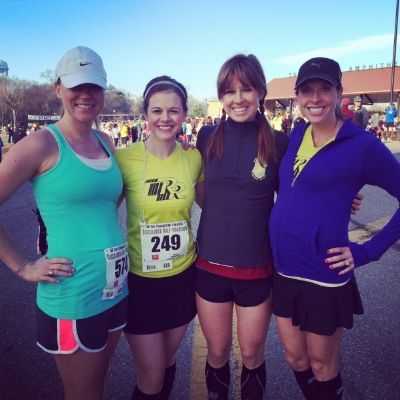 We found some of the C'town representing in T'town…

We were all just standing around chit chatting and then all of the sudden all of the people started moving and the race had started.. Way to be prepared! We started out and were chatting and feeling good and just taking in the sights of everything and enjoying the gorgeous weather (Holy run on sentence!). Becca pulled ahead pretty early, but I could still see her and easily catch her so I wasn't worried. The course weaved through some historic homes and I honestly hate courses that weave. Ann had a baby bouncing on her bladder and she had to make a pit stop around 4.5, and at the mile 6 water stop, I realized that I was probably in the long haul solo since I looked ahead and couldn't see Becca any longer.
I just tried to enjoy the scenery for the next couple of miles and listen to my tunes…not a terrible view!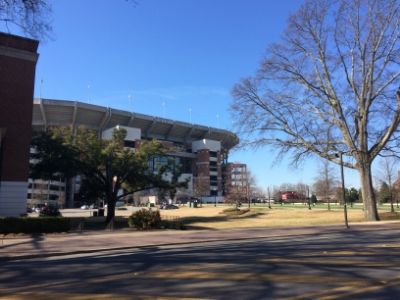 I started fading around mile 8, and probably should have taken a GU, but it was tucked safely in the car at that point and wasn't doing me any good there. It was warming up and I wanted so bad to be able to rally, and I tried, but hills popped up out of nowhere and I could not make it. At the mile 9 hill, which was boring, long, and never ending, I had a Resolute Running teammate pop up and be all "Hey! What's up?" and then he took off and completely made the hill his bitch.
Going into the race, I wasn't looking forward to the Jack Warner Parkway and the River Walk portion, but once I turned the corner onto Jack Warner, it was a downhill and a nice breeze picked up and I start picking up the pace a little bit, making good use out of the downhill. I hit mile 11, right where we get on the River Walk and saw Hannah and was so happy to see a friendly face, but I already knew the sub 2 was far gone and so was a PR.
Becca came back and found me for the last quarter mile or so, and my brother in law was waiting at the finish line… I finished in 2:04:47.. not too shabby, but far off from my goal.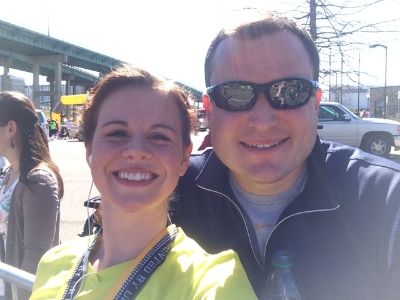 This race was a learning experience for me… sort of. I basically learned that I am a follower (not a HUGE newsflash, but always a nice reminder!). If someone sets a pace, I can run with them and chase them, but I cannot hold an uncomfortable pace on my own. I have lost the mental battle on the past 4 half marathons in the end… the 4 half marathons that I have tried to break 2. Physically, I felt fine, but mentally, I couldn't force my legs to pick up the pace. I just reached a point where I was okay with what I was giving in the race, instead of pushing outside of my comfort zone. Somehow, I've to figure out how to push past that, because it's getting really frustrating.  I'm feeling extremely discouraged and ready to toss in the towel on this distance for a while, but not without breaking 2… the goal I have been chasing for almost a year.
I've got to give a blog reader a shout out– Kim came up to me after the race and introduced herself and told me what an inspiration I was and that she started running because of me and she actually ran her first half marathon in Tuscaloosa– a 2:43!! It was so awesome to meet you, Kim! I really appreciate your kind words and you are a ROCK STAR!! Please let me know how you are doing!!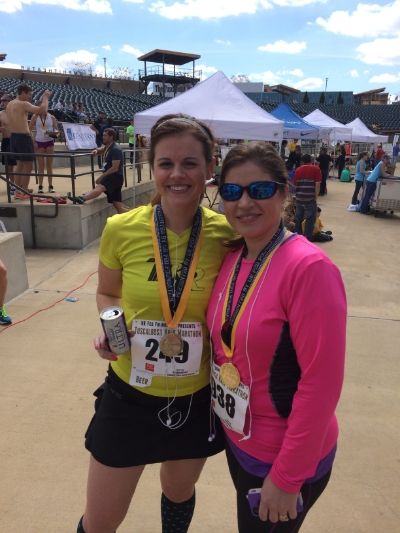 Such a beautiful old bridge….
My Juan Pablo "eeeet's okay!" I didn't PR picture… also? Not really sure what's going on with my leg. It seems to be channeling Elvis or something.
I have one more race before I turn 30 in April, and I am bound and determined to break 2 hours… so if you have some tips on breaking the mental barrier, I am ALL ears.

After I picked myself up after Mercedes, I decided I was going to make Tuscaloosa a good race. It should be flat, it looks like weather is going to be pretty dang good, and most of all– a ton of friends are running it and it should be a blast.
I'm really hoping to finally break that 2 barrier, and think I can do it on this course, but I am not going to stress. I'm still not that far from Mercedes, and it may prove difficult to race so soon. I guess, I still regret not taking that sub 2 in Tuscaloosa last year.. but I held back to talk a newly made on the course friend to the finish.. Sometimes, it's good to be a friendly face on the course to someone.
I did my last long run solo this weekend… I think that was a wise choice since the mental battle has been such a struggle for me. I needed to be able to talk myself into keeping pace and I pretty much nailed it.
It was just me and the Colonel Johann G. Cullmann on Sunday morning!

I feel confident I can do this, but will not stress about it. I can't let myself overthink and stress about paces and what not.. I will just run my race to the best of my ability.
I've found a new love in compression socks over the past few weeks. I've been wearing them during long runs and and afterwards and it's helped the soreness in my ankle so much. I actually ran my long run without my brace!
They get their love of brightly colored clothes honest, y'all.
I'm pretty much in love with this video that aired on Fallon last night.. I'm adding Let It Go to my race playlist immediately!
Anyway.. who is racing this weekend??

Saturday night was my normal pre race shuffle of laying out my outfit (had to decide what to wear first!), gathering all of my stuff to take, making my race playlist, etc.
When I got off the interstate, so much adrenaline coursed through me that I thought I was going to vomit. And they had roads closed that they don't normally have closed, and so parking was super fun.
Meredith was going to ride down with me, but she woke up late and didn't want to make me late for meeting my fellow Resolute Runners… We look cold. 
I found my C-town buddies staying warm inside Boutwell Auditorium.
We walked to the start line about 10 minutes before the race started and I lined up with the 4 hour marathon pacer. My plan was to stay with her, but keep an eye on my watch and stay as close to 9:05 as I could.

The gun went off and I had a brain fart and started my watch early… so much for it being time reliable at that point. After about 3-4 miles, I realized what a bad decision I made with wearing long sleeves.. should have done a tank for sure. I was feeling good though, staying with the pacer. She was a little fast, clocking those miles in the 8:50′s and between miles 5-6 and I decided to do what my coach told me, and back off. I still had a long way to go. I hit the 10K split in 54 minutes, which is a PR for that. I made through 5 points, no problem, but when I hit the Highlands, my brace came untied and I had to stop and tie it, and I basically lost all momentum at that point. I couldn't rally. Miles 7 and 8 were my slowest. I switched my watch view to pace instead of time/distance so I could keep an eye on my pace. I tried to make up lost time on a hill (so smart! Not.) and told myself "do not let your pace get above a 9:30″ and I just watched it creep up and there wasn't anything I could do about it. I knew at that point, that the sub 2 was gone from my grasp.
I tried to hold on to the fact that I could still PR and I've never cursed anything more than I did running at mile 12. That last mile will get you. I crossed the finish line to cheers from some RR teammates and that made me smile. I PR'd with a 2:02:30.
I can't say enough of the online support that I receive via Instagram and Twitter. You people rock!!!
I was so proud of Katelyn, who ran her first half yesterday and killed it.
Jo Ann, Katelyn, and myself post race… Jo Ann is a rock star runner.

It's safe to say that post race, Katelyn and I had fun. This is basically all that we did. I told her we were lucky that her mom doesn't know how to Vine or else there would be so interesting videos out there of our dancing.

I'm trying to be okay with not breaking my 2 hour time goal. I keep playing a lot of "what if" scenarios in my head, which makes it hard. I'm going to run Tuscaloosa in 3 weeks, so we are hoping it happens there. By the time I got home yesterday, Coach Ann had already sent me my training, so we've got some work over the next 3 weeks to prepare. I refuse to turn 30 without hitting sub 2.
I felt like I had been hit with a baseball bat after I got home yesterday. I took two naps. You know that achy-can't-get-comfortable-feeling like you get with the flu? That's how I felt. My lower back is sore from my phone in my spi-belt– I should stop running with my phone, honestly. My feet are ridiculously tender and I have blood blisters… thank the lord it isn't flip flop weather! I also chaffed pretty bad in a area that no woman wants to be chaffed. I guess I will be spending some quality time with my foam roller this week since my hamstrings are like rocks.
I'm going to be honest. When I got home, and after I had taken my first nap and showered (in that order. Hubs called me gross.), I uploaded my splits and started looking and analyzing (what? C'mon. You know you do it too.) and I just started crying. I was so disappointed that I let it slip through my fingers.
Ever had a race like that? That just took a complete nose dive halfway through?? How did you recover?

We woke up Thursday morning to a Winter Wonderland. Except, I like Summer and am over this extremely cold weather. This was, of course, after already being trapped in the house for 2 days… err… I mean, being at home with my sweet redheaded children who love to fight in a fort and bake in the Easy Bake Oven.
Proof I went a tad insane. Lululemon, fuzzy house slippers, and a Key West coffee mug.
As I sat watching the snowfall Wednesday evening, it was so peaceful, and all I could think was "I HAVE to run in this!". Someone should have had me committed at that moment, because that's the exact opposite of me 2 years ago. Heck, even 2 months ago. I don't do the extreme cold. But I was itching to get out in it.
I decided to run out my front door. Something I very rarely (okay. Never.) do. Simply because it's not very safe. People drive crazy on country roads and I don't want to be road kill.
It's one of the best decisions I've ever made in my life… it was gorgeous.
I learned that you run on the powdered stuff and don't try to attempt to run in someone's tire tracks, because it's frozen and the powder is soft. I stopped and took pictures when I wanted (which was a lot!). I even had some animals look at me like I was crazy.
It tried to eat my shoes, but I wouldn't let it!
It was so fun running like this. Having to be careful where I stepped, but just running for fun with no time goals or stress and some beautiful surroundings. It was wonderful to help relieve some of the stress of my upcoming race and really just have fun running in the snow.

Not bad.

Here's to a sub 2 at Mercedes!

Run/swim/bike a combined total of 1500 miles.

Didn't happen. I was right at 1,000 miles.. pretty far off. 

Run 3 half marathons this Spring.

DONE. 

Complete 3 tri's this summer.

Only did 2.. stupid injury. 



Don't die during the Ragnar Relay.

DONE. 

Run a sub 2:15 half marathon.

DONE. 

Cook dinner every night for an entire week.

Totally forgot I set this as a goal..

Grow an herb garden and use it!

Nope. I have a feeling I will never do this.

Balance between my goals, John's goals, and what's good for the girls. Reaching goals take sacrifice for all parties, and it's very easy to become selfish with what you want, and not what's best for the family.

I'd like to think I did this! 

Take the girls on a weekend trip.. somewhere fun but within driving distance.

DONE. The cruise counts, right??

Be able to do the splits.

This is laughable that I set it as a goal..

Continue with cross training and weight training.

DONE… Err… still a work in progress! 

Clean up my eating… being more mindful of what I am putting into my body.

Still a work in progress…

Go to a Pro Football Game.

Another one that's probably not going to happen. 
I haven't set my goals for 2014 yet.. I'm a little disappointed that I missed so many. Oh well! Let's take a look back at how EPIC 2013 was.
We started off the year with C turning 4…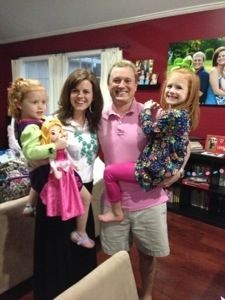 And then I ran Ragnar Relay FLK… I still can't believe I did that.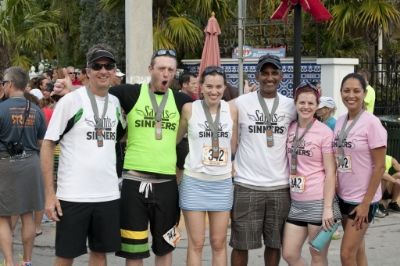 We went to the National Title game… and I was photobombed by my brother in law.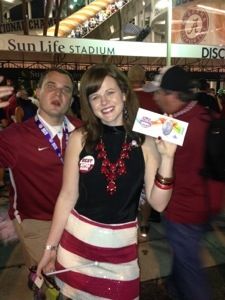 We had a snow day…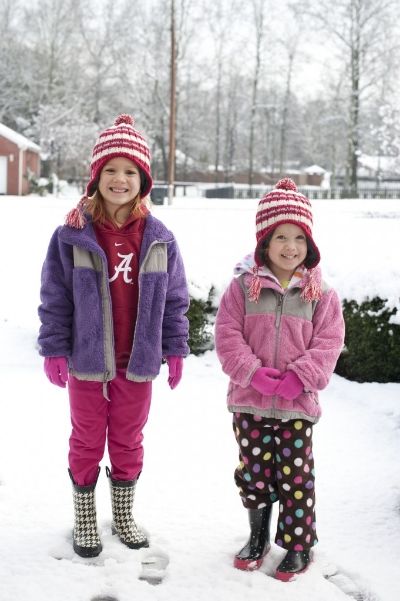 I ran Mercedes.. and officially crushed my sub 2:15 goal.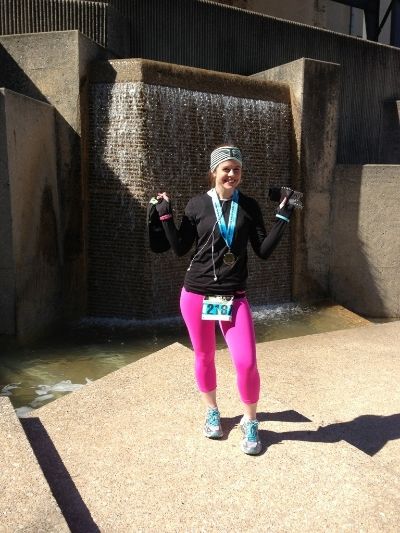 And then 2 weeks later, I ran Tuscaloosa and PR'd again..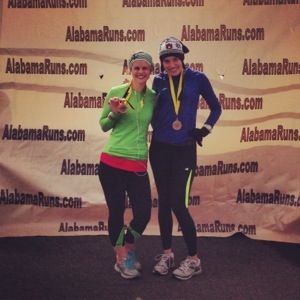 I went to Texas for the final BlissDom…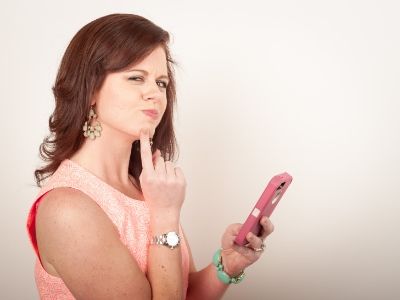 C discovered her love of a knee pop..
I went up to DC and ran Nike Women's with Molly… No PR for me, but still was one of my favorite races.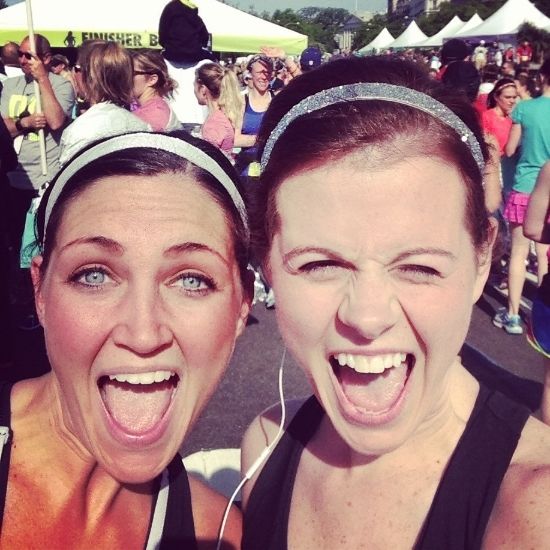 I did another Tri.. this one with J and I placed in my Age Group again.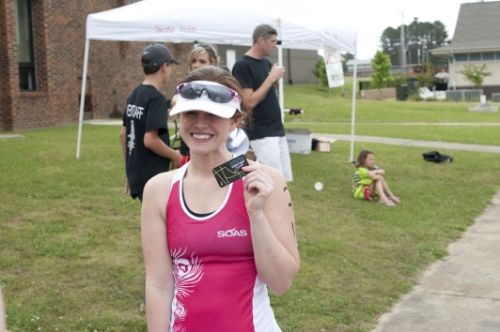 We went on a cruise… and had a fabulous time.
On the cruise, I got this super sweet bruise from an EPIC Dodge Ball game.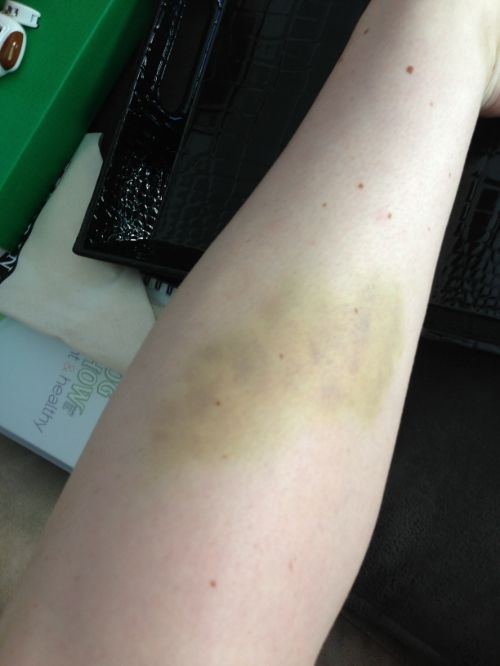 Tried some Energy Bits… loved them so much I became an ambassador. (Use RUNINHIGHHEELS for 15% off!)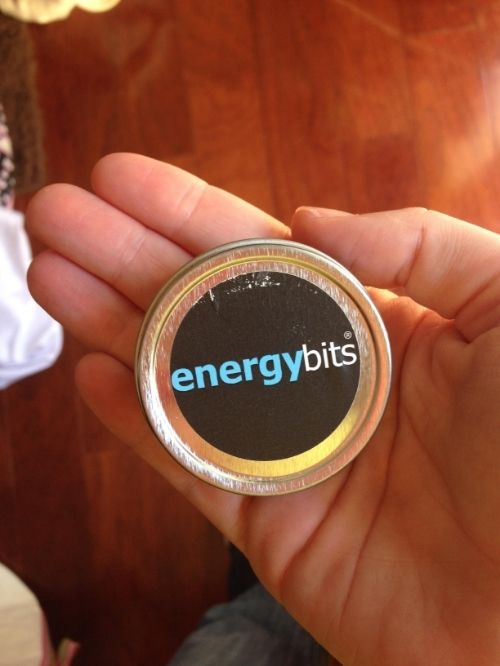 We went to the lake and Addy drove a Sea-Doo…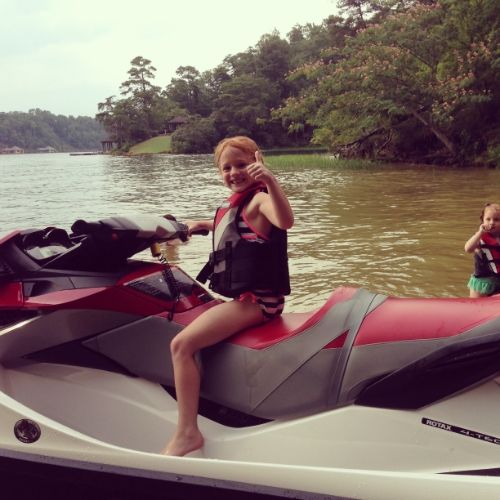 I raced twice in one day.. Triathlon in the morning and a 5K at night.
C found out just how dangerous treadmills can be…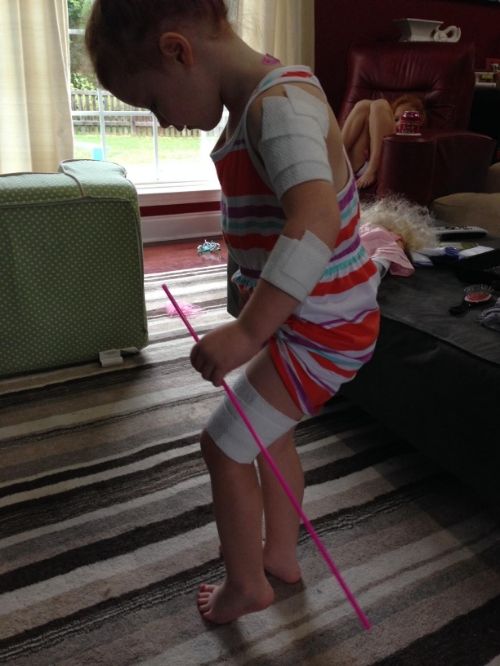 We had our yearly girls trip to the lake…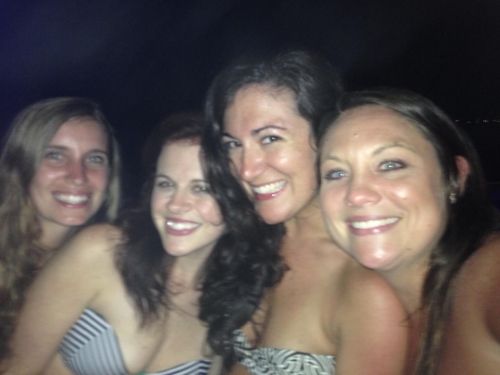 And I got injured… not at the lake. Just injured in general.

We went to the Georgia Dome and hung out with some Hokies… Hubs photobombed pictures with "number 1″.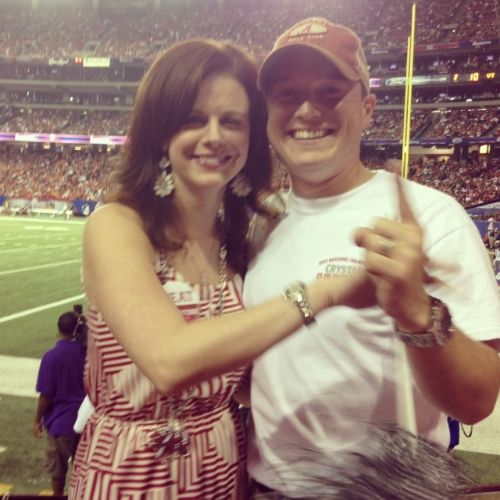 We took the girls on the Carnival Conquest…. and had a fantastic time.

We went to a few more football games….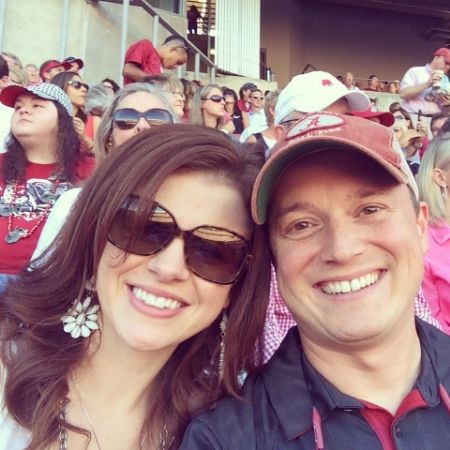 and The Lumineers in concert.. photobombed once again by my brother in law.

Mom and I took Addy to the American Girl Store in Atlanta.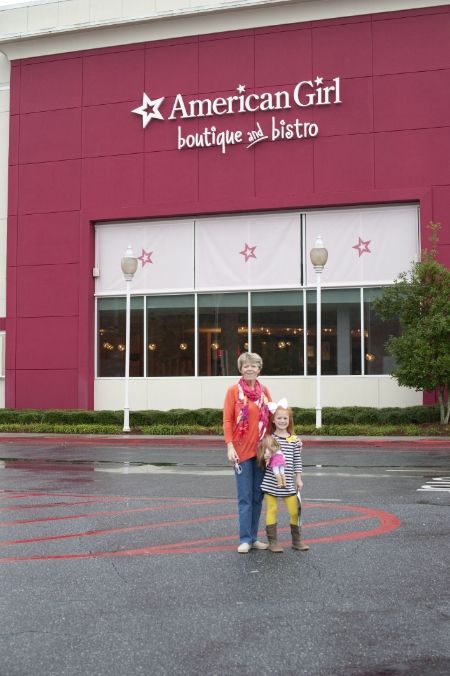 I got out of my comfort zone and ran with groups of unknown people… sometimes seeing these gorgeous sunrises over Birmingham.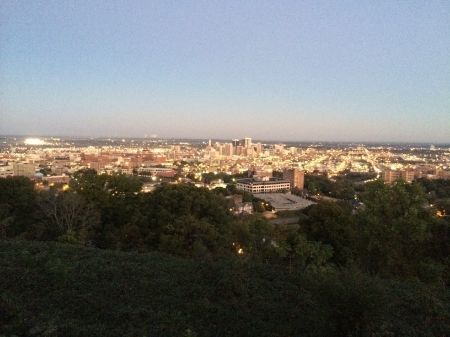 I ran a comeback 10K.. and PR'd it.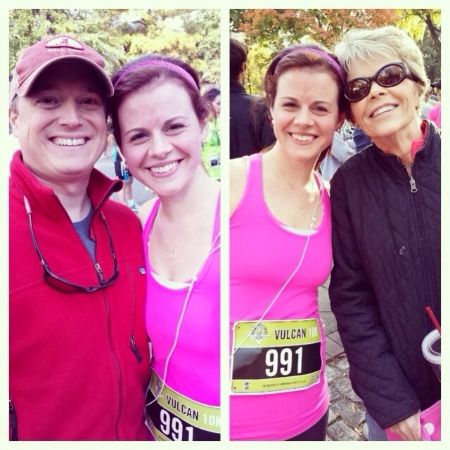 Photobombed once again by the number 1…

And I ran Magic City again.. cursed it until the end and crossed the finish line with C.

All in all.. 2013 was EPIC.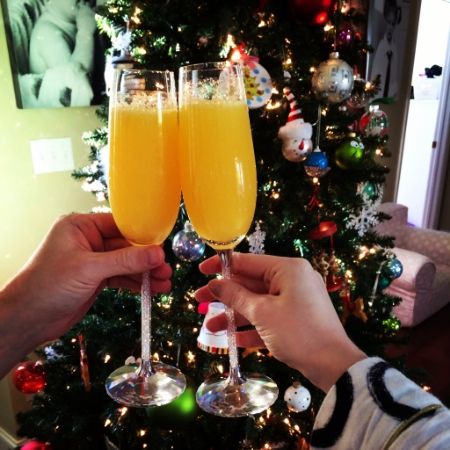 2014 has some big shoes to fill… Hope it can live up the expectations.
Are you sad to see 2013 go??

I suppose I should discuss the fact that I have a half marathon coming up in a few days…Blah. That's exactly how I feel about it at this moment. Which isn't a good racing mindset, let me tell ya. Life is just busy right now, and with it being so cold, it's really hard to stay motivated to get out of a warm and cozy bed at ungodly hours to run. I actually skipped the majority of my runs last week. Oops.
My goal is to break 2 hours… and I'd really love to be around 1:56, honestly. (Am I allowed to say that on the Internets?) But, to be honest, I'm still skeptical about the training and it freaks me out. Probably because my coach says I should be able to, but I just don't see HOW. Which sends my tendency towards being a control freak completely into a downward spiral. Just top that off with some race week neuroses and life craziness and we have ourselves a fine concoction of someone no one wants to be around (Holy run on sentence, y'all).
Another thing is… I need a running playlist. I've spent the majority of this training cycle running naked (No iPod, perverts) and just chatting people's ears off.. or listening to people chat mine off. Either way, I don't think strangers will appreciate me rambling on. The point of that was… send me your best running songs, ASAP.
I realized this week that my ankle brace that I run in is tearing up too.. I really don't want to have to replace that thing, but I feel like I am going to have to. Not. A. Fan. I hoped a little online shopping would help snap me out of my running funk, but nope. Not so far, anyway.
In an effort to not be such a Debbie Downer… I am including a picture from Halloween. Y'all would judge me on the amount of pictures that I take of myself and send to my friends, so lets just not go there. But I am wearing the Mouse Ears I bought at the expo for my first half marathon at Disney.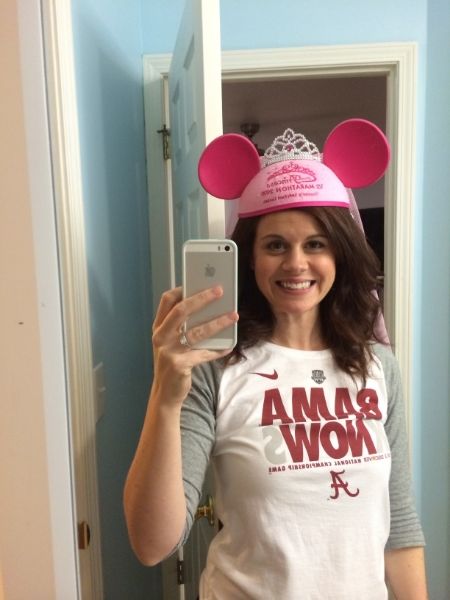 So. I need your favorite running songs and something to snap me out of this funk.

Recently, I was sent some Athleta gear to try. I've always loved to look through their catalogs whenever they come in the mail. When I tore into the package, I was expecting a pair of black running pants… talk about surprised!! It was as if Athleta already knew me and new I wasn't a black running capri type gal. Since I am on the shorter side (5'4" on a good day), they sent me the capri instead of a full length pant. I immediately put them on and they felt so good!! The Relay Capri was so soft and thick, yet light weight. I love the thicker band up top too. For those that are wondering, this is the coral color. LOVE.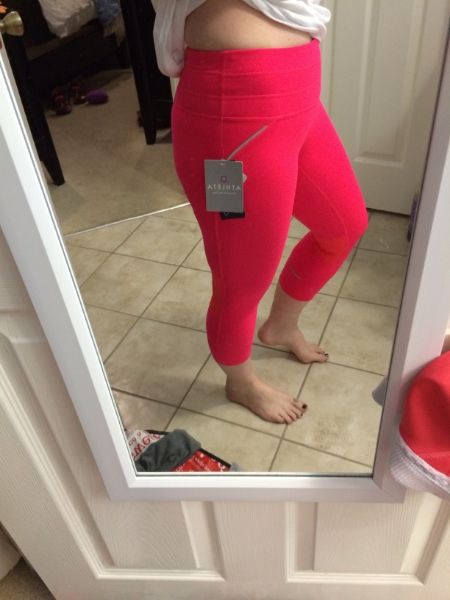 I'm so in love with this pocket looking reflective strip. It just adds a nice little detail, don't you think?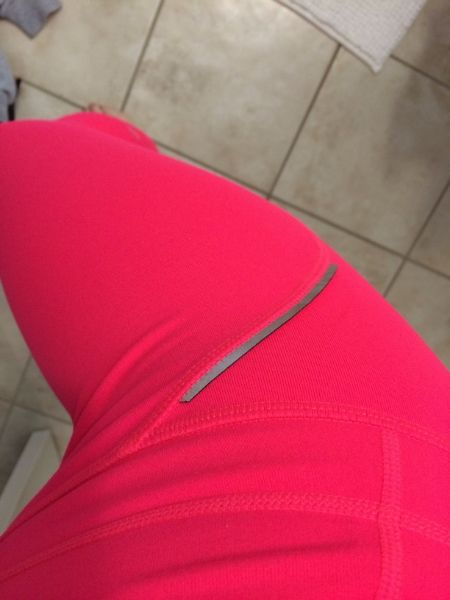 The bottom part of the Relay capri has a and that keeps from riding up. It also has some gathered detail and is ventilated behind the knee, which is a must have!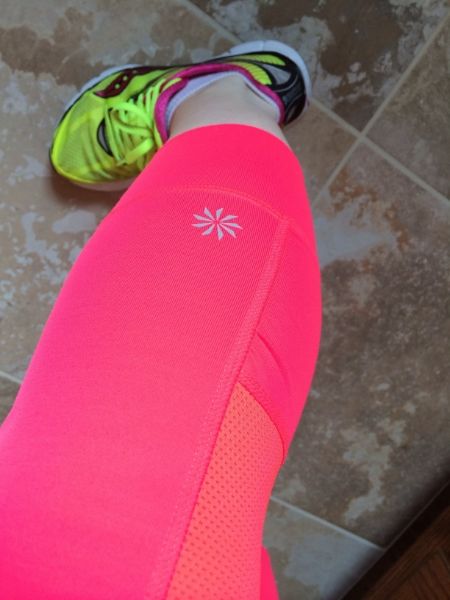 I have run in these a couple of times and I love them! I use the drawstring and these things do not move. I ran in them when it was 20 degrees last week and the only part of me that was cold was my exposed skin at the bottom. They seriously didn't let my butt fat freeze like other capris and I was most thankful. I am in need of some black running capris, and I actually ordered the Bare to Run Knicker this week. I'm ready to try it out!!
I have been so happy with Athleta as a company! I love that they interact with their customers on social media and I honestly think they are an amazing brand. They have a partnership with Girls on the Run, which is a non-profit organization to help young girls build confidence through setting and achieving goals. Their blog is a wealth of knowledge from running, to cycling, to triathlons, to training plans.. you name it, it's probably there.  I can't wait to try out more of their products. Did I mention they come in tall, regular, and petite sizing as well?? Score.