I decided to get up before the chickens and drive to Birmingham Saturday morning to run with the Birmingham Track Club. They have an awesome group that meets on Saturdays and has multiple distances and multiple paces. With it being so flipping cold, The Trak Shak opened and let us hang inside while they went over the routes.. of course, I never listen to turns… Probably a terrible idea. But I did run with my phone, in case I got lost. Because that's been known to happen before.
The gigantic group starts together but they end up breaking off into smaller groups based on pace. I am becoming more comfortable walking into these settings of not knowing anyone and just start talking to people. Sometimes people are more receptive and others aren't, but I've found that this Saturday group is super friendly and will make you feel comfortable.
I met pacers for my upcoming half marathon and past Ms. Alabama's, so it was a good run, I'd say. Of course, the route was a little on the tough side, with some killer hills… one of which was an incline for about 2.5 miles… Super fun with the ankle. But the view atop Red Mountain… was sort of worth it. The group said the sunrise was amazing, but we were a little bit early for sunrise and it was still dark… It looks lighter because of all the lights coming from the buildings downtown.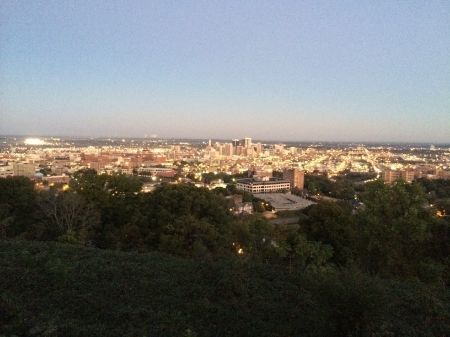 My race season starts on Saturday with my 3rd 10K ever and the first time that I've ever run the Vulcan 10K. I'm hoping it'll be a good run that I finish in under 1:00, but we shall see what the 'ol running coach says. I'd love to see sub-55, but I am not sure that is even possible or smart with a half marathon at the end of November.
The ankle seems to be holding up in the brace. It's a little more sore after those 9 miles, but nothing unmanageable. I should probably avoid big hills though.

So. I sort of did something crazy and definitely out of the norm. I hired a running coach. I know me and how I operate (it's a gift of having known myself for 29 years) and if left to my own devices, I would jump back into running with both feet… which is hard to do since running is typically one foot at a time. My friend Jennifer had sent me a link right around the time I got injured for Resolute Running. They were doing a training group for the Magic City half. After numerous e-mails with Alex about my injury and even discussing running goals when I actually couldn't run, I decided to take the plunge and do it. I figured, if he would watch me like a hawk with my ankle and tell me exactly what to do, I'd be in good shape. That's another thing with me.. I tend to follow directions well.
Coach Alex and I discussed using Magic City as my "come back" run. And the goal would be to just finish. We talked about my PR being 2:02 and how I REALLY wanted to break 2 hours and he said, "Oh. That's pretty much done. Let's look at 1:50." Wait a second. I am barely running, and am not running near 2 hour paces and you want me to set my sights on a 1:50 half? Before the conversation was over, he had mentioned a 1:30 half and me still being "moldable". Afterwards, I was very confused. I thought I was just easing back in and he's talking about major PR's.
Then I got my training plan. And it is a bunch of 10:30 paces and then I was SUPER confused. So, I e-mailed him and asked what was up– Was the goal really just to cross the finish line or was it break 2 hours? He explained to me that he was being very lenient with my paces and I should be able to run a 1:56 half with this. Skepticism, party of 1??
I read Tanya's post on Coach Alex's style and it eased my thoughts, but I'm still a little skeptical on it… but, I will trust the training and do what I am told.
For now, I am back running, with Betty the brace (she's becoming a part of me so she needed a name). I'm not doing any speed work and I am glad to know that I haven't lost too much of my fitness being out a month– I had a long run this weekend of 7 miles and still felt pretty dang good afterwards. Right now, I am running 3 days a week and cross training 2 days with 2 rest days. I have the Vulcan 10K coming up and I would love to break 55 for it, but I am not sure that will happen.

I swear I'm not intentionally holding out on y'all on the foot thing. I just sort of forgot to update the blog on it. Oops. So, I ended up going to physical therapy a couple of weeks ago and she gave me lots of stretches and told me to ice it twice a day and I could run half a mile on a track with the brace and work up from there and eventually back to the road and out of the brace. Do you realize that being told you can only run half a mile after a month off is actually worse than being told NOT to run?
So, I did that for about two weeks with no pain. Then it came time to head to Tuscaloosa for the Ole Miss game and I knew I wasn't missing a crisp Fall morning campus run. So, I said I'd do 2 miles and stop immediately if it hurt.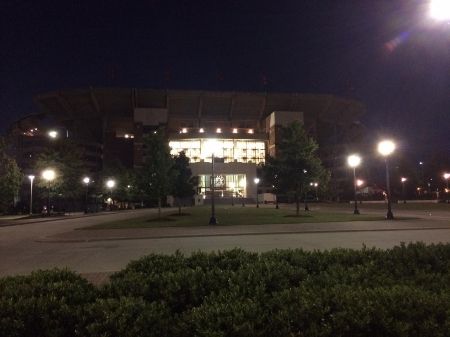 We tailgate across from the Walk of Champions and the stadium, so I just headed down University and Fraternity Row. It's crazy how these new Fraternity houses are. I remember when I was in school (yes. I just said that.) that the KA house was the nicest on campus.
Not bad, right?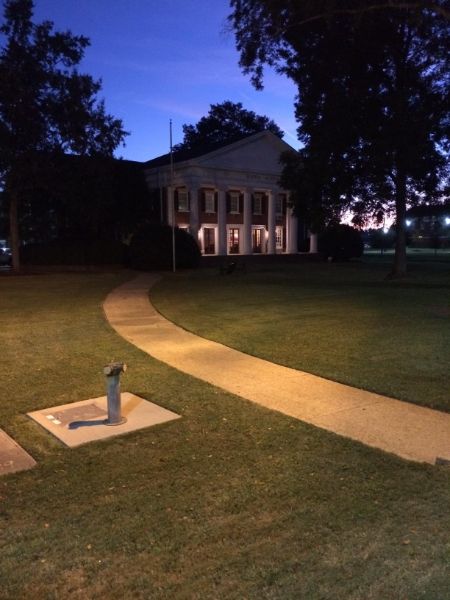 This is just one of MANY new Fraternity houses.. Freaking MASSIVE.
When they expanded the stadium, they tore down several Fraternity houses and they got rebuilt. They also tore down some others to make room for more campus housing.
I ended up cutting down to Bryant and I had to go see the Alpha Gam house. It's just gorgeous. I really love how the new houses still hold the aspects of their original houses.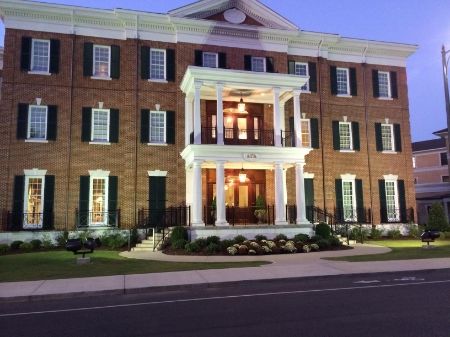 I cut down Sorority Row and down the side of the stadium and said Good Morning to the Nick Saban statue. He seemed to enjoy some Energy Bits. 
I had no pain post run. I ran Monday morning (3 miles) and Tuesday morning (3 miles) and my ankle was a tad sore so I am taking today off and will give it a try again tomorrow. Hubs keeps getting on to me about doing too much, but just like an addict, I can't stay away.

Monday was my normal Spin class… Different instructor. She was very drill sergeant like and I didn't approve of her tactics.
Tuesday, I ran with the Gardendale Running Club.. I am loving joining these group runs. Makes it much more enjoyable and sort of race-like.
Wednesday– I swam 1100 yards. Then, my ankle was hurting pretty dang bad so I decided to call it quits for a few days because I was really worried I needed to go see an orthopedic surgeon.
Sunday I ran 3 miles and it was awful. I waited too late in the day and it was pretty hot. Then, my Garmin decided to freeze, so I am really just guessing at the time, although I did map out the exact distance.
My ankle is better, just twinges a little, but nothing that's not manageable. I'm still not convinced I haven't done something to it, but I guess we shall see.
I am most likely dropping my Olympic distance Triathlon for next month… I just cannot train for it right now. It doesn't sound fun at all. I have time goals for the Fall as far as running is concerned and I want to get faster. I am just not sure how to go about that. I also have NO CLUE how to do a track workout either.
Does anyone have an tips for speed work?

Man.. I really stepped up my training this week. I probably covered more miles this week than I did the rest of June.
Saturday morning, I got up with the chickens, and drove to Birmingham to run 7 miles with the Birmingham Track Club again… I am super jealous of the group runs! I went by to see my Grandpa who had a small heart attack on Friday. I cleaned up there before heading to work. (Yeah. I'm a crazy person. I can't apologize for it anymore.) I don't do well with heart attacks, my dad had one while I was pregnant with Claire and is one of the main reasons I started running. So, needless to say, I NEEDED to run and Saturday was challenging and awesome and just what I needed.
Sunday, I rode with my crew and we covered 17 miles before the rain started coming in. I fell again… this time it wasn't completely my fault. My group was waving me on to cross the street and there was a car at the same stop sign, who was getting ready to turn right. About the time I started to cross, they decided to turn left and I couldn't unclip and stop fast enough, so down I went. I scraped my leg and my hand pretty bad. That's my first official fall, where my entire body has taken the brunt of it.
I've really got to step up my training if I plan to make my 1500 run/bike goal for the year…. Do you have a goal for the year? What is it?

It's official. I am in a training funk. I've been trying to keep on keepin' on and push through and hope that helps. It hasn't. I've continued to race and sign up for races and hope I get excited about it. I haven't. I've allowed myself to make excuses to skip runs. Sure, my runs mostly stink now because it's so dang hot and humid outside. But guess what? Today is the first official day of Summer, so I have a lot more heat in my future.
I signed up for two more triathlons this week. One in July and another in August… the one in August being an Olympic distance. And then I wrote out my training plan for them and saw the work for the Olympic distance, and well, I am scared. It's a LOT of training. A LOT of Two-A-Day's. It has me wanting to crawl in my bed and curl up the The Game of Thrones.
Are you watching that? Holy cow. We are on season 2 and it is amazing. PLEASE NO SPOILER ALERTS!
Anyway.. I got sidetracked. Basically, I am in a funk and don't know what to do to get out. I feel like I've lost my training and distance and speed. I know that training in the heat will make your endurance better, but geez. It REALLY sucks.
And just maybe coming off of the big trip has me in a state of depression. The lack of buffet like qualities and multiple desserts in my house is enough to make anyone have the sads.
I know I'm not drinking enough water, so that could be a factor. Or maybe it's my crap eating habits that are catching up with me. Because I eat like a toddler and not near enough.
Basically, I'm having a pity party. If you have any suggestions for how to snap out of this, I am all ears.
Am I the only one that gets in these funks? How do you get out of them?

Confession Time. I've been in a running rut. For a few weeks. It was really just a gradual thing. I was going to take a week off after Tuscaloosa, to re-coup and get some things done that get neglected during intense training like I was doing. Then I had BlissDom. Then I couldn't meet Shannon for a long run… and still haven't. I ran a long run last Sunday– 8 miles. I did one on Saturday–9 miles. No where NEAR race pace or a PR. But things are starting to heat up around here (literally), it was 80 last week. And heat isn't a factor that I have dealt with for a while.. and it's taking a toll on my running. I am afraid that in all of my mopping and laziness that I have lost my sub 2. I haven't put in the training that I should or the distance and I only have myself to blame. I was well on my way to a 1:55 half and now? I think I'll be lucky to break 2:05. I'm not shaking a stick at that, but it does stink that I "threw it away" in Tuscaloosa because I wanted to "save it" for Nike.
Anyway, back to my rut. I am very blah about the running. I am having a hard time making myself run, and I am certainly not enjoying it. My friend Mary told me to go grab every race medal that I had and to put them on to remind myself that I am a Bad Ass. So, I did. It helped a little. I read this post by Jen Hatmaker too. I did what she said by making a giant list of everything that I need To Do, and am marking them off one by one. I do love a good list. That has helped some.
I finally was able to force myself to get up early and run on Saturday, and while it wasn't some amazing "Oh yes!! This is why I run!!" run, it wasn't terrible either. I watched the sky turn from dark to purple to pink to orange and I semi-enjoyed it. At this point, I'm just glad to be logging the miles, whether they are fast or not.
Molly and I also decided (finally!!) on our outfit for Nike Women's. I'm pretty excited about it.
It probably doesn't help that I have gained about 5 lbs and with that, a gut. It also doesn't help that the girl in Lululemon Friday night asked me if I was about to start my period when I mentioned my pooch. No, but thanks for making me feel bad about myself.
I guess what I am saying is, while I am not in the "I'm gonna Clowney this!" running phase that I was a couple of months ago, I'm also not in the "running is stupid" phase that I was. Baby steps, people. Hopefully, I can rally in the next two weeks before Nike. And maybe I can find enjoy of my Beast Mode to pull out that sub 2 hour half. I am just not sure. I honestly have no clue how running ruts affect your speed, because being semi-speedy is new to me.
If you have any pointers on how to get out of a running rut, I am all ears, please. Or if you have any extra Beast Mode laying around, I'd be glad to give you my address so you can send it to me.

I got the amazing opportunity through FitFluential to review the Saucony Virrata's. Let me tell you, I was stoked because A) I've always wanted to try a minimal shoe and B) I love the color scheme of this shoe. Like a whole lot.
My initial thoughts were, "OhMyGosh, they feel so different from my Ravennas!" Which, I've been wearing for about a year and a half, possibly two years. If it ain't broke, don't fix it.. right? But.. they went and re-did my Ravennas and well, they broke it. So, this felt like a good time to try something new.
I've been scared to try a minimal shoe, simply because, I run too high of mileage to break these in. So, I have been alternating them with my Ravennas to help break them in. I've logged about 20-25 miles in them, with my longest run being about 4.5 miles.
Y'all. these shoes feel super flexible and light weight. It's ridiculous. I just want to FLY in them. While, I think I could have used about a half of a size smaller, it's not uncomfortable. They feel like a glove though the mid foot area, with plenty of room to wiggle my toes.
Saucony did an amazing blog post on them, but basically, they have the standard 0mm drop for a minimal shoe, with 18mm of cushiony goodness underneath.
Hey look! My thighs almost don't touch. That's exciting.
The great thing about these is, that you don't have to break them in like a normal minimal shoe. You can jump in to a 3 miler. So, I did. I could definitely tell that it was working some muscles that I normally don't get to work… *ahem ankles/calves ahem*. The first time I wore them was the day after I ran the Mercedes Half, and even though my legs were sore and tired, the shoes were so light weight I just wanted to fly. It was really hard to reel it in.
After several runs, my opinion is that this is an excellent minimal shoe. It provides great cushion and support for a minimal shoe. I feel good when I run in these. Can I feel it in my ankle? Yes, I can. Is it terrible? Nope. I also think it's getting easier and not as painful. My calves are always a little sore after them, but it honestly makes me want to run in them more so I can continue to work and build those muscles(Is that weird?).
I will say, that this week, I ran over 4 miles of hills in them and that towards the end, My IT band had introduced itself and wasn't a happy camper. But, maybe I didn't think that one through before lacing up.
I really want to keep this shoe in a rotation. It's excellent for speed since it is so lightweight. It has me rethinking my opinion on minimal running shoes.. which hasn't been a nice opinion, just let me tell you.
Since I am at such an impasse with my running shoes, I will continue to rotate this one on shorter distances, but will attempt to work up to something longer in it. Have you ever tried a minimal shoe? What's your take on them?

Friday night, I ventured down to Tuscaloosa with the kiddos to spend the night with my brother in law, Jay, before my race Saturday morning. I ended up ordering that Lululemon I was coveting, and had it priority shipped out, and after much drama surrounding it's arrival, it came. I was hoping it would be here around lunchtime. I had it shipped to my in laws, because I figured FedEx would show up there, than before my house. I wanted to leave by 2:50ish, as soon as I picked Addy up from school. At 2:40, I got the confirmation that it had been delivered, so I swung by to pick it up on my way to scoop up Addy. Whew!
The drive down was nothing short of awful with the cries of "I'm hungry!", "I'm thirsty!", "I have to pee!", "I hate Michael Jackson! Play a girl song!". I was contemplating jumping out of my moving vehicle. We stopped by to do the packet pick up, and it was outside and WINDY, y'all. I knew the wind would be a deciding factor in this race.
Since my runs have been less than stellar since Mercedes, I was just hoping to finish with a decent time. I would love to PR, but with my mental state, I wasn't sure I had it in me. I decided I would run what felt good and see what happened. I was hoping for a best case scenario of 2:05.
I settled into bed at a reasonable 11:15. (not reasonable at ALL!)
I decided the next morning that I would run by Panera for a bagel and coffee. I was worried about eating so late, but I decided that since it was a tailgating tradition, I needed to step up my domination. John gave me some last minute encouragement in the form of, "If you don't change your attitude, you aren't going to PR. You are in Tuscaloosa. Step it up."
I mean, besides, Nick Saban was watching anyway.
Mary came to run it and it was chilly and windy at the start. I opted to not mess with gloves, and my hands were freezing. Note to self: over sized sweat shirts are NOT your friend.
The start line…
The course started in downtown Tuscaloosa and wound back into the tornado destruction areas. I ended up spotting two fellow girls in lululemon who were running about the same pace and drafted them for a couple of miles. They had signs along the course that had facts about the tornado damage. And especially in Forest Lakes, there hasn't been a ton of rebuilding. Running through that area, and knowing what it looked like before, was something that I don't think I can describe. Tuscaloosa is my second home, and seeing these homeowners outside in their pajamas holding up signs and cheering us on only brought that emotion to the surface. I almost lost it when I was coming up a climb, and looked over at nothing but empty lots, with one freshly built house, and the homeowners were standing outside. As we made the turn, I got a whiff of fresh lumber and saw dust and could hear the pep band up in the distance playing the fight song… it was quite an experience. One that will definitely stay with me.
While this course wasn't as tough as Mercedes, it wasn't joke either. It had some climbs and the wind was a factor, for sure. There is nothing like pounding your way up a hill is 35 degree weather, only to be hit in the face with a head wind as you near the top. The wind was so cutting at times (This is a possible TMI), my boobs would get a tingly feeling like when I was breastfeeding and my milk would let down. (Gross. I know. And I just shared it with the Internet. I should be ashamed.)
The course looped back on itself through Alberta City and I could see the leaders coming through. I figured Mary would be towards the front, and she didn't disappoint. She was with the first smaller group of speedsters and went all, "Whoo! girl" on me.
Around mile 8, I caught sight of a flash of red in my peripheral, and low and behold, it belonged to me. Jay had brought the girls out to see me along the course! I ran over and gave Addy a quick kiss, and I figured Claire would cry that she didn't get one, but as they passed me in the car, Claire was blowing everyone kisses and doing her beauty queen wave.
Once we hit Jack Warner, we only had about a 5K left and I came up on a girl and started chatting with her. She was trying to sub 2 and she figured we were close, so I just hung with her and chatted. The last mile and half to 2 miles were on paved trails and let me tell you… that SUCKED. Combined with the mile markers being off… and I wasn't a happy camper towards the end.
But seeing my watch lifted my spirits…
And I had this waiting for me in the parking lot… can't complain with that!
All in all, this was an excellent run and I am so glad I did it. It was another PR for me and Mary, as well!
2:02:58 was my official time, 21st in my Age Group, and 346 overall. I am proud to say I was in the in the upper 1/4 of finishers. It feels good, y'all.
Sub 2, here I come!!

I have officially completed 1/3 of my Spring half marathons and let me tell you, I am still floating on cloud 9 about this race.
I was sort of (okay a LOT) freaking out about it. The pressure I was putting on myself to sub 2:15 this race was INSANE. I got a surprise in the mail from Mary (which. when she told me she was sending me something, I was totally expecting a funny saying on a pair of thong underwear that we kept seeing in Key West.) on Thursday, and tears were in my eyes when I opened it. The bracelet says WWCD? What would Clowney Do? Getting that bracelet from Mary, helped me calm the eff down and realize that I could do this. It may not be this weekend, but it was coming.
I knew the weather was going to be cold and everyone kept telling me it was going to be 25 at the start. I knew I would need some throw away clothing for along the course. I decided on the piece of clothing I have owned the longest. I know Philly was glad to see it go, since it came from an ex-boyfriend 13 years ago, but at one time, it was the only sweatshirt I owned.
I packed my bag the night before, because, well, that 4 am wake up call was NOT my friend.
These numbers blow my mind. Too early and TOO cold.
We made it downtown to wait inside Boutwell to stay warm. Shannon was running her first full and my goal was to stay with her and Kelly and knock out as many 9:40 miles as we could.
The corrals were crazy busy and we ended up hanging on the sidewalk until the gun went off and people starting moving. I decided to shed the sweatshirt before crossing the start line since temperature wise, I was comfortable in it what I had on. Yes, I said goodbye to it. Sue me. I was sad to see the sweatshirt go!
Maleah snapped this pic of us-I love how caught off guard I am.
We started out conservative.. especially for us. 10:00 first mile. I'll be honest.. I was a little mad. I know how I do in races, and I tend to fall apart around mile 10-11. I needed to have those good times in the beginning to make up for a crappy ending.
Now, since I can't read an elevation chart, a friend so nicely told me, "Once you reach the Chevron in 5 points, it's all downhill from there." This course is generally flat, minus miles 4-6 with some steep climbs. I saw the Chevron, and just beyond said Chevron, was a hill. LIAR, I said in head. But then, I came through 5 points and there was another Chevron and it was literally starting a downhill.. so. Yeah. My bad. Right after the 10K split was a hill and I just kept pushing up it (yep. Me. I pushed myself UP A HILL.) and lost Kelly and Shannon around that point. I kept holding back with them because I was afraid I would need to push later from them.
I did walk through my first water station that was uphill and Kelly and Shannon caught back up with me. We ran through the Highlands for a little bit.. just long enough to spot Dad and Karen! I ran over and gave my dad a kiss, all while Karen was screaming "That's our daughter, Rachel!! Right there! Run Rachel!" and people were turning around and cheering. Definitely a racing highlight for me. Dad and Karen always come out to support races, no matter how big or small and it means so much to have them there.
Karen snapped this pic..
I think mile 9 was a good bit of downhills and I took a GU at that point. I was still feeling good, still had some left in the tank and I was holding out for that final stretch. At one point, I looked around and realized, I was in the presence of mostly men and I just started weaving in and out of people, picking me feet up. It felt good. No matter how many races I run, mile 10-11 is ALWAYS the longest and the hardest. You wouldn't think it'd be that way. You've hit double digits, and you have less than a 5K left. I believe this was the point that I did some bad math in my head and thought I was going to come in around 2 hours, but I realized, even if I feel off and had to run walk the last 2 miles, I was going to make that sub 2:15 goal. That got the adrenaline pumping again, and it helped me pick up my step– I started seeing 9:15′s and 9:14′s for those final miles. I kicked it up through the shoot, and crossed the finish line with a clock time of 2:09. By the time I made it through the finishers shoot, the texts and tweets were coming through. I had broken both goals I set for myself this year. A sub 2:15 and a sub 2:10.
I called Dad but they were still stuck over on Highland. I called John and he informed me that I was smart to come in around when the wheelchair racers finished, because I had a tv finish.
I found Donnie when he got done and we went over to Boutwell for the after party..
Jim N Nick's provided the post race food.. and if you know me, you know I do NOT eat BBQ. But I happily ate this pulled pork sandwich.
I was on cloud 9 all day. I couldn't believe what I had accomplished. I also couldn't believe the outpour of support from twitter and Instagram. Seriously.. blog friends ROCK.
Me and my medal! And all of my Lululemon glory, I might add.
Donnie and I drank and chatted for a while until it was time for Shannon and Kelly to finish. I don't ever get to spectate races, and it's nothing short of amazing watching those relay teams and individuals cross a marathon finish line. Some are elated, some are struggling, but they are all badasses in my opinion.
Me, Shannon, and Kelly
Me and more beer… lesson learned. Beer is proper post race hydration. No matter how yummy.
I'm so glad I didn't give up on this goal. My next goal is obviously a sub 2, or as close to it as I can get for Nike in April. I've got one more half in two weeks, and the goal there is to finish. As of today, I still have no desire to do a full marathon, but the desire to complete a 70.3 is growing, so I think that will be the next big goal.. probably for 2014. The year of my 30th birthday.
Mercedes was a great course and honestly, the best I have ever felt physically and mentally through an entire race. I guess all that hill training paid off.
My official time was 2:06:37.
Thank you for all of the support that y'all have given me.. it feels amazing to get that sub 2:15 monkey off my back.